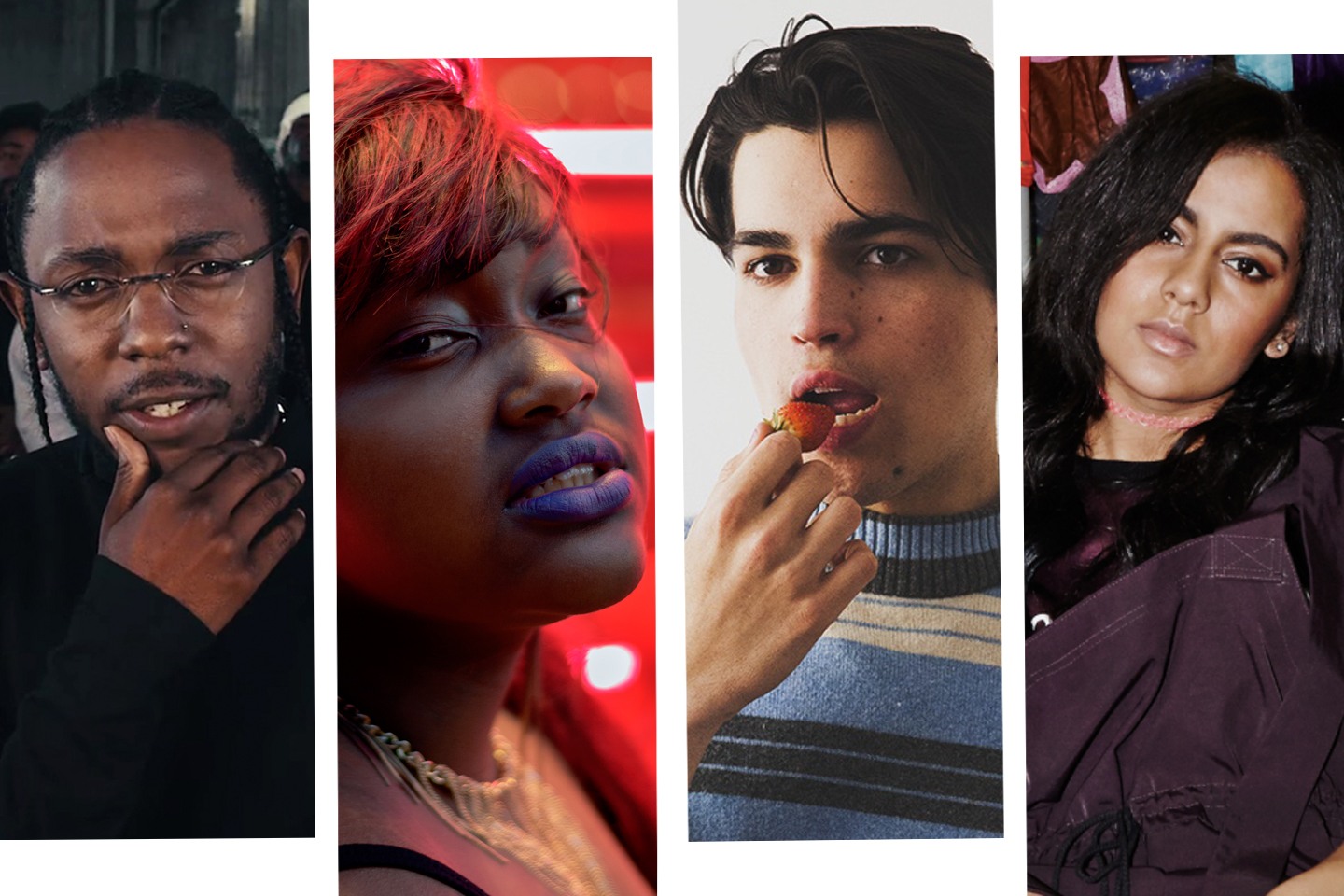 1. A literal fantasy lineup: Calvin Harris teamed Pharrell, Young Thug, and Ariana Grande for "Heatstroke," a soon-to-be pop hit that showcases each artist's impressive range.
2. Mary J. Blige and Kanye West, yet another dream team, joined their distinct-sounding voices for "Love Yourself," a good-advice blockbuster that's bound to go down in history.
3. There's a Kendrick Lamar storm rumbling. "Get the fuck off my stage, I'm the Sandman" he demands on "HUMBLE.," which is 100% aggro Kendrick.
4. "Proud," a new song from (Sandy) Alex G, is a full-on country-rock jammer with pleasing chords and full band sound — keys and everything. It's a world-weary love song, but it sounds like warmth and friendship.
5. To tell a story about blowing his relationship, Cam'ron flipped 2001 soft-pop classic "A Thousand Miles" into the endearing "10,000 Miles." Even Vanessa Carlton is down.
6. "Waiting for me to fall off?/ Bitch keep waiting," Cupcakke announces on "33rd," a quip-filled, huge-sounding track off Queen Elizabitch.
7. U.K. dance collective God Colony recruited frequent collaborator Flohio for "Fights," on which the rapper flows fast and hard over a jerky techno beat.
8. It's thrilling to hear the actual voice behind the slick Top 40 hit. This pared down "Camouflage" demo, which Bibi Bourelly wrote for Selena Gomez, is a stunner.
9. London producer Vegyn uses airy sounds to create a groovy little universe on his new track "PLZ XX." No wonder this kid has credits on Blonde.
10. "Tropics," from Sweden's coolest cat, ShitKid, sounds like doo-wop sung by someone who's either high, or off their meds. The DGAF grunge-pop vibes are endlessly charming.
11. A song about being outdoors deserves to be played outdoors, so we're glad it's basically springtime because Spencer Radcliffe & Everyone Else's folksy "Wrong Turn" was meant for woodsy rambles and back porches.
12. Produced by fellow young Moroccan Jeunecartier, ISSAM's fluid, soothing "Hasni" samples Cheb Hasni — an ode to the gone-too-soon Algerian artist.
13. Bbymutha's rap-dance hybrid "Dark N Lovely" pops and cracks with the power of someone who knows what they want.