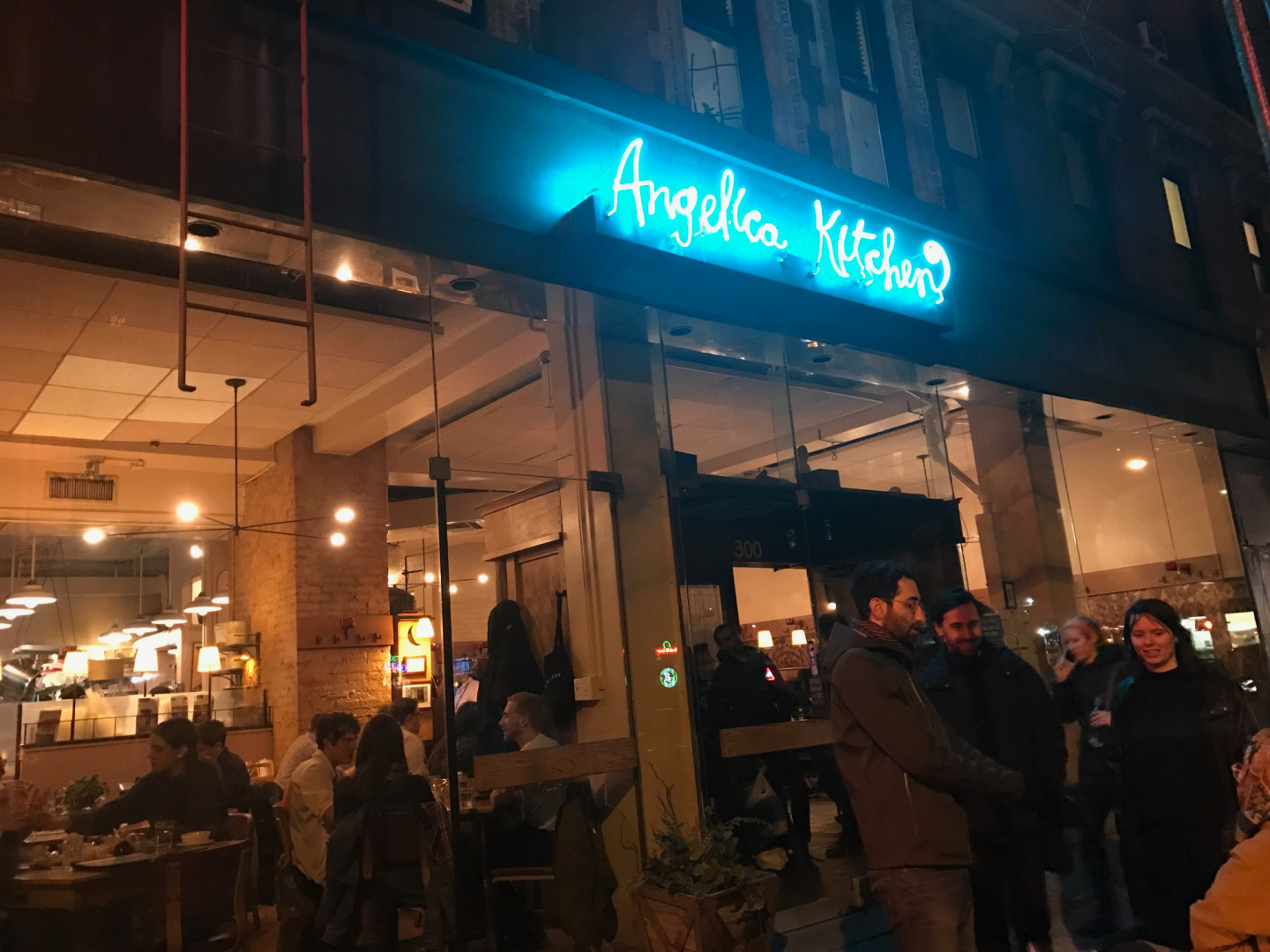 I went to middle school in the New York City of the late '90s, back when home computers were slow and you had to physically go places if you wanted to meet people who shared your interests. If you were a teen obsessed with music and counterculture back then, the place to be was the East Village, where gutter punks and candy ravers and hippies and street poets would drift up and down Saint Mark's Place all day long. Throughout the week, I'd save up my lunch money so I could buy a CD at one of that thoroughfare's many stale-smelling record shops on Friday afternoon or a pilly old band t-shirt at the Japanese-owned vintage shop Search & Destroy. But the best Fridays were the ones where I'd go out to dinner with my friends at Angelica Kitchen, an organic vegan restaurant on East 12th street that had been around since the mid-'70s and served dishes with esoteric names like "The People's Polenta" and "Kid Kreole and the Coconut Dahl."
New York already had health food stores aplenty at the time — it was, after all, the tail-end of the Giuliani administration, whose hard-line stance on policing crime and increasing the city's so-called "quality of life" went hand-in-hand with gentrification. But Angelica's always had something rebellious about it. From out on the street, the restaurant's floor-to-ceiling glass windows and warm yellow light offered a terrarium-like view of just about every specimen of weirdo you could find in the five boroughs, and once you got inside, a lot of the usual tropes of restaurant dining out fell away. Angelica's, up until very recently, had a strict no credit-card-policy — its owner, Leslie McEachern, hated banks — and an eight-seat "community table" just for people dining alone. Water was served room temperature, no ice, and instead of salt and pepper, condiments included a container of soy sauce and a shaker full of sesame seeds. Later, I'd learn from a former employee that Angelica's was one of the first-ever restaurants in New York to source ingredients exclusively from independent farmers, usually straight off the truck — and that John and Yoko, Moby, and members of Le Tigre and the Beastie Boys had all been regulars at some point.
As I continued visiting Angelica's throughout my teens and twenties, I'd often describe the place to friends as a time capsule of what vegetarian food used to be before vegetarian food went from fringe to mainstream — all steamed vegetables and soy meat substitutes and tangy miso-infused sauces and pickled things. As the storefronts on Saint Mark's Place changed over — resulting in the closure some of my favorite businesses, including the flagship Kim's Video branch, where I'd worked as a clerk for a stint — Angelica's stayed comfortingly the same. Sometimes one of my favorite dishes — including the curried cashew spread and the open-faced tempeh sandwich with ruby kraut and mushroom sauce — would disappear from the menu, but I alway assumed that Angelica's would be there.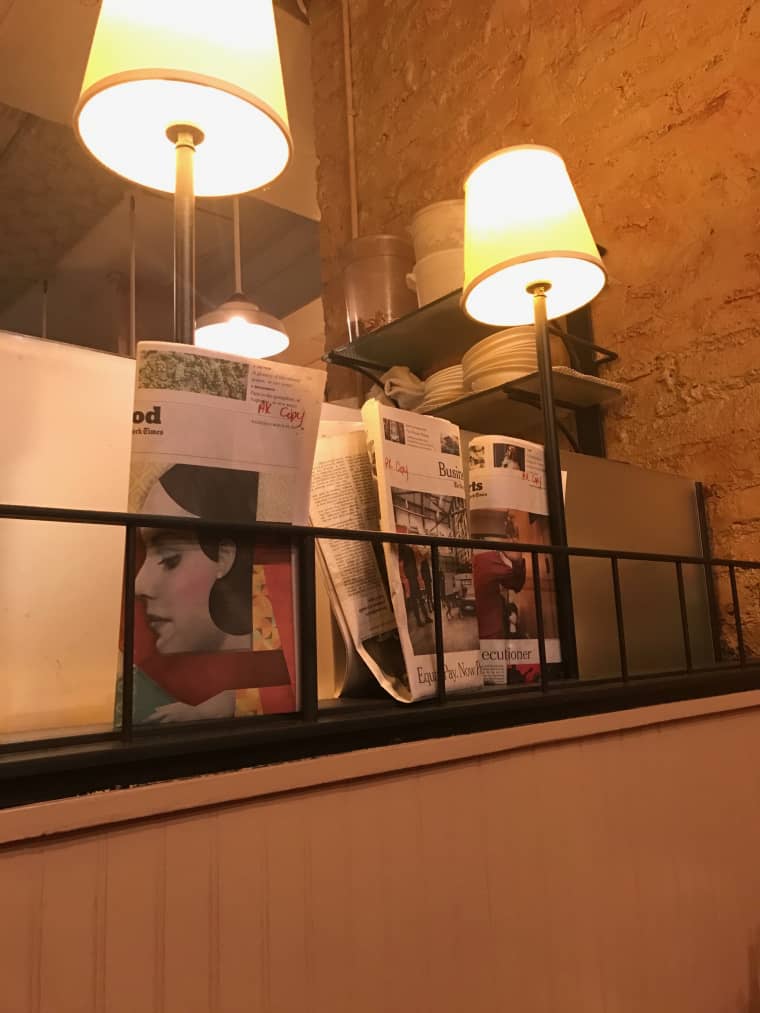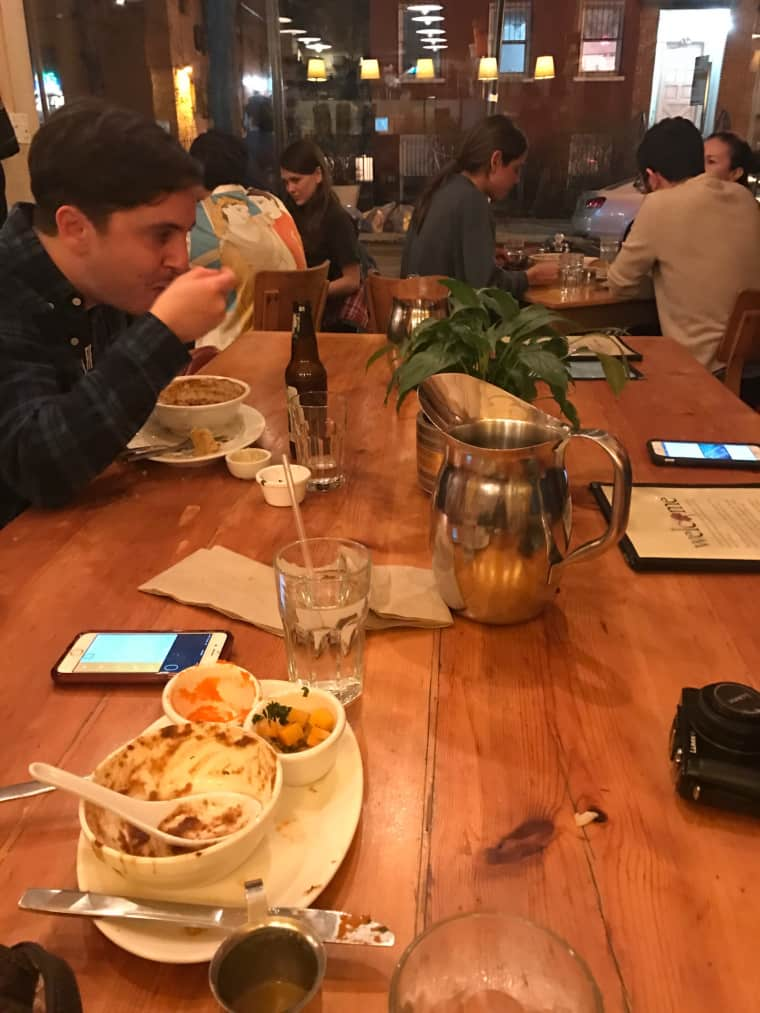 "Angelica's was farm-to-table before that phrase was even coined." —Matt Molnar, server
A few weeks ago, the news hit that Angelica's would be closing up shop on Friday, April 7; rent for the East 12th Street space, according to Gothamist, had soared to $21,000 a month, and McEachern needed to pull in $7000 a night to break even on expenses. A few years before, she'd made a public appeal to fans of Angelica's to patronize the restaurant more, but that didn't seem to work. Either running a business like Angelica's in contemporary Manhattan had become too expensive to sustain, or the restaurant's customers simply hadn't been loyal enough, distracted by the city's endless Whole Foods aisles and fancy juice presses.
Clearly, the neighborhood had a lot changed since the restaurant's beginnings in 1976, when a group of three friends — one the owner of a nearby herb and spice shop — opened an early iteration of Angelica's at 42 Saint Mark's Place, paying $450 a month for the space. According to MacEahern's 2003 book The Angelica Home Kitchen: Recipes and Rabble Rousings from an Organic Vegan Restaurant, the founding owners had envisioned the restaurant's primary mission as servicing the East Village community with nourishing, affordable food. Prices were kept as close to cost as possible, and those who could still not afford to purchase meals could eat in exchange for paintings or service in the restaurant.
When she took over the restaurant in 1984, McEachern took that health-giving ethos one step further, pledging to serve meals that were 100% organic at a time when the farmers who grew the fruits and vegetables she needed were a whole lot harder to come by than they are now. Though prices have fluctuated with the changing cost of living in New York, a holdover from Angelica's original menu stands as testament to its democratic beginnings: a plate full of rice, beans, tofu, vegetables, and sea vegetables called The Dragon Bowl, which as of her book's publication was still priced close to cost. So does a passage from MacEahern's book describing the goings-on at the community table — a heartening reminder that when the setting is right, New Yorkers aren't nearly as standoffish as they're cracked up be: "Wide-open interactions have taken place at the community table over the years," she wrote. "It's been a barometer of social change, a sounding board for economic and political discussions, a forum for dissent, a pick-up spot. I'm sure romances have been kindled there, and some have probably been extinguished as well."
"Now that everyone wants to be vegan, it closes!" —Renée, patron
Last week, after hearing that Angelica's was closing, I decided go to there alone and eat at the community table one last time. Contrary to the city's couples-centric restaurant culture, lone diners are sort of the VIPS at Angelica's. Instead of waiting on line for table, I was whisked straight to my seat and greeted by Matt Molnar, an acquaintance of mine who's worked on and off as a server there for 11 years. Like many of the people who have worked at the restaurant over the years — including Devendra Banhart, members of The Rapture, and DIIV's Zachary Cole Smith — Matt is a musician; he worked there to supplement his income while working on musical projects like Friends, Pagan Rituals, and Kissing Is a Crime, and told me he was always welcomed back by MacEahern after leaving to go on tour.
Later, over email, Matt would remind me that "Angelica's was farm-to-table before that phrase was even coined." He also told me that the restaurant had "a long history of community table regulars, many who were kinda known for being eccentric and often difficult customers." As I sat there savoring my last Dragon Bowl, though, the strangers seated around me didn't seem to be in the mood to quibble over the number of sesame seeds in their food. Mostly, they just seemed sad that their go-to spot for unpretentious vegetarian fare was closing.
"Now that everyone wants to be vegan, it closes!" exclaimed a middle-aged woman named Renée, who told me she'd been making the trek down to from her home in Queens since the mid-'90s. Across the table, a slightly younger woman with bleached blond hair and tattoos on her hands seemed equally stunned that a city as health-obsessed and organic-everything as New York had somehow left Angelica's behind. She pronounced to the community table that she'd been coming here for 20 years — in fact, since her very first night in New York City. Then she looked up at the dinnertime crowd that was gathering by the entryway and ballooning onto the street. I wondered if they were feeling as guilty as I was for not coming to eat here a little more often in recent years — not for a lack of love for Angelica's, but because life in New York just gets hectic sometimes. "It's busy tonight," she muttered to a man who was sitting next to her, silently reading the newspaper. "It used to be this busy every night."
Friends of Angelica Kitchen have launched a GoFund Me to assist owner Leslie McEachern with costs associated with the closure.