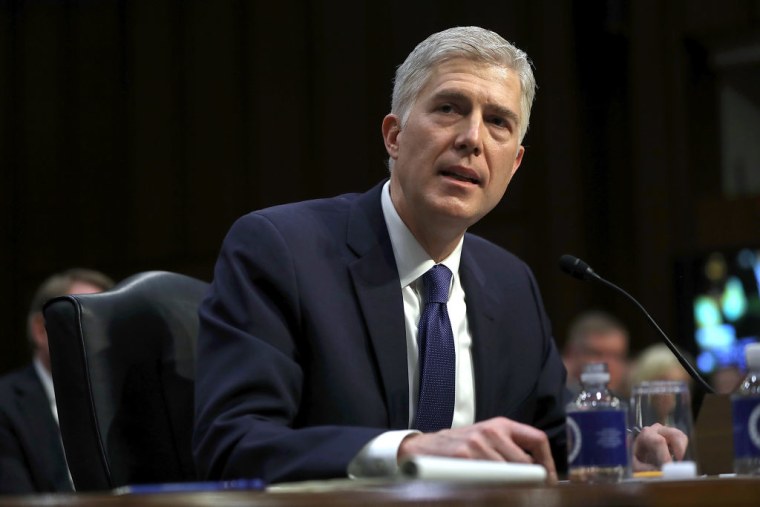 After voting to change the rules by which Supreme Court justices are confirmed earlier this week, the Senate has confirmed Judge Neil Gorsuch to the Supreme Court, The New York Times confirmed. Gorsuch, a 49-year-old federal judge from Colorado, will occupy the ninth seat on the court, which has been operating with eight justices since the death of Antonin Scalia in February 2016.
Gorsuch was confirmed in a 55-45 on Friday, following an partisan battle over his nomination in past months. Senate Democrats have fiercely opposed Gorsuch's nomination, citing Republican's refusal to meet with Obama's Supreme Court pick Merrick Garland and the millions of dollars in donations from unidentified sources that have gone to political organizations supporting his confirmation. Gorsuch's confirmation means that the court will return to the ideological equilibrium it held before Scalia's death, with four conservatives, four liberals, and Justice Anthony Kennedy as a swing vote.
Democrats in the Senate carried out a filibuster against Gorsuch's confirmation earlier this week and denied him the 60 votes needed to advance his nomination to a final vote. On Thursday, Republicans voted to change the rules of the Senate, allowing for Supreme Court nominees to be confirmed with a simple majority.
Gorsuch will take his seat on the Supreme Court on April 17. Soon after, the Supreme Court will arguments in Trinity Lutheran Church v. Comer, a case that could set an important precedent for separation between church and state.