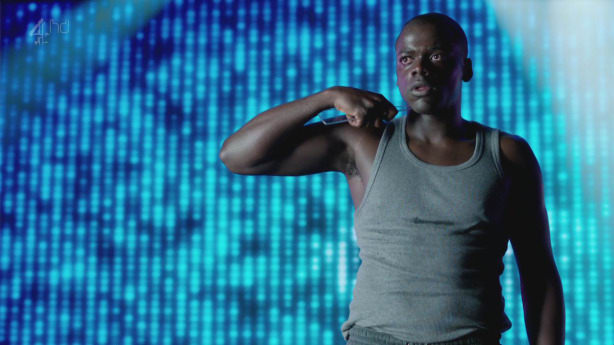 The suggestion that modern life is wild enough to be a Black Mirror episode is well established by now. That said, anyone wanting to escape reality and literally plant themselves inside an episode of Charlie Brooker's dystopian anthology series can now do so thanks to an upcoming London exhibition.
In June, the Barbican Centre will open a major new sci-fi exhibition, Into the Unknown: A Journey Through Science Fiction. The entrance hall of the London arts center will play host to a six-foot video installation recreating scenes from Black Mirror episode "Fifteen Million Merits." The episode first aired in 2011 and features Get Out star Daniel Kaluuya. He plays a character in a world where wannabe reality TV stars must earn merits on exercise bikes in order to audition for their chance at fame.
The installation will feature cuts and frames from the episode displayed across multiple screens, offering an immersive entrance to the exhibition. In addition to the Black Mirror installation, the Barbican exhibition will also include props and models from films including Star Wars, Interstellar, Alien, and Jurassic Park, plus new work by the Oscar award-winning VFX specialists behind Ex Machina and The Martian.
A selection of artists' short films will also be featured within the exhibition, including Afronauts by American writer Frances Bodomo, inspired by the true story of the short-lived Zambia space program.
Into the Unknown: A Journey Through Science Fiction is at the Barbican from June 3 to September 1.