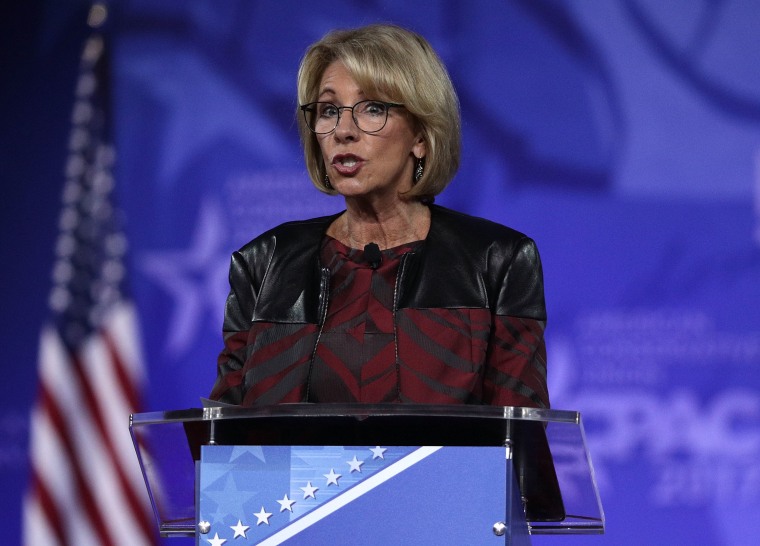 On Wednesday, the Secretary of Education Betsy DeVos announced that Candice Jackson would be taking over as the Deputy Assistant Secretary in the Department of Education's Office for Civil Rights.
According to a report by Pro Publica, when Ms. Jackson was an undergraduate at Stanford University, she wrote an article for the Stanford Review in which she called tutoring programs reserved for minority students "discriminatory." "We need to allow each person to define his or her own achievements instead of assuming competence or incompetence based on race," she wrote after being turned away from one such program.
According to its website, the Office for Civil Rights exists to provide "vigorous enforcement of civil rights in our nation's schools." That includes so called "affirmative action" programs, which attempt to proactively compensate for the disadvantages faced by underprivileged students in American schools, the merits of which Jackson has explicitly rejected. Her track record, which also includes editing a book by and writing praise about an economist who speaks derisively about the Civil Rights Act of 1964, does not inspire hope that she will continue the mission of the organization she's been appointed to lead.
Ms. Jackson, who campaigned for Trump, is a lawyer and the author of Their Lives: The Women Targeted by the Clinton Machine. She is credited with highlighting Hillary Clinton's role as a defense attorney for a rapist during her presidential campaign. She will hold her position as Assistant Secretary until it is filled by a permanent candidate who is confirmed by the Senate, though DeVos has yet to nominate one.