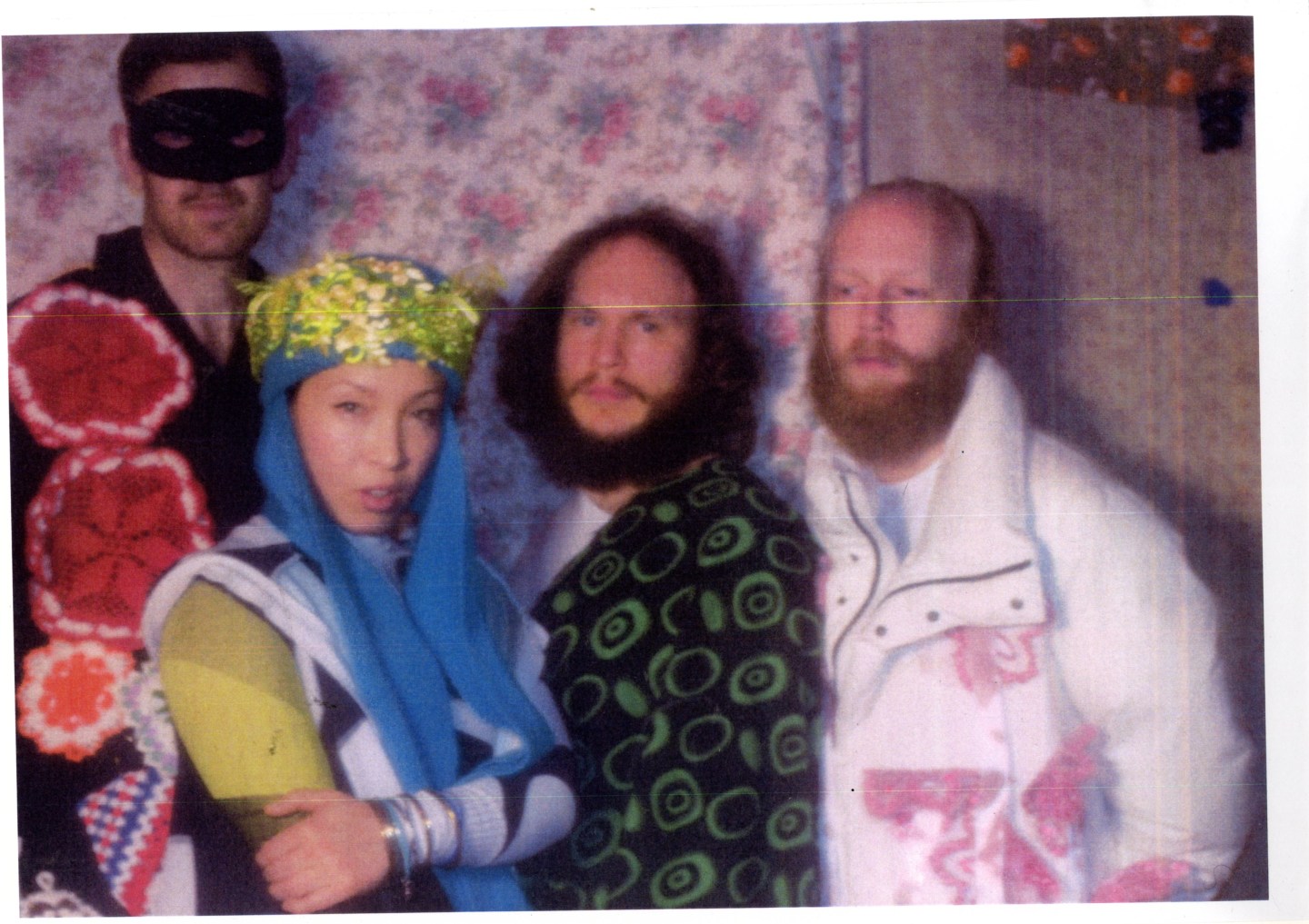 The video for Swedish electro-pop four-piece Little Dragon's pulsing new single, "Sweet," is droll, disorienting, and at times, startlingly unattractive. Mushroom-like stalactites dangle in the air, a UFO flashes on screen, while the band's charismatic frontwoman Yukimi Nagano, her hair and forehead drenched in red paint, drapes her legs over an antique chair. Meanwhile, her bandmates drive a Renault to a retail park and visit a woman in a tree. Somewhat unsurprisingly, the top comment on YouTube is, "Holy shit what the fuck is this?" But as it turns out, that's exactly the reaction Nagano wanted to provoke. "We'd much rather release that than something that just looks professional," she says with a chuckle, speaking on the phone from her home in Gothenburg. "I love that it's a bit avant-garde, but kind of ugly, and at the same time has a little bit of humor and is dreamy."
Since releasing their slinky, electro-pop debut album in 2007, Little Dragon's sound has shifted and mutated. They helped usher in an era of glitchy minimalism in pop, then quickly outgrew it and moved on. Nagano's reluctance to make a glossy video is indicative of her approach to music in a wider sense: "If we were gonna do everything that we should do to be successful all the time, we would lose a little bit of the creativity, the stuff that makes us stick out for who we are." This ethos has earned them an enthusiastic following, a Grammy nomination (for 2014's Nabuma Rubberband) and collaborations with Gorillaz, SBTRKT, and De La Soul, but ensured they always lingered on the edge of mainstream success. When they released moody synth-pop album Ritual Union in 2011, a British publication described them as "the band that almost made it" — a somewhat backhanded compliment, but one they adopted as a sort of mantra. Now, they are releasing their fifth LP Season High — a crunchy, hyperactive dance-pop album with moments of real poignancy.
As she made the final preparations for a flight to L.A. to begin a tour of the U.S., Nagano spoke to The FADER about her goal to combat apathy with music, gender inequality in the industry, and a meaningful encounter with Beyoncé.
---
You've been in the music industry for over a decade. What's changed for you in that time?

In the very beginning it was such a constant hustle. Tours were "breakeven," or you came home with $500 each from selling your own merch, and everything was just about [staying] visible. There still is that feeling of, "If you don't constantly have content, everyone forgets about you." It's so exhausting, it's terrible. So I think turning that off is really important. If nothing goes well and I have to get an extra job, that's fine.
Between the last album and this one, did you have some down time where you didn't have to worry about the hustle?
Definitely. I think it's been really important for us, and for the creativity. You can't think about those things when you're trying to write and do something inspiring. Also you feel sometimes like all the arrows are pointing at you. [But] everyone's arrows are pointed at themselves. When you're writing, you can think that people care so much. Of course people care and wanna hear your music, but at the same time…I have this weird feeling like, nothing really matters. Everyone's thinking about themselves the most. That sounds kind of terrible. But in a philosophical way, I think it's easy to get lost in your own bubble, and it's really important to sometimes remind yourself that nothing really matters.
You've talked about how Sweden, because of its relatively progressive gender politics, has produced a lot of strong female artists. How do you think the music industry treats women?
We're definitely a minority in the industry. It's not often you'll meet a female record executive or a female sound engineer or a lighting tech. Most women in the music industry are on stage singing, so I guess I'm a cliché in that sense! There are definitely moments when you wonder if that question would have been asked if you were male. I just had a baby this last year, and two of the guys [in the band] have had kids for a few years, and no one ever asks them, "How does it feel being a father and being on the road?" Meanwhile, that's the first thing that people are asking me: "How does that work?" I find that a little frustrating, personally. As if that's only relevant if you're female.
Have you had any experiences that felt like a turning point for you as an artist?
I remember when we played on the main stage of Coachella with Gorillaz [in 2010], I was so nervous. My heart was beating and I was like, sweaty hands and everything. It went so fast I didn't remember anything, I just know that I came in at the wrong place, but people around me were saying, "We couldn't tell!" And then I remember going off stage, and Beyoncé and Jay Z walked by, and Beyoncé tapped my back and said, "Good job." I was like, Oh my god! Wait, hold on, was that...? I remember being so high.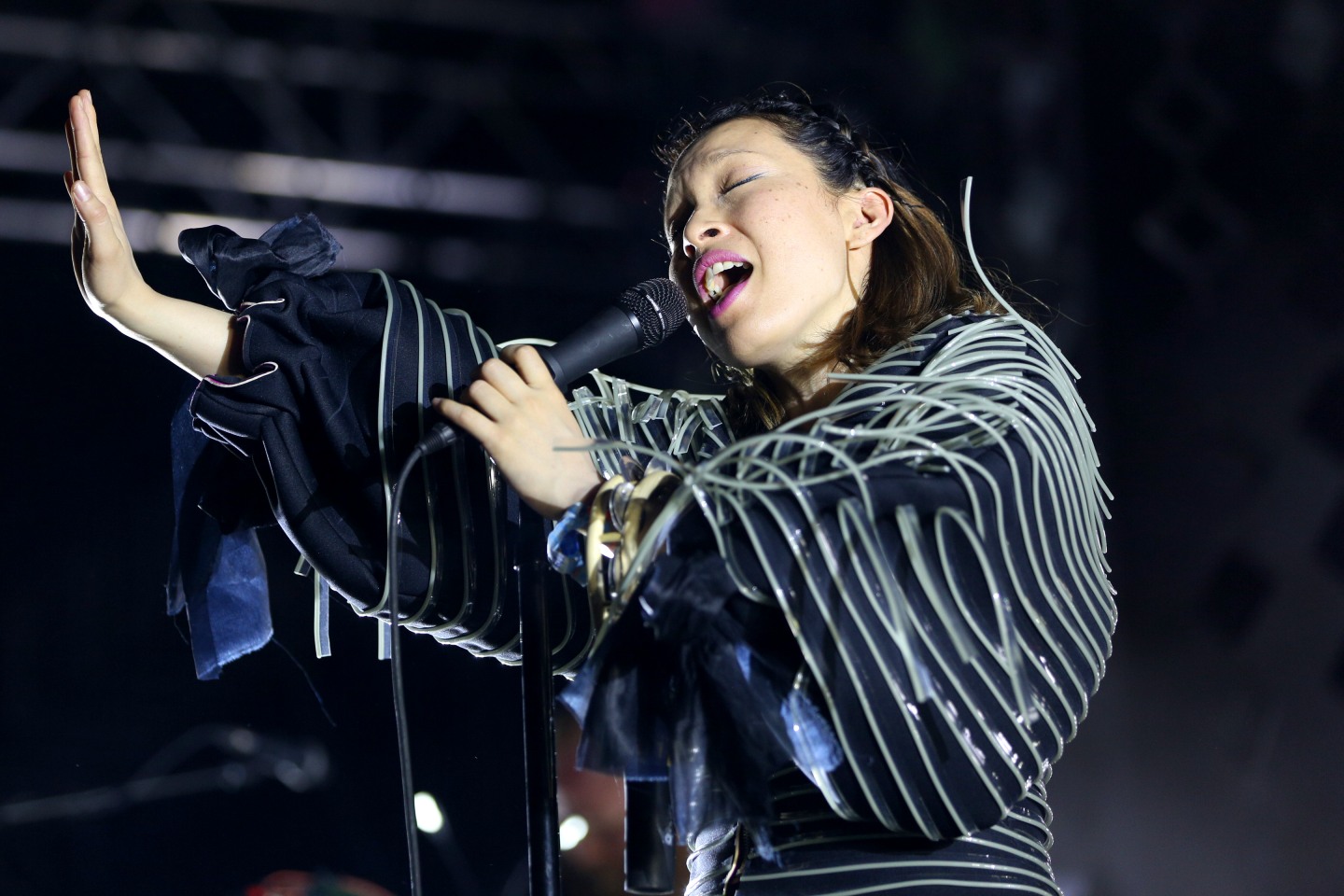 "I think it's about somehow finding a way to wake people up together. You can feel hopeless alone."
There's almost a sickly edge to "Sweet," the most recent single — was that deliberate?

I just wanted to have that parallel of [being] like an addiction. It could be love, it could be a drug, it could be anything you feel extremely addicted to. There is always a downside, and there is that kind of sickly vibe when it gets really intense. I think I just wanted to use the parallel of sugar, sweets, candy, or being over the top flying down the street high on love, or just constantly needing your cocaine, or whatever it is. That feeling of needing something so bad, that it had that parallel to being borderline sickly.
"High" feels kind of hopeful and hopeless at the same time.

Some of the best, most romantic moments have an element of sadness to them I think. Maybe that's why they become so strong, because that piece of melancholy makes it...I don't know, maybe I'm a hopeless romantic in that sense. That part of me that was a teenager secretly smoking cigarettes outside my window, feeling super blue and heartbroken but still loving it, that person is still alive in me.

Is that the person you're writing for?
Definitely. That hopeless romantic. Maybe it's a Gothenburg thing. It's super gloomy and depressing, so you have to dream yourself away, and what better way than love? Not that I'm necessarily heartbroken right now, but I think that feeling is very close to me.
"Pop Life" seems to be about a sort of disillusionment with the modern world. What were your thoughts behind writing it?
That song started as a visual. Someone said to me, "You only make change when you're desperate," and [I had a] vision of people sitting on a couch eating their fries and having their coke and watching the world go under as if it was Star Wars. It's a very dystopian and depressing thought — and I don't think it's necessarily true, because a lot of people are really showing that they care. At the same time, sometimes I feel like we're so shattered with information — it's so terrible that you almost turn off your emotions because that's the only way you can deal with it. I think it's about somehow finding a way to wake people up together. You can feel hopeless alone, but when you feel like it's a collective decision to care, then it becomes much easier.
---
Season High is out now on Loma Vista Recordings.
Little Dragon play Parklife in Manchester, U.K., June 10-11, buy tickets here.