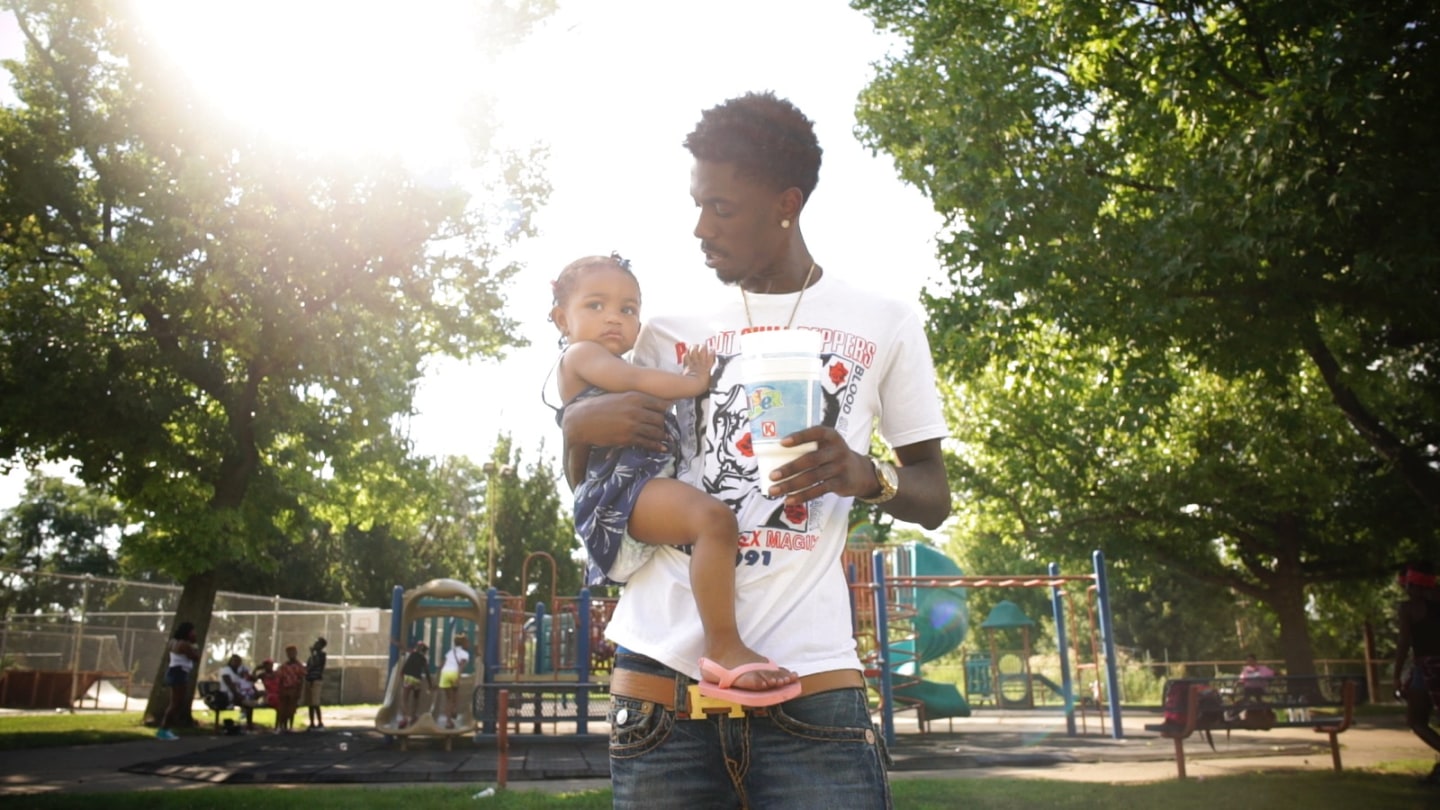 Jimmy Wopo believes in his hometown, and now it's starting to believe in him, too. A product of Pittsburgh's Hill District, the 20-year-old first gained a strong local buzz with "Walkn Bomb," a retaliatory diss track released on YouTube in 2015 with the sole purpose of, as he says, "just holding my ground." Encouraged by an unexpectedly increasing view count, positive feedback from friends, and a strong desire to change his life, Wopo released a series of well-received loosies (the Hot Boyz-reminiscent "Ayo" was a fan favorite) followed by his debut tape, Woponese, in July 2016. The project's standout hit, "Elm Street" — an autobiographical chronicle carried by an addictingly simple and sinister bass-heavy piano melody — blew up and cemented his place as the standout voice in Pittsburgh's rap scene. More proof of Wopo's mounting impact came just over a week ago, when he sold out a 500-capacity headlining show at local Pittsburgh venue Mr. Smalls, further solidifying his mark on the city's sound.
Over the phone last week, I caught up with Wopo as he prepared for the release of his new project, Jordan Kobe, which was released today. He detailed the inspiration behind his tape, how he's handling the new-found pressure to put on for his city, and how he plans to take his music beyond Pittsburgh to the national stage, all on his own terms.
---
What was growing up in Pittsburgh like for you?
I was raised in Pittsburgh, on the Hill District, Bedford Avenue, 15219's the zip code. You know what you hear about Pittsburgh, and it is what you hear. Still, it's a good city. Growing up every day used to be hard, but I remember there used to be a whole lot to do. Everything was so traditional out here. We used to have BB gun wars all the time on the regular, we wasn't even old enough to have them. I used to play football, everybody played Little League football around the city, that's how I know most of my friends.
I went to a lot of alternative schools because I was bad in school. I met a lot of people in the city that way, too. I ain't never really go through nothing that I ain't never really wanted to go through, unless I put myself in that situation. It's a good place once you make it out here.
My mom ain't never really hold me down, she let me see the world. I love her for that. A lot of people's moms hold them back from the real world, and they don't know how to do anything themselves, and are blind to what could happen to them. That's why motherfuckers be falling into dumb ass situations. My mom let me go through everything by myself, so I've seen a lot of shit, and now I know what not to do. She ain't gotta worry about me.
When did you start getting into rap and making music?
I used to just rap and shit on the regular, at school and shit. But when I really started, there was this little church. They called it the Hope Center. It was on Bedford Avenue, that was the block. People would go to this little church, and they had a studio in there! You couldn't cuss and shit, and everybody in the hood was going to it. Once we heard about it, me and my niggas, we went up there. It was our first time ever being in a real studio for real, so that's when we really started making music. I was 14.
At that time I was just doing it just because I wanted to hear myself on the track. I just wanted to feel like I was doing something. You got to hear what I talked about, let people know what I was doing out here.
Did you have a mentor in music?
Yeah, my man FTR Drama. He was like a little older than us, and he was already popping in the neighborhood and city. He had a song with Chief Keef. He used to shout me out on his songs. I used to be all iced up in the hood from that shit, because he was the most poppin' nigga. So I already had a little fanbase before I even started rapping.
In Pittsburgh, there's always been somebody that's been on top, in the local, in the underground scene. Drama was one of those dudes, like he was on top, for real. Him and [FTR] Tefflon. They was in the same group.
When did you decide to pursue rap seriously?
A couple years down the line, when I felt like I knew this was what I was gonna do. It was after I got shot. I was 18 then, and I was dropping music, videos on YouTube, just doing my thing on the regular. That was when I knew I had to take shit serious. I had dropped "Walkn Bomb" that summer, but when I dropped that song, I wasn't really even worried about rapping or promoting the song. It was a diss at somebody, and was doing good numbers.
After I got shot, I was in the hospital, not checking views and shit, just worried about getting back. Four or five months passed, and everybody was telling me, "Bro! That joint boomin'. That joint got like half a million views." I'm like, "Oh, shit, for real?" So I started looking at that shit, and paying attention. Not to mention, I just had a newborn baby. So it was like, I need to just do something different with my life.
What's the rap scene like in Pittsburgh?
It's popping out here. That's all everybody's doing out here. It's getting ready to opening up, break more artists. They're saying the venues are starting to fill up more, and the city's doing more shows with local people. It's starting to be a little music city. This is the time right now, that's what everybody keeps telling me. It ain't gonna never be like this in Pittsburgh again, if niggas don't make this shit count. It's like a once-in-a-lifetime thing
Do you feel a sense of responsibility?
Hell yeah, I feel like I really got the city on my back right now. Now when I do shit, post shit, say shit, I think, "I'm representing my city now, I can't be selfish." It might be something that I know that we lack in the city, that I'm not lacking, so I'm not just gonna sit there. I got my little brother, I'm looking out for him. I'm into the little league, I have a hand in coaching. Easter in my neighborhood, we did the egg hunt for the kids and paid for everything. We give back already, and we ain't sittin' on no millions or nothing. I'm a little hand-to-hand with the city is what I'm saying.
"If your city don't even rock with you, who are you?"

Congrats on selling out your hometown headlining show. What was that like?
Shit was lit. All the local artists that's under me, they got to do their thing. I'm glad I was able to do that for them, and bring a big crowd for them to perform for and feel like they're on that level, that they contributed to bringing some of those people out, too. That makes people keep going. They've got to feel that happening right in front of them, so they can do it, too. If it makes a couple people keep going, that's good. I hope this show made people realize this shit is real, like I'm about to blow this shit up. Stop trying to shut my shows down. It's like the city can't believe it.
That crowd, I ain't on no racist shit but it wasn't the crowd that I expected. It was not people that I've seen in my life. I knew it was gonna be packed in there. But when I came out and seen that crowd, I felt different, I felt like with this Jordan Kobe project, this is my time. I have never had this much confidence about what I'm doing in my life than I do right now. I feel like everything's perfect, everything's clicking, everything's moving. It's only been a year since we were really pushing and going hard, so I just feel good.
What do you think that show means for you, and for people's perception of rap in your city?
I might spark an energy in people who might wanna do something now. A lot of people I wasn't reaching, they might start requesting me. A lot of more venues are going to be more willing to let me in now. But about bringing shows and people to the city, it's gonna be the same way it is now; they're gonna be uptight, you ain't gonna be able to get into certain venues, it's just how it is. Some venues just don't tolerate rap music. Hopefully that changes, I definitely do hope the show changes something. Maybe they'll see that this is where the money's at, but I don't really know how that's gonna work out.
I feel like anybody that's doing something positive in my city, like Hardo, is making me shine, just like I'm making him shine, too. I think that's us doing good, I wish more people were doing good in the city. If you doing good I think that's good at all once for all of us. That means there's talent there. You represent your city.
Why is Money Lane Muzik important to you? I love "What U Know" with 018 Lane.
That's more than a tape with my friends, that's everything I stand for. That's where I'm from, Bedford Ave, that's Money Lane, the block. We all make music now, all the boys rap. We all poppin' so we just hit 'em with the Money Lane Muzik, we just on our Maybach shit. Nobody rap like us, talk like us.
Free 018 Lane man. They took him to the feds right after that song. He made the song, and we made the video. We were doing a show, I opened up for Chief Keef. After I opened up, the feds came in the show and took Lane. They love doing hatin' ass shit at our shows. They took me down at our Summer Jam. They'll have a warrant on you anytime they get you, they wait for some shit, they wanna embarrass us. They want people to see that shit.
Listening to your music, one minute you could be going in over a drill beat, the next a Cash Money-sounding beat, or more often, something more Cali rap-sounding.
I'm kind of all over the place. If you really listen, it depends on what you like from me. I've got the West Coast sound, I could switch it up to singing too. I don't know, it's just original. It's Pittsburgh, it's me. I could do whatever you want. My original sound is "Ayo," that's how I really sound in all my shit for real, if you listen to Money Lane Muzik it's more Cash Money sounds on there. I like C-Murder and them Baton Rouge niggas.
Why do you think you have such a strong West Coast sound?
I don't know. Maybe something happened when Joe Beast went over there with them Cali niggas. He was with Aftermath, Dr. Dre brought him in. When 50 [Cent] was blowing up and all that, "In Da Club," Joe Beast was in that video.
Tell me a bit about your new tape, Jordan Kobe.
Three summers ago, when I was 17, me and my niggas, we had this abandoned house. We just happened to be in the address 2423. That was the last good experience I had with all my niggas. We was all there, all having fun that summer. The address is big to me. Once I really thought about it, that shit was Jordan, Kobe. I put that in a rap, and then once I was about to make a tape I was like, "Imma just run with that shit."
Would you prefer to stay an independent artist for now?
I want to stay independent a little longer. I don't see the rush in it. Right now I got my city on smash, me and my niggas are getting money — we good. We'll be alright for my year of probation. Even if we blow the fuck up, we ain't leaving. We gonna do our little shows and we coming back, or we gonna leave when it's time to. Some people just think you can pull up straight up out of your city and get outta there. People been telling me to leave my city and get outta there, but I ain't conquered everything yet. You see I just sold out 500, I just made that happen, that's not new. You ain't always got your shit under control like you think you do. You gotta master the shit. That's the first thing a motherfucker go back to when they look you up as an artist, if you got it on smash. If your city don't even rock with you, who are you?
What are your plans for this year? Or the near future?
I want my first album to be Woponese The Album. I know that for sure. I know after the Jordan Kobe tape, I'm getting Jimmy Digital rolling, the joint with Sonny [Digital].
I just want my whole family to be taken care of, and for them to be alright and be able to take care of themselves, and have all my friends and their families be like that. I just wanna be secure, cool, and set for life. I do wanna work hard still and live regular; still get up everyday and go get it, be in the studio. I just wanna be on. I don't wanna have to worry.