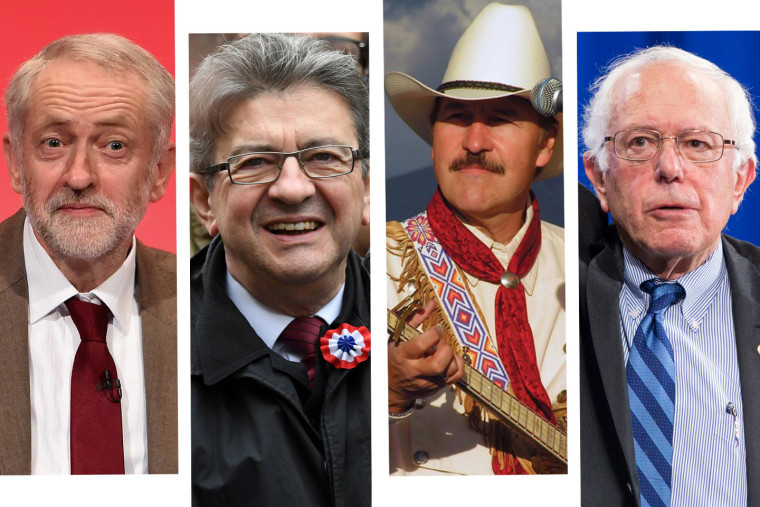 While the Bernie revolution came up a few dozen yards short of the goal line, the influence of Bernie's campaign for equality has only bloomed and blossomed. Every few months, it seems, we're introduced to another intransigent grassroots politician rising out of obscurity to claim hearts, minds, poll numbers … and comparisons to that boy from Vermont. You know what they say about Bernie Sanders: only 13.2 million people voted for him but everyone who did went on to become fiery populists. Herewith, a ranking.
6. The Bernie Sanders of South Korea
In the nation's upcoming presidential election, Lee Jae-Myung — dubbed "South Korea's Bernie Sanders" by CNBC in December of last year — is a longshot. But listen to his bonafides! He dropped out of school as a teenager to help support his family by working at a watch-assembly factory, where he survived an accident that left his left arm permanently twisted. Later he became a human rights lawyer who defended political dissidents and labor activists.
In 2010, he was elected the mayor of Seongnam, a city near Seoul with a population of a million people. According to Wikipedia, "Some of his notable achievements include Seongnam's social welfare program ... and banning of dogmeat." As a candidate, he's promised basic income for those over 65 and under 29, and has pledged to attack the chaebol network, Korea's infamous hidebound conglomerates. [Heart eyes emoji] [Heart eyes emoji] [Heart eyes emoji]
One big problem: thanks in part to his off-the-cuff social media bluster, he's also been "nicknamed "Korea's Trump" by some of his supporters." TO THE BACK OF THE LINE YOU GO, THE BERNIE SANDERS OF SOUTH KOREA.

5. The Bernie Sanders of France
Jean-Luc Mélenchon — called "a kind of French Bernie Sanders" by the New York Times earlier this month — wasn't supposed to be a player in France's ultra-heated presidential election. But in the late stages this grizzled Socialist Party veteran came on like a wrecking ball, firing up his own "France Unsubjugated" party with massive rallies full of lovely histrionics: "Masters of the earth, you have good reason to be uneasy!"
His followers even created a video game, "Fiscal Kombat," starring Mélenchon, "the aim of which," says Politico, "is to grab passing capitalists and shake them until money drops out of their pockets and is added to France's coffers." (You can also pick up IMF chief Christine Lagarde and "throw her at oncoming capitalists.") Danny Glover is on board the Mélenchon Metro. So is Pamela Anderson.
Sadly, Jean-Luc's time may have passed: France's elections were last week, and Mélenchon came up a few percentage points short of advancing to the runoff. More troubling: now his base may well catapult Marine Le Pen — the, yes, Trump of France — to victory. (He's hesitant to endorse her challenger, Emmanuel Macron, an ex-investment banker). Come oooooonnn, The Bernie Sanders of France!

4. The Bernie Sanders of South Fulton, Georgia
khalid kamau is the most obscure name on this list. He just got voted onto the City Council of South Fulton like, last week. But he has the official co-sign of Our Revolution, Bernie's non-profit, and he's got the bio. Says his official site: "During the Great Recession, kamau worked several blue-collar jobs, including as a bus driver ... at the age of 13, his petition to include African nations in [his] school's Olympics-themed "Field Day" became a full-fledged student protest covered by local news." Also: His name (lowercased in the Yoruba tradition) means "eternal quiet warrior." Let's go, the Bernie Sanders of South Fulton, GA!

3. The Bernie Sanders Of The UK
Jeremy Corbyn, the beleaguered leader of the UK's Labour Party, has been intertwined with Bernie for longer than anyone on this list (Forbes, September 2015: "Please Don't Compare Bernie Sanders To Jeremy Corbyn." *Lil Uzi voice* now we do what we want, Forbes). He's homespun as all get-out, an old school activist who now avoids his government-provided car in favor of a bicycle. And there's an undeniable charm to his shock victory in the most recent Labour elections. As The New Yorker explains, "Corbyn entered the race as the token socialist. Bookmakers gave him odds of a hundred to one."
These, however, are not good times to be a Corbyn Stan: in the UK's upcoming snap general elections in June, he is expected to be demooooolished by the Conservative acting Prime Minister Theresa May. Still! Just take a look at this impish pinko renegade. He's like the mild-mannered fuck-up commie heartthrob of our dreams. We still believe, The Bernie Sanders Of The UK!

2. The Bernie Sanders of Montana
"Rob Quist is the only person in this race who understands that we need a government that works for all Montanans … and not just the billionaire class," says Mr. Sanders himself of Quist, who is running in a special election for an open House seat in Big Sky Country, a staunchly Republican part of the nation. Bernie is scheduled to campaign for Quist in Montana in May.
Also of note: the cowboy-hatted Quist is a career musician and songwriter; his first group, the Mission Mountain Wood Band, are local legends. And according to the conservative website Washington Free Beacon, he's a regular performer at a family-friendly Idaho nudist resort called Sun Meadow, where activities include nude volleyball, nude kite-flying, nude archery, and, during the winter months, nude cross-country skiing. "His earliest known concert at the nudist resort," the Free-Beacon breathlessly reports, "came during the second annual Skin to the Wind Festival of Fun in 2009, in which Sun Meadow attempted to break the record for the largest skinny dip ever in North America." You smash through those barriers, the Bernie Sanders of Montana!!!

1. The Bernie Sanders of America
Who else you thought was gonna hold the number one spot?! In 2020 Bernie Sanders will be 79 years old. And at the very least we need him around, energized and fully prepared to talk that talk. Eat your brussel sprouts and do your calisthenics, The Bernie Sanders of America!!!