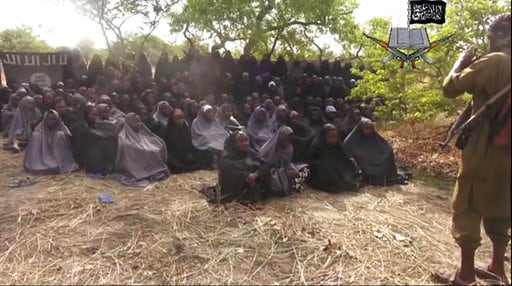 Eighty-two of the initial 276 kidnapped Chibok school girls in Nigeria were released early Sunday in exchange for detained subjects from the Boko Haram extremist group, according to initial reports from the Associated Press.
The release was first confirmed through a statement from the office of President Muhammadu Buhari, according to the AP. This second release follows an initial release of 21 girls in October of 2016. Now, 113 of the 274 girls still remain unaccounted for.
The 82 girls were originally expected to meet Buhari in the nation's capital, Abuja, on Sunday, however were actually found a town near Cameroon. "The location of the girls kept changing since yesterday when the operation to rescue them commenced," said an anonymous Nigerian military official with direct knowledge of the rescue mission to the Associated Press.
The 276 Chibok school girls were originally abducted on April 14, 2014 from the dormitories at the Government Secondary School in Chibok, as they were getting ready to study for exams. During or after the initial abduction, 57 of the girls managed to escape, leaving 217 still missing. The news of the kidnapping shocked the world, sparking global outrage and igniting the #BringBackOurGirls campaign which was supported by former U.S. first lady Michelle Obama.
Read the full report via the Associated Press.