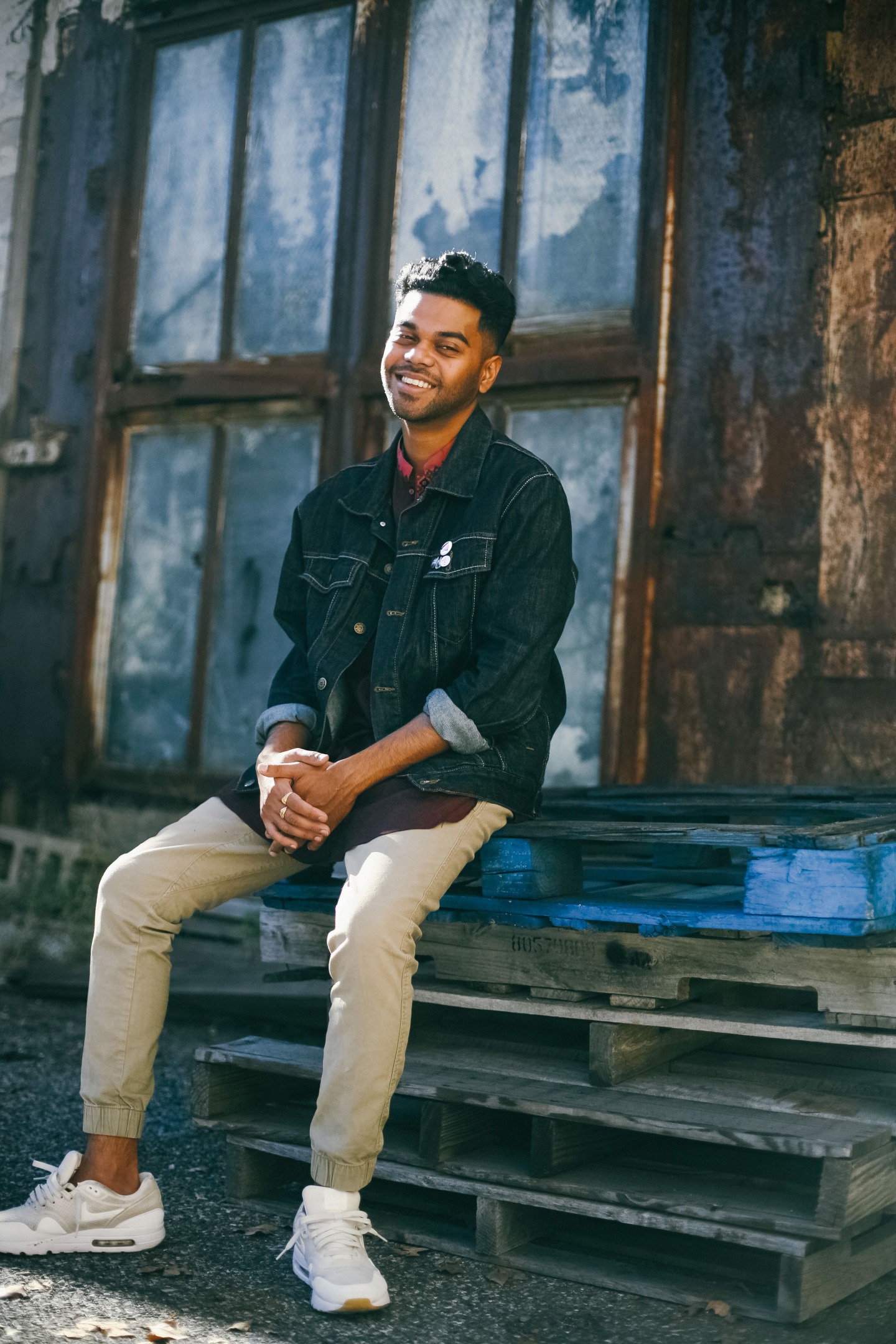 Queens rapper Anik Khan's smile stretches from ear to ear. It's the day of one of his biggest shows, opening for the rap group Swet Shop Boys at Webster Hall. As I watch from the empty pit during the afternoon's soundcheck, Khan quickly runs through his set with his DJ, DJ Zeke. The stage lights glint off the traditional gold Bengali rings on Khan's fingers — two on each hand — and the metallic silver snakeskin cloth on his red jersey.
While hip-hop and Khan's Bengali background don't share a lot of common ground, it's out of that disparity that he's found his foothold as an artist. At the heart of his music is a desire to give a voice to the shared experiences of Queens's many diasporic communities. That concept first manifested itself on Khan's 2015 debut I Don't Know Yet. But now, with his latest offering Kites — a tape that counts Bollywood, Bhangra, dancehall, soca, and U.S. rap among its many musical influences — he uses his own story as the anchor.
Born in Dhaka, Bangladesh, Khan and his family immigrated to the U.S. when Khan was four. Though his father was highly revered and fairly wealthy in his home country — both parents had master's degrees, and his father was a freedom fighter during the Bangladeshi Liberation War — in America, none of that translated. With so few options, Khan's father became a cab driver.
Khan and his family bounced around Queens throughout his childhood, soaking up the borough's vivid multiculturalism. "I'm that whole entire borough through-and-through," he says. Kites, then, is a sonic reflection of his physical journey through Queens, paying homage to the people and places of his youth. The tape's first cut "Cleopatra" is a dizzying mix of a punchy synth and a sample of the Hindi song "Jiya Jale." The following track "Tides" opens with the renowned Diwali riddim, showing how easily one flows into the other.
The record's title is a nod to how Khan sees himself; as a kite, he is guided by his loved ones. Throughout, he sprinkles samples of meaningful moments with family and friends. His younger sister Tazin is the first voice you hear, and his father is the last, reciting the poem "Priyotomashu" by Bengali author Sukanta Bhattacharya.
After the soundcheck, we opt for a little bit of sunshine over Webster Hall's dim lighting, ending up on a stoop in the East Village. There, the 28-year-old rapper, singer, and producer detailed how his borough resonates throughout his music, and just how personal Kites is.
I remember you told me about the dichotomy between your home life and your homie life — being very family-oriented and speaking Bengali at home, and then being on the block with your friends, rapping.
It was always such a hard balance, but I think that's such a universal story for immigrants in general of just like finding that balance, finding who you are, in between where you come from and where you live and how you grew up in the place that you lived. So obviously just like any other person I just had to find myself — and I was a late-bloomer when it came to it. It didn't happen until my early twenties, until I went back to Bangladesh when I was 21 and I understood like, Wow, my country is beautiful, my culture is beautiful, why am I hiding or running from something that's so amazing? I could never not be Bengali, so what the fuck.
I remember coming back to the U.S. and watching the Marley documentary, and seeing how proud [Bob Marley] was to be Jamaican, how proud he was to present reggae to the world — and again, me realizing, Yo, why haven't I been super proud of being South Asian? And then I remember like, we never had anybody to make us proud. All we had was Apu from the fucking Simpsons. And maybe that was the reason why I was never completely proud of it. And then I was like, Maybe I can do something and make people who come up or grow up the way I did proud to have someone. And maybe I could be that person for someone.
You grew up in Queens, one of the world's most diverse neighborhoods. How does that reflect in your music?
Kites is completely a soundtrack to Queens. Depending on the track, you're in a different part of Queens. It's an ode to the trains, going from Queens Plaza to Jamaica Avenue, and how all these different places influenced who I am. Queens has a big West Indian community, it has a big Brazilian community, it has a big Arab community, it has a big African-American community. From Queensbridge to Woodside to LeFrak [City] to Jamaica to Flushing, [Queens] literally has everything. I would go to Hispanic parties and have barbecue, and dance to reggaeton, and then I would go to Guyanese and Trini and Jamaican parties and learn to dance to soca, and all of these things influenced me from early on.
My parents were immigrants, so I didn't grow up listening to jazz. I was introduced to jazz. I didn't grow up listening to soul; I was introduced to Marvin Gaye and Luther Vandross. So subconsciously, I instantly lured myself towards international music just because that's what I grew up around. A lot of international music, people don't realize are very similar; they're like cousins. Like West Indian percussion, West African percussion, Indian percussion, Brazilian percussion, they all have very similar rhythms. Just played differently, with slightly different timbres — and then I realized that's what I wanna do. I wanna take the place I grew up with and show people the world through music.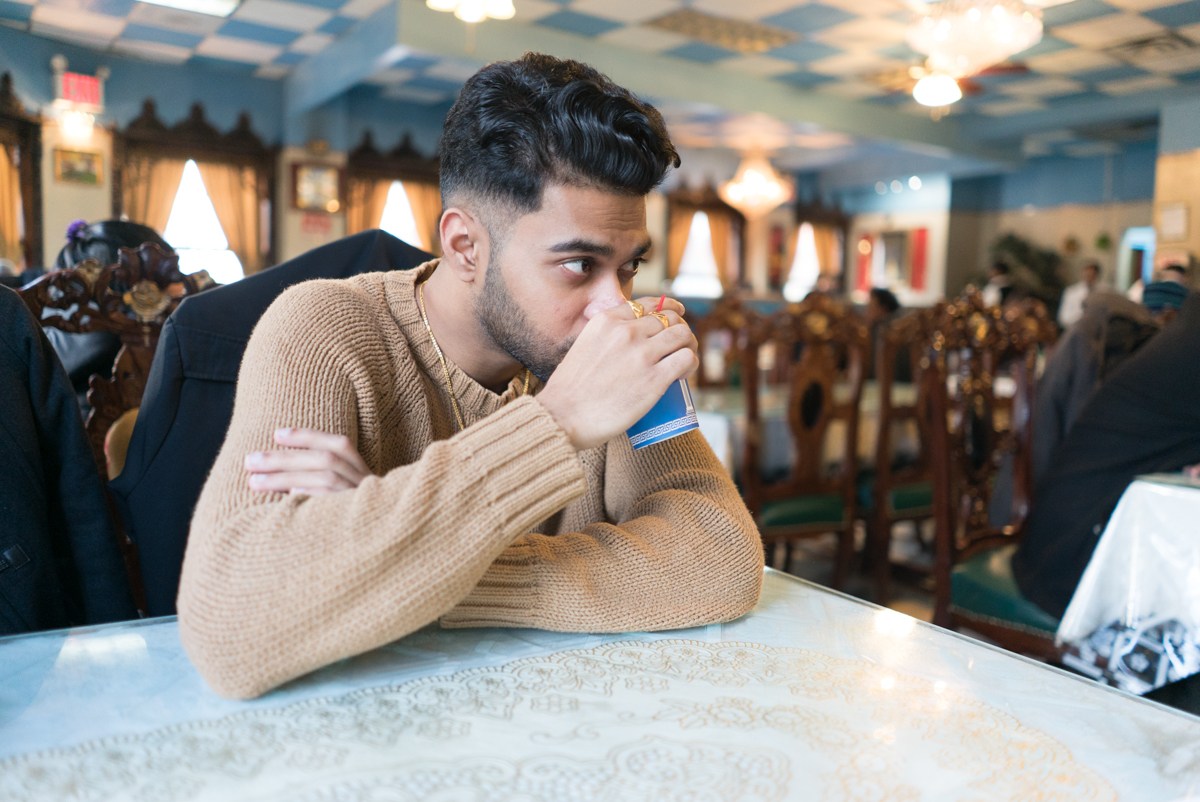 "We're nothing without Native Americans, without immigrants, and without African-Americans. That's who made this country."
With your first tape IDKY, part of your purpose was to give immigrants a platform. What do you think you do differently with Kites?
Kites is more about myself. It's is more of an immigrant story from a production standpoint. I really went in with what I wanted to do as a producer. Because obviously I produced every single record on that joint, and making sure I had Brazilian congos, making sure I had like classical music with strings in there, making sure I had the jazz infused with the West Indian rhythms. Making sure I had the Afropop, but blending it with Portuguese funk.
So from a production point, it was more an immigrant story, but from a lyrical standpoint, Kites is about what you love, the people who are important to you and how you deal with that shit. It's just more about my life — a life that's like very relatable to a lot of people in their 20s, figuring themselves out, figuring out their confusion, figuring out sad shit, figuring out when you're happy, and how to get through all of that. What used to be important and what's important now — what your priorities are.
Why is the flow of Kites so integral to the project?
This project is for you to listen to from front to back. You can handpick songs out but I don't think you'll understand the story unless you listen to it from front to back. It opens up with my sister talking about what's really important: "My brother really says it best, the older I get, the more I realize I don't know shit." I thought it was the sweetest thing that she said that because I do this shit for her and my family.
It starts off with the kites, and me being in the air — and then you get on the train. The train closes and the first record starts and it's "Cleopatra" because Astoria used to have a big Bengali community and South Asian community in general. Then you keep moving up with West Indian music, "Tides": there used to be a big Guyanese community in Astoria. Going into "Habibi," which is more further down towards Ditmars, where the Arabs live, where Little Morocco is, where Little Egypt is. And then halfway through, you're at "Kites," and "Kites" is the middle point, the resting point for you to understand you're in LeFrak now. You're halfway through the project, and you have my homie Jaemar at the end, talking about this is Queens, this is how we are, and people who don't get it, fuck them. Do what you do.
Also in the middle, there's a record called "Brent's Interlude," and that's for like my big bro who basically taught me how to make music and really helped me find myself. He was incarcerated for two years, and when he got out, just like a couple months ago, I made him record an a cappella of [his own song] "Nest" through Facebook messenger. He sent it to me, and then I hired a keyboardist to [accompany] him singing that.
The last track on Kites "Columbus" is really close to home right now, especially with Trump's immigration ban.
It's funny 'cause I wrote "Columbus" about a year ago, before the president was elected president, before any of that shit. It was about that fucked up ass holiday that we celebrate, and I realize that I could play on this a lot. If we're going to celebrate this day, let's celebrate it for the people [Columbus] brought here and the people who were already here, that made this country, instead of the motherfucker who "founded it." It was the last record that you were going to hear. It was the last piece or thing to tie it all together, to understand that America was made from black backs and brown shoulders. And that was the last thing I wanted people to hear, with my father speaking in Bengali at the end. For people to understand that this country is nothing without black, brown, yellow, beige people. We're nothing without Native Americans, without immigrants, and without African-Americans. That's who made this country.