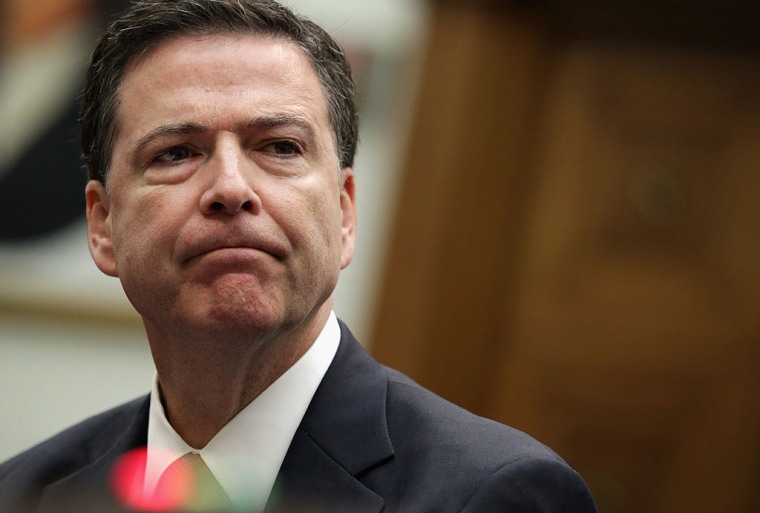 One of the stated reasons for Comey's dismissal is surprising: his handling of Hillary Clinton's email scandal. Comey's letter to members of Congress about new emails found on Hillary Clinton's private email server, sent on October 28, is widely credited for tipping the election in favor of Republican nominee Donald Trump.
In his letter to the president, Rosenstein wrote that the Trump administration disagrees with Comey's handling of the investigation into Hillary Clinton's email server, specifically, its ending. "I cannot defend the Director's handling of the conclusion of the investigation of Secretary Clinton's emails," Deputy A.G. Rosenstein wrote, "and I do not understand his refusal to accept the nearly universal judgement that he was mistaken."
"Derogatory information sometimes is disclosed in the course of criminal investigations and prosecutions, but we never releases it gratuitously," Rosenstein wrote."
However, given the FBI's ongoing investigation into the Trump campaign's connections with Russia, some observers are skeptical that the letters outline the true motives behind Comey's dismissal. A former senior FBI official told NBC's Ken Dilanian that the Trump administration hopes to close the Trump probe by dismissing Comey.
Comey was appointed as FBI director by President Obama in 2013. Press Secretary Sean Spicer said that Comey "accepted the recommendation." The White House will begin the search for a new director immediately.

I have a funny hunch that the guy who said *this* didn't fire Comey because of his handling of Clinton https://t.co/JDcodbqRTu

— Christopher Hayes (@chrislhayes) May 9, 2017
Comey's dismissal has left many politicians, activists and government employees disturbed by its implications. Former DOJ official Matthew Miller called the firing "genuinely terrifying." In a statement, the ACLU said the dismissal "raises serious alarm bells."