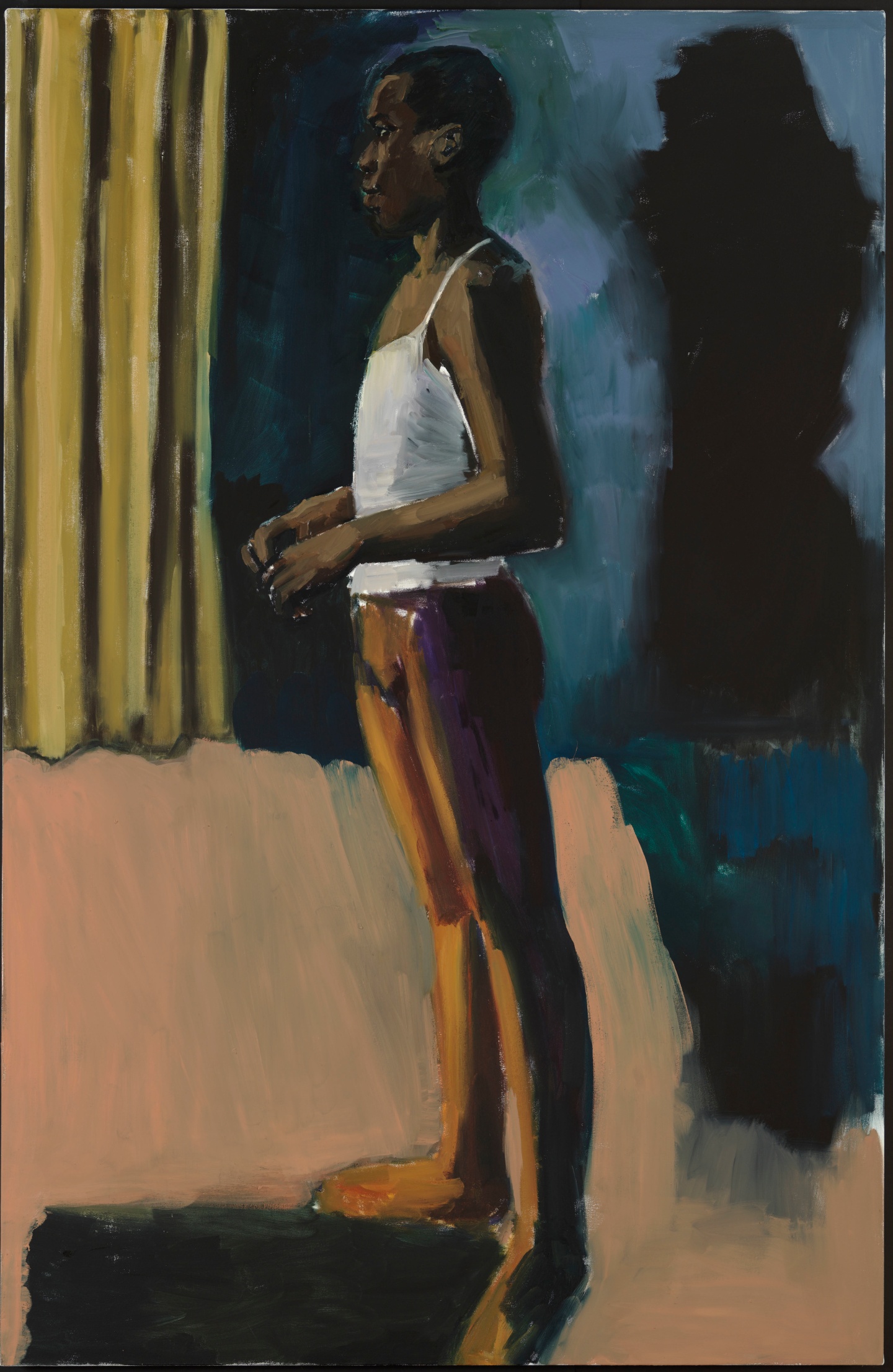 There is a strange feeling that overtakes you upon first seeing a painting by Lynette Yiadom-Boakye up close — one instantly wants to extract ownership over the body or bodies contained within her large-scale figurations. Who is this person? How did she end up here? What does he want to tell me? For years, Yiadom-Boakye, a London-born Ghanaian artist, has rendered women and men with skillful command. Purposefully so, her subjects exist without borders, outside the crossroads of a particular history or set selfhood (each painting is created from a composite of people and ideas, and never one person). "There is no context for them," curator and art historian Elena Filipovic recently wrote of Yiadom-Boakye's portraits, "except their very selves."
Such remains the case in Under-Song For a Cipher, the 40-year-old artist's just-opened solo show at the New Museum on Manhattan's Lower East Side. Against cinnamon-colored walls on the gallery's fourth floor, 17 new paintings by Yiadom-Boakye hang in harmonious unison, each nonconformist and originally august in stature, though all with a singular aim: to disrupt one's sense of self. Together, the portraits extend Yiadom-Boakye's decade-long chronicle into the present; she has set about to compose black beings unbound by perception or class or tyranny or death (the director of the 2015 Venice Biennale once described her work as "post-portraits"). By her own admission, her subjects occupy "neutral spaces" — or rather, the in-between. In "An Amber Cluster," for example, an almond-skinned man in a peach-colored shirt is caught mid-movement. He could be anywhere, at any recent point in time, coming or going, Ghanaian, American black, or Guyanese. It is not so much fiction but instead a more human mode of storytelling. Yiadom-Boakye asks: Who do you think this man is? And what was it that made you arrive at this certain end?
Having exhibited work in New York, London, Munich, and Geneva, much has been made of the subtle, near-quiet force her paintings exude. But such sentiments aren't exactly accurate: her paintings are loud, ungovernable things — portrayed are people who defy linear narratives, wildly alive and stubbornly unoccupied by the constraints of identity. In that sense, Yiadom-Boakye has created an impressionistic hokum for the viewer to untangle and piece back together in their own vision. It may be true that every person brings their own politics and set of beliefs to a piece of artwork, but this negotiation is especially true of Yiadom-Boakye's wondrous oil compositions, each its own uniquely contemporary riff on classic European portraiture. As a result, the 2013 Turner Prize finalist has created a kaleidoscope of identities and histories that morph not just one's understanding of the world, but of where one sits in the world, and just how that came to pass.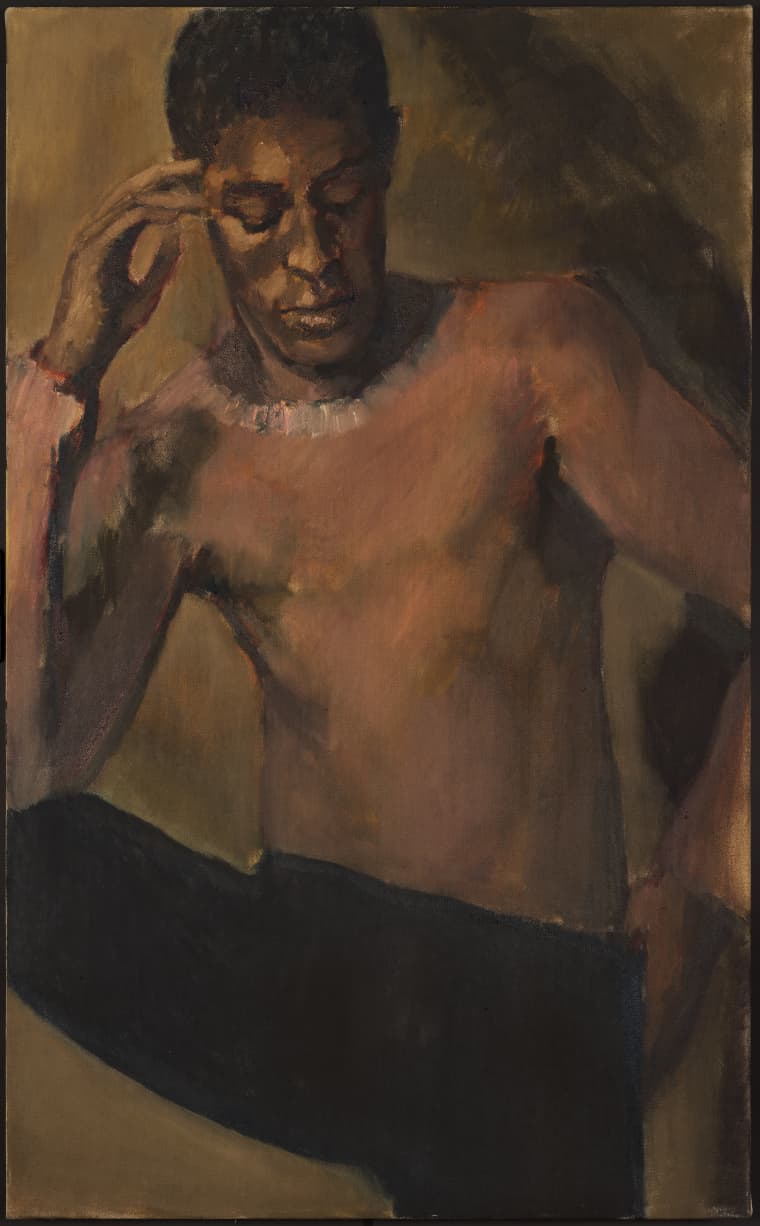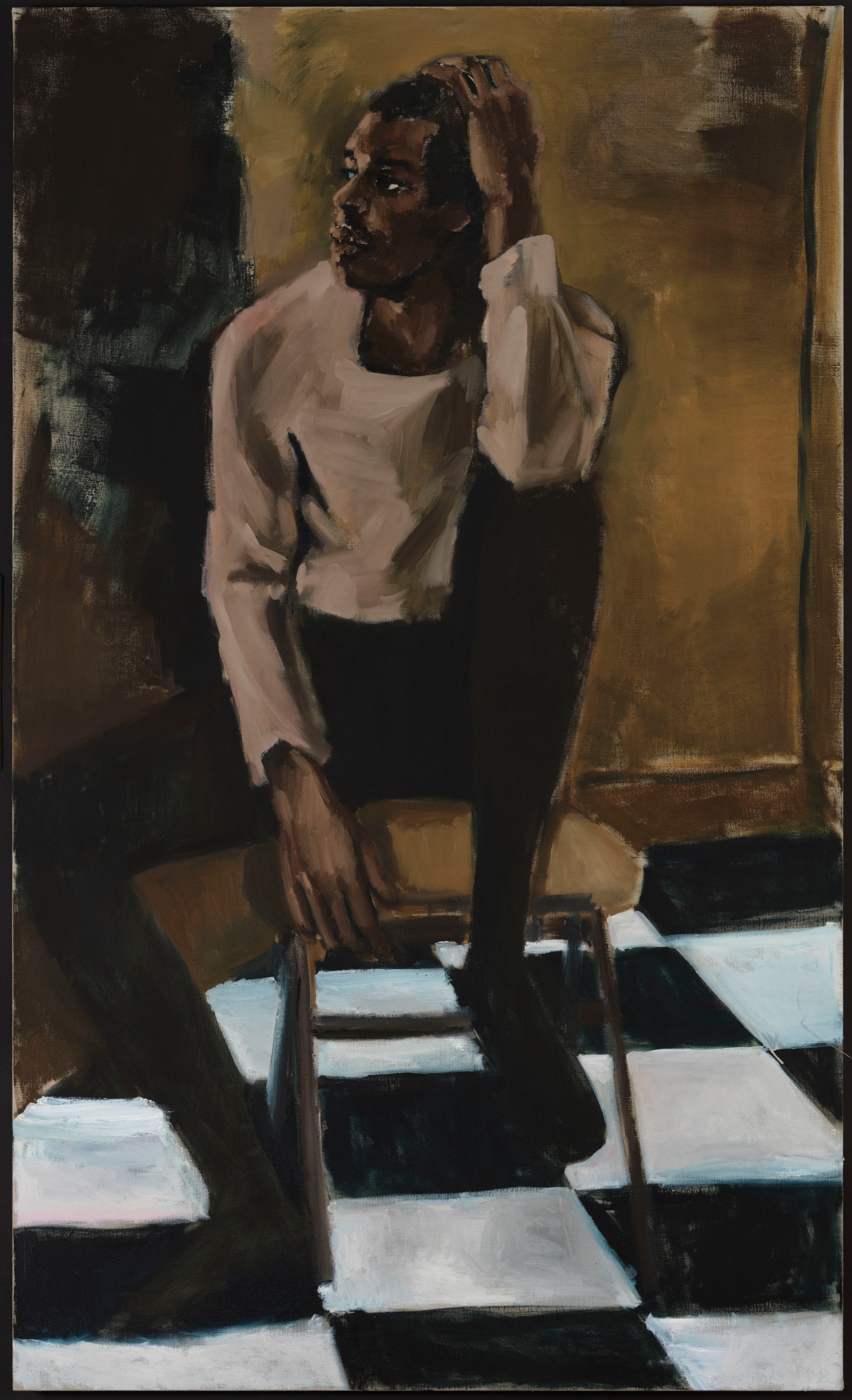 It is the negotiation — the expectations, insecurities, and biases exchanged in the space between viewer and painting, and what is ultimately gained and lost in that quarrel — that Yiadom-Boakye seems most concerned with. It was for that very reason that I decided not to speak with the artist. At the onset of this assignment, I thought it would be helpful to chat with her about the art's intent. "What are your paintings trying to say?" I would have asked. But in doing so I would have missed Yiadom-Boakye's truer objective: to reveal the infinite exquisiteness found in pushing back against the ways in which the world constricts around us. It wasn't about what she herself wanted, but instead the destination that the viewer and painting arrived at in tandem.
"We're all together inside a system that scripts and constructs not just behavior but imagination," the poet Claudia Rankine told The Paris Review in 2016. The ways that social perceptions script and construct are quotidian manifestations of constriction. Ours is a reality where whole communities of people have been conditioned to go about their lives in this very noxious state. It is why Lynette Yiadom-Boakye's portraits feel so deeply and humanly significant: she has allowed for infinite plurality in a society sick with its own immutability.
Two years ago, the artist noted of her creative practice, and her insistence in using oil paints: "It's just very dirty, it's very messy; it doesn't always do what you want it to do, it's alive, it doesn't dry very quickly," she said, perhaps hinting at the larger hope for her subjects. "It's fleshy and unpredictable."