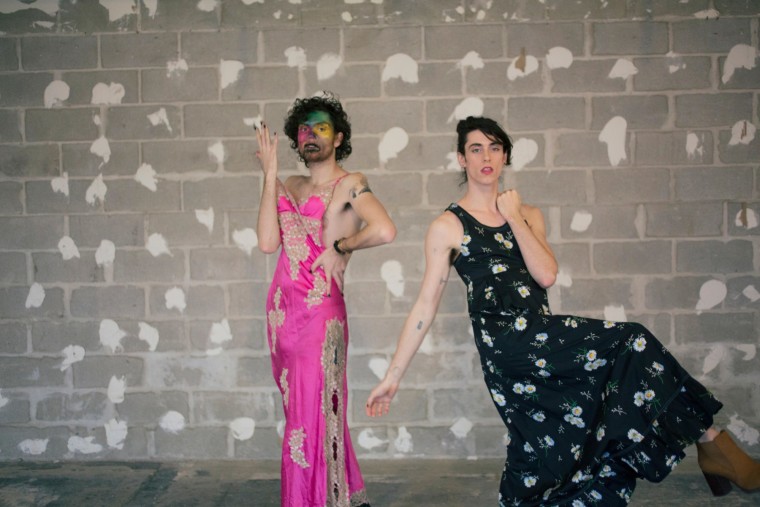 Ben Hopkins and Liv Bruce of New York City punk duo PWR BTTM took to social media on Tuesday to respond to allegations of sexual assault and abuse against Hopkins. The allegations were posted by a member of the private Facebook group Chicago DIY on Wednesday by someone who claimed to have witnessed Hopkins "initiate inappropriate sexual conduct...without warning or consent." The allegations were then circulated on Twitter and Reddit.
"Ben has not been contacted by any survivor(s) of abuse," PWR BTTM wrote in a statement posted to Facebook on Thursday. "These allegations are shocking to us and we take them very seriously. Further, the alleged behavior is not representative of who Ben is and the manner in which they try to conduct themselves."
Hopkins and Bruce also said they had set up an email account — pwrbttm.ask@gmail.com — so that "a survivor or someone working directly with a survivor can discuss the allegations being expressed." The statement says that the band is looking for a professional mediator to oversee the account and Hopkins will not having access to the email address.
Their statement was met by mixed reactions including new accusations from Adult Mom, who performed with PWR BTTM in 2015. "jw how were you surprised when you were contacted about this already months ago?," the artist wrote in response to the band's statement on Twitter. "if this is supposed to be an apology it doesn't sound like 1? Y are people harmed supposed to go out of their way to contact u?"
The original post that was circulated also pointed to a picture of Hopkins on the beach posing next to a Swastika drawn in the sand. Hopkins addressed the photo, which they said was taken in 2011, on Twitter last December. "To anyone who was hurt by this image, know that it was me as a stupid kid and not who I am today, and I am so so sorry," Hopkins wrote at the time.
Representatives for PWR BTTM and Adult Mom were not immediately available for comment.
.@PWRBTTMBAND jw how were you surprised when you were contacted about this already months ago?

— adult mom 🍑🌸 (@adultmomband) May 11, 2017
@PWRBTTMBAND if this is supposed to be an apology it doesn't sound like 1? Y are people harmed supposed to go out of their way to contact u?

— adult mom 🍑🌸 (@adultmomband) May 11, 2017