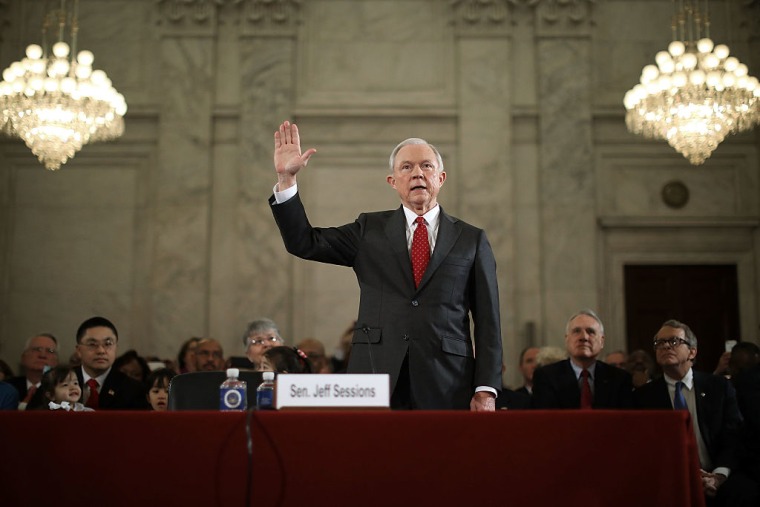 Attorney General Jeff Session has ordered federal prosecutors to pursue the harshest sentences possible for drug offences, a stark change from the practices of the Justice Department under former President Barack Obama.
The new policy, sent this week to prosecutors around the country, cancels the protocol for drug prosecutions established by Eric Holder, the Attorney General under former President Barack Obama. Holder mandated that when possible, federal prosecutors should avoid charging certain defendants with crimes that would lead to mandatory minimum sentences. These charges were only pursued with defendants who were members of "a large-scale drug trafficking organization, gang or cartel," according to The Washington Post. As a result, many people served less prison time.
Under Jeff Sessions, the Department of Justice will reverse this policy, despite a growing consensus to reduce incarceration of drug offenders. Prosecutors must now "charge and pursue the most serious, readily provable offense." This will likely lead to an increase in federal prosecutions and the populations of federal prisons, which seems to be a goal of Sessions's: he recently reversed a decision by former Deputy Attorney General Sally Yates barring privately owned prisons from housing federal prison inmates. Yates's decision, according to Sessions, "impaired the [Bureau of Prisons'] ability to meet the future needs of the federal correctional system."
The ACLU has condemned the new policy in a statement. "Jeff Sessions is pushing federal prosecutors to reverse progress and repeat a failed experiment — the War on Drugs — that has devastated the lives and rights of millions of Americans, ripping apart families and communities and setting millions, particularly Black people and other people of color, on a vicious cycle of incarceration.
"It failed for 40 years," the statement continued. "and from the halls of state legislatures to the ballot box, the American people have said with a clear voice that they want common-sense reforms to sentencing policy, and not a return to the draconian policies that have already cost us too much."