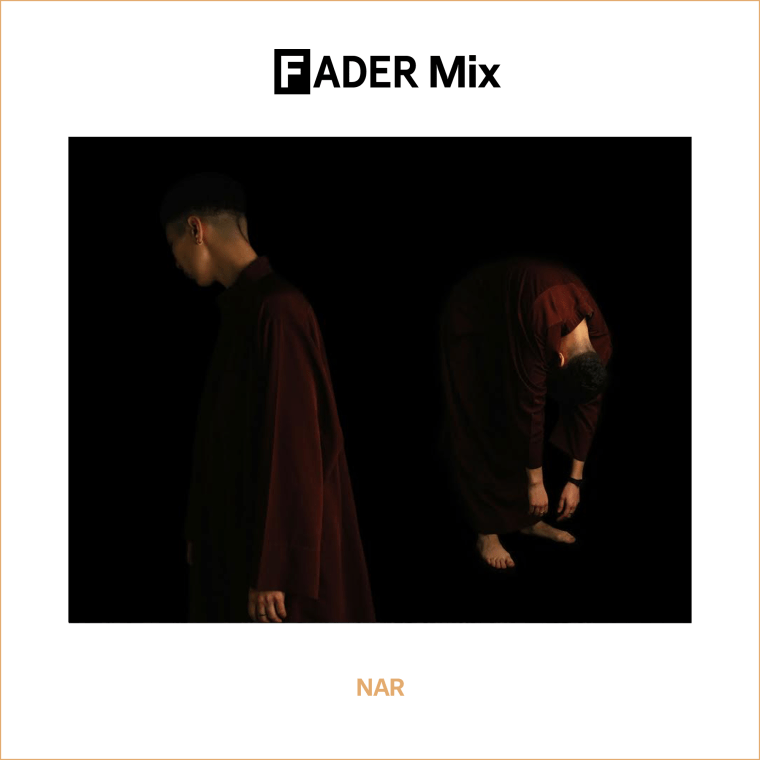 On his thrilling FADER Mix, New York artist NAR draws lines between — and over — brash Brazilian hip-hop and bubblegum American pop. Club textures take a left turn into an industrial zone, and tender R&B vocals are offset by disquieting polyrhythms. There's also a drum and bass bootleg of a Kelela track. It all makes for a wholly satisfying ride, one that refuses to be second-guessed.
New York label Doom Dab recently released NAR's new EP, Jujeh (listen here), and a remix package featuring contributions from N.A.A.F.I-affiliated artist ZutZut and Gatekeeper's ADR will follow this summer.
Dive in below, and scroll down for an interview with NAR about the music that shaped him growing up, the record he's making that will document his transition, and his favorite Iranian dish to make.
Where are you right now? Please describe your surroundings.
I am currently drinking a Nespresso in my room/studio in Brooklyn, N.Y. It's a L.E.D.-lit marble haven. I flew with all my equipment from L.A. and now I'm typing on my iMac with an infuriating massive lightning shaped crack down the middle of my screen.
Tell us a bit about this mix — what do you imagine people doing while listening to it?
This mix is an angsty collection of tracks; I imagine people who are constantly scrolling through outrageous headlines can listen to this mix to help ease their rage. It's also a really fun mix to workout to, especially if you're trying to get some aggression out.
What's your earliest musical memory?
I have two sisters that are a lot older than me and they always had great taste in music. I remember as a little kid I would sit in their rooms and watch them get ready for hours before they would pump through the clubs in Hollywood. They would play Grace Jones, Tricky, Massive Attack, and other artists in that vein, as they applied their makeup and put their looks together. I would sit there thinking about how I wanted to make great music like those artists and how I couldn't wait till I was old enough to be able to go out with my sisters.
Also, my parents were always playing Middle Eastern music in the house and when they would have parties they would invite musicians and bellydancers to perform, which was extremely influential. I was never listening to what the other kids were listening to. My family really helped develop my palate for music at a really young age and I will always be grateful for that.
What informs your music aesthetic today?
The political climate and how that intertwines with being trans in this day and age. I hope to continue producing bodies of work that shine a light on that progression.
Your recent performance at Teengirl Fantasy's release party was really exciting. What instruments were you playing?
I was playing guitar over playback of tracks from my new EP Jujeh and from my other collaborative project burqa, accompanied by animated visuals I compiled together.
What projects do you have coming up in the second half of 2017?
Right now I'm in the blueprint stage of producing an album where I am documenting the progression of my vocals as I transition. A couple of other mixes and music scores for upcoming art installations and short fashion films. Also, a remix album for the Jujeh EP with tracks from Zutzut, ADR, Svengali, and more coming out on Doom Dab.
What's the last book you read that had a big impact on you? And why?
To be honest, I haven't had much time to read books 'cause I am constantly reading articles to keep up with this horrific administration and the global landscape. I feel it's crucial to be aware of everything that's going on and to remind ourselves that this is NOT NORMAL.
What's your favorite dish to cook and how do you make it?
I've recently started to learn how to cook my mother's traditional Persian dishes now that I've relocated to New York and there's not many Iranian restaurants or markets. My favorite dish to cook is jujeh kabob with rice. Persian dishes are very complex that take lots of prepping and time to cook. To simplify it, you basically marinate cubes of chicken with saffron oil, chopped onions, turmeric, salt and pepper, then cook it on skewers over a barbecue. The rice I'm still trying to master but you have to wash it several times, let it sit, boil water, add the rice, drain once it's 90% cooked, then put back in the pot and let it sit till you get the celebrated crispy rice (tahdig) at the bottom. It's a whole fucking process, but tastes amazing lol.
Tracklist
Isis Scott ~ 'Highness'
Svengali ~ 'Active Denial System' X CupcakKe 'Vagina' [ NAR Edit ]
Btvn X Young Thug ~ 'Stoner Anxiety'
Coucou Chloe ~ 'Doom'
Dehousy ~ 'Manda Le'
MC Larissa ~ 'Famoso Machuca Xota'
MC Bin Laden ~ 'Tchu Plin Tchu Plin'
MC Ruzika E MC Dimenor ~ 'Fenix'
Majia ~ Future 'Xanny Family' [ Santa Muerte Edit ]
Lotic ~ 'Chunk' [ Shalt Edit ] X Kelela 'Cut 4 Me' [ NAR Edit ]
DJ Zone X Svengali ~ 'Came For It'
NAR ~ 'Future Mesh'
Rhizome ~ 'Play With My Pussy'
Kingdom ~ 'Tears In The Club'
Gangsigns VIP ~ 'Pick Up The Phone' [ Club Edit ]
Mikeq X DJ Na X Tink ~ 'Fingers Up'
NAR ~ 'Masjid' [ Retool ]
Kelela ~ 'All The Way Down' [ Air Max '97 ]
Murlo X Seal ~ 'Kiss From A Rose' [ Refix ]
Lak ~ 'Some/thing' X Justin Bieber 'As Long As You Love Me' [ NAR Edit ]
21 Savage ~ 'X'
Mala ~ 'Changes' [ Terreux Refix ]
Swisha ~ 'Da High'
Foozool ~ 'Azat'
Hoodcelebrityy ~ 'The Takeover' [ Kelman Duran Remix ]
Sully ~ 'Vamp'
Habibiboi ~ 'Bad N Boujee' [ DJ Tool ]
LSDXOXO ~ 'Aquecimento Do Evanescence'
Gil ~ 'OCD'
Malibu ~ 'Xxxclusivo'