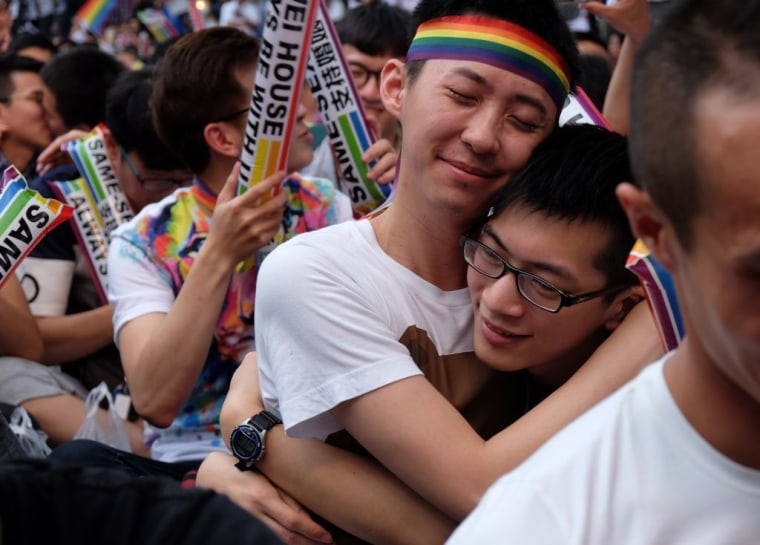 In a landmark decision on Wednesday, the Taiwanese constitutional court paved the way for country to become the first place in Asia to legalize sam-sex marriage. The justices ruled that current laws that prohibit same-sex couples from marrying violate the constitution, NPR reports.
In their decision, justices called sexual orientation an "immutable characteristic that is resistant to change." In a press release, the court said allowing people the right to choose whom they marry "is vital to the sound development of personality and safeguarding of human dignity, and therefore is a fundamental right."
"The judges have today said yes to marriage equality," Amnesty International's Lisa Tassi, who directs campaigns in East Asia, said in a statement on Wednesday. "This is a huge step forward for LGBTI rights in Taiwan and will resonate across Asia."
The fight to legalize same-sex marriage in Taiwan has been a key issue since the 1980s, when Qi Jia-wei, the key plaintiff in the case, became the first gay man to publicly come out in the country. His first petition for same-sex marriage was turned down 16 years ago, Focus Taiwan reports.
Following the constitutional court's ruling, Taiwan's government will have two years to reverse its current marriage laws. If legislation doesn't pass after that deadline, same-sex couples will be able to register for marriage and receive the status of "the status of a legally recognized couple."