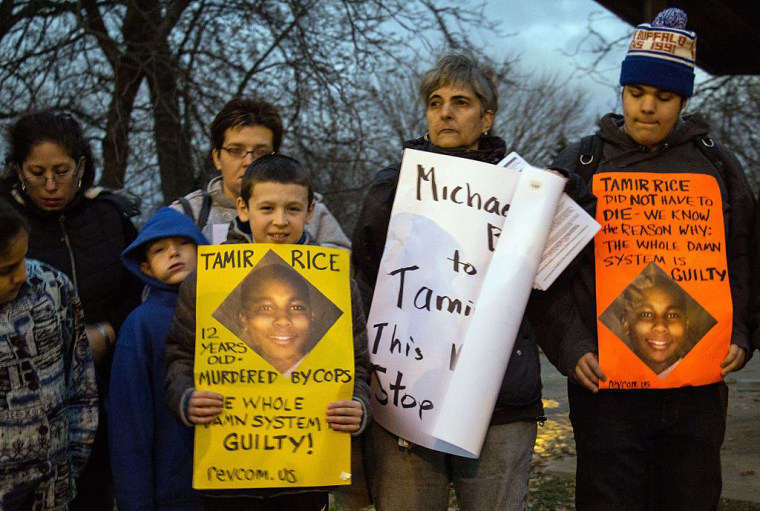 Timothy Loehmann, the Cleveland police officer who shot and killed 12-year-old Tamir Rice in 2014, has been fired from the department, Cleveland Director of Public Safety Michael McGrath announced during a press conference on Tuesday. Frank Garmback, the officer who was driving the patrol car at the time of the shooting, has been issued a ten-day suspension from the department.
The punitive actions come after a review of the fatal incident by the department's critical-incident review committee. Loehmann was not fired for the shooting itself, but for misrepresenting himself on his job application when he applied to be an officer. Garmback was found guilty of violating rules related to tactical training related to the shooting. He will be required to attend additional tactical training courses and will begin serving his suspension on Wednesday.
"This has been tough on our entire community, and definitely on the Rice family," Cleveland's chief of police, Calvin Williams, said at the news conference on Tuesday. "When this happened in 2014, I made the comment that this is of course a tragedy, but it's even more tragic that it happened at the hands of a Cleveland police officer."
Loehmann and Garmback were responding to a report of 12-year-old Tamir Rice playing with a pellet gun outside a recreation center. Video from the incident showed Loehmann shooting Rice two seconds after arriving on the scene. In 2015, a grand jury decided not to bring charges against any of the officers involved in the killing. The city agreed to pay a $6 million dollar settlement to Rice's family to settle a civil lawsuit in April 2016.