FADER Mix: Fhloston Paradigm
Float away with this reflective mix from Philly veteran King Britt's star-gazing alter-ego.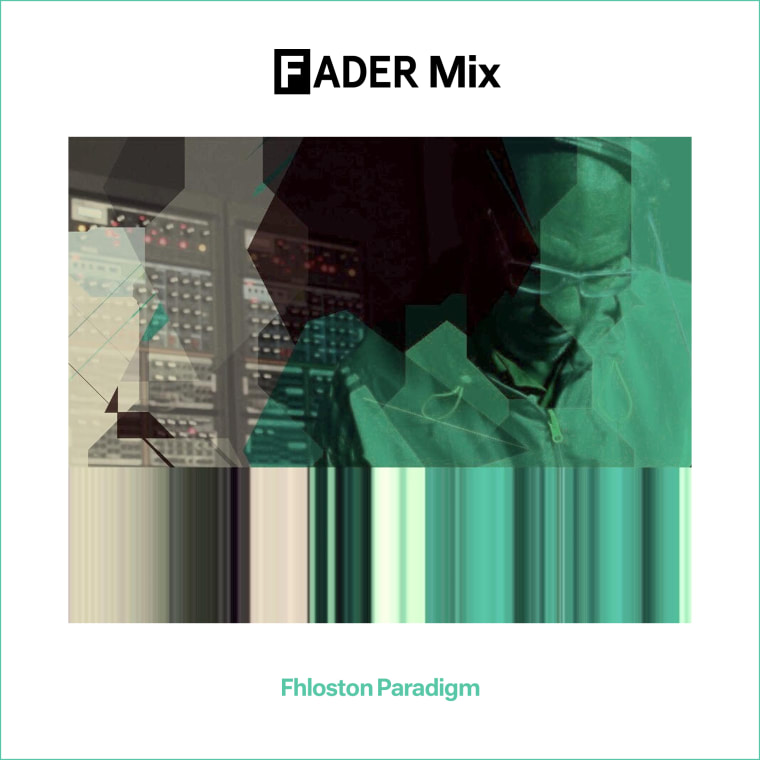 Fhloston Paradigm is the star-gazing alter-ego of veteran Philly electronic artist King Britt. The side project first surfaced in 2014 with a release on U.K. label Hyperdub, and this month Britt is bringing it back for a full-length called AFTER... that features collaborations with Moor Mother and Nosaj Thing amongst others. (It's due out June 16, and you can preorder it here).
To set the scene, Britt has made us a FADER Mix of album influences that also serves as a magical mystery tour through the past 40 or so years of experimental composition. He matches gold by Herbie Hancock and Ryuichi Sakamoto with gems from Mica Levi and Yves Tumor, and the resulting journey flows like a leaf on a stream. Get carried away below, and scroll down for wise words from the man himself, along with that crucial tracklist.
Where are you right now? Please describe your surroundings.
Presently at my fave breakfast spot in Philadelphia. Very simple Moroccan inspired food and kitchen style set up. The shakshuka is insane.
Tell us a bit about this mix — what do you imagine people doing while listening to it?
The mix is comprised of some of my favorite artists that subconsciously influenced my new album. I wanted to create an atmosphere of mystery, but also relaxed and free. A soundtrack to your afternoon when it's raining hahahaha.
What's your earliest musical memory?
The constant heartbeat and drone of flowing blood in the womb. There are moments when I remember this feeling ...not many have.
In what ways has America's relationship to electronic music shifted since the '80s?
In the '80s, music technology was just becoming available at consumer prices. Before it was only for the elite. This opened up to new sounds and new discoveries. It was a very special thing that seeped into pop culture. I still feel the '80s was the most creative time period.
Now, electronic music is the norm. It has changed the process, result and distribution.
The sense of discovery, as a musician, is gone a bit. Now you can YouTube any questions and know how to do it instead of figuring out the machine or problem. So there aren't those happy accidents as much anymore. Like drum & bass wouldn't have happened if the Akai S950's manual was good hahahaha.
As a label owner, it's great because getting the music out to the people is easy. Making a living, that is the challenge.
How has your own musical taste evolved over the years?
I have always embraced all genres. If anything, I have instant access to more than I ever imagined. So discovering music of say the deep forests of Brazil is easier with the internet — so my taste is so much broader. And since so much music is homogenized, digging deeper is a must.

How do you stay creatively motivated?
I always like to make my music process a game. For instance with Fhloston Paradigm, I create a palette of sounds used only in that project. Then I wanted an album with no drums and no lyrics. As someone who is known for their drums, it was extremely challenging to create rhythm without making a beat. It was so much fun. I continue to make it fun. Limitations equal more creativity, especially since we have access to EVERY sound out there.
What projects do you have coming up this year?
So, the new Fhloston Paradigm album, AFTER... drops June 16 with collaborations with Ryat, Moor Mother, Tim Motzer, Nosaj Thing, Stephanie Yu, Kate Faust, Petra, Pia Ercole, and Alexa Barchini. It was a truly healing experience.
Also I will be relaunching my Buddy System label and event in the fall, releasing a 7" as well!
What's the last book you read that had a big impact on you? And why?
Interesting. I read tons and tons of books (actually writing my first book now). I'm in middle of Cosi Fanni Tutti's book Art Sex Music. She is one of the founders of Throbbing Gristle and an absolute force in avant garde and electronic music. Extremely political and really questions the status quo. I have been a fan since high school. Her story really shows that no matter what your circumstances are, you can do whatever you want in life.
What's your favorite dish to cook and how do you make it?
Hahahaha. I love love salmon and I do a really simple but effective seared salmon dish with quinoa and avocado. Less is more. All about the spices and your intention.
Tracklist
Thais - This Mortal Coil
Troubled Boy - Kid Cudi
Cherish - Yves Tumor
Blue Bell Knoll - Cocteau Twins
SD#5 - Fhloston Paradigm
Aurora, Stay Close - Dimlite
Paul Jacobs Variations - Bach / Prefuse73
Knowledge is Passed On - Hauschka
Cut Up Piano & Xylophone - Fridge
sure - Ryuichi Sakamoto
Along - Oneohtrix Point Never
Bartok Main - Mica Levi
Are Years What? - Philip Glass
Where Do They Go, The Butterflies - Mark Pritchard
Once We All Agree - James Blake
Open Foe - Clark
Drawn feat Little Dragon - De La Soul
Rain Dance - Herbie Hancock
Darkness - Jan Hammer
The Heartbreak feat Kate Faust / Nosajthing - Fhloston Paradigm
Senza Aria - Alessandro Cortini
Argente - Floating Points
Four Seasons (Shadow mix) - Max Richter / Vivaldi