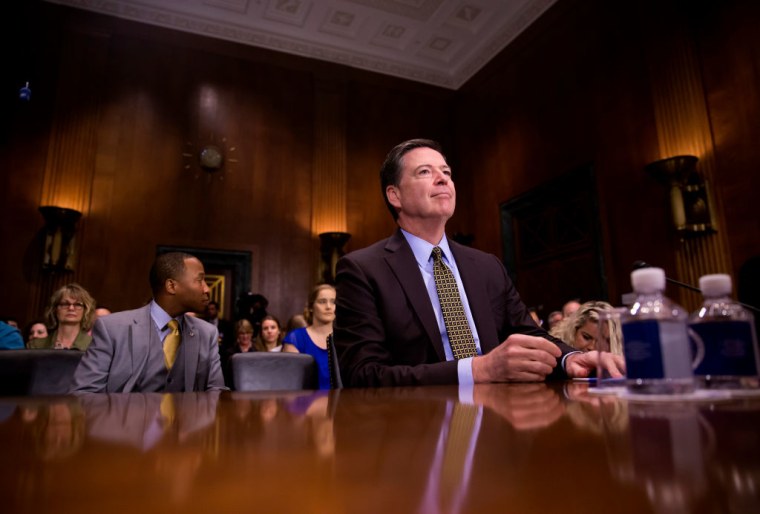 The prepared statement of former FBI Director James Comey has been released by the Senate Intelligence Committee, the day before he is scheduled to testify.
The statement confirms previous reporting on interactions between Comey and Trump. During a dinner on January 27, Comey writes that Trump said he "expects loyalty" from the FBI, an organization independent of the government. "I didn't move, speak, or change my facial expression in any way during the awkward silence that followed. We simply looked at each other in silence." Comey said that he could only promise "honesty," which Trump countered with "honest loyalty."
The President asked Comey on February 14 about the investigation into former national security advisor Michael Flynn. Trump said he hoped Comey could "see [his] way clear to letting this go." Comey only confirmed Trump's assertion that Flynn was "a good guy," but did not tell the President he would drop the investigation.
Comey also described a call with Trump on March 30. The President claimed he was distracted by the FBI's ongoing investigation into possible collusion between Russia and Trump's presidential campaign. "He said he had nothing to do with Russia, had not been involved with hookers in Russia, and had always assumed he was being recorded when in Russia. He asked what we could do to 'lift the cloud.'"
Comey also claims that Trump asked him to "get the fact out" that he wasn't being personally investigated during a phone call on March 30. On April 11, Trump again asked Comey what he had done to broadcast that Trump was not being personally investigated. "I have been very loyal to you, very loyal," Trump told Comey before the end of the call.
"That was the last time I spoke with President Trump," the statement concludes. Read it in full below.