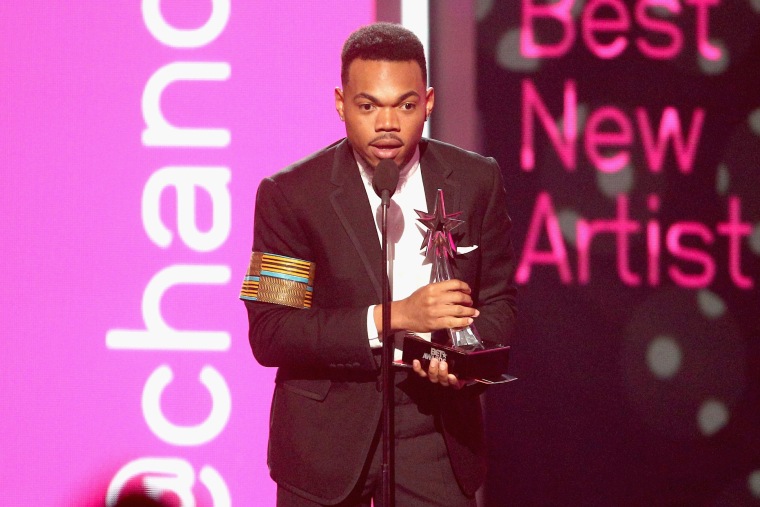 Chance The Rapper accepted the 2017 BET Humanitarian Award, which he received for "positively impacting both local and national communities." That impact includes donating $1 million to Chicago Public Schools and raising $2 million through his Social Works organization. Chance is the youngest recipient of this award.
"We are so incredibly proud of you Chance," said Former First Lady Michelle Obama, in a short speech before the award. "Chance is showing our young people that they matter. Chance you are an outstanding role model, and an inspiration to people who care about our next generation... I can think of no better legacy to leave."
The crowd erupted in cheers as Chance took the stage.
"I'm 24 and to be receiving something like this at my age it feels good as hell," said Chance as he was accepting his award. "I love this. I love black people man. Gas me up, please. Gas me. I was gonna say it feels a little early to get something like this. But my god doesn't make mistakes. and i like to think he's putting this enormous pressure on me to see how I act. And I had plans to tell the world and everyone watching to make the world a better place...But my big homie Reese told me that we gotta work on ourselves before we change the world."
Chance went on to highlight some of the biggest problems facing society: police brutality, a lack of funding for public education, mass incarceration and the current administration's lack of empathy towards these issues. He said that he wanted to help people beyond Chicago and the United States, to all over the world.
"I'm a good man and I'm gonna be a better man," he ended his speech. "Thank you Ms. Lee, thank you mom. I love y'all."
You can watch the full speech below.