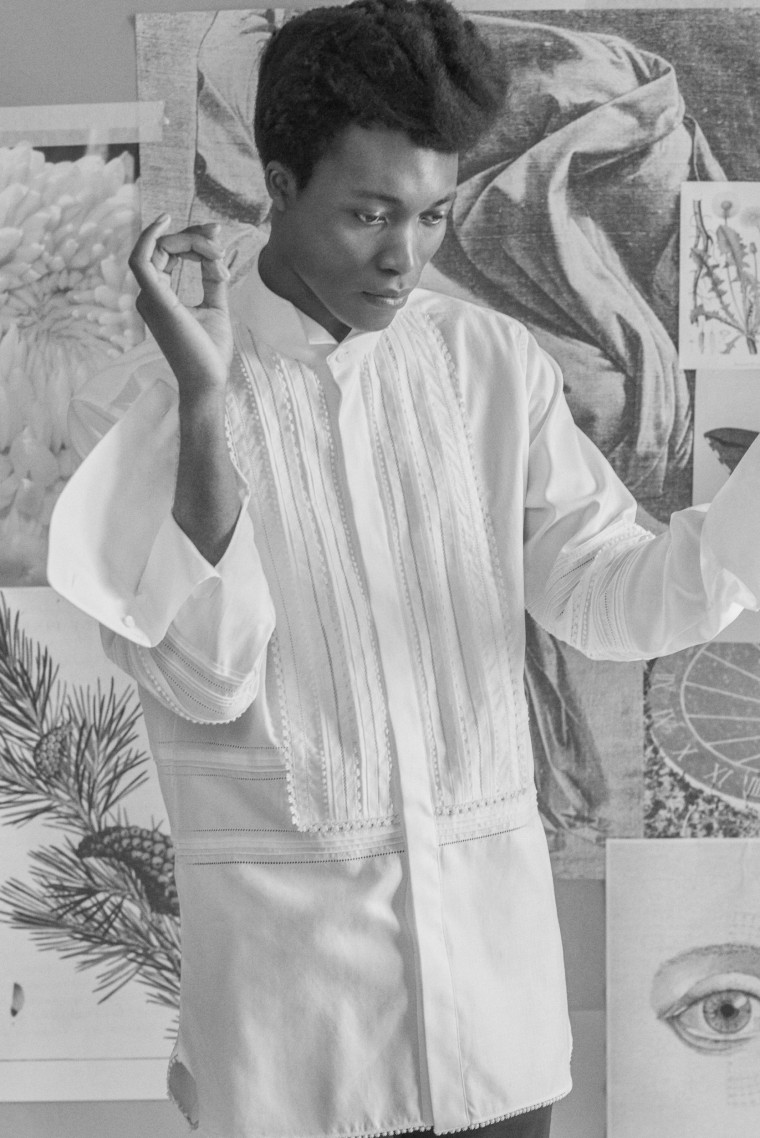 Benjamin Clementine's 2015 debut At Least For Now was a personal and artistic landmark. It took him from being a homeless, busking musician in Paris to the shock winner of that year's Mercury Prize. The album showed Clementine's deft and emotive piano flourishes which acted as a bed for a brooding, melodic voice that carries echoes of both ANOHNI and Nina Simone.

Today, June 26, Clementine announces details of his follow-up to that album. I Tell A Fly will be released on September 15, and is preceded by the eccentric and sardonic new song "God Save The Jungle," which riffs on the U.K.'s national anthem. Written in New York and recorded at RAK Studios in London, the album shows Clementine stretching the autobiographical lyrical style used on his debut to incorporate current events, touching on the refugee crisis and the war in Syria among other subjects. Talking to The FADER on the phone, a softly spoken Clementine explained how spending time in the U.S. during the 2016 election campaign pushed his songwriting in a political direction, and why this album is his most daring work to date.
---
How have the last two years writing and recording this new album been?

I changed my environment and my surroundings so that I might somehow find some inspiration. I ended up in New York during that time the election was going on. I made a couple of great friends, and I strode around New York trying to find a means to some sort of a life. I did that for about a year, and eventually I started writing and composing again. Then I came back to London to start recording the album.
What inspired your writing during that period?

It was mostly to do with the traveling. The feeling of not belonging to somewhere, just being a mere traveler, being an alien. When I got my visa from Europe to America, it simply read, "An alien of extraordinary ability." I was writing about what's going on. It turned into what I was really trying to say, which was that I'm an alien. Not in the most superficial, arrogant fashion, but rather an alien who wanders around. It fits the current dilemma that we all face.

Your new song "God Save The Jungle" touches on that theme of not belonging.

The news was bombarding us with images from [the refugee camp in] Calais. I could hardly take it anymore. In the song I literally say, "Okay, well, if we men were men, then I suppose we have to look up to God and see if he can help us." I personally do not believe in God, but if we men have created God, then I suppose we can go up there and ask him again. Is that cynical? You know, just go up there again and ask him for help, because we do not want to help people who just want to escape.

Everyone has got their own misfortunes, which I also say in the song. Just because we live in England doesn't mean that we don't struggle. We still have to pay our rent, we still have to get up early in the morning, get things done. Because if we don't we will also literally be on the streets begging. So there's a balance, you know. We all live in the jungle, and if you spot somebody and you think maybe you can help them, just go ahead and help them.
The other song that you have released from this album is "Phantom of Aleppoville." What in particular about that area of Syria inspired you to write?
I wouldn't say it's just to do with Syria. It is also to do with my own life and talking about me getting bullied by all sorts of people...I certainly am very fortunate that I am not experiencing what the people in Syria are experiencing, but I think it all comes down to one thing, and that is bullying. The Americans and the English, we bully people. In the song the reason why it's a phantom is that we can't see the reason. Not seeing the reason, not seeing why we get bullied, is basically the phantom.

What's the significance of the title I Tell A Fly?

I wrote this album as a play. [It] was a tale of two flies traveling, and they discovered so many things. They discovered new animals that they'd never seen before, and then one left the other. So I, as a third person, the narrator, am telling the story of two flies. That's how I came up with the album title. And of course the theme is about aliens — flies being aliens — and of course one could also say that I'm telling a lie by me talking about Calais and Aleppo, putting those things in it. Some people think that what the media say is a lie, or what's going on is all lies, and some people have some strange way of thinking about what's going on. So, I Tell A Fly is a play on words of "I tell a lie," but I am also telling a story about two flies.

What is your idea of success for this album?
I want everyone to hear this album. I want every single person to hear it, even if they don't like it. I'd be really happy if a lot of people listened to my music. I just want people to hear something different, you know? I have a feeling that it won't be as successful as the first record because I really went experimental, but I am proud. I think I'm happy.