Paramore's Hayley Williams has been an icon of an entire generation's angst. Now, at 28, she's finding she has her own unrest to deal with.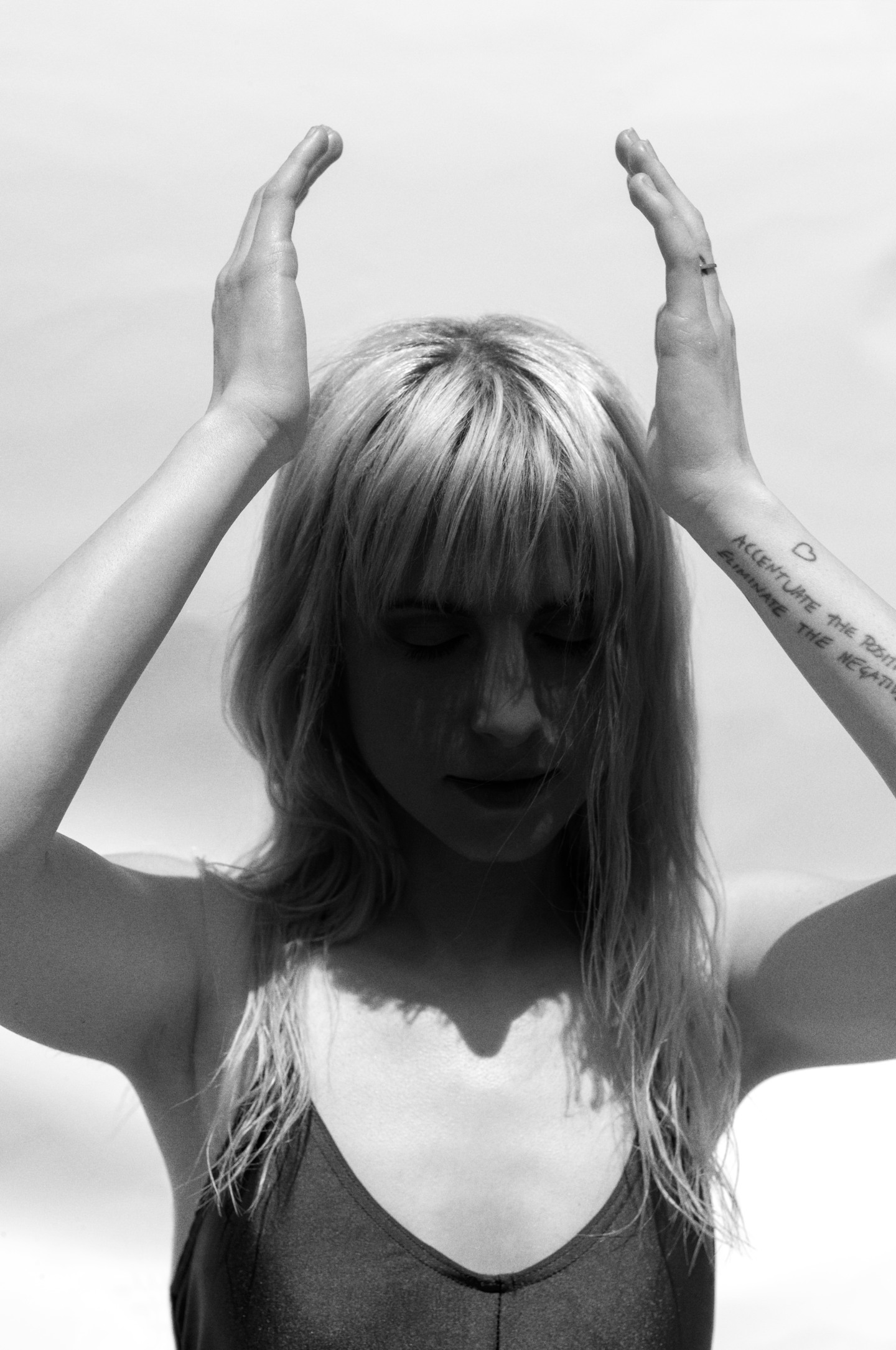 When I first meet Hayley Williams, she hits me with a hug and just about the biggest smile you could ever hope for. We're at a ramen place in her hometown of Nashville, gabbing about the corn fritter appetizers between us, sipping tea, with Hayley propping her two feet, encased in glittering low-top Vans, on the chair next to her.
She treats almost everyone with this easy familiarity, it turns out. Later that afternoon, we crisscross the city in her car, a robin's egg blue Fiat littered with half-empty water bottles, stopping at places she loves. A nose-ringed, floppy-haired guy at a juice bar gets the warmest of hellos; a man with long dreads who works at her friend's boutique receives a beaming greeting and a hefty shake. Walk through any door with her, and you can't be sure whether Hayley has known the people she finds inside her entire life or whether she's meeting them for the very first time.
This sense of immediate intimacy has served her well. Hayley signed to Atlantic Records as the lead singer and lyricist of Paramore when she was just 15. With the dyed crimson hair of a comic book superhero and a forceful voice that she used to scream more than sing, she became a teenage rock star and an icon to emo and punk kids all over the world. On skittish Paramore tracks like "Emergency" and "Misery Business," she proved herself to be a sensitive and poetic lyricist, writing songs about growing up, first love, and first heartbreak, always with a sense of strength and excitement. And it was all the more empowering because the band's closest peers — groups like My Chemical Romance and Fall Out Boy — were led almost exclusively by agonized men. Paramore sold millions of albums, performed on TRL, and even recorded the lead single for the soundtrack to the first Twilight movie, the essential Obama-era high school melodrama.
As Hayley and I discuss the essence of the band's new album, After Laughter, at lunch, she rests her chin on the palm of her hand. She's 28 now, and her once-signature hairstyle has given way to a lightly synthetic blonde that cascades freely down her arms. "Man, I don't know," she says, about the record's darker subjects. "I don't feel as hopeful as I did as a teenager."
Upon first listen, the album can sound quite chipper, but it's clear that Hayley is still working through some deep issues in the lyrics. "Reality will break your heart/ Survival will not be the hardest part," she sings on "26," her voice pitched with grief. "If I lay on the floor/ Maybe I'll wake up," she cries out on the surprisingly plucky "Forgiveness," a song she wrote about some rocky moments with her husband Chad Gilbert, the guitarist for pop punk band New Found Glory. On "Fake Happy," she sings about how she smiles only to make other people think she's OK, and that she assumes everyone else is secretly as insincere.
This melancholy is different than her teenage problems — it's more reflective, adult, debilitating. She says she's been struggling with depression these past couple of years, punctuated by times in which she stayed in bed all day watching old episodes of The Office. She says it got so bad, at certain moments, that she fixated on death way too much for her own comfort and found a therapist: "For the first time in my life, there wasn't a pinhole of light at the end of the tunnel. I thought, I just wish everything would stop. It wasn't in the sense of, I'm going to take my life. It was just hopelessness. Like, What's the point? I don't think I understood how dangerous hopelessness is. Everything hurts."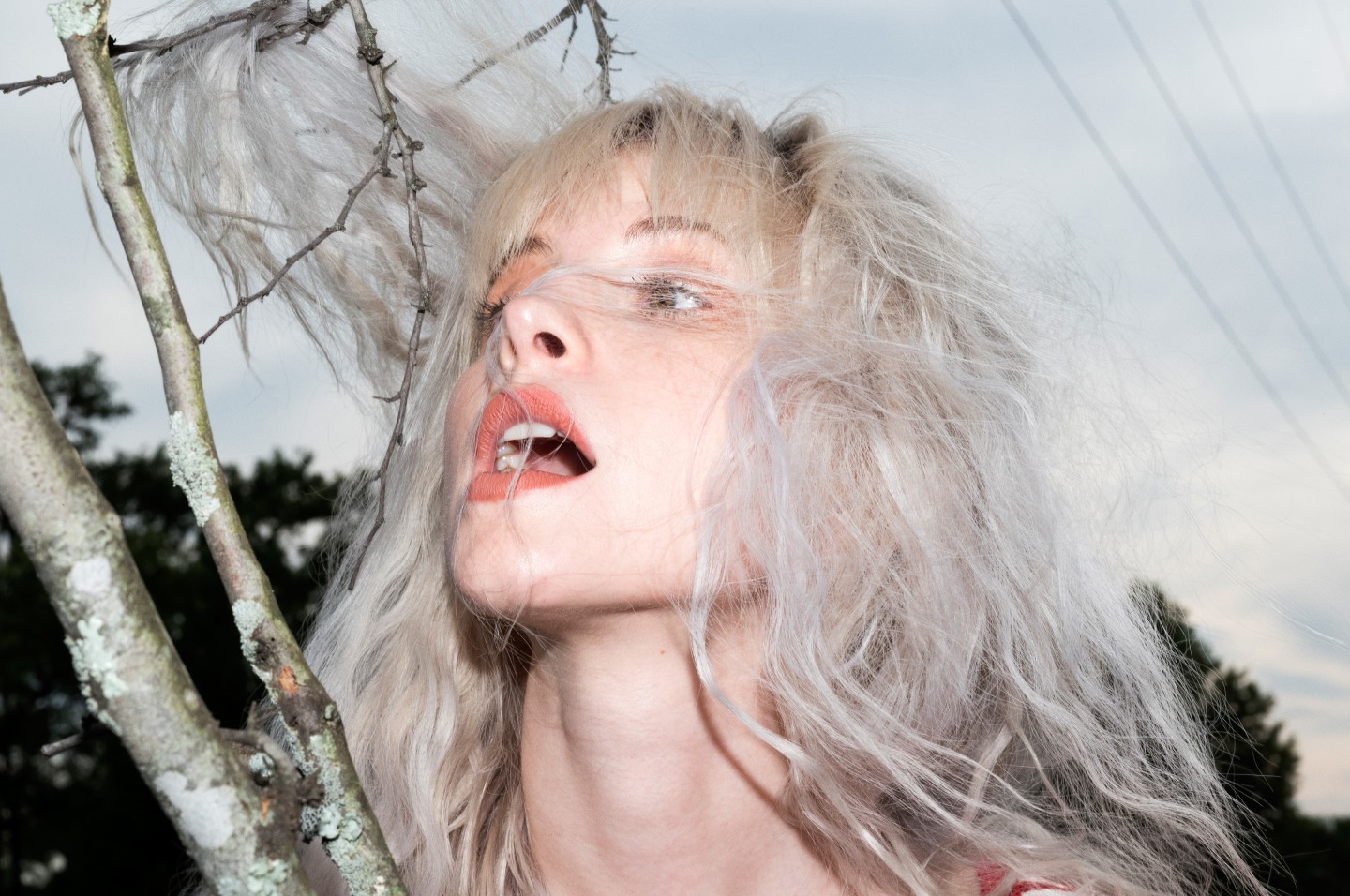 Hayley even privately quit the band for a brief period in the summer of 2015, feeling exhausted and thinking she had nothing left to say or sing. "I just was done," she says. "I thought, There's gotta be something else that I'm good at in my life. Maybe it's time for me to go find that." But after she left, Taylor York — her principal songwriting partner and, with Justin Meldal-Johnson, the co-producer of After Laughter — started sending her unfinished tracks just to see what would happen. He has a history with depression, too.
"We both had doubts, and we had unity in that," Taylor says. "I told her she didn't have to do stuff. But I just kept writing, and then there was this time that she got it again." Hayley started riffing off of his instrumentals and ended up writing a melody and lyrics for "Forgiveness," the first song of what would become After Laughter. They continued to create in this way, with Taylor sending her basic ideas and Hayley letting loose on top of them. And the songs kept coming.
In Nashville, Hayley and I pull up to a juice bar, and, over smoothies, I tell her how impressed I am at her easy sociability considering she's been processing some difficult things, even death, on After Laughter. She laughs a bit nervously and, for the first time in our day, her brightness dims a little, too. It seems obvious to her to be friendly, she tells me, and strange that I would point out her politeness. If the sky should fall, she says, kindness is how she'd like to be remembered: "Man, I was just taught to be nice. I'm going to be gone one day, and I have to accept that tomorrow isn't promised. Am I OK with how I'm living today? It's the only thing I can help. If I didn't have another one, what have I done with all my todays? Am I doing a good job?" She looks directly at me. "How do you wanna leave?"

Before Hayley Williams was a leader in pop punk, she was really more of a Motown buff. Born in Mississippi, she was shy but began to sing in a church children's choir. After her parents split up, her mom's second marriage became volatile. "I came home one day after school and my bags were packed," she says. "We didn't have anywhere to go, so we lived with her friend in a double-wide trailer right outside the school parking lot." Eventually, when another friend of her mom's moved to Franklin, Tennessee, outside of Nashville, mom and daughter followed. They figured if music is what Hayley wanted to be a part of, Nashville wasn't a bad place to be near.
By 13, Hayley was writing poetry and performing with a local funk cover band for money. At school, she was picked on for her deep Southern accent and struggled to find lasting relationships. "I got bullied so bad when I moved here that I started practicing how to say the word 'awesome' without an accent," she says. Worried about her treatment in class, her mother found a homeschool tutorial at a church that met once a week and pulled Hayley out of public school. "She said, 'Can I trust you to be home by yourself four days a week?' And I said, 'Yes. And I will write songs all day.'" Because she was such a loner, her mother increasingly encouraged her to join a full-time band just so she could make friends. Hayley agreed, partly because of how much she loved Hanson: "Three brothers that play music together? Come on. I was like, 'I want that.'"
At the homeschool program, she met brothers Zac and Josh Farro, who, though they were about 11 and 14 respectively, had already recorded some songs. She was thrilled, and they welcomed her right in. "Growing up listening to pop and R&B music, and then being thrown into their world, where I'm listening to Elliott Smith and Radiohead and Deftones, I was like, 'What do I do with this? I've never tried to write music like this,'" she remembers. "[But] Zac started playing a drum beat, and all of a sudden it became this song called 'Conspiracy' that's on our first record. I just literally sat with the mic and quietly sang the words that I wrote."
The band, which included a couple of other boys, was formed and began playing shows at places like church youth group events, but Hayley was also writing and recording her own demos and shopping them around to labels. Avril Lavigne had recently broken through, whetting the industry's appetite for punky alternatives to Britney and Christina. "I don't think I would've been signed if Avril hadn't happened," she says. "All of a sudden I was in New York playing to LA Reid." A number of labels wanted her, but only Atlantic told her she could stick with the band instead of going solo. There was a catch: they would offer Hayley a separate contract through Atlantic, but the other bandmembers would only get a deal through one of their rock subsidiaries, Fueled By Ramen.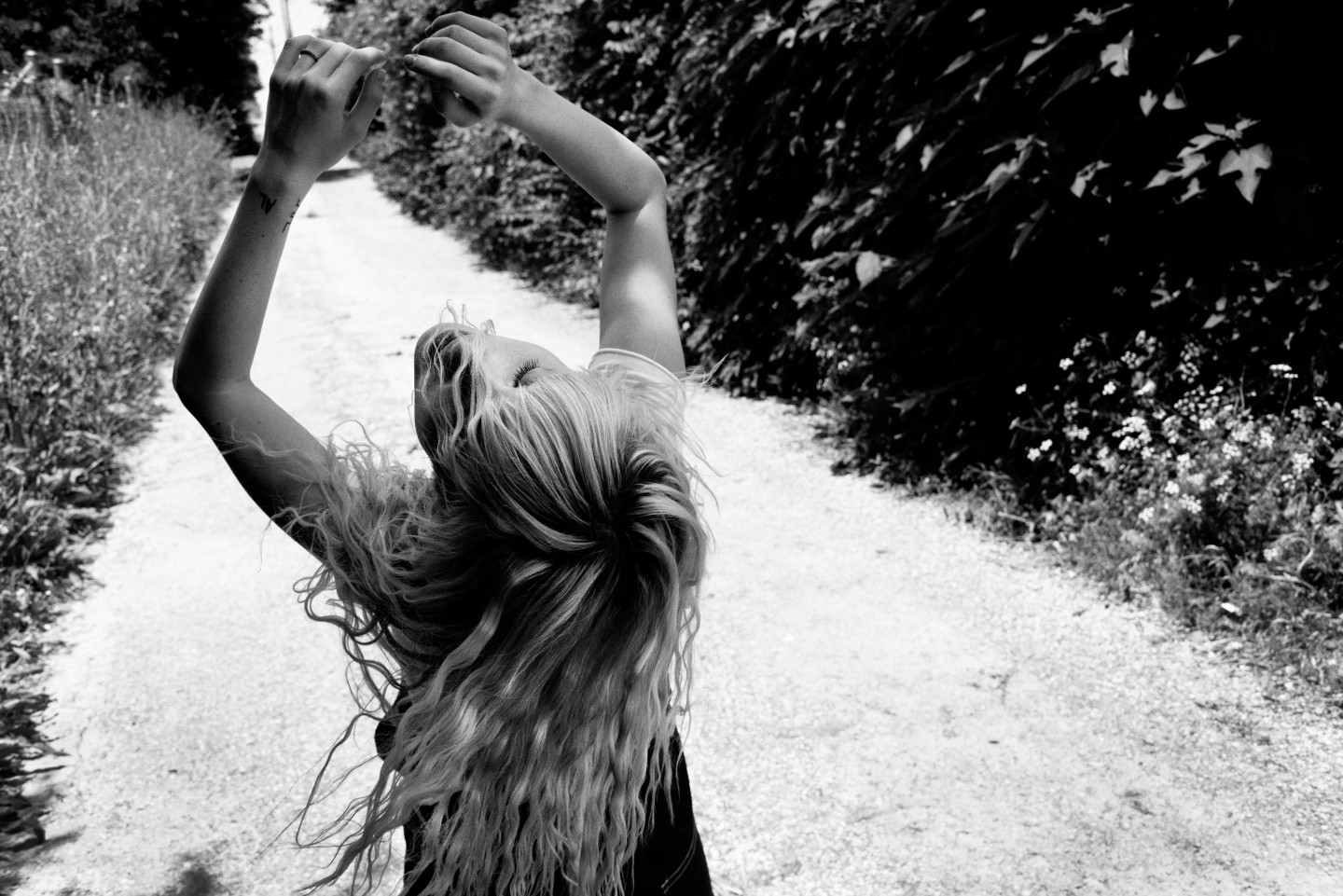 Paramore released their debut album, All We Know Is Falling, when she was 16. They were invited onto Warped Tour, first on a side stage, then, by the third time they were on the bill, as a main event. Warped Tour by then was a hodgepodge of emo, pop punk, and post-hardcore bands — anything that could be classified as alt — and Paramore, with its sensitive but grinding songs, was somewhere in the muddy middle. In clips of old performances, Hayley sticks out for her sense of earnestness and muscle. She jumps around the stage, headbangs her red hair, and brings fans onstage to sing with her.
"It was my high school," she says of Warped Tour. "We learned how to connect to people from a stage." She was one of the few women on the primary billing. "By halfway through, there were girls showing up with hair like mine," she says. She developed a formidable presence: in 2007, at a concert in Germany, where they were sharing a stage with the more brutal Korn, Hayley threw a bottle — thinking someone from the audience had tossed it at the band with belittling scorn — at the crowd. As it turns out, she realized that it had just been benign lingering litter, but she showed off her grit all the same.
On tour, her dad would drive them from city to city in a little van. "We ate PB&Js every day," she remembers fondly. She ultimately met her now-husband backstage when she was 18; they started as friends before it became a romantic relationship. Back then, she was dating Josh, also her songwriting partner. "We were kids! Even when we dated it didn't feel like we dated. It was like, Oh cool, we kissed sometimes," she says. Everyone in the band had been raised Christian, and, though they've all adopted a more lenient take on spirituality, at the time they preserved a wholesome attitude even when surrounded by the chaos of the festival circuit. "We grew up in the Bible Belt," says Zac. "There's just a lot of rules that have been set by the church. Don't drink, don't have sex, don't do drugs, don't cuss."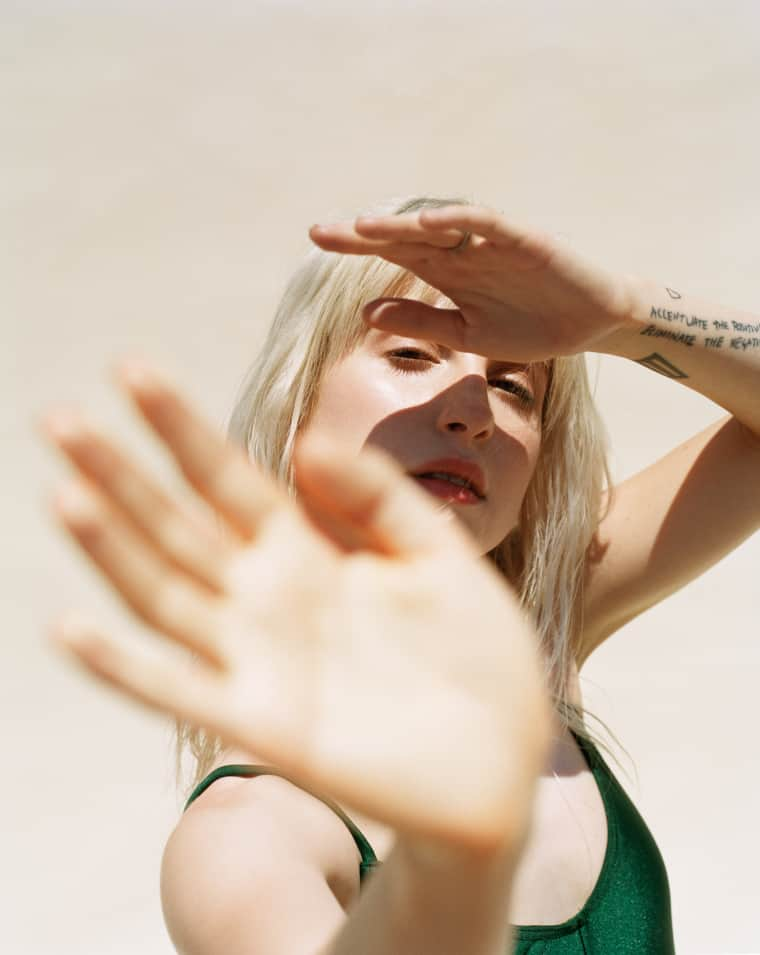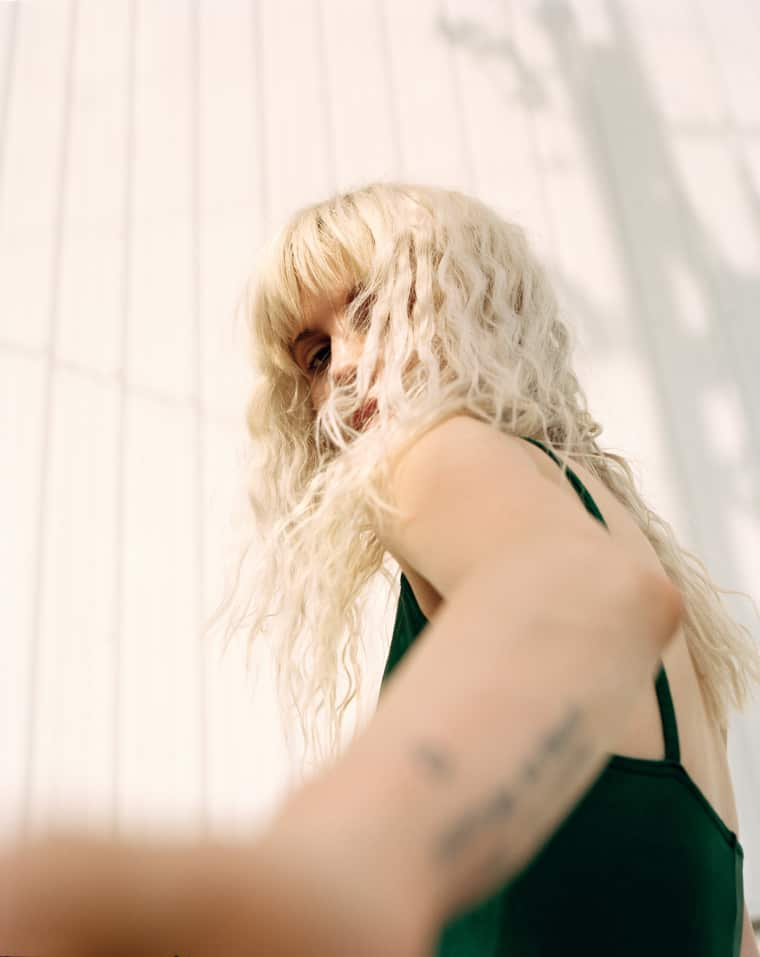 "I'm going to be gone one day, and I have to accept that tomorrow isn't promised. Am I OK with how I'm living today?"
Aside from Hayley, seven members have cycled in and out of Paramore since 2005, some quite acrimoniously. It can be a little hard to keep up, and the media has been rapt with the drama, with rumors flying about why members left: Hayley's solo ambitions, disputes over songwriting credits, and just plain fighting. Now they're a three-piece: Taylor, who has been with the band since 2007, is on guitar, and Zac is on drums, after quitting with his brother Josh in 2010 then rejoined on his own some time last year.
The last person to leave was Jeremy Davis, the founding bassist, in 2015. Lawsuits were filed on both sides and settled this spring for undisclosed terms. "Tell Me How," a sweet piano ballad that closes After Laughter, is a somber reflection on his departure: "I can't call you a stranger/ But I can't call you," she sings. "Do I suffocate or let go?" Today, she is tired of talking about the spectacle of lineup changes, some of which ties back to the unequal structure of the band's record deal, and she mostly speaks in generalities when it comes up. "I've had a lot of betrayals in my life. I don't ever want to paint myself as the victim, but I think it scares me to spill all the tea," she says. "I really don't want to erase any more people from my life. I've done it enough."
As the band's success grew, Hayley's star power shown brightest. She was featured on the hook of a 2010 track, "Airplanes," by the rapper B.O.B., which went all the way to No. 2 on the Top 40 charts. In 2011, she was featured on the cover of Cosmopolitan dolled up like a Hollywood celeb. "I'm pretty sure they puffed up my boobs," she remembers, laughing. Once, she says, in a misguided attempt to push her in a radio-tested direction, Lyor Cohen, the legendary record executive who worked at Atlantic at the time, called her on the phone to tell her she had to write with Chad Kroeger of Nickelback. Hayley politely but forcefully declined. He persisted. So she said no again and got off the phone. "It's just not what I want," she says of the possibility of mainstream solo stardom. "I don't know if I would be able to face thousands of people if I couldn't look to my left and my right and behind me and realize that I'm surrounded by people who know exactly who I am."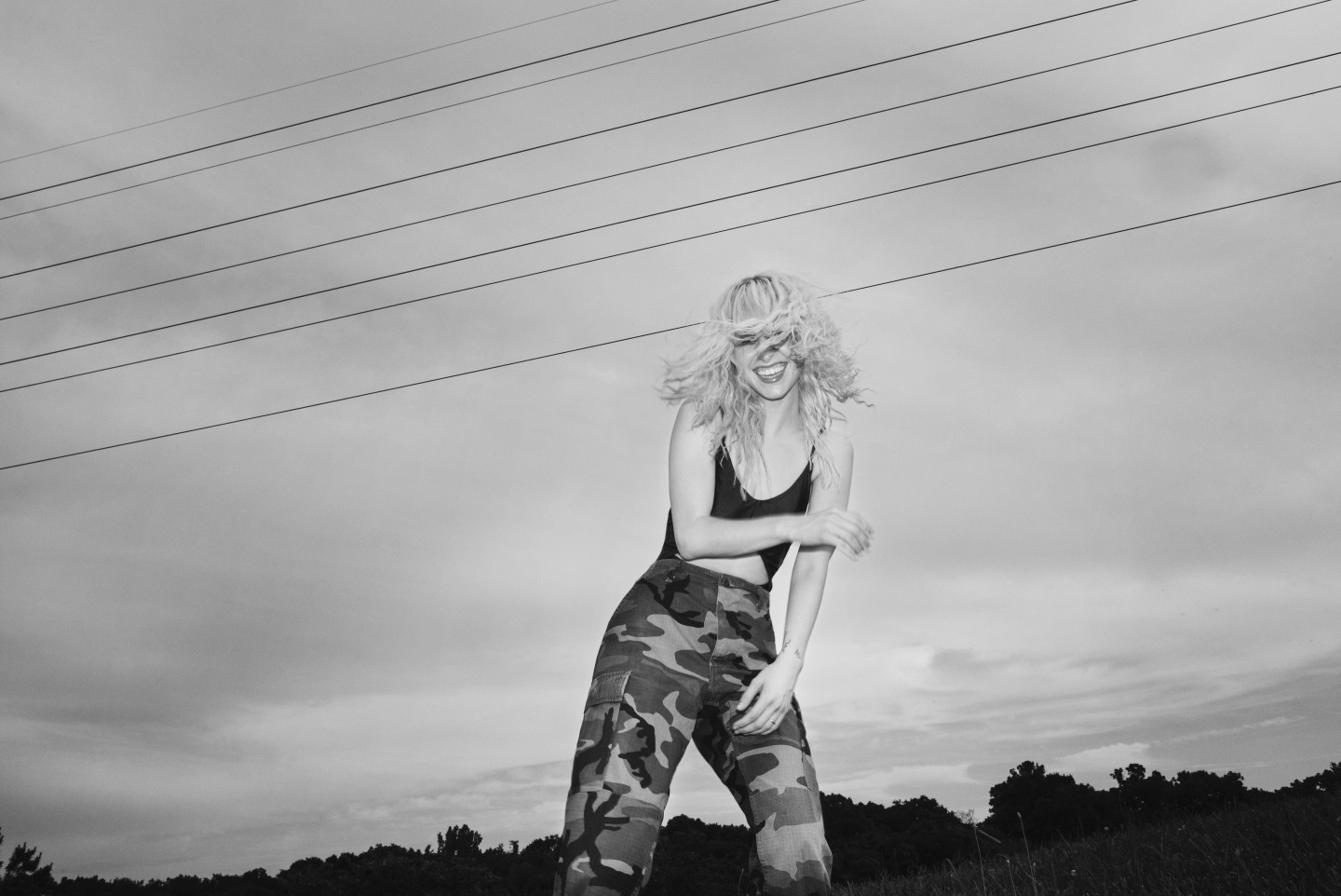 One bittersweet benefit of all of the comings and goings in Paramore has been that as the lineup evolved, the sound did too. That's one reason why, 12 years after their first album came out, the group is still around and, more importantly, still relevant. Hayley is obsessed with Talking Heads and it shows in the the playful, kooky rhythms of After Laughter. It's a far cry from the aggressive guitar riffs of early Paramore, in large part because Taylor replaced Josh as Hayley's songwriting partner, and he shares her love of new wave and R&B, which they are now free to explore together.
"When I started writing," Taylor says, "I was bringing Hayley all these songs with big, massive guitar riffs — more of the same. Each idea I'd play her, she'd say, 'That's cool, but do you have anything else?' The only thing I had to show Hayley was 'Ain't It Fun' — I brought tiny speakers and set them up on water bottles just to get them high enough. It was a drum beat and marimba. I thought there was no way in hell this was Paramore, but her eyes lit up. And that was a turning point."
"Ain't It Fun," a song about how difficult it is transitioning from adolescence into adulthood, served as the keystone for their 2013 self-titled album and became their biggest hit to date. Like all their previous albums, it went platinum, but it also received glowing critical acclaim, something that, despite the band's popularity, had often eluded them. The song has a triumphant, crashing chorus — not unlike the ones on super-producer Max Martin's biggest smashes — and Hayley and Taylor didn't need a hit machine to craft it for them. Not everyone immediately understood the reinvented Paramore, though. Anything resembling rock had been displaced from mainstream radio in the age of cartoonish stars like Katy Perry and Nicki Minaj. Before the label tried to service "Ain't It Fun," they brought a similar song, the bubblegum punk jam "Still Into You," to test the waters. At Z100, one of the biggest pop stations in the country, a programmer there told them he just couldn't play guitars on the air.
Months later, "Still Into You" and eventually "Ain't It Fun" had gained so much momentum on the strength of their own unassailable catchiness that they both hit the Top 40. Voila, there were now guitars on pop radio again. In 2015, "Ain't It Fun" won Paramore their very first Grammy, making Hayley the first woman to win in the "Best Rock Song" category since Alanis Morissette 16 years prior. Paramore's refined, smoothed-out sound also turned out to be quite prescient: Hayley's friend Taylor Swift performed a similar kind of magic trick (albeit on an even larger scale) in 2014 when she left behind the subtle country twang of her past in favor of an even more affect-less sheen. With the help of Max Martin, Taylor placed an emphasis on the kind of beefed-up power choruses that Hayley had just proven she was so adept at creating. Hayley even made a cameo in the music video for the album's centerpiece "Bad Blood," a rebellious fight song that's as close to Hayley's rowdy spirit as the wholesome Taylor Swift could ever get.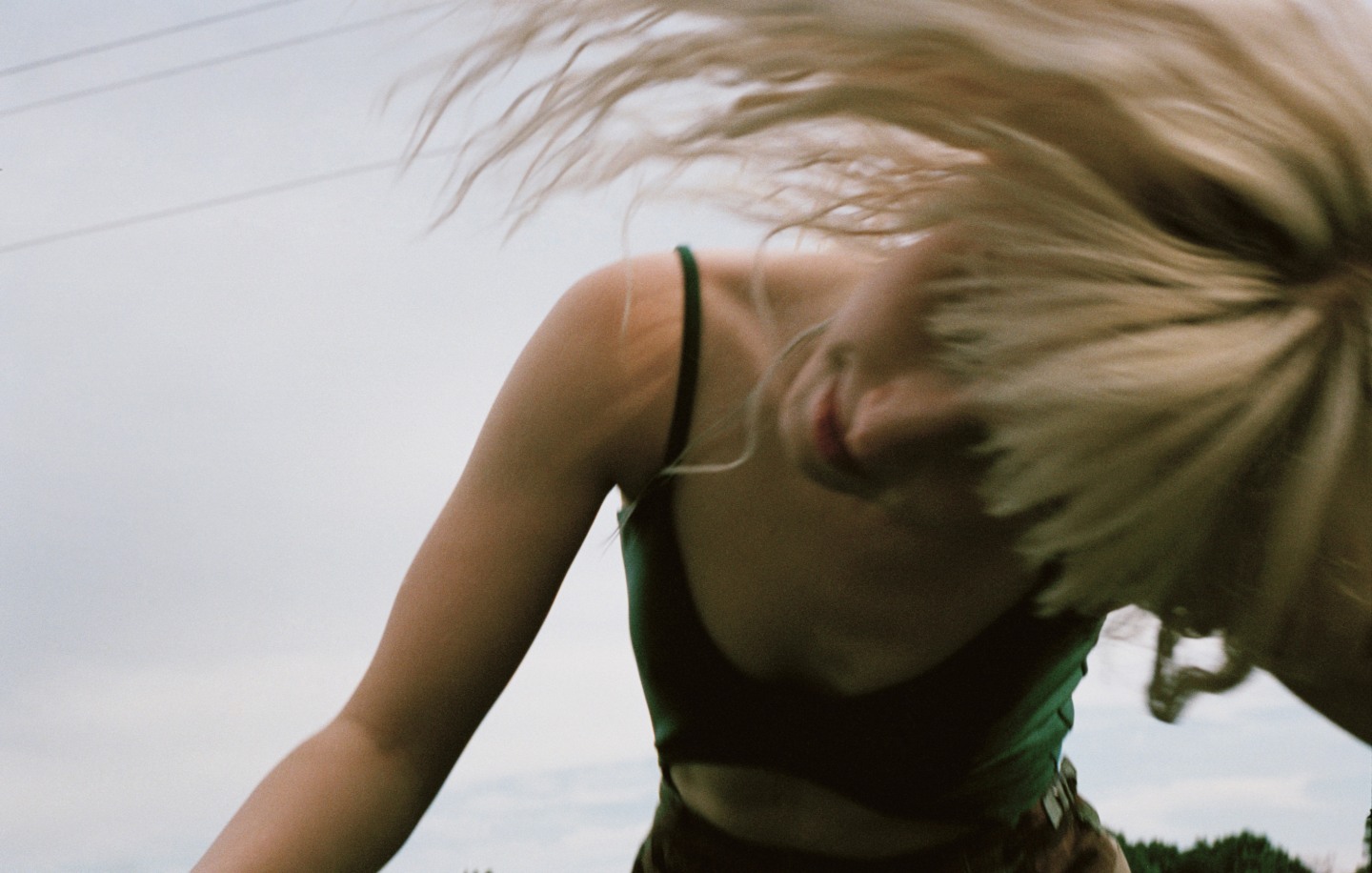 "Paramore expanded my taste in music. They were the cool kids on the block growing up. They're fucking awesome and that's why I still rock out to them." — Lil Uzi Vert
Today, Paramore is perhaps in its strongest position ever, not just because they survived the pop punk era and transitioned into a full-fledged grownup band, but because the whole world seems to have come around to the feverish attitude that Paramore pioneered. Everyone from country artists to rappers are dabbling in pop punk — the 22-year-old country artist Tucker Beathard recently told Pitchfork that it wasn't Brad Paisley who inspired him to become an artist, it was seeing Paramore on his 14th birthday. The breakout rapper and fellow pink hair enthusiast Lil Uzi Vert recently recorded a video of himself singing along and smiling to "Ain't It Fun," then created one of the year's biggest hits by merging mall-rock with hip-hop on "XO TOUR Llif3." "Paramore expanded my taste in music," says Uzi. "They were the cool kids on the block growing up. They're fucking awesome and that's why I still rock out to them." Angst is back.
And now there's After Laughter, a new Paramore album when the idea of Paramore has never made more sense. It is the most consistently excellent album in the band's discography. The lyrics are as deeply felt as they've always been, and the airier, lighter instrumentation suits Hayley's strengths as a singer — she's never sounded so clear and comfortable, even when singing about pain. So how did it feel to release it? On the day the album came out, Hayley was overcome with sadness. It wasn't quite as bad as it had been in the darkest days when she couldn't get out of bed and didn't want to write music, and by the end of the night, she was feeling OK again — her and the guys put on the album and had a singalong. But earlier, particularly at a fan meet-and-greet for about 300 diehards, she had been struggling. "It was a heavy day because we were letting go of this thing that we felt kept us alive," she says. "And I do think it kept me alive."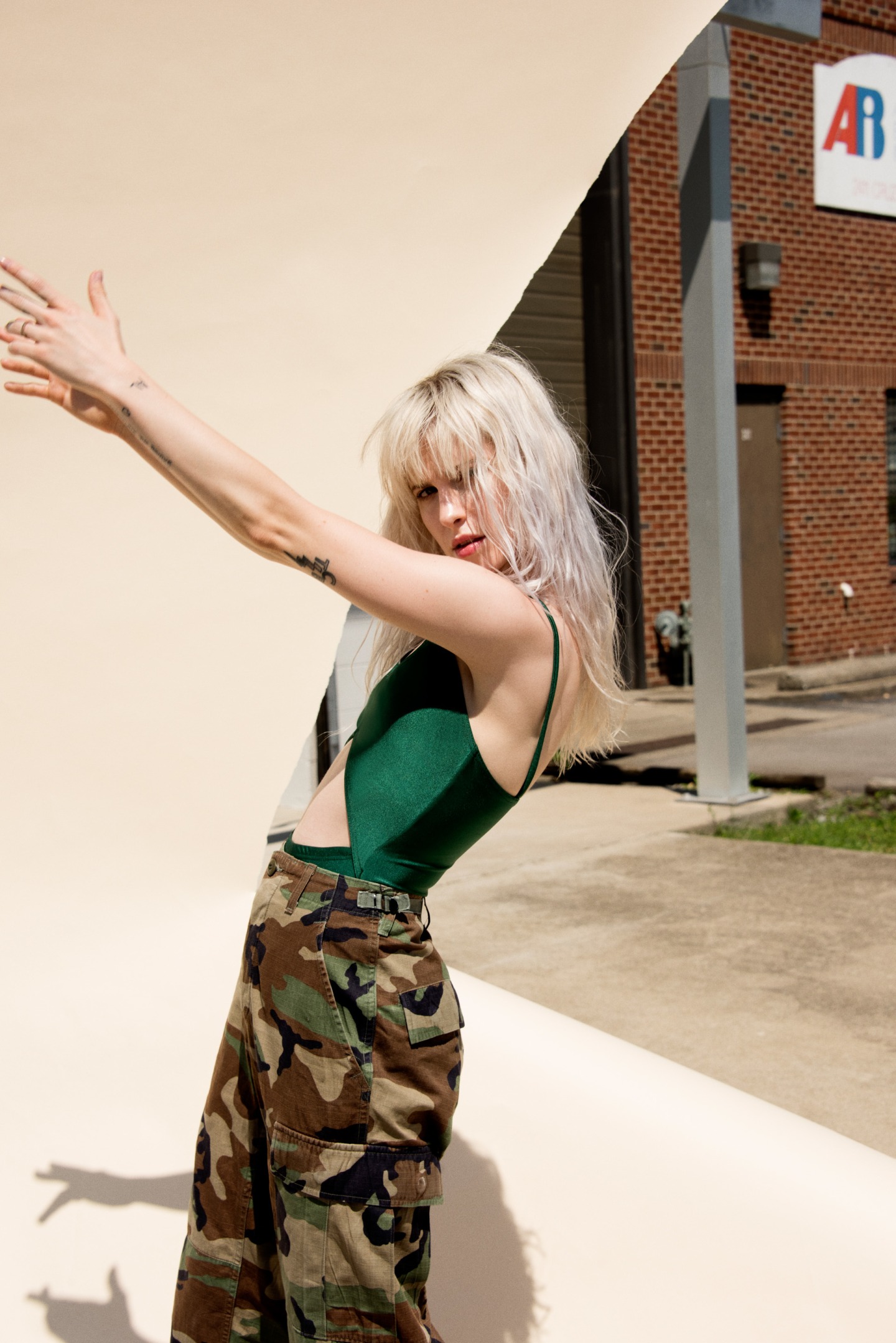 After lunch Hayley heads home for a bit, then we're set to meet up with the rest of the band at Zac's house in a lovely shaded suburban stretch of south Nashville for a night of takeout tacos and bowling. But there's a pretty big detour before I arrive. I'm driving over with Paramore's publicist, who had offered me a ride, and right before we pull up to Zac's, she makes it clear that Hayley is not pleased with some of my lines of questioning during that afternoon's interview. When I ask which questions bothered Hayley, I am offered few specifics.
When we walk in to hang out with Hayley and the guys, I feel the cold shoulder pretty quickly. Hayley is polite but quiet. She keeps her sunglasses on, fidgets around nervously, and we barely make eye contact. Once we sit down, I have a distinctly uncomfortable feeling of being back in the high school cafeteria, stuck at a table with a friend who is upset with me but unwilling, or unable, to explain why. Fussing with my phone, I notice on Twitter that not long after we had parted ways, she tweeted something stinging: "just enjoy the damn music."
A little disoriented, I ask her publicist if Hayley and I can talk about whatever went wrong, and I go perch on the front stoop of Zac's house to collect my thoughts and wait for an answer. Hayley pops out with a noticeably sunnier burst of good energy, and we sit on the stoop as the sky turns bright gray and then, later, a deep black.
She tells me that after we spoke, she had a panic attack in her car. She apologizes profusely for how this encounter has played out, and tells me that she felt triggered when I asked about the fallout from the lawsuit with her former bandmate. She says that legal reasons make it difficult for her to know what she can and cannot say, and that it both bores her and stresses her out that every recent story about the band has focused on band drama and not on the songs. Fair enough. I keep digging, though, and eventually she admits it was more than that, but that she is having a hard time explaining, or figuring out for herself, what it is.
I offer to let her sleep on it, telling her I was now likely to write about this strange episode, and that it might be good if she provided a more fully realized account from her own perspective. This idea, to my surprise, seems to immediately pique her interest. She quickly agrees and we hug, then go bowling at a little neon spot that doesn't seem to have changed the decor since the 1980s.
Zac buys a pitcher of beer and Hayley goes out of her way to be sweet to me, encouraging me even when I miss the pins entirely. Someone, recognizing the band, puts a series of Paramore songs on the stereo, and Hayley jumps up and down, picks up a pink ball that matches her sunglasses — still on her face even at 9:30 p.m. — and sends it flying straight down the gutter, where it gets weirdly jammed. I send a purple ball after it to try to dislodge it, but that only compounds the problem: while Hayley's pink ball is successfully ousted, now mine is stuck. After I come in last place in our first game, she congratulates me as though I have won, and I'm not certain if it makes me feel like the most popular kid in the gym class, or the helpless dork who got pushed into a puddle and needs cheering up.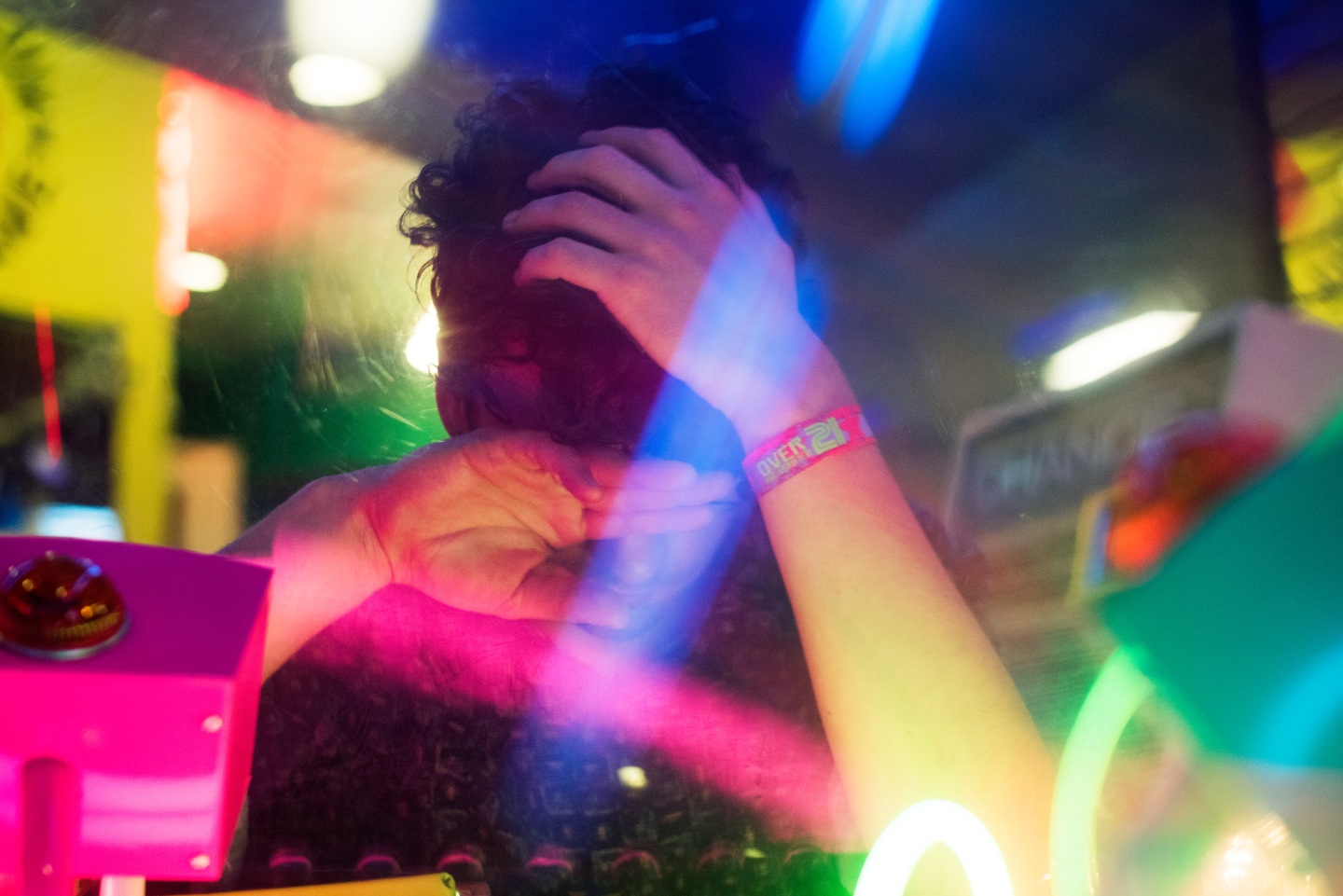 The next night, Hayley picks me up in her Fiat and we drive to a boutique hotel with a spacious bar in a trendy part of Nashville. I notice that the half-finished smoothie I bought her the day before is still in her car, now brown and fetid. "See how disgusting I am?" she says. At the bar, I tell her how shocked I was that what I thought was a pretty congenial conversation could have prompted such a reaction. "I started thinking about all the things we talked about," she says, "and about how I'm still going through a lot of those things. Like, I'm not really … over this album. And I'm older too. If I were to get on my BMX bike now and know all the ways I can hurt myself, it's different from being the 10-year-old I used to be, ramping and riding just as fast and wild as all the boys in my neighborhood."
She says that over the years, she's grown wary about talking too much about herself or the band because, in some circles, the fights and lost friendships she experiences in real life become fodder for gossip and headline news. I ask if the tweet she sent out — about just enjoying the damn music — was due to frustration about the interview, and she says no, that it was actually a response to fans relentlessly sending her tallies of the album's first-week sales figures. She says she's so sick of the commercial aspect of the music industry that before After Laughter came out, she even tried to renegotiate her contract with Atlantic — the one she signed as a teenager — so she would have less albums that she was obligated to deliver. "I didn't want [the contract] over my head anymore, and I want to be done with the business side of it," she says. Atlantic wouldn't budge.
As Hayley sees it, all she ever wanted was friends to make music with. "I was an only child, and I want to be a part of something really bad. When I got signed by myself, I felt very alone," she says. "If my dad was sitting here next to me, he would tell you about all the pages in my journal of me drawing me and four other faceless friends on different instruments. That's why when I see a kid at a show that looks like they're crying their brains out because they're sitting in a room with thousands of other people who get it, I cry onstage. And I hide it because it's embarrassing. But I get what that feels like to just want to find your place. And this is my place. This is my place."
Then we reach something of an impasse. She says that after a decade in the public eye, some things are better left unsaid. "What do I owe people?" she asks a few times. And she's adamant that despite all of her struggles, she wants the world to know that there is a lot of joy in being in this band at this moment. "There's nothing that I really want to say about the album that I didn't get to say," she says. "And that's why I'm really thankful for music. Because I get to express parts of myself I don't really know how to express." We talk for a little longer but the conversation ends unresolved. She says she's probably not going to give interviews for a while, at least not without her bandmates.
Hayley offers to drive me back to my hotel, and on the way she plays me the demo for "Forgiveness," the After Laughter track I had told her was my favorite. We both start to harmonize along. It's a song about how difficult mercy can be, but in that moment, it was just kinda fun. Sometimes you're not so different from the person you were at 15, passive aggressive and a little over-sensitive at times, but close enough to the bone that it always just feels right to jam out to a tearjerker in the car. She says I have good pitch, but I can't tell if she's just being nice or if she means it.