Meet Pi'erre Bourne, The "Magnolia" Producer Who Always Trusts His Gut
The Atlanta-based artist on his formative summers in Queens, balancing producing and a solo career, and why quitting his job was actually a blessing.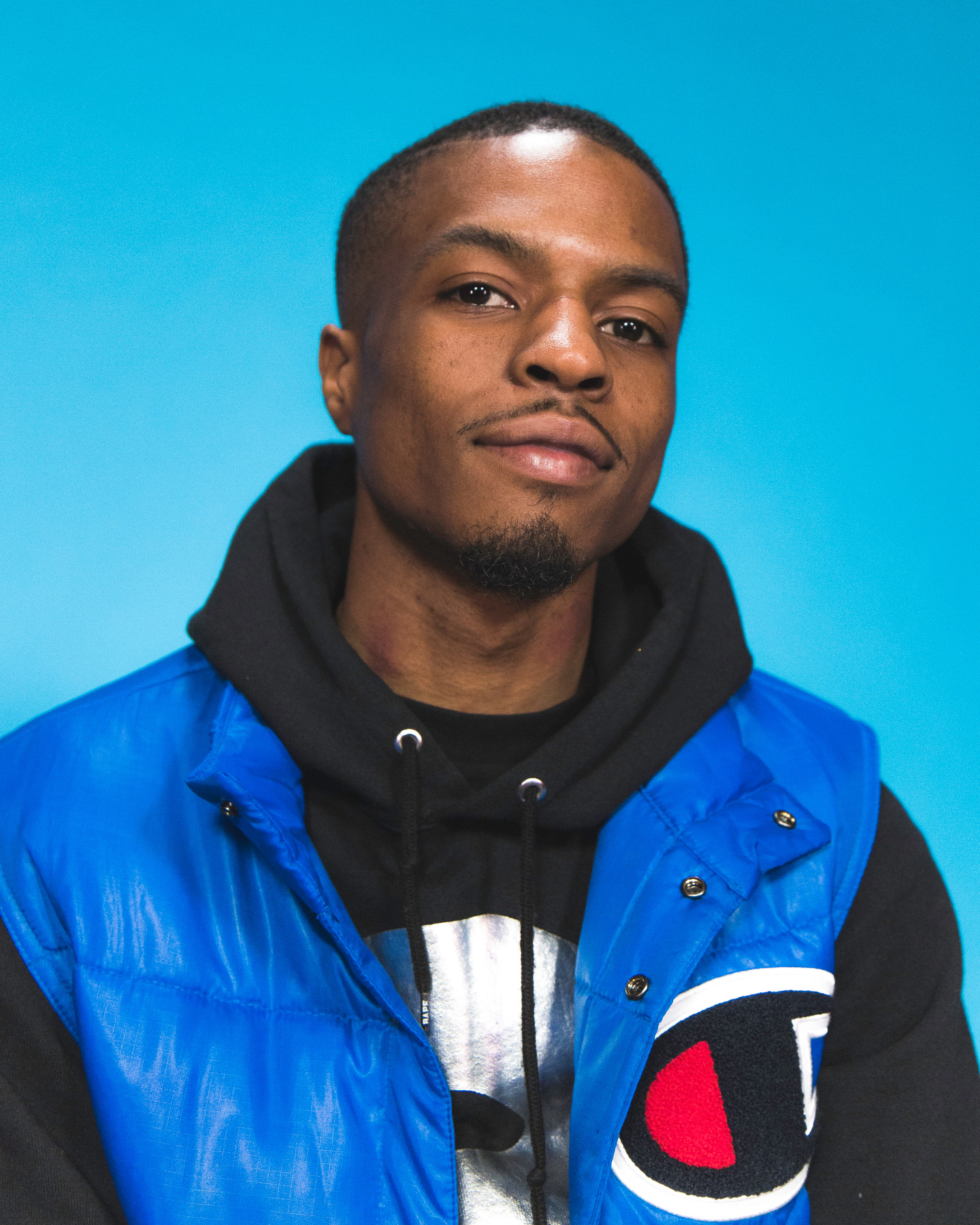 Jordan Jenks works his ass off. Since moving from Columbia, South Carolina, to Atlanta, Georgia in 2014, the 23-year-old artist and producer better known as Pi'erre Bourne has completed what seems like a lifetime's music industry experience. He's finished an engineering program, created "portable studios" to record artists for some extra cash, interned at Hustle Gang, engineered for Epic Records, quit engineering for Epic Records, become the go-to producer for rising Atlanta rap talent Young Nudy (who happens to be 21 Savage's cousin), and, most notably, served as the secret sauce to Playboi Carti's self-titled debut mixtape, producing six of the tape's 15 tracks, including the monumental hide-it-in-my-sock anthem "Magnolia." And somehow, in-between all of this and more, he's recorded and released his own solo projects: three tapes in his The Life Of Pi'erre series on which he demonstrates his melodic deftness, lacing sung bars in and out of his own space-y and sparse, neon-chord blotted production that makes you feel like you're speeding down the Milky Way. Pi'erre's seen the game from almost all sides — something very rare, and beneficial, for a young newcomer to the industry, "I can understand everybody who's sitting there," he says, "what the A&R's doing, the producer, the homeboy rollin' up the blunt, the engineer that's recording, the artist performing; that shit's crazy."
Despite it all, Pi'erre's as level-headed as can be. He strictly adheres to a self-imposed requirement to make at least ten beats a day (you can often watch him make them on Instagram Live), and has been working diligently on his soon-to-be-released fourth solo project. He's also doing his best to protect his interstellar, poppin' video-game-pause-menu reminiscent sound. "I'm really not trying to work with a lot of people right now, cause it's happening so fast… I don't want it to get played out."
While in New York for work and to visit his grandmother back in May, Pi'erre Bourne stopped by The FADER office. We talked about his upbringing and formative summers in Queens, New York, understanding the ins-and-outs of the music industry through a major label engineering gig, soaking up game from DJ Burn One, linking with Playboi Carti, and how video game soundtracks have influenced and informed his sound.
---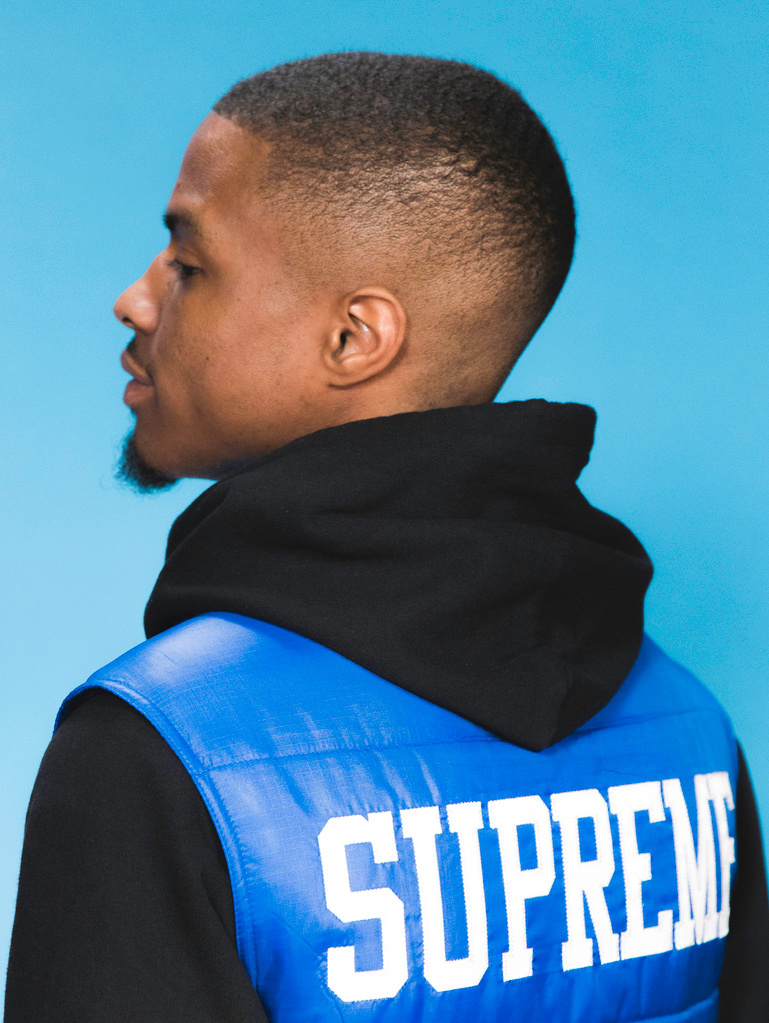 Where are you from? What was your upbringing like?
Columbia, South Carolina. My mom was in the military, that's how we ended up down south. My family's from Queens, and every summer for school breaks, I would come up and be there all summer since I was a baby. My grandma's been in the same house since the '70s. I got introduced to hip-hop just being on the block, I was a fuckin' kid, just seeing people rapping. I tried to do it, but I didn't know which words to use to rhyme, 'cause I was so young. My uncle was like, You just need to write it down, you got it!
I always was into music. I think my uncle showed me how to download music when I was in elementary school. He told me, to find a beat, you just put "instrumental," you put your favorite song, and you could download that shit. I think I grew up during the computer boom, when the shit just kept changing, getting better and better. I wanted to rap first, but I didn't know how to record myself professionally. When I'd record on those instrumentals I'd downloaded it didn't sound like the original song, and I would get frustrated. My first beats were terrible, but I didn't give up. My friends would be like, "Fuck is this?" I'd be like, "Shut the fuck up, I'ma get this shit right, I'm just starting, I'ma be the best. Fuck y'all."
What were you listening to during those Queens summers?
Dipset, G-Unit, Dipset, G-Unit, Dipset, G-Unit. They was on fire! And they weren't even working together. Queens was lit. Belly, man. People might talk shit about Queens, but a lot of shit in hip-hop is Queens. Run DMC, LL Cool J, Salt-n-Pepa', shit, Stephen A. Smith, Hype Williams. All of these motherfuckers. Just knowing the history motivated me every time I would come up here. I would put myself in those shoes, like, Oh, we down the street, so we must be great too! I might be from down south, but I'm a Queens nigga. It's weird. I can't say I went to a certain school, or this church over here. But I learned so much, I even learned how to ride a bike up here.
How did you first start making beats?
My uncle Dwight, I was tryna be like him! He rapped, he drew, he did graphic design, he tried to make beats, he was fly, he had all the foams, all the J's. He had Fruity Loops on his computer. I thought he was playing a video game, 'cause he's really into computers and shit, and I didn't know how he did that shit. I was like, lemme try. He usually just lets me go ahead, he knows I'll figure it out. He would go to work, and school — 'cause when I'd come up here for summer break, everyone would still be in school for one more month. I really was just on that shit all day and he'd come back and hear it and be like, "You might be onto something." Maybe two summers later, he gave me his computer. He was like, Fuck it, you're better than me. Have this shit.
I had an uncle, my grandma's brother, I don't know how big he is in Belize but he's popular out there, and he does reggae music. I've been watching his YouTube videos for the past two years. If I ever need inspiration I always watch his shit. I don't really listen to artists and stuff, since 2011. I wanted to just make sure I'm not making beats like anyone else.
What brought you to Atlanta?
I convinced my parents to let me go back to school, because I was going to school for graphic design, and I dropped out. I did a year, got in trouble, [got] suspended. I'm not a bad person, that was my first time ever getting in trouble in school. My mom was shocked. That's how I knew I needed to do this music shit. I tried to go back to school, I even went back with no music equipment. Still did bad. I was like Bro, why do I feel like a dummy in here?
When I came up [to Queens after that], I was really just reckless. I just turned 18, smoking weed everyday, my grandparents were old as shit so I could just do whatever. I went to my dad's house in South Carolina and I worked at Walmart and Target. Shit was terrible. But I had enough time to think about what I really wanted to do with my life. I knew I wanted to do this music shit, but how the fuck was I gonna make it? I talked to my uncle and he said, "You already record yourself, just go to school for that shit. You can be in the studio all the time." I thought about it, after finishing school, where the fuck am I gonna work at, and who am I gonna work with in New York that's lit? Imma go to Atlanta. There's somebody blowin' up every six months. I felt like going to Atlanta would better my chances. Because I didn't know anyone, I felt more comfortable. Moved out there by myself, and did it. It was hard as fuck at first, but it was definitely worth it. I finished the program, but I didn't get my certificate. It was 9 months, and I even redid the last part because they said I didn't pass something.
What kind of sounds inform your own sound? Listening to your production, especially on Playboi Carti's mixtape, I'm reminded a lot of old video game-type sounds.
I used to be a big Wiz Khalifa fan in high school. I started smoking weed when Kush & Orange Juice came out. Sledgren, he used to use video games sounds. I was tryna be like them niggas, smoke weed, make some smokin' music. After a while, I stopped sampling them.
My friend sold me his Super Nintendo around senior or junior year [of high school]. He had Street Fighter, and me and my friends would play it all the time, so I downloaded the Street Fighter soundtrack first, and then I just started getting everything else, just to hear what they were doing, not even to use it. A lot of that shit is ahead of its time and gets unnoticed. When I was in high school, I downloaded a bunch of video game soundtracks and I would just listen to them and study them. That shit is really intricate. Most people don't notice because they're playing a game, but if you actually listen to that shit, most beat makers can't do that shit.
When I moved to Atlanta, I started working with DJ Burn One, and he was like, "Yo, you can't use samples." There's nothing wrong with samples, 'cause that's where I started making beats. In New York, samples is necessary. But if you're trying to make money off that shit, it's like, don't even play yourself — make [a beat] from scratch. I'm really glad I made "Magnolia" from scratch because we would be having a bunch of different conversations right now.

How did you meet Burn One?
I had a beat battle at my engineering school, the SAE Institute. I lost, but I got to the final. They put me in another [battle]. In the second one, I had a meeting with the guest speakers. My guest speaker was DJ Burn One. The first beat I played for him was a Street Fighter beat I made. He went crazy, I knew he would, that shit's hard as fuck. He was like, "Yo, we gotta go to the studio!" I was like, "Hell yeah!"
Because of Burn One, the studio we used to work in, [Young] Nudy used to come to that studio all the time, but I didn't know him. When the studio found out I was going to the School of Engineering, they gave me a job. That's pretty much what happened. I got the job engineering, and Nudy was my first session. Been working ever since.
[Young Nudy and I] have been working together for like three years. We both started with nothing. And now that everything's going so well, we're happy. We gotta keep killing shit. As soon as we slow down, somebody else is gonna come through and fuckin blow up. Coming to Atlanta, I've seen niggas blow up every year. That's why I had to quit [my job]. 21 Savage blew up before my eyes, and Lil Yachty. Like, man, I done seen enough of this shit, we gotta blow up. Everybody down the street is blowin' up! I might have not been there, but we've been around it, the energy. Fuck that! We gonna get ours. That shit crazy.
Before I started working for Epic, I had a meeting at QC to be an engineer and become the artist/producer type shit. Before Lil Yachty, before his song blew up and anybody knew, I picked Epic because I thought it was a bigger label. And lil nigga signed to QC! In Atlanta, QC is the bigger label! They run Atlanta! They got Migos, Lil Yachty, they gonna go up!
So you got your start working for Epic Records. What was that like?
I quit working for Epic Records last November. I was an engineer for them for about a year straight. It was really intense. I loved my job, 'cause I got to stay in the studio, so I worked on my own music, Nudy would pull up. That was cool, but I just wanted to do the next thing, do some shows, sell some merch, let's really get some money off the music, let's blow up.
I was paid on salary. The lifestyle was cool, but after a while... I did that shit for a year straight. I didn't leave the studio, I didn't go anywhere. No vacations, every holiday I was inside the studio. I was like, maybe this ain't it, 'cause I'm overworking myself. You can't work too hard, you gotta work smart. I thought working for Epic was it, I thought that was gonna get me my deal, possibly get me into other things. Me leaving, and just saying, "Fuck it," was just following my heart. I had this weird feeling in my stomach that never happened to me before. I was just feeling sick. If this shit got me feeling like this, I don't need to be here. I called my friends, like Yo, I'm about to quit. Forreal forreal, like in the next five minutes. And they were like, Bro, we got you.
The day I quit, I kid you not, I got a call to work with Metro Boomin for the first time. I was like, "I guess this is the sign I need." I quit, went to the studio with him that evening, worked with him, Southside, and Spiffy Global. That session was the coolest session I've had. We all make beats, and we all use the same program, and we all know the same board. If it was a spaceship, we all would know how to fly it. I would just get up, not worry about anyone fuckin' it up or nothing. That was the best thing. We was just like, smokin' blunts, rolling backwoods, just making dope ass beats. I was like, bro, this is what I wanna do!
When you were at Epic, you worked on music that wasn't necessarily rap.
Ballads, guitar songs. I learned how to really do songs; song structure, bridges, certain key words — it's a science to that shit. What I taught myself wasn't that different. It was like damn! We were right the whole time. We just didn't know. Sometimes you have to be around people who are doing shit at the time, or that know how to do it the right way. Once you see how it's done, it's not too different. Apply your own, that's how you create your own sauce and sound.
Is that the most important thing you took away from that experience?
The biggest thing I took from Epic is knowing if it's a good song or not. I had to record every song. I would think it's ok, at least, and then somebody from the label would come in and be like Man, this shit's terrible, pointing out all the flaws. They didn't think I was paying attention, but I soaked up all the game. I can understand everybody who's sitting there — what the A&R's doing, the producer, the homeboy rollin' up the blunt, the engineer that's recording, the artist performing, that shit's crazy. I've been in all of those shoes now, and I'm only 23. I'm really excited about what's next for me, cause I feel like I learned everything I need to be Pi'erre Bourne.
What kind of equipment do you use?
My MacBook. Ableton, Fruity Loops. My hard drive with all my sounds on it.
You've got The Life Of Pi'erre 4 coming out soon. How are you prioritizing and balancing your solo project now with your production demands?
It's hard. I pay for my own studio time. Everybody else just gotta show up and just do their thing. I'm trying to get to that point where I don't have to do so much, that way it'll be easier for me to just rap. When I do my sessions, I record myself, running in and out the booth, stopping it. I just feel more comfortable that way, but I know that's a lot more work on myself. All my projects I engineer myself, since I was a kid. I just finally went to school for it at SAE, but I knew how to use Pro Tools prior to SAE. In school they gave us the equipment, and I was just in Atlanta recording people. $30 an hour, portable studio time.
You just gotta be smart. Even if I were to get boxed in as a producer, I would still find a way to drop my music and be a rapper too. I just want everyone to take me seriously for both. Take me seriously and be scared. I do everything, it's all in here. There's no other person in the room, and that shit scares a lot of people.
I wanna be like Kanye. I don't wanna stop making beats for people, I enjoy that shit. Imma always do that, it's cool to see somebody really genuinely happy about a beat. I think I could honestly do both. I do like ten beats a day. That's what really helped me out this year. Since I quit Epic I knew I needed something else, some kind of structure, just so I keep on and stay focused. I accumulated a lot of beats so when I would go to the studio, I could drop a pack off to Yachty, Nudy, Savage, Carti. And they were all different beats. Before, I couldn't do that shit.
How did you link with Carti?
The "Wokeuplikethis*" beat. I gave a [beat] pack to Lil Yachty's brother k$upreme — me and him got cool in January. I don't know why I gave him a pack, to be honest; I don't do that. But bro was cool as fuck. The session was weird cause he came to work with somebody and I was engineering the session, and it was awkward as fuck. I left! Nudy was at the studio down the street, I was like, "I'ma give him some beats." k$upreme was like, "You're Pi'erre bro? Your shit's cool as fuck!" I don't even know the whole story, but Carti hopped on [the "Wokeuplikethis*" beat] instantly. I guess [Lil Uzi Vert] got on it a couple of days later. When I found out, it was already on the internet.
Back in the day, I guess there were certain formulas for Top 100 songs, but we made Top 100! I made ["Magnolia" and "Wokeuplikethis*"] in the car, so I can't wait to make some beats in the studio and see what happens with those! People might not know the whole story going into the songs, but the beats I gave Carti, besides "Wokeuplikethis*", I made day-of or the day before the session. I saw the opportunity, he was finishing his tape. All of March, we were cooking it up. Before SXSW, I came up [to New York] for my grandma's birthday and I saw everybody going crazy to his shit. Shit's a blessing.
Me and Carti real tight. I've only known him since February, but I'm big on vibes. If I don't fuck with you, the energy, I'm not gonna force it. The first day I met him, he had the purple pack Backwoods! My favorite pack! I was like Yo, we're gonna be best friends, I hope you know that shit. We've been kicking it, and he's a Virgo too, we're both Virgos. I noticed, throughout my life, I have a lot of friends that are Virgos, I'm cool with Virgos. I know what they're like. Even though I don't know him, I feel like I know him.
Are you into astrology?
Not really, but I think when I do get into it, it's gonna explain a lot of the shit that has happened to me for the past two years. I thought about that shit, Famous Dex — he's a fuckin' Virgo. Lil Yachty a fuckin' Virgo. I'm a fuckin' Virgo, Playboi Carti's a fuckin' Virgo. Those are people I've worked with. I mean Nudy's not a Virgo, but shit, he's just cool as hell.