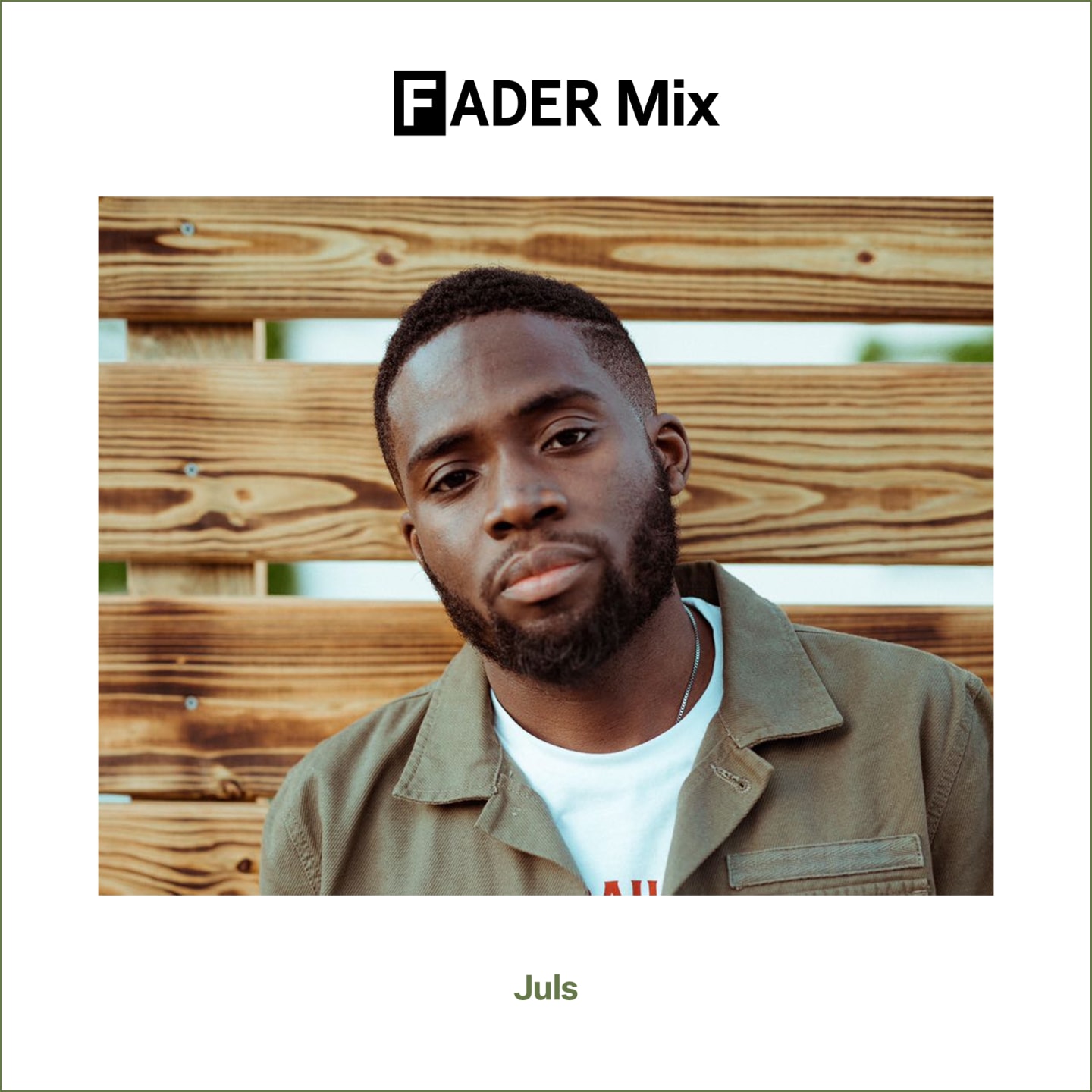 Bright producer Juls is an essential connector in the current Afropop music scene. In May, the Ghanaian star set summer in motion with his vibrant Leap of Faith EP which features an amalgamation of West African artists like Santi, Maleek Berry, and Kojo Funds. Juls unites the culture's solid and emerging players with his knack for beats that echo the sounds of the diaspora.
He's also known for the magic he makes with Nigerian superstar Mr. Eazi. The two got together for Eazi's 2013 single "Bankulize," and they've linked up for feel-good collaborations ever since. On this week's FADER Mix, Juls flexes his ear for timeless dance bangers that emanate melanin, beautiful weather, and backyard functions.
Listen to Juls's FADER Mix below and catch a vibe.
Where are you right now? Please describe your surroundings.
Right now I'm surrounded by studio equipment and a guitarist and women dancing to drum patterns I created today. The vibes are magical cos everyone is in a good mood and motivating. There's also leftover pizza near the sink lol.
Tell us a bit about this mix — what do you imagine people doing while listening to it?
This is a mix some of the latest Afrobeats songs gaining heavy momentum on the radio and clubs. Some of the songs are my favorites as well. People haven't got any choice but to dance. I guarantee you that it will be played at every single BBQ this summer.
What are your earliest musical memories?
Production-wise, I think my first studio session was with Panji Anoff who is a legend in the Ghanaian music industry. He has pushed hiplife and original Afrobeat to different heights all across the globe. He taught me a few production tricks as well with mixing as well.
With what song or songs did you feel you'd finally honed your sound? Why?
I think "Skintight" and a few other songs I produced for Mr Eazi have been the blueprint for a lot of beats we hear on the scene these days. Slowing the tempo a bit but still making it a good vibe to dance to. I won't say I have honed my sound because I have a variety of sounds that haven't been heard yet. This seems to be the wave at the moment and music is evolving.
How did you first link up with Mr Eazi? What's your musical chemistry like? What works so well about it?
We met on Twitter. Heard his mixtape and reached out to him saying i wanted to remix a song called "Bankulize." I got a feature from a rapper from Ghana called Pappy Kojo doing big things out there. And that's where it begun. We created other hits including "Skintight," "Hollup," "Shito," "Anointing," which was co-produced with my guys Team Salut. And here we are.
I would like to think that we are both mellow cool people and don't like too much going on with the music so it's pretty easy. And if music is pretty easy going and makes to easy for the listener to vibe to. Nothing too complicated.
It's clear that the boundaries are blurring between the music coming out of Ghana and Nigeria. Why do you think that's happening right now and why is it important for you to be a part of that?
Our music is finally getting out there but it's the modern sound. It's important that the world hears what was there before us though. I think we owe our forefathers that because they paved the way for us. That's why I love those elements to reflect in my beats and forever drum into people's heads that this was inspired by legends like Tony Allen, ET Mensah, The Apagya Band, Fela Kuti, The Funkees, etc.
How do you feel seeing Afrobeats gain popularity in the U.S., U.K. and beyond?
It's great. An amazing feeling. It's great to see friends and my people get their name shouted out or recognized by some big artists out there. But the important thing to do always is to own our sound. A lot of our sounds are being emulated by other genres and if we don't own our own, someone else we claim that as theirs.
What projects do you have coming up in the second half of 2017?
I have a few surprises. We are working. Another EP maybe? Couple shows maybe? Videos? Let's wait and see
What's the last book you read that had a big impact on you? And why?
I haven't had time to read a book for years because of music has taken over my life. I read the bible everyday. I am trying rebuild faith in God and trust in HIM a lot more than I have.
What's your favorite dish to cook and how do you make it?
Rice and nkatenkwan with chicken. (That's peanut soup). I can't tell you my secrets to my masterpiece. But one special ingredient is ginger.
Tracklist
L.A.X. - Runaway
Show Dem Camp feat Funbi - Up To You
Maleek Berry - Been Callin
Runtown - For Life
Joey B Ft Odunsi The Engine - Temptation
Adey - Dirty Diego
S.K. - Ose
Patoranking feat Wizkid - This Kind Love
Adekunle Gold X Moelogo - Only Girl
Tekno - Yawa
Dotman - Akube
Burna Boy - Rock Your Body
Sona - Ginger
Show Dem Camp Ft Boj - Compose
Juls feat Maleek Berry And Nonso Amadi
Tekno - Be
Mr Eazi - Legover
Ike Chuks Ft Dotman - Do Proper
Silva Stone Ft Ike Chuks - Incredible
Davido - Fall
Eugy - Hold Tight