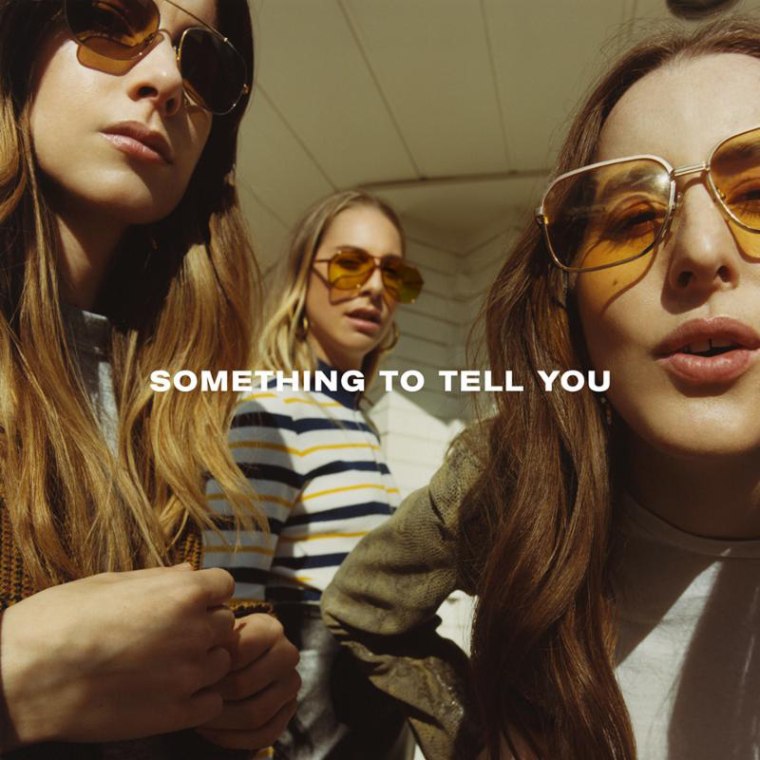 In their first music video in three years, the Haim sisters are surrounded by space. Este, Danielle, and Alana stride through eerily quiet L.A. blocks in the clip for "Want You Back," notably (for the most part) not lipsyncing to the song. Instead, they use occasional finger jabs, shoulder shimmies, and turns of the head to highlight the song's idiosyncratic moments of distortion and bass. The clip is worthy of repeat watches, capturing not only the laid-back bond of the three sisters, but also the rich, colorful detail of their retro pop-rock. As with all their best songs, "Want You Back" hangs on much more than a head-nodding top line. There's a depth to Haim's music that comes from their ability to contrast moments of calm with moments of chaos.
The trio keep this masterful balance on their second studio album, Something to Tell You, even as their sonic palette expands exponentially. On their 2014 debut Days Are Gone, Haim wove together textbook characteristics of '80s soft-rock and power pop, with reviewers pointing to Fleetwood Mac and the Eagles. Something To Tell You's production (aided by longtime collaborator Ariel Rechtshaid, with help from Dev Hynes, BloodPop, and Rostam Batmanglij) sounds weirder and feels fresher. Now, the sweeping choruses are variously punctuated with gasps, robotic Daft Punk-esque vocals, and club-ready filters. But for each surprising flurry of sound, there's a spacious moment to catch your breath. The punchy single "A Little Of Your Love" bounces elastically between stadium-filling choruses and sparse stretches of handclaps, and the title track pitches reflective verses against tantrum outbursts of percussion. Meanwhile "Nothing's Wrong" withdraws totally into an almost silent midsection, making the jangling guitars only that much sweeter when they return.
Something to Tell You is not so much about the telling, but about the frustration of carrying around something you wish you could say.
On Something to Tell You, Haim explore the space not only between sounds, but between people. The opening line of "Want You Back" (and the album) declares, "Some things are long forgotten/ Some things were never said," a line that aches with regret and casts a long shadow. The album cover, even, seems to capture guitarist Alana mid-speech, her words left a mystery. In an interview with Entertainment Weekly earlier this year, lead vocalist and guitarist Danielle explained: "I feel like [the themes are] stuff everyone talks about: having your phone all the time, millennials. You can preoccupy yourself with all these things, but at the end of the day, you're trying to figure out how you feel." In other words, Something to Tell You is not so much about the telling, but about the frustration of carrying around something you wish you could say — as Alana put it, "It is so hard to tell someone anything!"
Much of the record dives into these unspoken, tough-to-articulate feelings, bringing to life all the things you'd shout at your exes — if you had the guts. And in classic Haim fashion, those feelings are made fun. On "Walk Away," the desperate plea "Say something, say something, while I can still hear you" is masked as a punchy pop refrain. "Nothing's Wrong," meanwhile, attacks a lover for telling lies over a synth-bedazzled country hook. Like the Shania Twain hits you jump around your room to, Haim songs often capture the empowering side of a break-up: the bittersweet freedom you gain to give voice to all the angry and brooding thoughts in your head. On "Right Now," Danielle has a taunting tone: "Now you're saying that you need me, babe?"
But Haim are adept at offsetting light with shade. On the album's final track, "Night So Long," they pull back from the theatrics to create their most vulnerable sound to date, with Danielle singing starkly of "loneliness my only friend" over a solo strumming guitar. After an album that battles with how to communicate with others, the song is an introspective retreat into the self. It's also a masterstroke of Haim's ability to create contrast, as musically it pushes against the tone of the rest of the album, while driving home the real solitude of being unable to articulate something you're desperate to say. Ironically, it's a moment that connects directly with the listener, as Danielle sings alone, and a wash of reverb creates the illusion that her voice is filling up an empty space.