Are These The Musicians Making Spotify's Alleged Fake Artists?
"We do not and have never created 'fake' artists and put them on Spotify playlists," the streaming platform said in an email.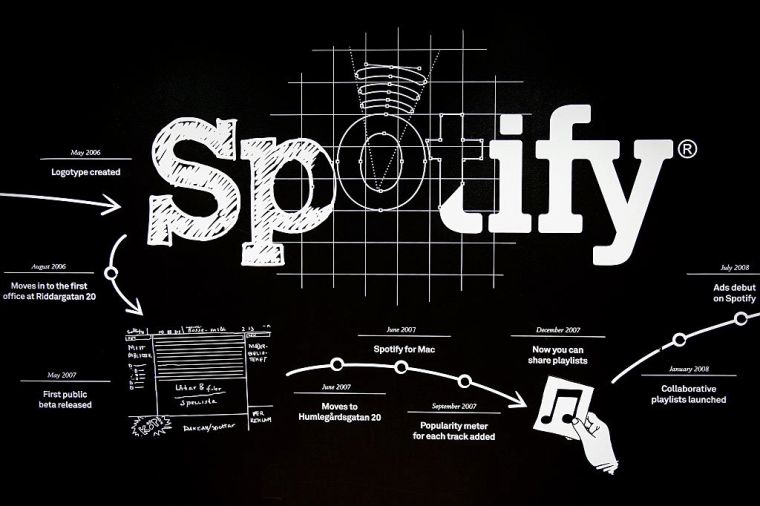 The royalty payment and curation practices of streaming platform Spotify has come under fire for the second time in a week. On July 5, Vulture published an article on the creative methods different artists and enterprises employ to get royalties from Spotify.
The widely-shared piece cited an August 2016 report in Music Business Worldwide that accused Spotify of stocking its popular, curated playlists with "fake artists:" musicians commissioned by Spotify to compose songs for flat rates that the company then owned, shielding them from the obligation of paying royalties to labels and artists. Spotify has called these claims "categorically untrue" in a statement.
On Tuesday, Variety published a report pushing back against Spotify's denial. Additionally, Music Business Worldwide may have identified the two musicians responsible for creating many of the so-called "fake artists."
Andreas Romdhane and Josef Svedlund were identified as the artists behind five of at least 50 artists with no digital footprint outside of Spotify. According to MBW, the two musicians are credited on by music licensing organization BMI as the writers of songs by acts like Deep Watch, Piotr Miteska, Antologie, Bon Vie, and Benny Bernstein and the 2 Inversions. Together, these groups have amassed more than 75 million streams on Spotify. Both musicians are based in Stockholm, Sweden, the same location as Spotify's headquarters.
Romdhane and Svedlund are clients of Universal Music Publishing, and work together as Quiz & Larossi. They have been credited on songs by artists like Kelly Clarkson, Ill Divo, Westlife, Geri Halliwell, as well as a number of artists on Simon Cowell's Syco label.
A "former Spotify insider" told Variety that the company's practice of stuffing playlists gives them leverage. "It's one of a number of internal initiatives to lower the royalties they're paying to the major labels. It helps them in their negotiations with the record companies."
An independent music publishing executive summarized why these allegations are troubling. "The problem is musicians are already feeling like Spotify is underpaying them, and this creation of knockoffs doesn't help that perception," they said.
"These playlists have been marketed as being highly curated by experts. Doesn't this put their entire credibility and integrity in question? It's hard enough for an artist to get on these playlists without competing against Spotify's own generic music."
Spotify again denied the allegations when reached by The FADER by email, writing: "We do not and have never created 'fake' artists and put them on Spotify playlists. We pay royalties for all tracks on Spotify. We do not own this content - we license it and pay royalties just like we do on every other track."