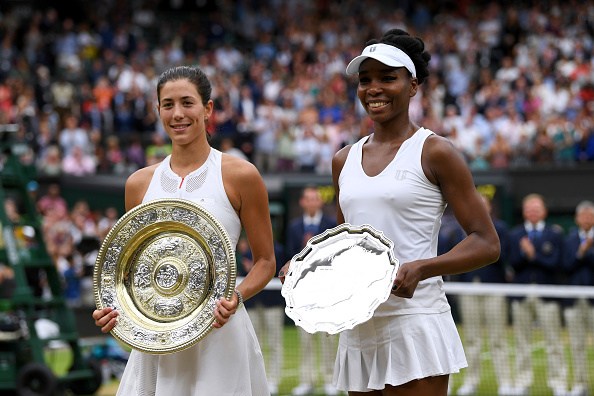 Gabriñe Muguruza took home her second Grand Slam title on Saturday after defeating Venus Williams at Wimbledon. Muguruza beat Serena Williams at the 2016 French Open, and her win today makes her the first player to beat both Williams sisters in Grand Slam finals.
Muguruza, who hails from Spain, beat five-time Wimbledon champ Williams in two sets, with scores of 7-5 and 6-0, respectively.
"I grew up watching her play, so it's incredible to play her in the final," Muguruza said upon accepting her trophy.
Muguruza is the first Spanish woman to win a Wimbledon singles title since 1994, when Conchita Martínez took home the Venus Rosewater Dish.
When Williams was asked if she had a message for Serena, who was absent from the match, she said, "I miss you. I tried my best to do the same things you do, but I think that there will be other opportunities. I do."