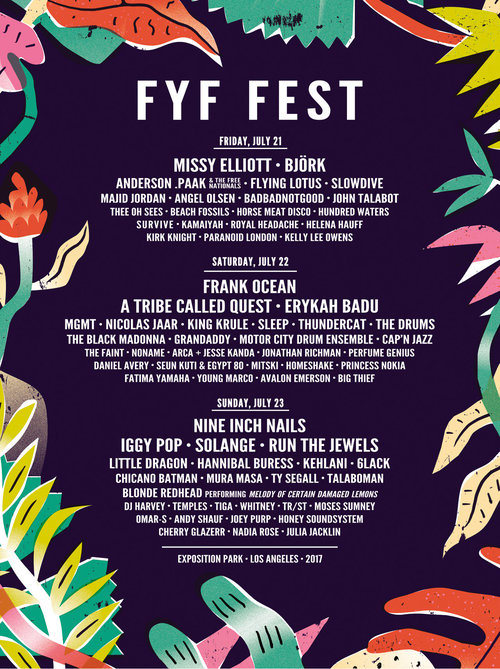 This weekend, FYF Fest kicked off with legendary headlining sets from Missy Elliott and Björk on July 21. The annual three-day festival takes place in Los Angeles, California at Exposition Park. Celebrities like Janet Jackson, Katy Perry, Beyoncé and Solange were in attendance to bare witness to the hip-hop icon.
Saturday's headliners include A Tribe Called Quest, Eykah Badu, and Frank Ocean. For the first time ever, FYF Fest will be broadcasting this weekend's performances exclusively on Twitter. According to the Los Angeles Times, the livestream will also show interviews and other behind-the-scenes footage. Here are some of the sets you won't want to miss (all times are listed in PST):
Noname at 6:20 p.m.
MGMT at 6:30 p.m.
Perfume Genius at 7:20 p.m.
King Krule at 7:30 p.m.
Arca + Jesse Kanda at 8:45 p.m.
A Tribe Called Quest at 8:30 p.m.
Erykah Badu at 9:50 p.m.
Frank Ocean at 11:00 p.m.
The Black Madonna at 11:45 p.m.
The performances will be available to stream on Saturday and Sunday from 6:00 p.m. until midnight PST. For more information and to see the full performance schedule, visit the FYF Fest website. Watch the sets in the video, below.
Thumbnail image courtesy of FYF Fest.