Slashed by Tia is known for sculpturally ruffled garments that manage to be both dainty and badass. Before the off-the-shoulder trend really took off, there was nothing out that even nearly resembled her pieces — take this voluminous yet chic red mini-dress from her debut drop back in November 2016, for example. Within just a year of existence, Slashed by Tia has already garnered a dope following, which includes the likes of FADER Mix DJs Angel + Dren, alternative R&B singer Louise Chantál, and beauty-blogger-turned-entrepreneur Domyenn.
Slashed's creator is Teni Adeola, a.k.a. Tia, a rising-junior at Parson's — totally casual — who ended up in New York City after applying in secret. The 20-year-old, who grew up in London after moving from Nigeria at the age of 11, snagged a scholarship at the renowned design school, which convinced her parents to allow her to stray from her law school plans.
Tia's recent collection was inspired by renaissance royalty and sold out within two weeks of its June release. So it's best you hustle to get your hands on her newest drop — available now via Slashed's webstore — which contrasts high, concealing necklines with dreamy transparent materials.
In the interview below, Tia discusses her unconventional path to fashion and global inspirations, and shares exclusive images of the new collection, modeled by ultra-cool girls Genesis Vega, Lee Armoogam, and Eka Eyoh.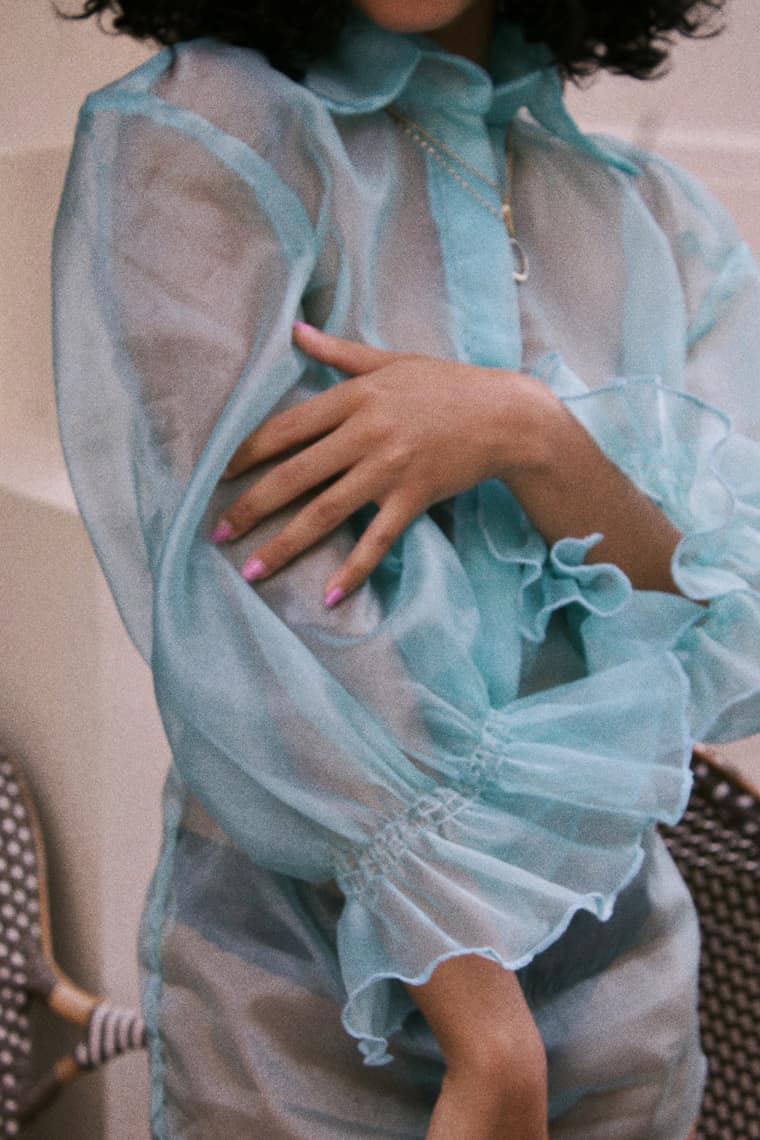 When did you start your brand? What was your motivation?
It's been just about a year now, I started in 2016. I just began making these silky, backless tops because I was really into backless stuff at the time. Then my friends started liking the pieces, so I'd make the tops for them and it just grew from there. Instagram definitely played a big, big, big role in the growth of Slashed. When I started, I was making pieces by order, before even creating the website.
When did you start sewing?
I was about 8 years old when I started. In Nigeria, my mom would collect these beautiful fabrics, she just had huge stacks of them. I would take needles and thread and pieces of the fabric from her collection to make these extravagant dresses for my barbies. Then I took a lot of textile classes during my time in high school.
Can you talk about your process now?
At this point, I design everything and select the fabrics. But I also use two seamstresses to help create the quantities I need, because I need time to balance my school work.
Earlier this year, I got some fabrics in Istanbul, Turkey. They have these huge fashion districts there, so I went through the markets and picked up some beautiful stuff.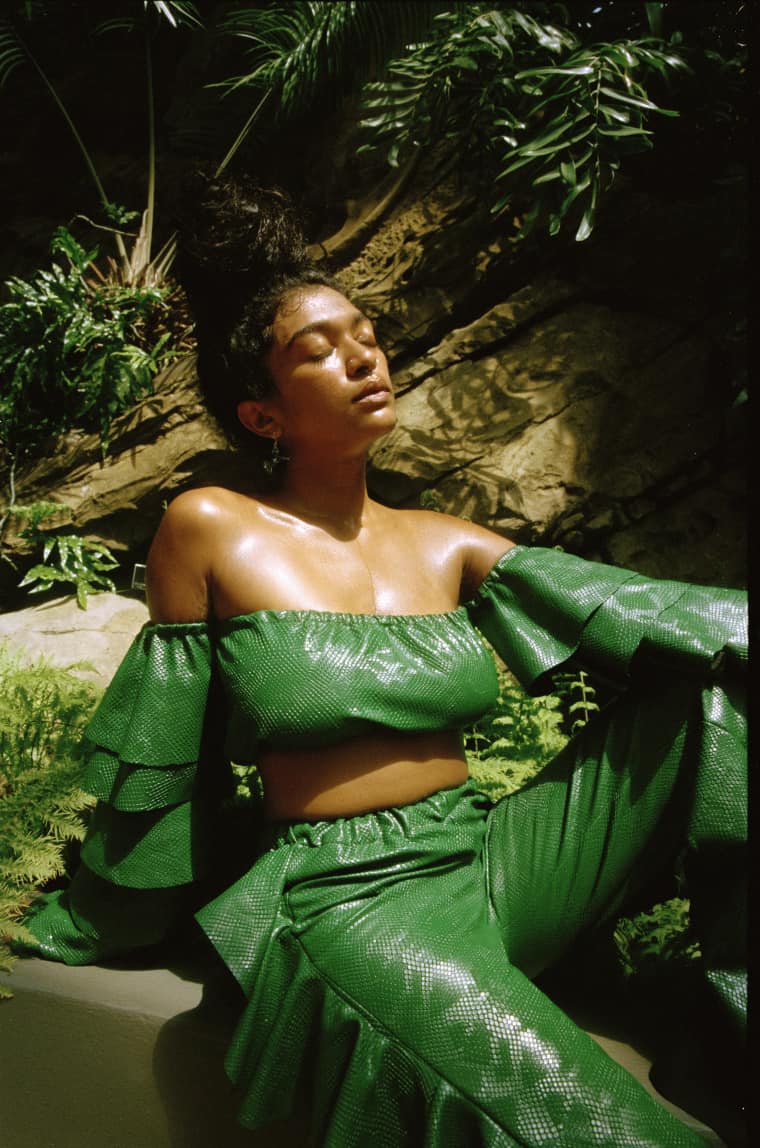 "For me, it's all about a carefree, badass summer vibe. If you want to show up and be best dressed at the function, I'm your girl."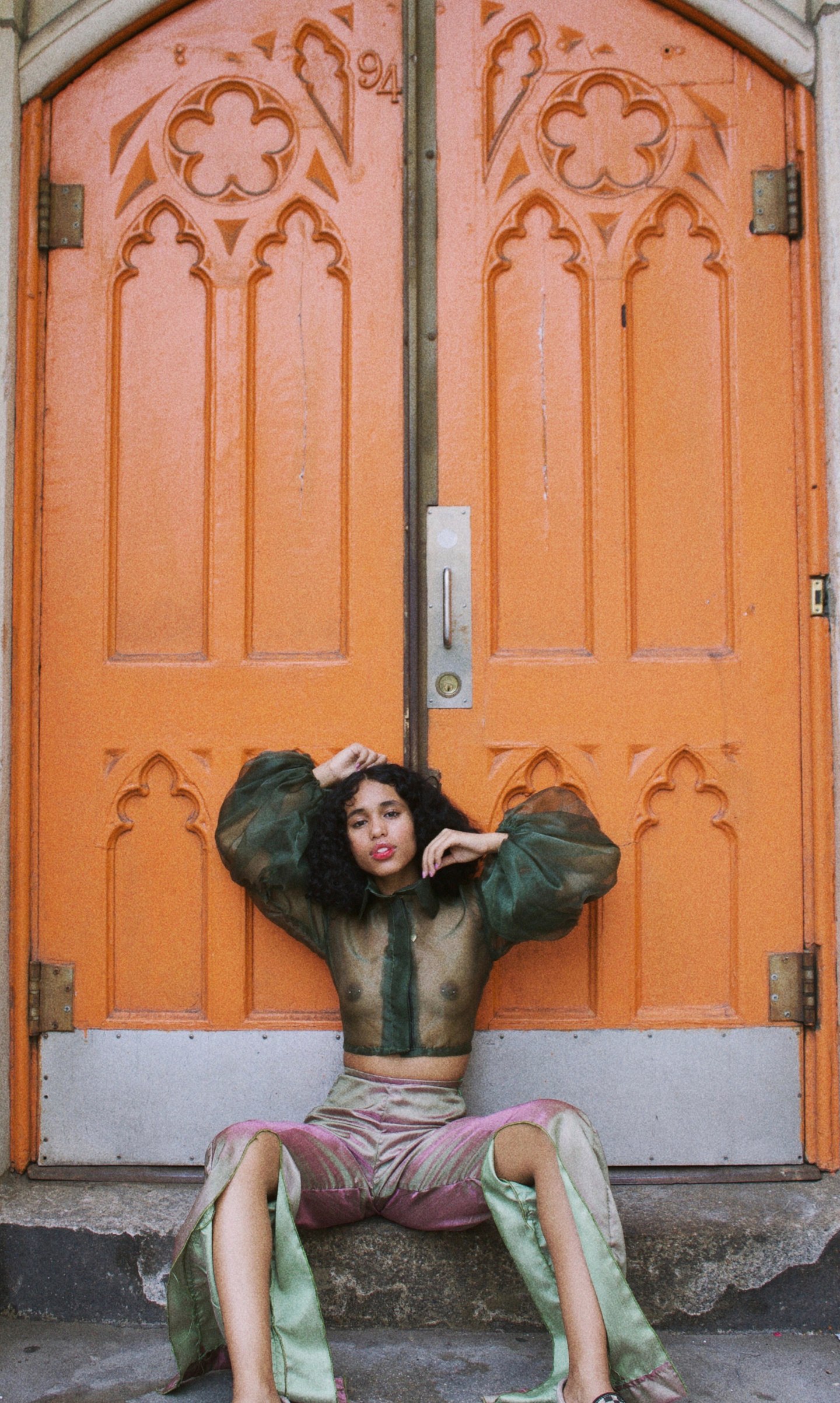 How would you describe your new collection?
For this collection I've been using lots of mesh and silk — it's fun for summer. For me, it's all about a carefree, badass summer vibe. If you want to show up and be best dressed at the function, I'm your girl.
What inspired your designs?
I became super inspired by learning about paintings made during the 16th century in Spain. There were so many ruffled garments that princess and queens would wear that were so large and voluminous and difficult to make. I wanted to capture that and translate it for the modern day.
So, I've been working with ruffles a lot — normally when people think of ruffles it reminds them of some dress they were forced to wear when they were 9. I think I've found a balance for my pieces, they're not super girly.
Where would you like to see Slashed in the future?
In the near future I would really love to open up a showroom to show my collections. Beyond that I would really like to move into couture and have runway shows.