The Best Band Nobody Can Sign
Sheer Mag reached cult status before they'd ever put out an album. Can they sidestep the spotlight forever?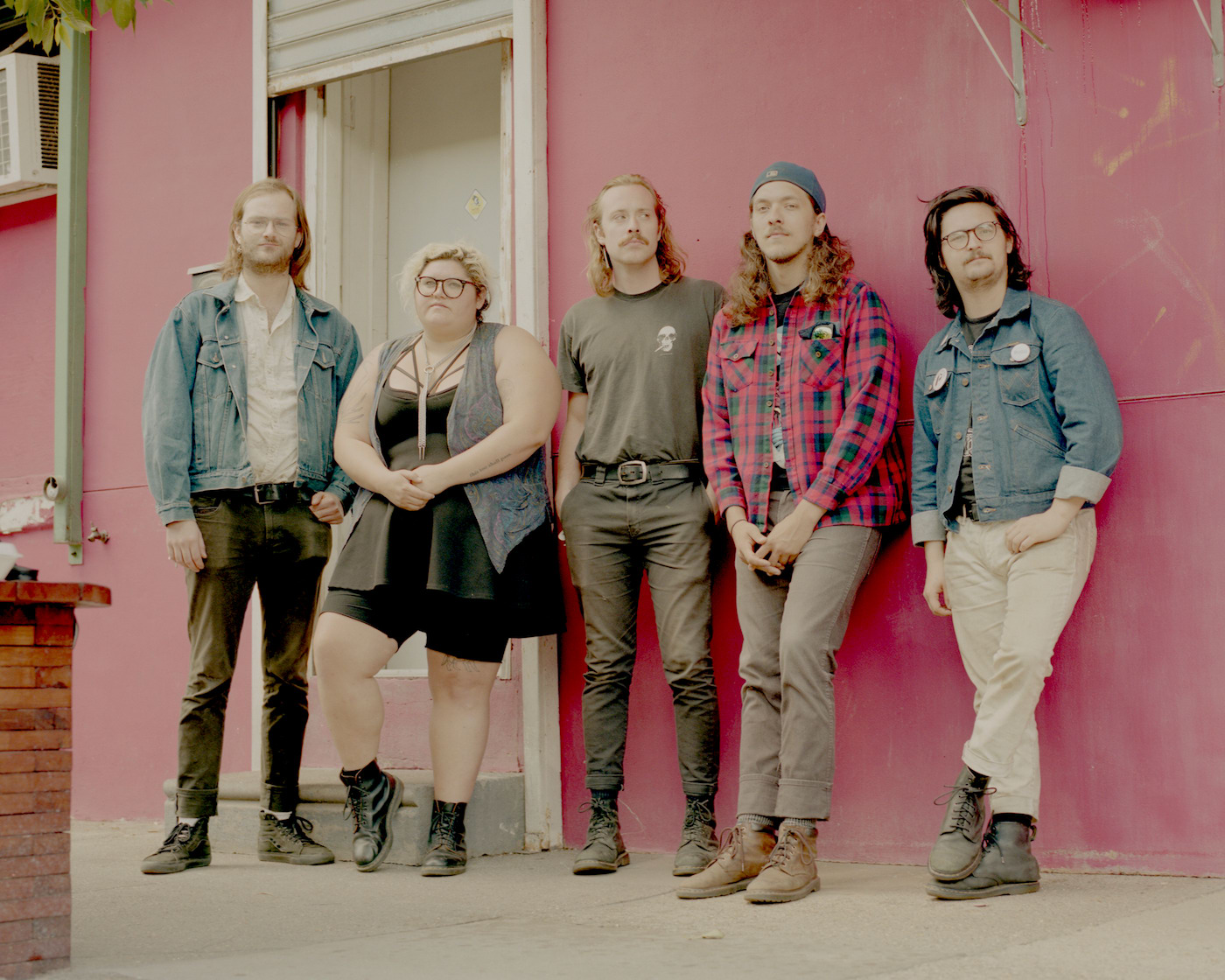 Drinks are dirt cheap at Old Philadelphia, a street-corner dive in the city's Fishtown neighborhood. If the Phillies are playing, like they are when I visit on a muggy weeknight in June, they're somehow even cheaper: a Budweiser draft goes for a buck, and you can add a shot of bottom-shelf bourbon for just $1.50 more. The space is smoky, mostly decor-less, and, somewhat disorientingly, extremely well-lit, like a casino, or maybe a clinic.
With the exception of a few jumpy regulars near the pool table, one of whom keeps excusing himself to "powder my nose," most everyone in the bar is there to celebrate the birthday of Paige, a charismatic artist with teased brown hair and a checker-print skirt. Paige dates Matt Palmer, the rhythm guitarist and primary lyricist for Sheer Mag, a local rock & roll group.
Matt, 27, is sitting at the bar, smoking a no-name cigarette and mouthing the words to the Roy Ayers song on the jukebox. A couple stools down, Tina Halladay, Sheer Mag's 31-year-old lead singer, is holding a Twisted Tea and telling friends a story about getting pulled over by a cop; like most of her anecdotes, this one involves hand gestures and several dozen curse words.
Lead guitarist Kyle Seely, 25, is in the back by the dart board, which is positioned precariously beside the opening between rooms. His 28-year-old brother Hart, the band's bassist, is wedged in the crowd, chatting noncommittally to a couple pals, his usual seriousness interrupted by the occasional smirk.
Sheer Mag's current drummer Ian Dykstra had been there too, but he split early to give his girlfriend a ride home. Departures continue in a staggered manner throughout the night, a byproduct of the fact that few from this particular crowd seem to have 9-to-5 gigs; those who don't make art or music full-time work at restaurants, in retail, or do manual labor. I see lots of band shirts tucked into jeans, limbs covered in hand-poked tattoos, dusty combat boots. The general vibe is debauched, creative, low-stress, Philadelphian.
Like this bar, Sheer Mag's music has an endearingly sleazy quality, and feels unconcerned with most contemporary frills. For the last few years, the group has worked hard to perfect their signature sound, an intoxicating combination of 1970s riffs, scuzzy textures, and Tina's clenched-fist howls. She's a seriously magnetic frontperson, with a once-in-a-lifetime singing voice — raw and gravelly and full of soul. Their hooky songs resonated with a wide range of music fans from the jump, including but not limited to: hardcore punks, metalheads, vintage music enthusiasts, and late-Obama-era indie kids jonesing for something with an edge, something that feels real.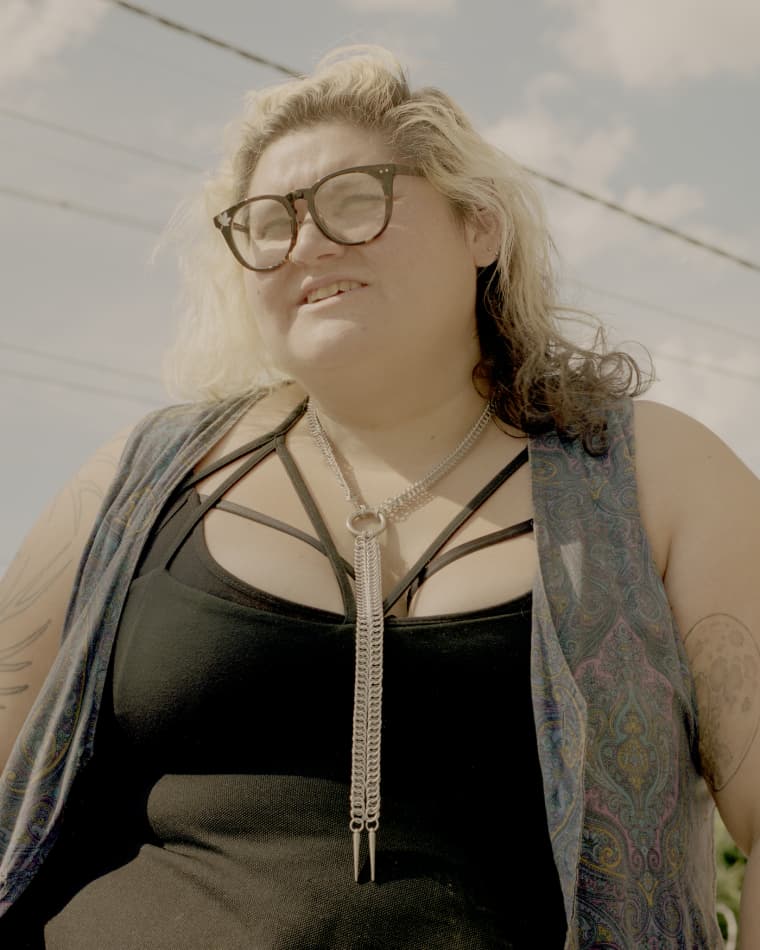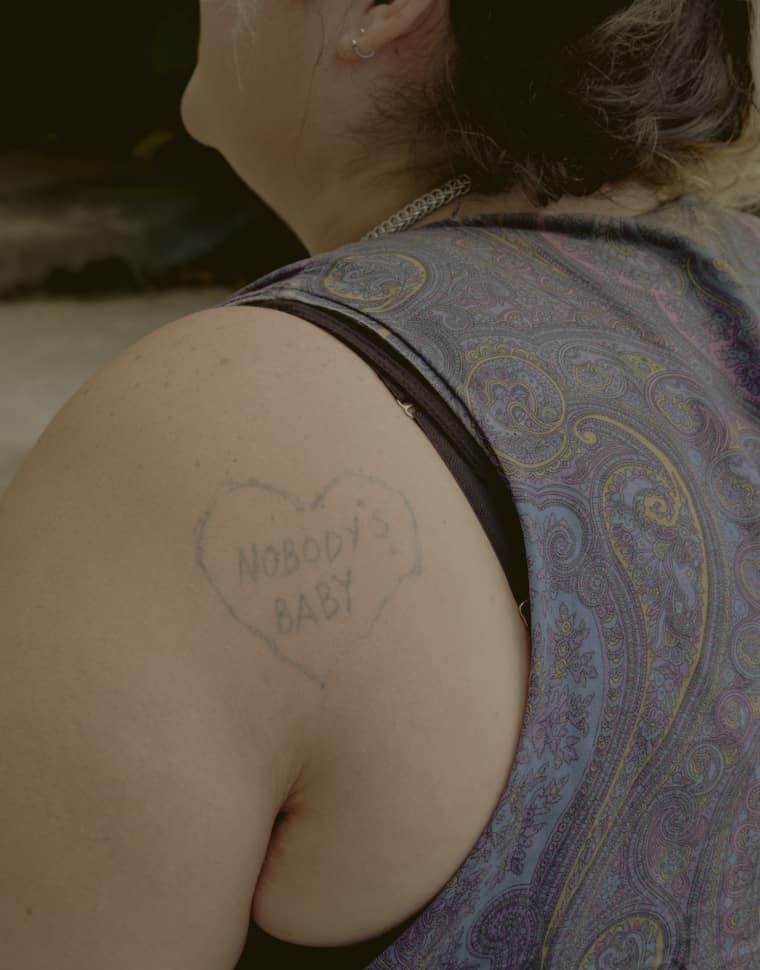 Despite lots of interest from major indies like Rough Trade and Merge, Sheer Mag has never signed to a label, choosing instead to release music themselves, or with assistance from teensy-tiny punk imprints. They have never hired a manager, or made a Twitter account, and up until recently they'd never done a proper, full-length interview. "We felt overly hyped, and we didn't want to perpetuate that," Tina remembers. "Why would we do a bunch of press when we have eight fucking songs?" As it turns out, this hands-off independence only added to their appeal, which seemed to be hinged on a tough-to-describe rebellious spirit. Sheer Mag reached cult status before they'd even put out an album.
A couple weeks after my trip to Philly, that first full-length, called Need To Feel Your Love, will be released through Wilsuns RC, a web store/imprint of the band's own creation. A debut album is a big deal for any band, but it's an especially interesting moment for one that has worked so hard to stay out of the spotlight.
The Sheer Mag story technically starts at SUNY Purchase, an artsy public university 30 miles north of Manhattan. Though their ages vary, the band's founding members — Tina, Matt, and the Seely brothers — were all acquainted through the school's scrappy music scene (which, at the time, also included songwriters like Mitski, Porches's Aaron Maine, Cheena's Walker Behl, and the guys from LVL UP).
After their respective graduations, each of Sheer Mag's four founding members moved to Philadelphia, a paradise of low rent and boozy basements. They all started hanging out more, and by the fall of 2013, they were living together in a decrepit three-story row house on the city's south side, where they hosted the occasional punk gig. Because every good show space needs a name, they called theirs "The Nuthouse." That's where Sheer Mag was born, though everyone took a different path to get there.
Kyle and Hart were raised just outside Syracuse in the kind of boring suburb where, Kyle notes, "the summers seemed really, really long." By the time they moved into The Nuthouse after college, Kyle already had some steamy-sounding riffs on reserve, to which Hart added some minimal percussion — just some snares and hi-hats. "They have one of those weird brother connections that make bands with siblings in them so crazy, like Heart or the fucking Bee Gees," Tina says. "That's hard to get at all, and they already have it built in."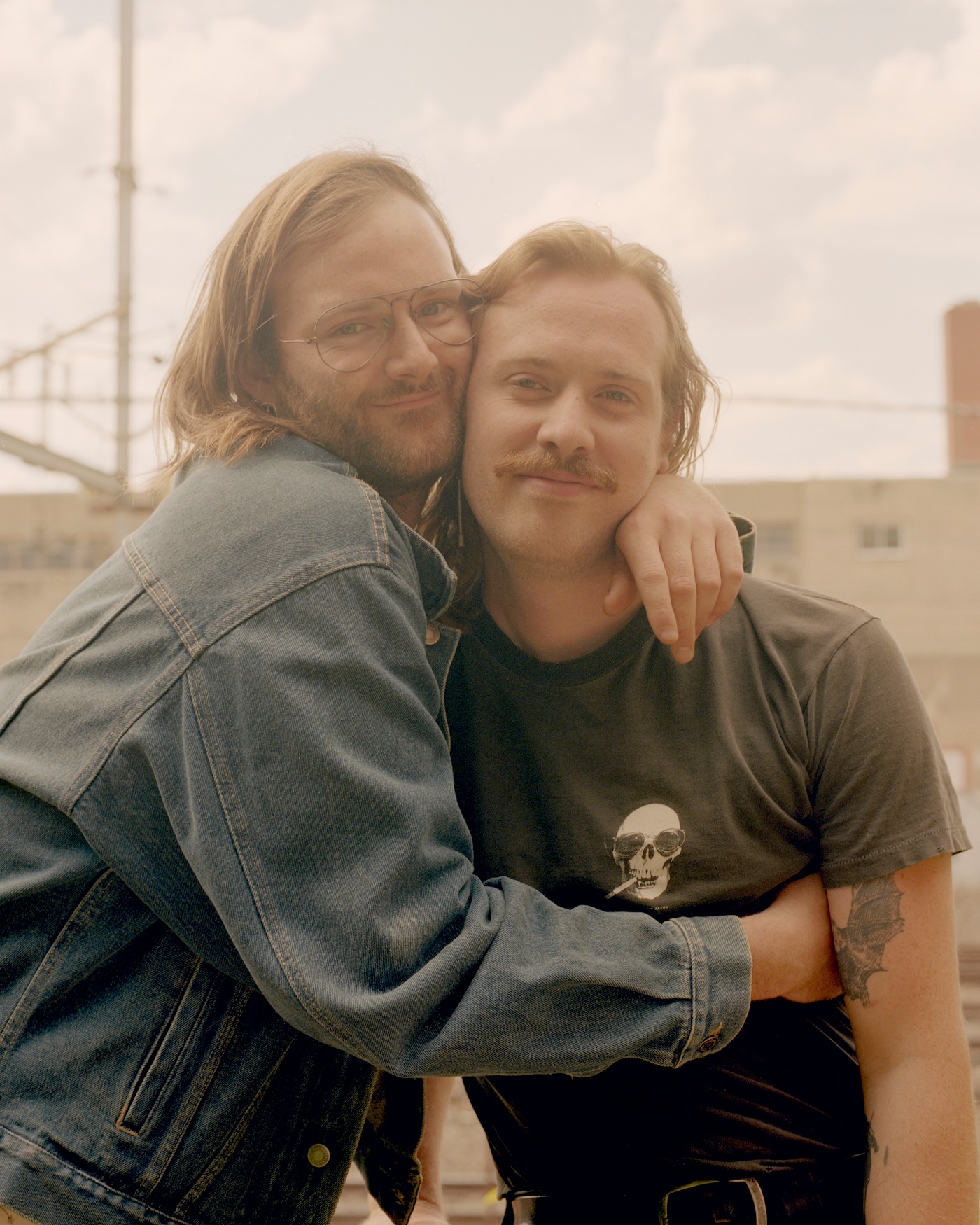 Before Purchase, Tina lived with her family on a rural stretch of Long Island called Mattituck. "It's really pretty, with beaches and shit," she says of her hometown. "There were only 94 kids in my class; I was kind of a freak." In college she sang with The Shakes, a lo-fi soul outfit with charmingly rugged boy-girl vocals. Kyle and Hart knew she had a killer voice. "It was kind of like, Sing on these random things we're working on," Kyle remembers. "Maybe it'll be good."
The son of a political journalist and a nurse, Matt Palmer grew up in Vienna, Virginia, a D.C. suburb with a pathetic music scene. "It all revolves around this one café called 'Jammin' Java,' where my friends opened up for ['90s one-hit wonders] Fastball once," he says, adding that the primary reason he enrolled at SUNY Purchase was because he read an article that said Dan Deacon went there. In Philadelphia, he began writing poetry for Tina to sing atop Kyle and Hart's instrumentals. "He'll write about things I tell him," Tina says. "He's thinking about other perspectives, in a respectful way."
Engineered by Hart, Sheer Mag's debut 7-inch was released in the fall 2014, and contained four loud, fuzzy, timeless-feeling guitar jams about drinking and loving and just getting by, all set against the backdrop of a changing city. "I want some way to live," Tina sings on the hook of "Point Breeze," a song they wrote altogether one night in Kyle's room. Tina's voice sounds bright and smoky, even amidst the type of gritty tape-deck distortion you'd expect from something recorded in a structure called The Nuthouse. "One time we were playing really loud and an amateur VHS porn tape fell out of the ceiling," Tina remembers, laughing.
"We were kind of just drunk all the time and, like, fucking around," Hart tells me. Still, he felt proud of that first 7-inch, of the sound they came up with. "I knew it was good," he says, somewhat reluctantly. "I thought it sounded pretty unique."


Though developed mostly by accident, this assembly-line production style is how Sheer Mag continues to make songs, even though no one in the band lives at The Nuthouse anymore. Kyle composes, Hart produces and arranges, Matt writes most of the lyrics, and Tina sings the hell out of them.
"Matt's a really good songwriter, and Tina definitely makes it her own when it comes down to it," Kyles says. Hart nods. "They're the ones that make the songs mean something."
Featuring power-pop anthems so well-crafted that you'll swear you've known them your whole life, the band's next two 7-inches, which came out in April 2015 and March 2016, found Sheer Mag at their Sheer Mag-iest, and won them lots of new fans outside of the underground punk scene they came from — and still orbit today. "We played shows with punk and hardcore bands, therefore people just grouped us in with that," Hart says. "Those people have a serious sweet tooth for classic-rock-sounding shit." (In January of this year, all three 7-inches were released as a one-LP compilation.)
Like the most lasting punk songs, Sheer Mag tracks are political, socially-conscious, riled-up. "Fan The Flames" berates Philly's crooked housing market, while "Can't Stop Fighting" references the hundreds of women murdered in Mexico's Ciudad Juarez every year; the deaths go largely unsolved, probably due to local government cover-ups. "You say you don't understand/ I can see the blood, it's on your hands," Tina pleads on the track's final verse. "I don't think we've ever been shy about being political," Tina says. "If someone has a problem with that, I don't want them listening to it."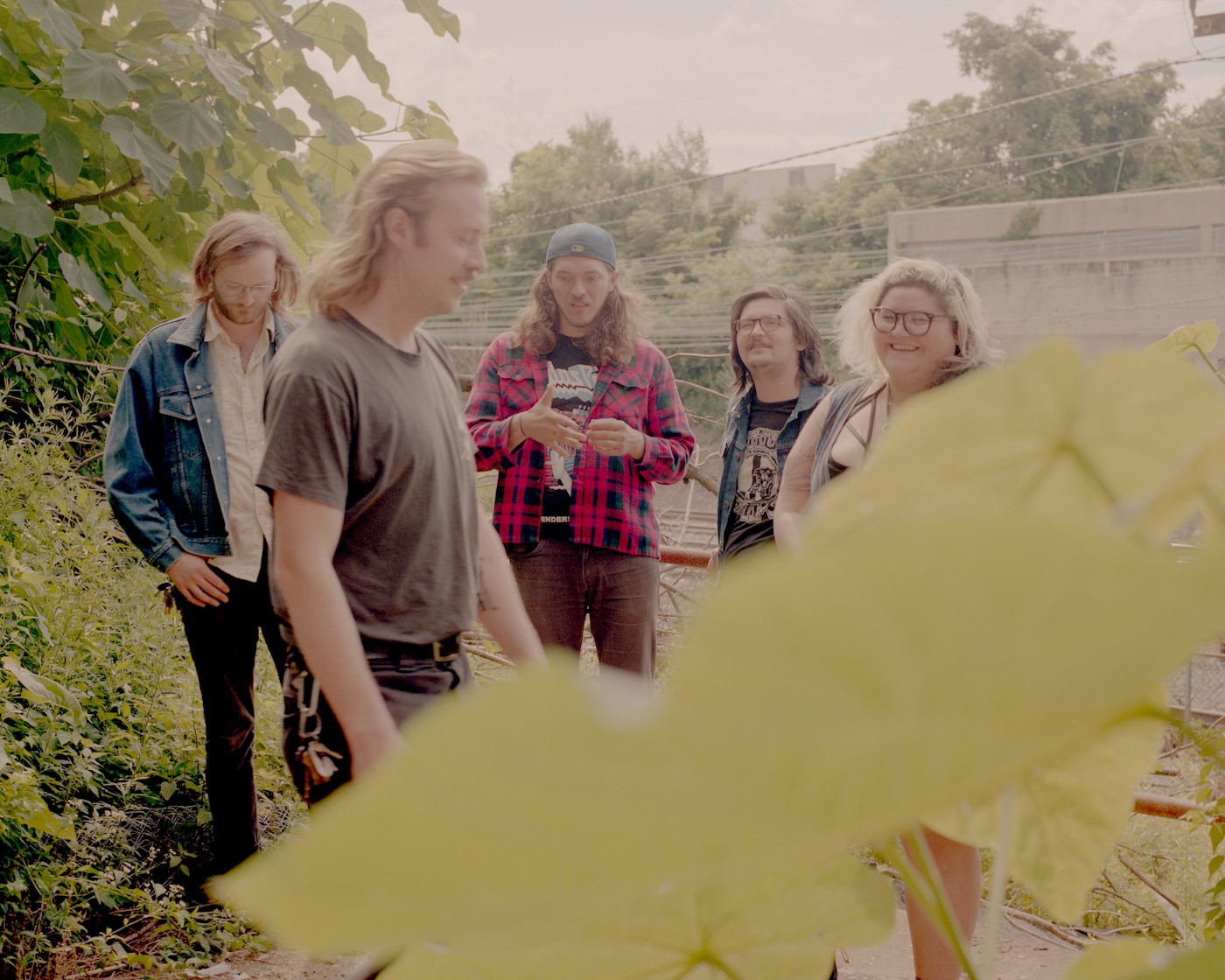 "If you eat enough mushrooms and get drunk enough to let all of the pretension wash away, love's the most important thing. It's what most of us strive for." — Matt Palmer
At a time when rock music seemed to be losing momentum, Sheer Mag's back-to-basics formula sounded fresh precisely because it wasn't really trying to. The lyrics captured the anguish of being alive right now, in an era when speaking up, for yourself and for others more oppressed than you, has never felt more important. "Everything about Sheer Mag is worthy of our time," says Victoria Ruiz, the singer of Rhode Island bilingual punk collective Downtown Boys, "from their lyrics that focus so much on history, necessity, and genuine raw emotion, to how they make people feel when you see them live. I'm moved and inspired by their generosity in their music; they give all that they bring — and it's a ton."
As the band got more popular, they started touring a lot. Then the label offers started coming in. "We played one show at Hotel Vegas during SXSW," Kyle remembers. "It was just packed with industry people. After our set, I was trying to get back to the bar to get water, and every step someone was like, 'Hey,' — trying to do that industry thing where they're like, 'I really dug your set,' but you know that they were actually sent there by some person, like, 'Get me Sheer Mag! I don't care what you have to do! Just do it!'"
But they never really entertained the idea of signing. "I just wasn't even considering any of it," Kyle says. "It's like, We're putting out our own shit. That's it. Period." They turned down the majority of interview requests in this period too. "There are so many bands that act like they're famous the second they get any coverage," Matt says. "When they fall off, they fall so hard. Like, They're gone now. We've had a slow and steady approach to things in general."
For a while, the only person they employed was a taste-making Texas booking agent named Timmy, who helps them plan tours. It's a smart model, in theory; if you don't put your trust in anyone, you'll never get burned. All major band affairs are sent to their one band email, and then usually discussed over a group chat, the process resembling a group of pals figuring out weekend plans, not a rock group making decisions that could alter their career forever.
Tina moved out of The Nuthouse last October, the final member of Sheer Mag to do so. The straw that broke the camel's back, she says, was the time she left an overpriced artisanal pizza momentarily unattended on the kitchen counter and returned to find a rat and a cockroach inside the box. "The rat was this big," Tina tells me, holding her hands about two-and-a-half feet apart. A tattoo on her arm says "this too shall pass."
We're at her new place, a two-story South Philly house with steep, creaky stairs and a comically oversized poster for Kevin James's 2011 film Zookeeper in the living room. Matt's here too, playing Donkey Kong on an orange couch. There's a Cure song on in the kitchen. Eventually we move to the small backyard, where we talk for a while on wobbly patio chairs.
"This is the longest we've gone without touring," Tina tells me. "It was really boring. We got really broke."
"I got a credit card," Matt adds.
"Yeah, we got credit cards," Tina echoes.
"We're in credit card debt now," Matt says, smirking.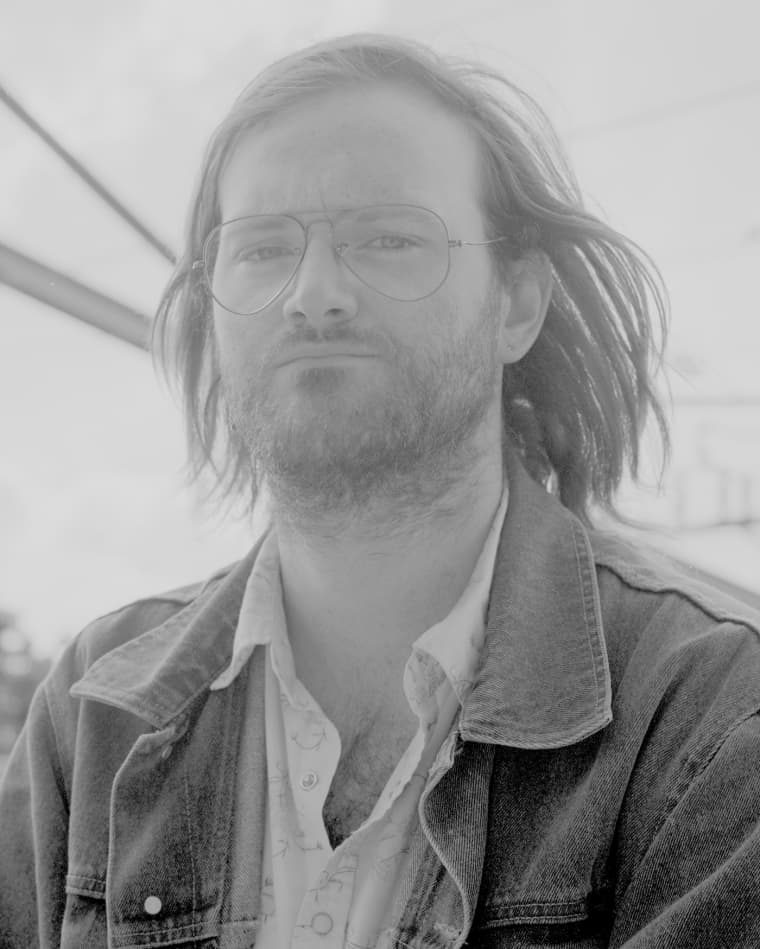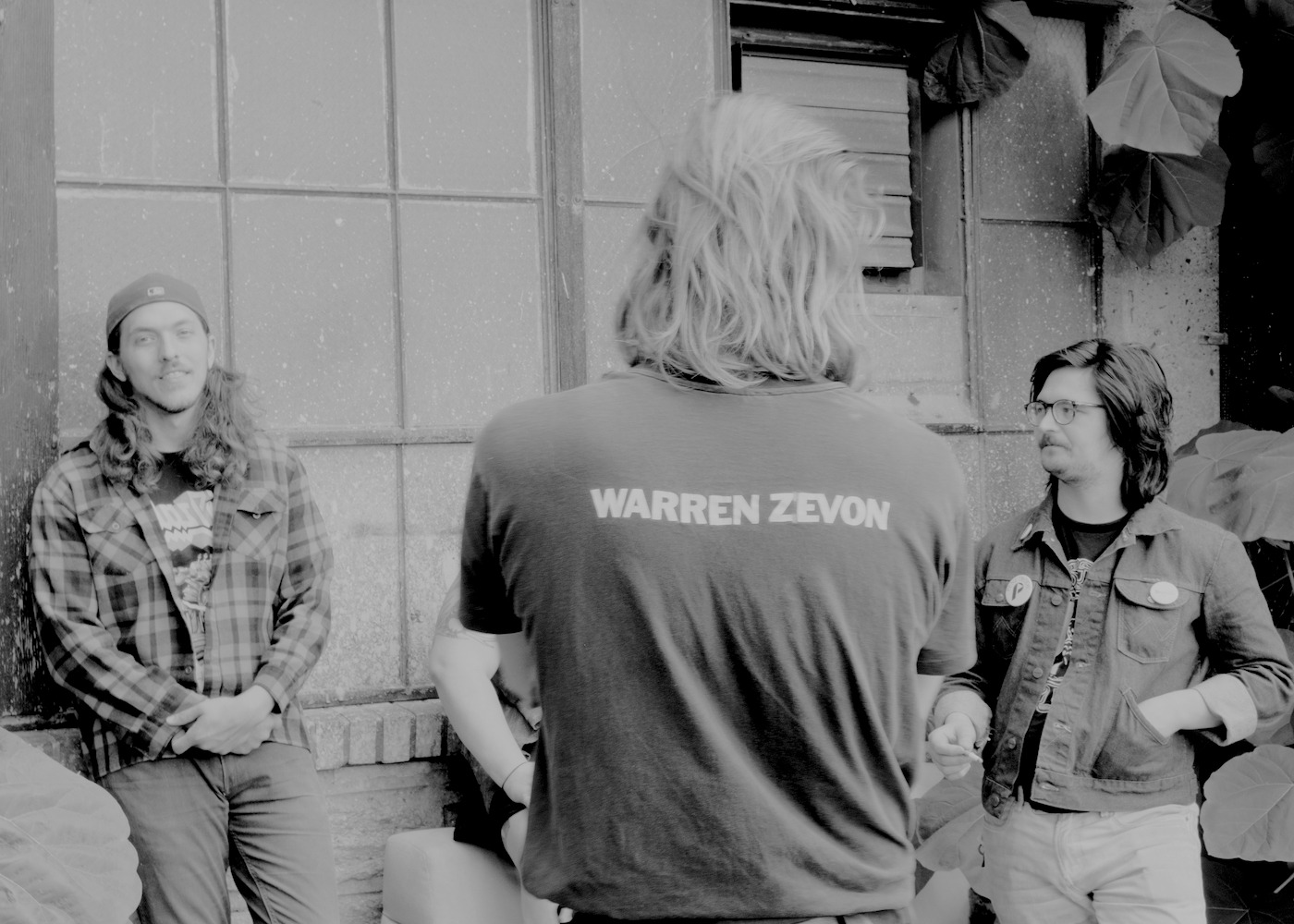 Tina and Matt have a unique connection, a closeness that makes their songwriting partnership tick. "Me and Tina will talk about what sort of gut emotional response we feel from the [finished instrumental]," Matt says. "Does it make us happy or sad? Is there a topic that we want to address? Then once the theme is figured out, I'll listen to it in my room hundreds and hundreds of times."
Though the production is a bit cleaner, and Tina's tough vocals are higher in the mix, the lyrics on Need To Feel Your Love maintain the political bent that makes Sheer Mag's music feel not only catchy and fun, but actually urgent. "By the time the dawn had broke/ The city coughed and slowly woke/ And there was one less boot/ Pressing down on one less throat," Tina sings on "Suffer Me," a mid-tempo tribute to the lasting impact of the Stonewall riots. Album closer "(Say Goodbye To) Sophie Scholl" is an eerily sunny-sounding power ballad about the titular student activist, who was executed by guillotine in 1943 after distributing anti-Nazi literature at the University of Munich.
And then there's "Expect the Bayonet," a condemnation of the deeply fucked, super racist systems the United States was founded on. "For every man high upon the hog/ there's a dogwood forest buried in the fog," Tina sings, giving life to Matt's most stirring protest poetry to date.
There are also straight up love songs on the record, some of which feel just as radical. "We're trying to write songs that could appeal to anyone, ones that don't have any of the misogyny shit that's baked into so many other rock & roll songs," Matt explains. "If you eat enough mushrooms and get drunk enough to let all of the pretension wash away, love's the most important thing. It's what most of us strive for."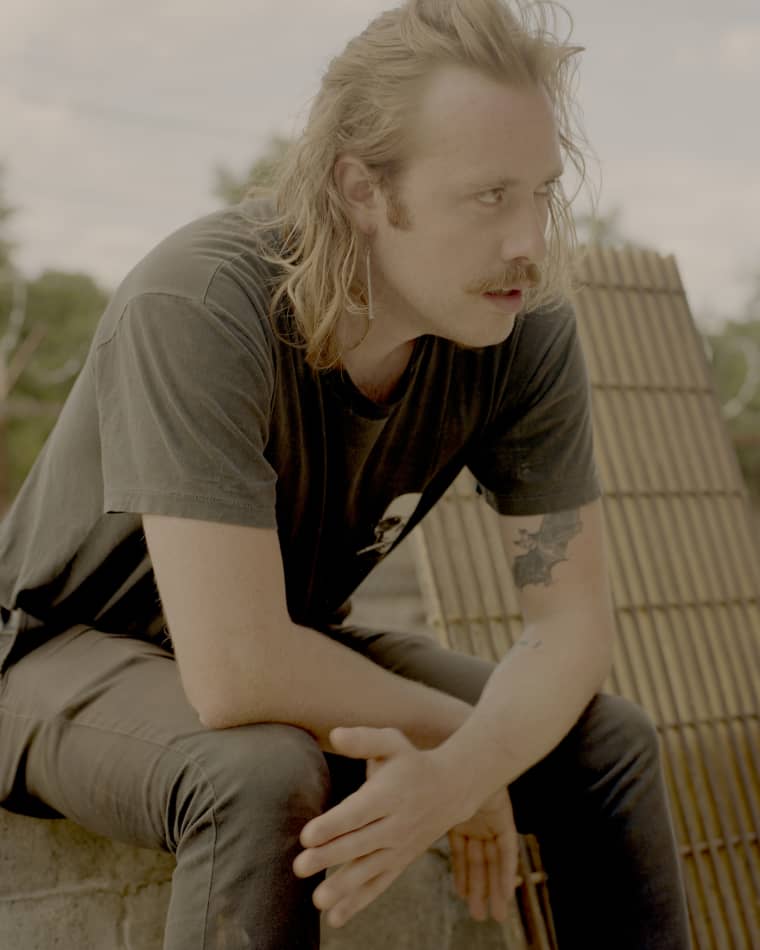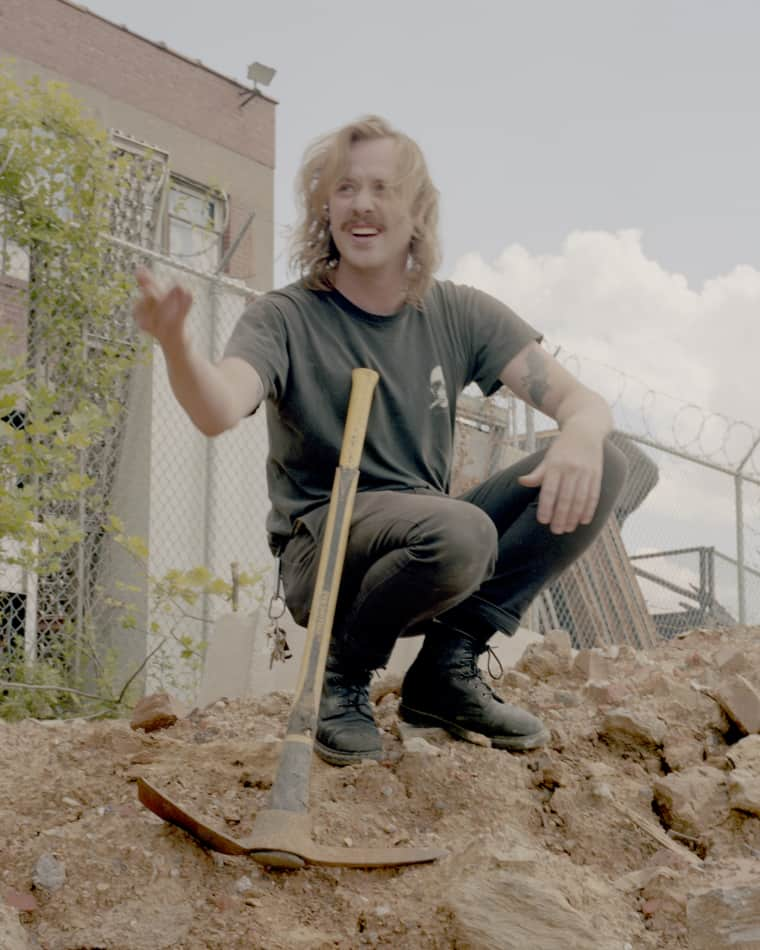 That unaffected yearning sounds best on "Pure Desire," a hopelessly groovy stand-out from the album's back half. It's full of simple, vivid imagery that celebrates the band's ramshackle, unglamorous ways of life: "The light was dim/ We drank my flask of gin/ We danced all night/ No disco ball in sight." It already feels like a stone-cold classic, as if beamed in from the golden age of FM radio.
"It's romance on a budget," Matt says of the song.
"Shout out to my flask," Tina adds.
At one point, one of Tina's roommates comes outside. His sleeveless T-shirt is tucked into dirty white slacks, and he sort of has a mullet.
"Sorry to interrupt," he says, "but does anyone want a sip of weed water?"
Later, I ask them about some of the bigger looks they've gotten, like when they played "Can't Stop Fighting" on Late Night With Seth Meyers, or their appearance at Coachella — things counterintuitive to their generally limelight-averse nature. How do those fit into your DIY ethics?
"You can do DIY however you want to do it," Matt says, "but if you want to make 5,000 copies of a record, it costs a lot of money. Coachella let us pay for these."
Matt and Tina admit they're more keen to talk to reporters now, since they have more songs, ones they really want the world to hear. For the first time, Sheer Mag's also thinking about getting a manager. "We're trying to figure out a space for ourselves," Matt says. His legs are crossed, and there's a lit cigarette between his fingers. "We haven't changed. We're still doing the same thing. Tina agrees: "We're just like, getting a little better at it."
One afternoon, Sheer Mag and I meet at a hole-in-the-wall taqueria in South Philly. They have band meetings here sometimes, Tina says. Ian Dykstra, a bearded, long-haired goofball who joined after original drummer Allen Chapman left the band in late 2015, is here too. He's wearing a backwards cap and a red flannel.
"Ian's a very grounding member for all of us," Matt had said. "If you're annoyed with other member of the band, you can talk to Ian. He never has a cloud over him."
If any of Sheer Mag's members are stressed about their ridiculously good new album's imminent release, you'd never guess it. It's hard to know how that record will be received, or if a classic-sounding rock & roll group from Philadelphia can get much bigger than they are now without the help of a label. Or if they'd even want to.
Over messy burritos, the band talks about their new video for "Suffer Me," recently picture-locked. They talk about Tina's new wrist tattoo, a "chaos emerald" from Sonic the Hedgehog. They talk about how good a bar Old Philadelphia is, how it might be closing soon, how they should start going every day to keep it in business. They talk about the party there the other night, and how it was a really good time.
Sheer Mag's Need To Feel Your Love is out now.