Meet The Kenyan Collective Bridging The Gap Between Traditional And Electronic Music
A conversation with Santuri Safari founder Gregg Tendwa, who is helping grow the East African music scene.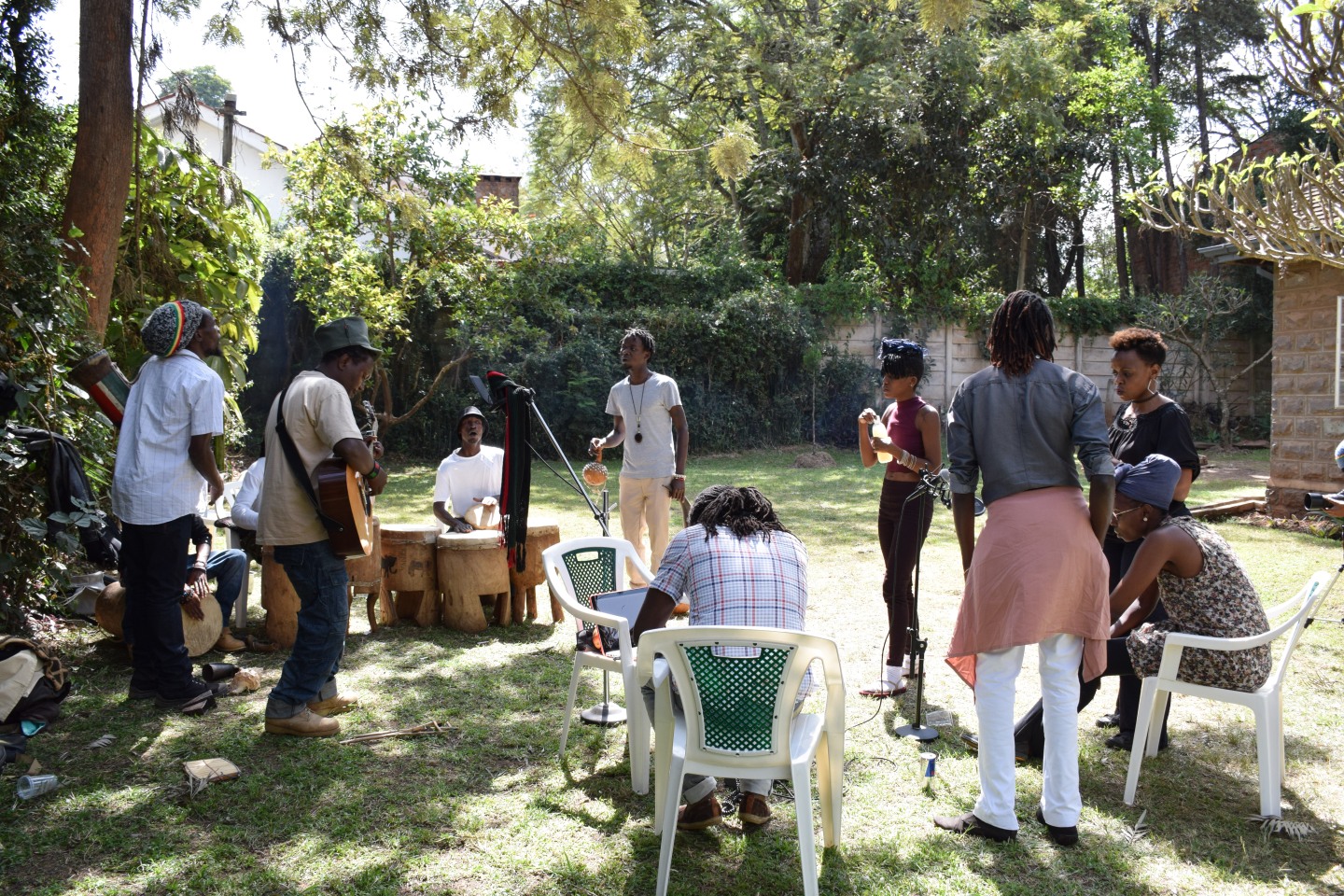 On a Tuesday night in May, I braved Nairobi's grinding traffic to make my way downtown to a venue called the Igiza Lounge. Perched on the second-floor balcony of the stone-clad Kenya National Theater, the country's marquee performing arts facility, it provides an airy respite from the hectic city, where rush hour can expand a journey of just a few miles to a few hours.

With a cold beer in hand, I watched as a man hunched over a laptop trying to coax the virtual DJ software Traktor to play nice with a handful of computers. He was surrounded by a group of young women, all current or aspiring DJs, waiting patiently for a Traktor tutorial. (Two nights later, they would return to play at Femme Electronic, a weekly residency featuring an all-women lineup.) The DJ lesson is part of local music maven Gregg Tendwa's efforts with the project Santuri Safari to help make electronic music more accessible to young people in East Africa.
Tendwa is a Kenyan development professional who used to work in traditional international aid — helping channel money from rich countries like the Netherlands into projects across East Africa tasked with alleviating hunger and poverty. Three years ago, he co-founded Santuri Safari with German DJ David Tinning. With South African house and Nigerian pop dominating the local airwaves, Tendwa realized that the East African music and cultural scene was in need of some development, too.
Santuri Safari strives to cultivate a uniquely East African electronic sound by bridging the gap between digital and analog. Its modus operandi is to mount mobile studios on the sidelines of major festivals showcasing East African traditional music like Uganda's Bayimba, Kenya's Sondeka, and Tanzania's East African Vibes Concert. Santuri matches up folk musicians and Ableton-savvy East Africans, all guided by experienced overseas producers. To fund these workshops, Tendwa leverages his contacts in East Africa's donor-heavy development scene while Tinning works music industry staples like Native Instruments from his home in Berlin.

The process can be transcendent for local producers, like Nairobi's Jinku, who I met at the Femme Electronic residency night. Over a background beat of Sango mixed into Kaytranada, he told me, "Santuri made me realize my African-ness, because of their philosophy of not discarding what makes Africa a continent — the music, the culture — but finding a way to merge with Western electronic music." Thanks to Santuri, Jinku has landed bookings at Uganda's Nyege Nyege Festival, while another protégé, Makadem, has become a regular performer abroad on the strength of Santuri-brokered collaborations like "Mganga Mkuu" and "Salaam."

The night of the tutorial, I sat down with Tendwa to discuss how Santuri has fought to overcome prejudices toward electronic production in the traditional music scene, and minted some rising East African stars in the process.
What was the Nairobi music scene like before you started Santuri Safari?
I was the kind of guy who used to dig a lot on SoundCloud, listening to Akwaaba and Awesome Tapes from Africa. I like a collection of folk, electro, rare groove, fusion. I call it "Afro-goodness." But for a long time I couldn't hear it in clubs.
Then in 2013, there was a renaissance. Nairobi was bubbling hot with a mix of South African house and live instrumentation, like Soul Candi Records. It was sending people into a frenzy and it was not Afro-pop like Naija [Nigerian music], bongo flava [from Tanzania], or tapuka [from Kenya]. It was a completely new sound that was African in itself, with tribal Maasai singing and jamming live with a djembe, but it had this international feel. That movement was called Electrafrique.
How did your involvement in Nairobi's Electrafrique scene lead you to meet David Tinning?
It was in 2014 at Sauti za Busara, an African music festival in Zanzibar. I offered to introduce this emerging movement of DJs to the festival. Many were also producers, so I suggested we organize a workshop and record music.
The festival manager thought it was a brilliant idea and hooked me up with a guy. So I met David, who said he has been thinking the same thing and could pull in some resources, like Native Instruments from Berlin. We agreed: Let's do a workshop at Sauti za Busara and play the music that we record later in the night.
And how did that pan out?
We had one big problem because the festival touts itself as 100% live music. There's no place for DJs. We knew we wouldn't be allowed on stage, so we played clubs for sundowner sessions until the festival started at 8 o'clock and again for afterparties. Zanzibar is very touristic, but also very conservative. You can't play music past 2 a.m. The festival would close at midnight, and then we would go back to the club and play an afterparty for a few hours. You know how DJs are — once the music starts to hit you go on, so we got into problems with the police. We were shut down several times.
Did the recording workshop go as planned?
Yes. It was like a master class, where you pair the enthusiastic with the experienced, and you have them learn by doing. We selected three producers from East Africa and we took them to Zanzibar. They were paired with Lulo Cafe from South Africa, Teichman Brothers from Germany, and Jim Chuchu from Kenya, who produced films for Just A Band.
We brought in the hardware, software, venue, speakers, East African instruments to sample – anything they wanted, including musicians from the festival stage. Wunmi, the Nigerian Afrobeat hitmaker, joined in. Our instructions were: Let's try to find an electro sound that is infused by East African elements. And then for the parts that the local producers don't understand, let them ask the more experienced producers. Whatever the outcome, you don't judge.
How did it turn out?
The first workshop was nice, but because of how broad it became, we did not get anything we could feel is tangibly East African. We made six tracks that we played later in the night in the clubs, but then sitting down it didn't sound East African, it was a very international sound. It could as well be West African, South African.
Is it challenging to make an East African sound vis-à-vis the other parts of the continent?
There has not been the infrastructure [for East Africa] that has helped South Africa and West Africa get their music into the international market. Infrastructure is key, from producers to labels to promoters.
We do not have a distinct sound that combines the whole of East Africa, as you would find with Southern Africa or West Africa or even North Africa. Like, even in Kenya we have about 48 tribes, and the one music that is shared by most tribes is benga, which is shared by about five groups across what I call the "Benga Belt."
Across East Africa in the '70s and '80s, there were all these jazz bands from Tanzania, then Les Wanyika in Kenya, and Afrigo Band from Uganda. When the horns arrived, they made a soundscape that was uniquely East African. We call it the golden era of East African music.
"There has not been the infrastructure for East Africa that has helped South Africa and West Africa get their music into the international market. Infrastructure is key, from producers to labels to promoters."
Has Santuri rekindled interested in older music?
We rekindle interest in the old stuff but also bring the new stuff into the old stuff. It's what we call in Santuri, bridging the gap. This is the problem with the digital generation: when they came they did not pick up that golden era and build onto it, they dropped it and then went to hip-hop, soul, neo-soul, and Afro-pop. They did not grow benga or zilizopendwa, they did not grow that Afro-jazzy feel that was developing then. They went classical jazz and hip-hop.
I attended your seminar and party "Bridging the Gap - Analog Elders vs. Digital Natives" at Goethe Institute Nairobi in 2015. How has the concept evolved since then?
There are different variables, like gender. What we're doing here with [Femme Electronic], that's bridging the gender gap. Bridging the skills gap is the training aspects of how do you use this software, how do you sample, how do you use equipment. Technology — you get skills, you get sounds.
We speed the process by which musical collaboration happens. Without the equipment that we get from Ableton and Native Instruments, without the workshops that we fundraise for, then it wouldn't be as fast. It's a catalyst effect.
So on your next workshop attempt after Zanzibar did you succeed in creating results that sounded more East African?
The next year we went to Uganda. We got producers from East Africa again and we brought in Esa Williams from the U.K. We tried once more, and that's where we felt that we got tracks that had that distinct sound of East Africa that we were looking for: "Upepo Unavuma," "Kanekasi," and "Min Kulu."
We felt like this became something, like the music that came up was distinctly East African. Because we sampled traditional instruments and used regional vocals, the texture sounded very uniquely East African.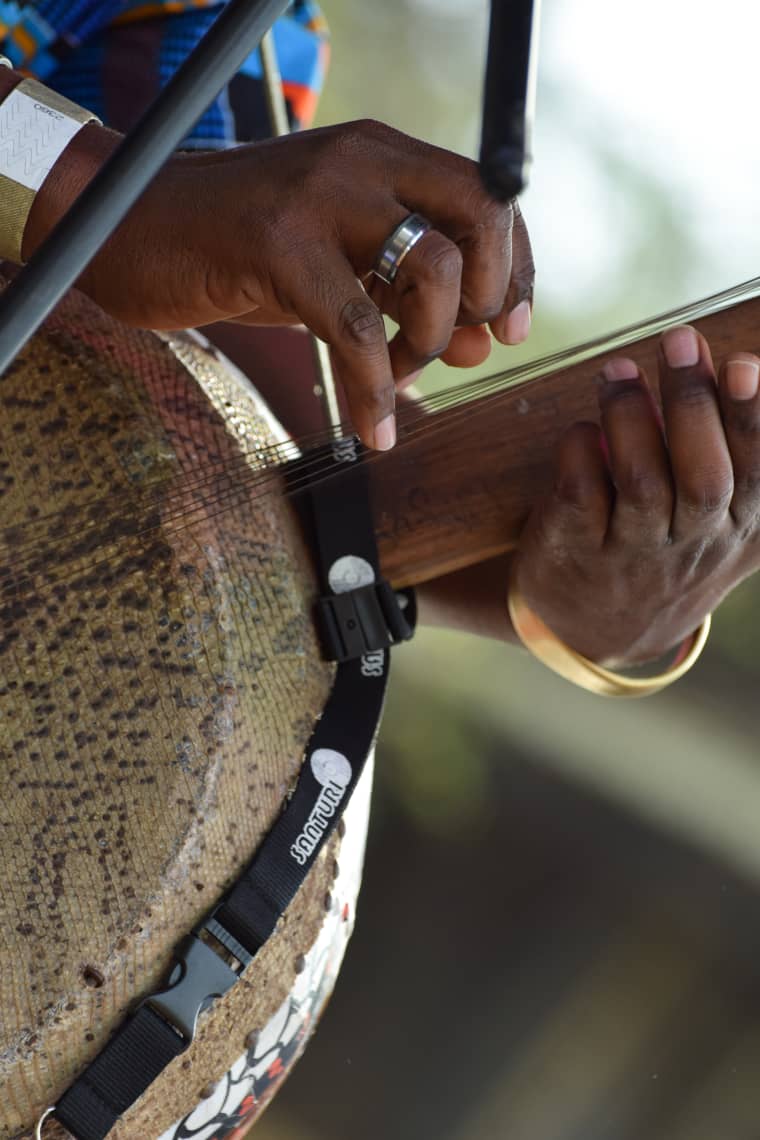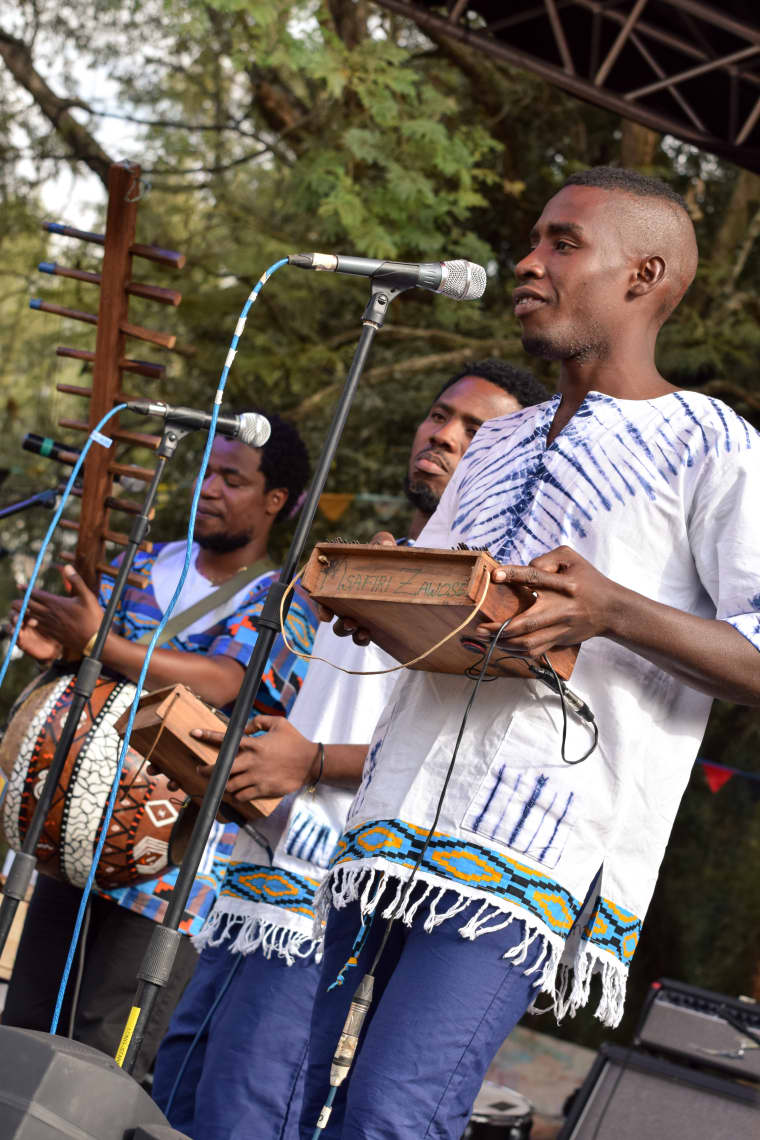 Why bring in non-Africans as the experienced producers if your goal was to cultivate talent on the continent?
We were not saying there weren't adequate local producers. We just felt that by having artists from here and abroad working together, then the sound textures would be different. Plus, we had to extend the network beyond what is currently here for this music to have global appeal. Electronic music is extremely niche here. But then how do you even get it outside of Kenya if you do not have networks that play it internationally?
The whole idea of working with people like Raoul K and Isa James who were on the U.K. and European festival circuit was to get channels for this music. We would press a limited edition of 100 copies and the biggest DJs who were traveling in the summer would drop them in those big festivals like Fusion and African Oyé.
Santuri started becoming bigger outside of East Africa than inside East Africa.
Who is an artist that got this international boost from Santuri?
For instance, Makadem, who began as a ragga artist but now has such a rich Afro-fusion. I realized his potential in being a very versatile musician with the two unique instruments that he plays: kalimba and nyatiti. I told him we should try something electro. He would bring his nyatiti to the club, I would drop some beats, and he would try to jam along with it.
Later in 2015, he met a producer in Denmark and asked him, "Could you make this track sound electro the way these guys in South Africa do it? I've been working with a guy in Kenya and he's been encouraging me in this direction." That's how "Mganga Mkuu" was made.
Then Makadem came back from Denmark convinced that we should play around more with electro. We had a summer camp at Rift Valley festival and Esa Williams was in town. We showed up very late and when we got into the studio, we found Dunga [a Kenyan musician based in Tanzania] and Esa had already been working. Makadem listened for only five minutes to what they had been working on. He picked up his instrument and that's how "Salaam," one of the biggest tracks in Santuri, was born.
Later that night, that track was played for over 30 minutes on the smaller stage. People from all over the festival crowded in this small tent just to see this live fusion between Makadem, Esa, and a whole group of traditional percussionists called the Bakisimba.
That sounds like a miracle. Five minutes in the workshop and he's onto something. But is it always so seamless or are there oftentimes two different languages that don't seem to match?
In 2016, we had Raoul K from Germany. He is a good producer in his own right but there was just some block that he couldn't find exactly who he wanted to work with, even when we had provided four different artists. There was a moment that he was so frustrated he was moving from room to room trying to find somebody that he could work with, whereas a guy from South Africa called Emile Behr came in straight, met Makadem, and in no time they made a track called "Nyako." In an hour, it was done completely. Makadem out.
"Electronic music is extremely niche here. But then how do you even get it outside of Kenya if you do not have networks that play it internationally?"
Why does the connection jell sometimes and other times it doesn't? You've done enough of this now; if I were a producer coming in for the first time, how would you counsel me heading into this workshop?
Sometimes you need a midwife. That's part of the role that I've played, because I always take time to understand the musical textures from these two different people. Then you find time to talk to each one separately, and when they meet you guide the process a little bit to make it easier, because artists live in their own ice boxes. This ice doesn't mix with that ice and that ice doesn't mix with this. If you do not create that moment where they become free and easy with each other, then it doesn't happen naturally.
If you have somebody who does the midwife part, smooths their ego, and breaks it down into easy pieces for them to comprehend, then it becomes easy for them to jell together. Or even before we get into the workshop, we used to play what we called "inspirations." David and I would curate playlists without even telling anybody their purpose, then play them at dinner or in the morning at work. Stuff like Kokono No. 1 from Congo. And that made it easier when you get to the workplace.
What's the basic setup for your mobile studios?
The setup is minimal. With the kind of music that you can do today, you really don't need that whole heavy setup. It would be a pair of studio monitors, a microphone, a sound card with two channels so you record in serial, and a bit of soundproofing. None of the music from Santuri has been edited down in a clinical studio, and we were trying to defy that idea that you needed a studio where you would have to pay 5,000 Kenyan Shillings [about $50] an hour in order for you to make music.
Do the analog musicians have a newfound appreciation for electronic and vice versa?
No, the gap is too broad. Especially from the analog generation.
So what do they walk away with? At least respect?
Contempt. Like, that's not how to do music. You make music using your computers. Music should be made live with six people in a studio playing simultaneously, drummer, bassists, rhythm, and solo guitarists.
You haven't changed any hearts and minds?
We have, slowly. When I look at Makadem, he's semi-analog, semi-digital, an in-between, a hybrid. He doesn't have a bias. He can perform with a 12-piece band, but there was a moment he [went] to Abu Dhabi and performed with a DJ who they only met the night before his performance. What does that tell you?