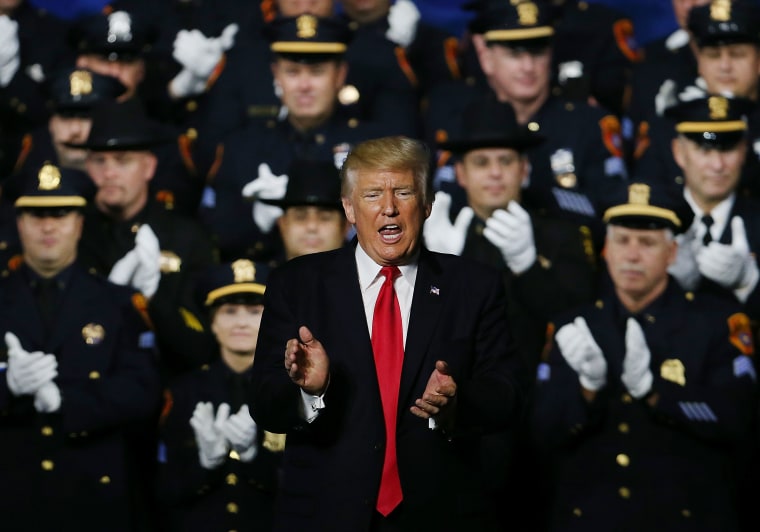 On Friday, Donald Trump was invited to speak in front of a group of law enforcement officers at Suffolk Community College in Brentwood, New York. During his speech—which touched on murders committed by the MS-13 gang, border patrol and deportation—Trump seemed to publicly endorse police brutality.
"When you see these thugs being thrown into the back of a paddy wagon, you just see them thrown in, rough, and I said, 'Please don't be too nice,'" he said. "Like when you guys put somebody in the car and you're protecting their head, you know, the way you put their hand over, like, don't hit their head and they've just killed somebody... Don't hit their head, I said, 'You can take the hand away, OK?'"
The Suffolk County Police Department (SCPD) immediately explained where they stand on the issue of police brutality in a few tweets. "The SCPD has strict rules & procedures relating to the handling of prisoners," they stated. "Violations of those rules are treated extremely seriously. As a department, we do not and will not tolerate roughing up of prisoners."
Since the initial remarks were made, the International Association of Chiefs of Police (IACP) has released an official statement in the form of a blog post on their website. (The association represents 27,000 members of law enforcement within 130 countries.) The statement reads as follows:
Managing use of force is one of the most difficult challenges faced by law enforcement agencies. The ability of law enforcement officers to enforce the law, protect the public, and guard their own safety, the safety of innocent bystanders, and even those suspected or apprehended for criminal activity is very challenging. For these reasons, law enforcement agencies develop policies and procedures, as well as conduct extensive training, to ensure that any use of force is carefully applied and objectively reasonable considering the situation confronted by the officers.
Law enforcement officers are trained to treat all individuals, whether they are a complainant, suspect, or defendant, with dignity and respect. This is the bedrock principle behind the concepts of procedural justice and police legitimacy.
Jeffery Robinson, deputy legal director at the American Civil Liberties Union (ACLU) and director of the ACLU's Trone Center for Justice and Equality, recently shared his reaction to Trump's speech in a statement posted on the organization's website.
"The president today told a group of police officers, 'We have your backs 100 percent,' if they gratuitously hurt people whom they suspect of a criminal offense," he said. "By encouraging police to dole out extra pain at will, the president is urging a kind of lawlessness that already imperils the health and lives of people of color at shameful rates. Innocent until proven guilty? Our president would rather not bother with that, expanding the role of the police officer to include judge, jury, and executioner.
New York Civilian Complaint Review Board Chairwoman Maya D. Wiley also commented on the issue in a press release.
"President Trump's comments fly in the face of the responsibility our City's officers display in the line of duty. But for many communities in our City, President Trump's comments only stokes fears of interacting with officers," she stated. "President Trump's speech today was shameful, dangerous, and damages the progress our City has made toward improving police-community relations. No act of police violence or other misconduct, where proven, will go unanswered by the CCRB."
Re-live the horror of Trump making misguided his remarks in the video, below.