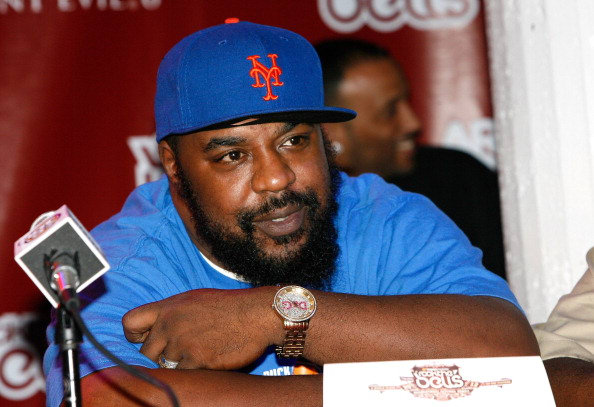 What's more to be said about the late Sean Price that he hasn't said about himself already? The Brownsville, Brooklyn, spitter's illustrious 20-year career was anchored by his godsent gift of witty wordplay and unparalleled heavy-hitting punchlines, all while keeping his loyal fanbase simultaneously nodding their heads and cackling at the genuine hilarity of his character.
On August 8, 2015, Sean Price passed away, leaving behind his loving wife Bernadette, three children, and a grieving rap community. A crowd fund was quickly setup and accrued over $70,000 in it's first opening days, collecting donations from the likes of JAY-Z, Eminem, and thousands of others — and it still receives regular donations in increments of $10 and $20 from loyal fans today. From the A-list to the underground rap heads, Sean Price was more than just a staple in the game, he became a larger-than-life representation of that grimy boom-bap rap that New York had always been known for — all while never truly wanting that label.
This week saw the release of a new new posthumous album, Imperius Rex, via Duck Down Records. To mark the occasion, I spoke with Sean Price's former manager and co-CEO of Duck Down, Dru Ha, alongside Price's wife Bernadette, and the couple's adorable (but tough, don't get it twisted) daughter Shaun.
How did this new album, Imperius Rex, come about — was it in the works prior to P's passing?
DRU HA: It definitely was in the works prior to his passing. He had just turned in Songs in the Key of Price and the plan was that we were going to follow it with this album. With me personally, and with Duck Down, Sean wouldn't bring us into the recording process until he had what he thought was the skeleton of the album.
I can say with Imperius, that hadn't happened yet. He left behind drives of music in the different studios that he worked out of. And we took all the drives that we could gather and brought them to Dan the Man, who was our engineer. At that point, Bernadette and Dan took the lead on creating the album.
Sean just liked to rap. Before he finished a song, he would just go and do another verse. So there were tons of verses to go through and lots to figure out. It was like putting a puzzle together: which were the best ones, which ones would make sense to have features on them, which ones could we finish off with a hook, you know? So that's how Imperius started, and it took over a year and a half to really put it together. If he was here, my guess is that Imperius would have been done quicker. Although you never know with him because we were able to do so many things that would require his permission —

BERNADETTE: He would have took about the same time. He always said, "I'm not giving it out till I feel like it's right."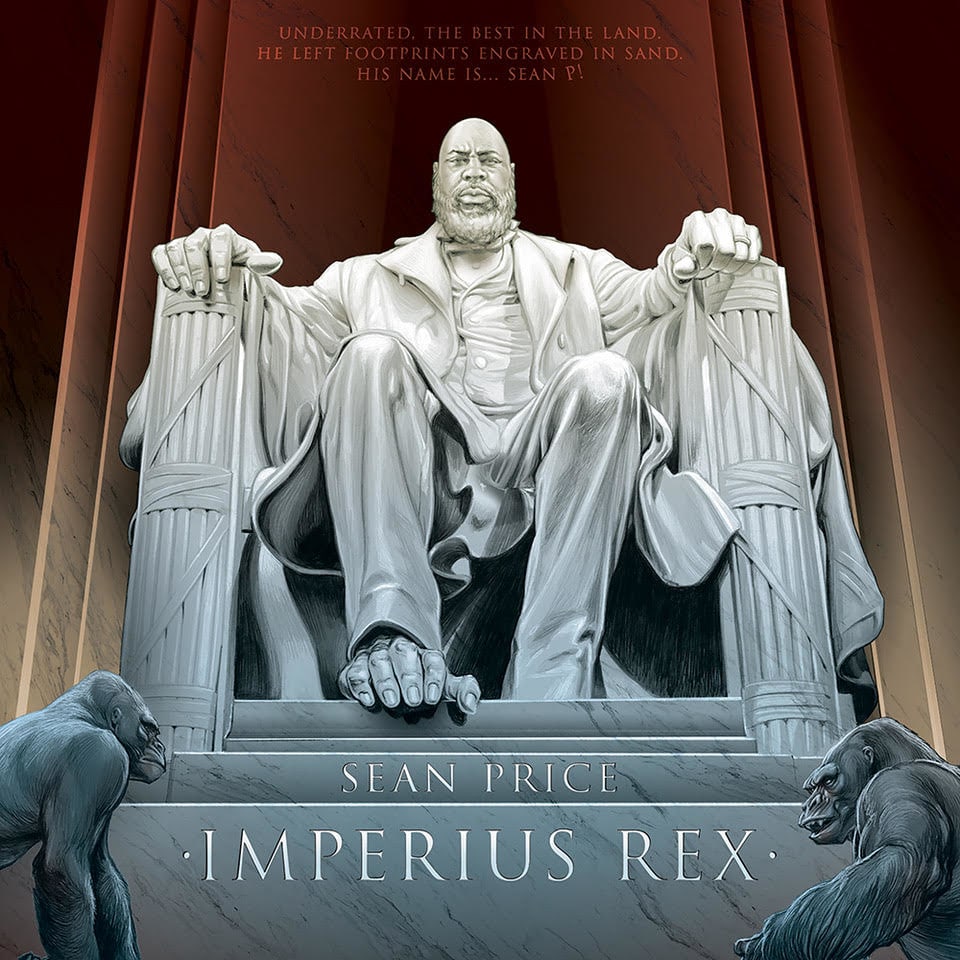 Was he a perfectionist with all of his work?
BERNADETTE: Yeah, he liked his music to be a very certain way. It's a feeling that he gets when he felt like the time was right.
This album, Imperius Rex, is 16 tracks deep. It features a lot of legendary rappers, from Prodigy, to some of the Wu-Tang members, MF DOOM is on it, Bern, you're on it as well. How did the features and the production on the album come about?

DRU: Bernadette and Dan the Man definitely led the way of it. If there was a skeleton that was formed, they started filling in the skin, coloring in the fingernails, putting in the hair, that's how I equate it. A lot of the features didn't come through until the last months. DOOM was a really cool one, we didn't see that one coming. And then Raekwon and those Wu Tang guys were all just naturally on board.
BERN: Yeah, Method Man was the first. It was easy, they didn't mind at all. They embraced Sean when he was here, they all came up around the same time together and they always showed love.
It also feels extremely New York.

BERN: Definitely.

Was that intentional?
BERN: It was all fitting, you know? Listening to the verses and just listening to who should be on, it's like its always been Boot Camp, Wu-Tang — they've been around each other and been together for such a long time.
DRU: Sean never focused on features on any of his albums. He didn't care about what was hot at the moment. There was certain artists that he liked and that's it, he just didn't care. It's like I said in my eulogy, "You never let us go, Sean."
BERN: He just did what he did, but for the most part he was just different. He didn't care for the party over here, what's hot and jump on the bandwagon or anything of that matter. He just liked to make music.

There's a special record on Imperius called "The 3 Lyrical Ps" between Sean, Styles P, and Prodigy, rest in peace. Walk me through the making of that one.
DRU: So Harry Fraud produced that record, and it was going to be on a project. After Sean passed he called me like "Yo, I've got this record with Prodigy and Styles" and he just wanted to give it to Bern for the album. He saw that we were close to finished and he was just like, "if I'm not too late, I've got this record that you guys are probably going to want." And then we reached out to Prodigy, he said "Use it." Reached out to Styles, he said the same thing, "Use it."
And then I ran into Prodigy at Mass Appeal. He came right up to me and he was like, "Yo, that Sean Price song? I listened to that shit 50 times, yo. I'm telling you, that's the hardest song I done in a long time." It's Prodigy telling me this, I was just like, "man, thank you so much for letting us use it."
BERN: I ran into Styles later on. And he said, "I don't want to hear it, I want to wait till it come out," because he hadn't heard the finished product of it. I don't think Sean ever heard it either. But Prodigy definitely heard it.
DRU: Big up Harry Fraud for doing the right thing. He didn't ask for anything and there were no conditions to it. He mixed the record for us and sent it and was just like, "My blessing. Please, just have this."

Aside from that, there's been a lot of chatter about the current status of New York rap —
DRU: He wouldn't have even entertained that. If you asked Sean the state of rap, he'd just say "it's nightime." It's quiet for that. That's how he might've responded. That conversation has been going on forever..he wouldn't have answered that question, that was just Dru Ha. Sean cared about lyrics, he cared about flow and lyricism. He was a humongous fan of flat-out rap, of hip hop. Guys like Roc Marciano, or Guilty Simpson from Detroit, it was Sean that really put me on them. He just wanted to know if you were nice. That shit was important to him.
BERN: That's where guys like Westside Gunn and Conway come in at. He loved those guys, he was like, "Incredible, this is what I'm talking about. Y'all time going to come, don't worry. Y'all time coming." Now look at them. Young M.A too.
SHAUN: Young M.A? Young M.A gave me a note and it was very sweet of her. She said I'm next. You know, like I'm the next on —
BERN: In rapping?
SHAUN: Yeah. And I was like, "Wow." I was very, very excited. It's just that Young M.A is the best person in the world.
BERN: We're not gonna turn this into a Young M.A interview. But Sean, he always embraced people and tried to see the good in them. Even if it was bad, he'd still try to see the good in them. But it was also if you couldn't be used, you were useless. Everybody that was around him was there for a reason. And if not, he told them get out of here.
In a way I think that's missing from the game now. Someone who's not just trying to be buddy-buddy with everyone else.
BERN: Yeah, it is. That's why I miss my husband every day. I already know, him seeing what's going on now, he'd be like, "No, get that shit out of here." The way you have people cosigning artists that are not legit, that's where the bullshit comes in. Nobody want to tell how they really feel, or when you do, they'd be like, "Oh, it's hate." But when Sean did it, it always was him telling the truth.
That dynamic is especially real on social media now, in which Sean seemed to always have one-foot-in and one-out.

SHAUN: He'd get a lot of likes, like a thousand.
BERN: Yeah, he was kinda private with the internet. Every time Dru saw him, he told him he to open it up. He was always like, "Why?"
DRU: "They're not my friends, Cheese, they're not my friends!" Like friends on Facebook, he would always remind me when I told him how many he had. And then he would get back at me by blocking people on Twitter. Then that started to become his thing! So then I would start getting emails from people going, "I didn't really do anything, could you tell Sean to unblock me please?" And that got him even more mad, then he would go on Twitter rants, and just be like, "If you go to Dru, you definitely not getting unblocked just for fucking snitching."

SHAUN: Well, we still have Daddy's phone to unblock people.
BERN: That's true. There's a lot of people left to unblock. He had Dru blocked.

DRU: He blocked me for a minute. Then he realized I couldn't DM him and he had to unblock me. But the truth is, he was so gangsta with it that I had to make a deal with him to go on Twitter. I paid for him to go on Twitter. I went to him and said, "alright, P, how about I pay you X amount to go on Twitter?" And he just laughed and he said, "Alright, but you're going to pay me."

That's an incredible story, and sounds so much like the Sean fans knew from the music. I don't think Sean ever really got credit for being one of the funniest rappers ever.
BERN: He was funny at home too. He would do some of the craziest things at home. I used to try to get him to do comedian stand-ups. He's like, "No, I'm good for my friends but I don't think I can do a whole audience." Drew got him to do the skits on the album, and he'd look at the comments and everybody loved it. It wasn't like he was on a whole show, but for the little bit that it was people loved it.
DRU: Sean was a funny, funny, funny guy. He made you laugh at any point in time, didn't matter the occasion. No matter if you were tight, he would turn it and he could make you laugh. You could be in the most serious conversation with him, he'll just be in the middle of it and totally change the topic to be like, "Yo, chief, do you use a wet napkin when you wipe your ass?" Like what?!
BERN: That was him. I could never keep an attitude with him, he would crack a joke and then I'd laugh. He would do funny things with the kids, he'd grab them up by the shirt, kick them from behind.
DRU: He did that to me too.
SHAUN: And I have all the memories! My father, he would just like crack jokes and everything on me. When we was at Red Lobster, every single time that we go to Red Lobster my daddy will always take the things from them. The seasoning that's right by you, he was just be like, "salt and pepper, come with me." And then he would just take it home.
BERN: Now when we go to any restaurants, she says to the waiter, "If my daddy was here, he would take these."
Another thing that never truly was recognized was the romantic, family side of Sean. I think that he really loved you and he really loved all of his children as well, and he immortalized those feelings through his music. Do you feel like that side of Sean was never fully out there?

BERN: Well, in the beginning of his career it was a process of learning himself and how to maneuver things. It's hard to maneuver a relationship and a family while then here you is also trying to expand your creativity. He put out things that, hip hop made it seem like were not cool. Like having a wife and a family, but he had one and he always was going to talk about them in his music. I think to a certain degree, when you're out there, you don't want all your business out there. He's a private person to a certain degree. So in the beginning of learning himself, he wanted to keep that under wraps as much as he could and then once he figured it out and realized it, he was like, "You know what, I'm going to just let it be known. Yeah, I have a wife, I have three kids. Yes, I do the daddy thing."
DRU: I was always amazed with the way that Sean, especially when he was young at 23, 24 versus when he became a 40-year-old rapper, he always brought Bern everywhere. There wasn't many shows that I can remember in the latter stages where Bern wasn't there. It literally was like all dudes smoking pot, and then of course Bernadette would be there.

BERN: I'd always be right there.

SHAUN: Yeah, love is love.
DRU: Love is love.
BERN: You can end it right there, that's perfect.