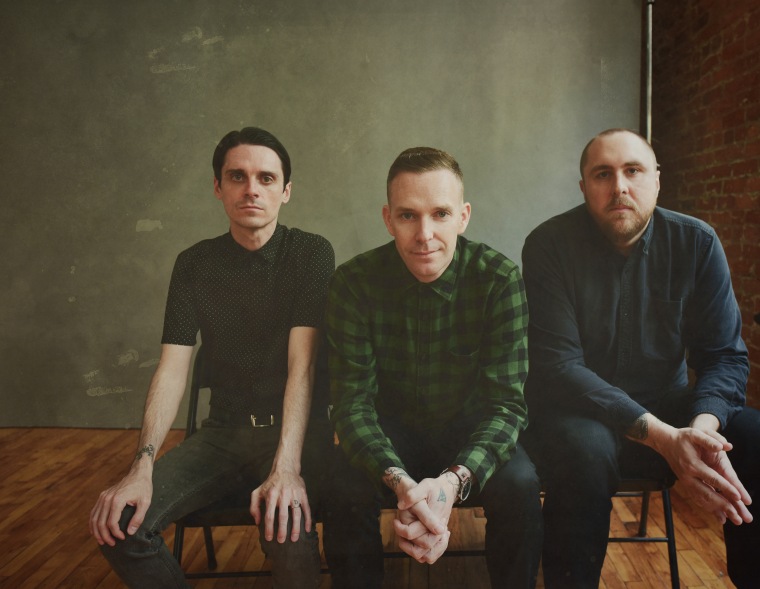 Though they were never quite as big as some of their Long Island contemporaries, a handful of The Movielife's turn-of-the-century emo songs hold up as stone-cold classics of the era. There's "Hand Grenade," for one, which I first remember hearing on a mail-order Drive-Thru Records compilation that also included tracks by New Found Glory and Midtown. And then there was "Hey," a shout-a-long tearjerker about the highs and lows of a relationship gone awry.
"Hey" was off 2003's Forty Hour Train Back to Penn, which the band released a few months before calling it quits. Now, after 14 years and a handful of reunion gigs, they're back with another full-length studio LP, called Cities In Search of a Heart. Turns out they've still got their knack for hooky, three-minute-long pop-punk anthems, as evidenced by new single "Ghosts in the Photographs," debuting below.
"This is one of my favorite songs on the record," frontman and co-songwriter Vinnie Caruana told The FADER. "The light generated by an army of people striving to be better and to spread more love can destroy the black clouds around us. We all have to learn and grow from our mistakes. I don't want to be haunted by mine; I want them to fuel me to be a better person and to keep pushing forward towards the light."
The Movielife tour dates (co-headlining with The Early November):
09/18 - Boston @ Paradise &
09/19 - Philadelphia @ Union Transfer &
09/20 - Baltimore @ Soundstage &
09/22 - Brooklyn @ Warsaw &
09/23 - Buffalo @ The Waiting Room &
09/24 - Cleveland @ Beachland Ballroom &
09/26 - Chicago @ Bottom Lounge &
09/27 - St. Louis @ Fubar &
09/29 - Dallas @ The Curtain Club &
09/30 - Houston @ Walter's Downtown &
10/01 - Austin @ Mohawk &
10/03 - Phoenix @ The Rebel Lounge ^
10/04 - W. Hollywood @ Troubadour
10/05 - San Diego @ HOB San Diego + ^
10/06 - Anaheim @ HOB Anaheim ^
10/07 - Berkeley @ Cornerstone
10/09 - Salt Lake City @ Club Sound ^
10/10 - Denver @ Bluebird Theater ^
10/11 - Kansas City @ The Riot Room ^
10/13 - Lansing MI @ The Loft ^
10/14 - Toronto @ Sneaky Dee's ^
10/26 - Richmond @ Strange Matter %
10/27 - Carrboro NC @ Cat's Cradle %
10/28 - Jacksonville FL @ 1904 %
10/29 - Gainesville FL @ THE FEST
10/30 - Atlanta @ Masquerade %
11/14 - Southampton (UK) @ Joiners #
11/15 - London (UK) @ Underworld #
11/17 - Bristol (UK) @ Exchange #
11/18 - Leeds (UK) @ Key Club #
11/19 - Liverpool (UK) @ Magnet #
11/20 - Glasgow (UK) @ G2 #
11/21 - Manchester (UK) @ Academy 3 #
+ : The Movielife only
& : Heart Attack Man opening
^ : Racquet Club opening
% : Iron Chic supporting
# : Wallflower supporting