Berlin Producer Ziúr's Debut Album Is Pure Power
U Feel Anything? is due for release on Planet Mu and Objects Ltd. Hear the first track now.
Contrast and confrontation are at the heart of the experimental electronic productions of Ziúr. On her debut album, U Feel Anything?, out October 10 on Planet Mu and Objects Ltd., she violently pushes the listener away before softly pulling them back again on practically every tune. Crunching, distorted noise flirts with bubbling dancefloor rhythms; smooth, spiritual vocals float over a sparse apocalyptic soundscape. It's the kind of music that makes you unsure if you want to dance or fight, and its angry tension couldn't feel more perfect for 2017.
Ziúr grew up in a small town where, she explains in a phone call to The FADER from her current home in Berlin, "the only thing we could do was either smoke weed in the forest, or just lock ourselves down in a practice space and do music." She was the vocalist in numerous hardcore bands throughout her time there and at university, where she also helped run a squat for punk artists. After moving to Berlin with an ambition to work in the music industry, she began to integrate herself in the city's nightlife culture by promoting parties. But when she was turned off the industry by "phoneys and idiots," she began to pour her energy into co-running her own regular night BOOHOO, a raucous LGBTQ dance party specializing in more experimental club music than the techno-loving city is generally known for.
In a warm half-hour conversation, Ziúr explained the deeper thinking that lies behind her impulse to blend rough sounds with smooth, and to contain the biggest ideas inside the smallest details. Read on to learn how punk and depression — and cauliflower — influenced her debut full-length, and listen to the record's title track exclusively below.
How did you move from being in punk bands to producing?
When I was growing up, I played with people who could perfectly play their instruments, but they didn't have the right ideas. And I was kind of shy, so I was always thinking I wasn't good enough. With the two projects that I had before [making music as] Ziúr, I started actively playing an instrument. Once at band practice, I grabbed a guitar, and all of sudden I felt like, Wow, I have so much more influence on the music.
Before I moved to Berlin, when I started working at a club, I had a really good connection to the sound engineer. He explained a few things, and I [started] mixing shows. I never thought that I could do things like that. In Berlin, I met this person who actually played in one of my favorite bands, and he was like, "Maybe we can do a project together." So we met, and then he started producing music on the computer, and I tried to bring in some ideas, and he wouldn't even listen to me. I felt shit and small — but I had the feeling I had an idea that was really fruitful. Now, I'm super happy to be solo, and do everything myself.
Why is the album titled U Feel Anything?
I have the feeling I'm pretty emotional in general, and emotional intelligence is really important to me. And you should always question yourself. People don't want to be challenged. In general, [U Feel Anything?] could be seen as a challenging album; I love to challenge people, but I somehow don't even give a fuck that I do. I just think people should be open, and not be so stuck up.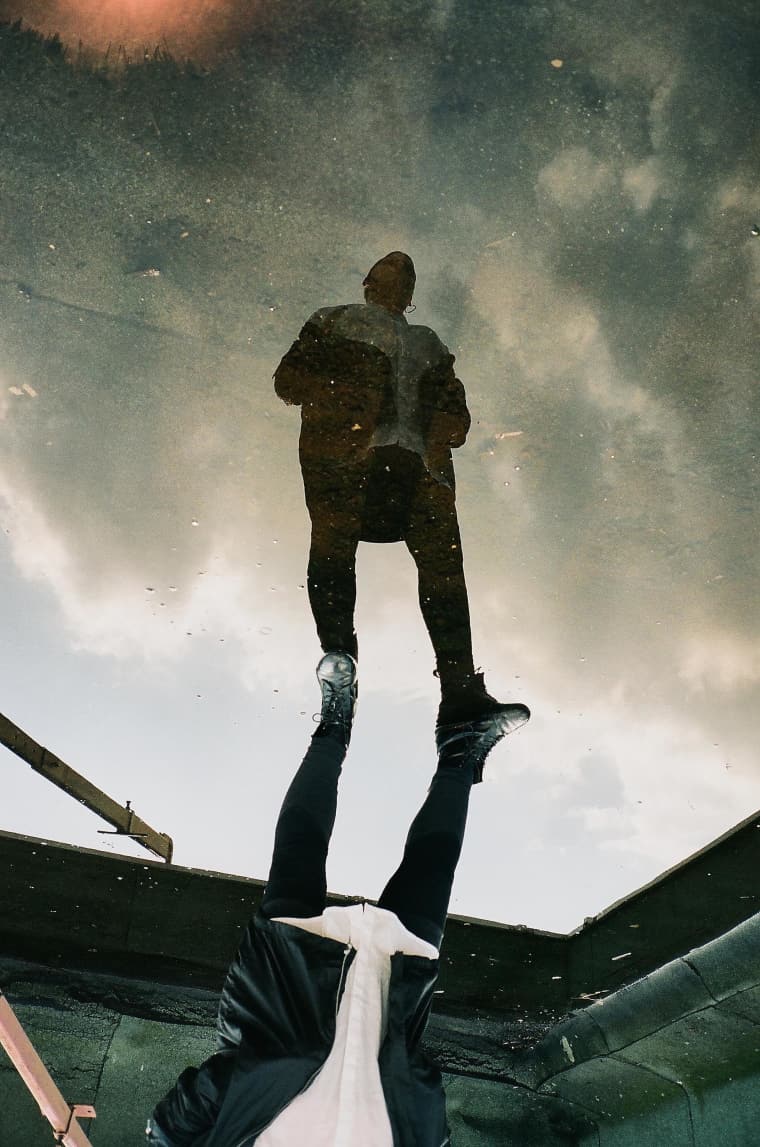 "I love to challenge people, but I somehow don't even give a fuck that I do."
The album explores contrast, pitching light against dark, hard against soft. What was the thinking behind that?
I love that; I gather my energy sometimes and I'm really calm, and then I burst it out. It's like this yin-yang kind of thing — you can be appreciative towards the one [state] if you know what the other is like. If you think, Everything's great, nothing's [actually] great. I'm pretty up and down, always, with my moods. It's getting a little bit more stable now that I have more to do, but I still saw beauty in being depressed as fuck. I don't want to trade this.
That really comes through the song "Laughing And Crying Are The Same Things."
It's basically the same concept. What I had in mind with that [song was], there are so many weird, unnecessary rules that we all fall for. They're just basically to keep people small, or take some confusion away from them. It gives you some comfort, to have a rule.
But — and this links again to emotional intelligence — if I'm just feeling it out, just letting it all go, then maybe at some point I will understand the universe. We need to step out of our comfort zone to be able to do that, to just open up and see patterns. It would be so beautiful.
If you have a cauliflower, and you break a piece off, and you have a smaller cauliflower, and you break a piece off...you get down to this concept of fractals. This is also how I see the universe. This is also how big and small [can be] the same thing. It's such an abstract thought...I might be outing myself as a crazy hippy with this album.
Planet Mu/Objects Ltd. will release U Feel Anything? on October 6.