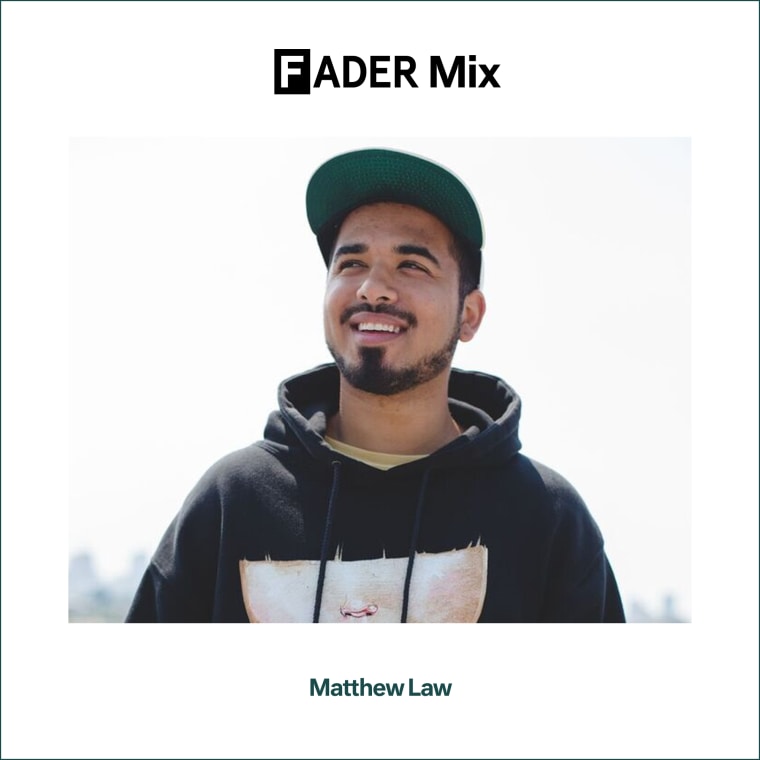 If you're lucky enough to be in Philly on a night when Matthew Law is spinning, don't play yourself: get your ass there immediately. Formerly known as DJ PHSH, Matt's monthly party Friends & Fam is a staple in Philly nightlife — everyone leaves drenched in sweat from non-stop dancing.
Staying true to his Philly roots, his groovy FADER Mix is all about good vibrations, and highlights artists from his hometown and beyond. Light some incense, open your blinds, and listen to the uplifting mix below.
Where are you right now? Please describe your surroundings.
I'm in my home studio in Brewerytown, Philadelphia. The sun is shining through my window and the room smells of Nag Champa and fresh coffee.
Tell us a bit about this mix — what do you imagine people doing while listening to it?
This mix highlights my current musical direction, as well as a slew of inspiring artists — from Philly and beyond — that I have the honor of knowing personally. There's a fair bit of exclusives in this one, so I hope you enjoy.
I imagine people riding through the city in most perfect weather imaginable; enjoying life, love and good vibrations.
What inspired you to get into DJing?
On the real, I was 14 and my parents got divorced. DJing and hip-hop — especially breakdance — gave me the direction I was searching for during that time. Musically I expanded from there. Years later, I'm still loving every minute.
There are obviously a lot of great DJs in Philly right now. Who are some of the peers that inspire you, and why do you think Philly is such a great hub for DJ culture?
I'm most inspired by the newer wave of DJs and producers coming up in Philly, specifically Jabair, DJ Sylo, and DJ LeanWitIt. They always play with a fresh perspective.
Philly's such a great hub for DJ culture because of our party background. We're a summertime block party city, and block parties have to appeal to a wide range of people. You have to be able to play for everyone from [age] 6 to 60, and that takes an extended music knowledge and skills on the turntables. That ability just happens to translate well across the world. Philly DJs were "open format" before it was a thing.
What projects do you have coming up this year?
I'm finishing up my debut EP and continuing to tour Friends & Fam, my monthly event in Philly. So far we've also thrown it multiple times in N.Y.C. and Miami, and we're looking to expand even further.
Tracklist:
Angels - OddKidOut
Drugs (Jabair Remix) - Anderson Paak
Blackberry Molasses (Bottled Water Disgo Remix) - Mista
Nothing Wrong (Ge-ology in Reverse Reflip) - Wayne Snow
Infinite Fabric (Boogie Mix) - Ezrakh ft. RHMK
I Call Her - Matthew Law ft. Seven Davis Jr.
Pretty Big House - Jarami
Change - Dan Kye
Classy - Felix Lefur
I Still Love You (Trackademicks Remix) - 702
I Found You feat Dezaray Dawn - Osage
To Know You Boy - Queen Jo
Unreleased Track - Butterwolf
Mass (Edit) - XOA
HIGHER - Dayne Jordan ft. Ashley Leone
Better Late Than Never - Waajeed
Relatividad - AbJo
Aqui no Baile - DKVPZ
Batucada (Dotmatic's Outpatient Care Mix) - Record Breakin' Ensemble
◎◙◎ N.E.R.V. after hours ◎◙◎ -『Drip Drop』
Been Away (DEMO) - Teeko x Ruckazoid
Bronze Ceasar (Prod. by EARDRUM) - Matt Ford
XO TOUR Llif3 - Brasstracks