Julia Michaels Wrote All The Songs You Know On The Radio. Now She's Singing Her Own.
The vulnerable songwriter is making pop a weirder place.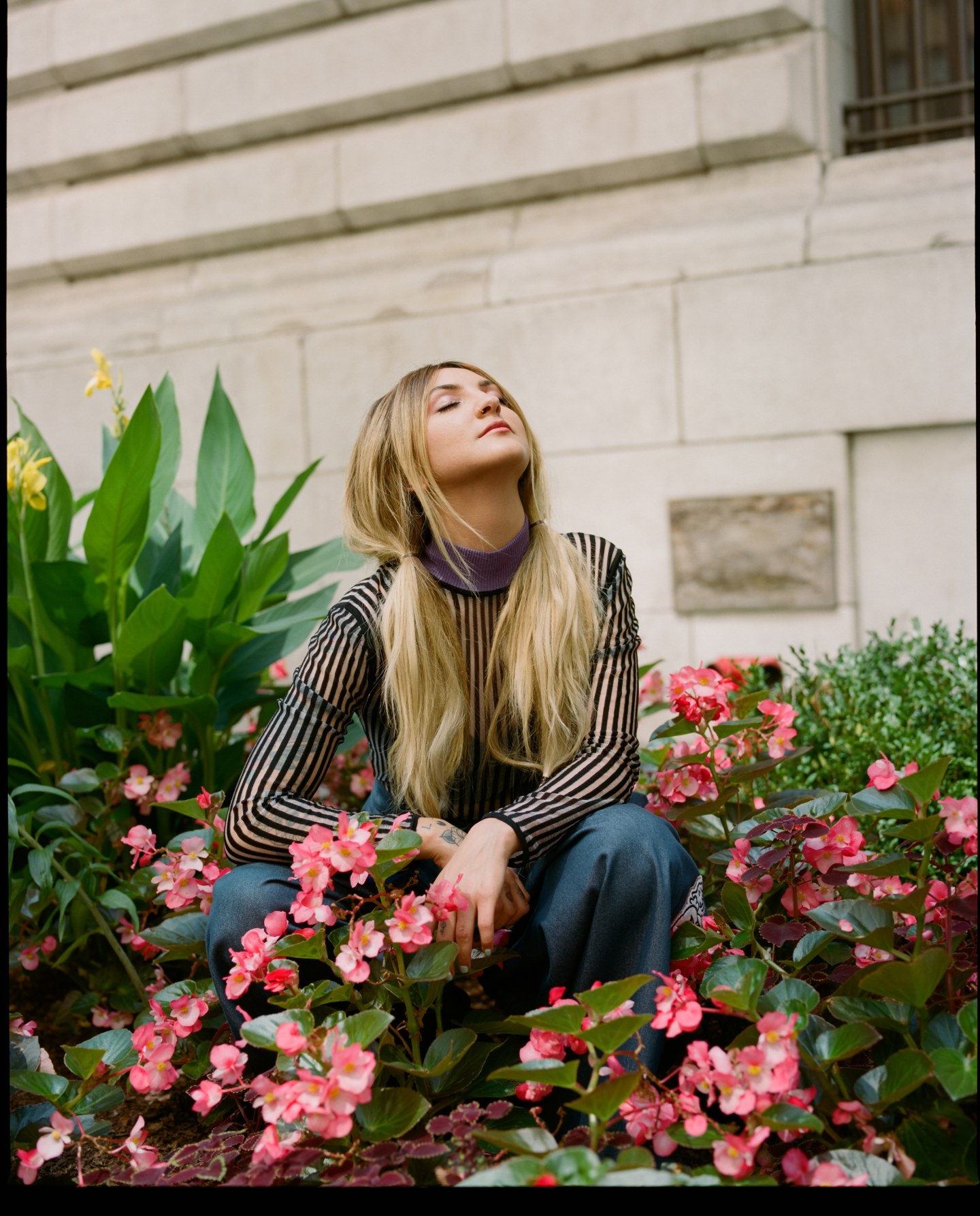 There comes a moment in every Julia Michaels song where you need to rewind a bit to make sure you heard everything right. On her debut single "Issues," that moment comes at the end of the chorus, when she takes a deep pause after confessing that she's got issues — more on that in a sec! — and says and-one-of-them-is-how-bad-I-need-yuh, like it's a single word that expresses all the anguish in the world. Sometimes, like with the infectious "Bad Liar," a song that Julia wrote for Selena Gomez, you need to start the whole song over to digest what you took in. A big chunk of the big-budget pop song features Selena talk-singing on top of a sparse guitar line, spouting oddball comeons like "But just like The Battle of Troy/ There's nothing subtle here." In a pop landscape where too many songs try to sound like The Chainsmokers's boring brand of bops, Julia's songs are refreshing because of her unconventional songwriting choices, the ones that make you think: what the hell did I just listen to and why do I need to hear it a billion more times?
When I sit across from the 23-year-old singer at a midcentury modern cafe on a sunny day in Midtown Manhattan, I ask her about all those weird, memorable moments scattered across her catalogue. Hair tousled around her shoulders, and laser focused on our conversation, she sits up in her seat and says, "If weird means that we're pushing boundaries on pop, then great. I'll be weird all day long. I never want to do anything that sounds like anything else."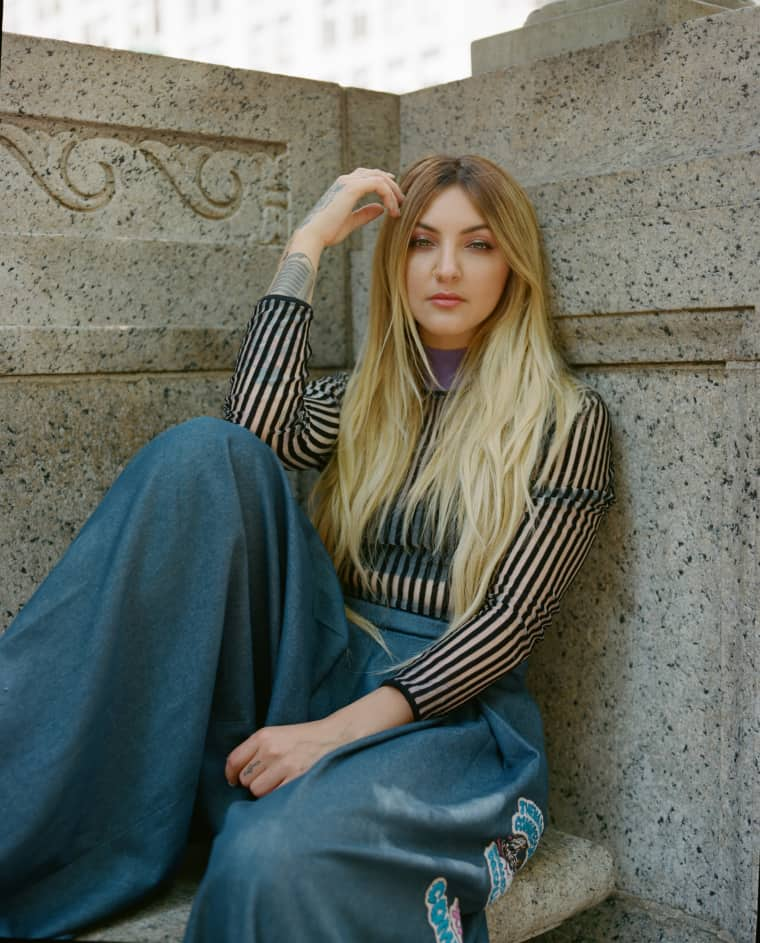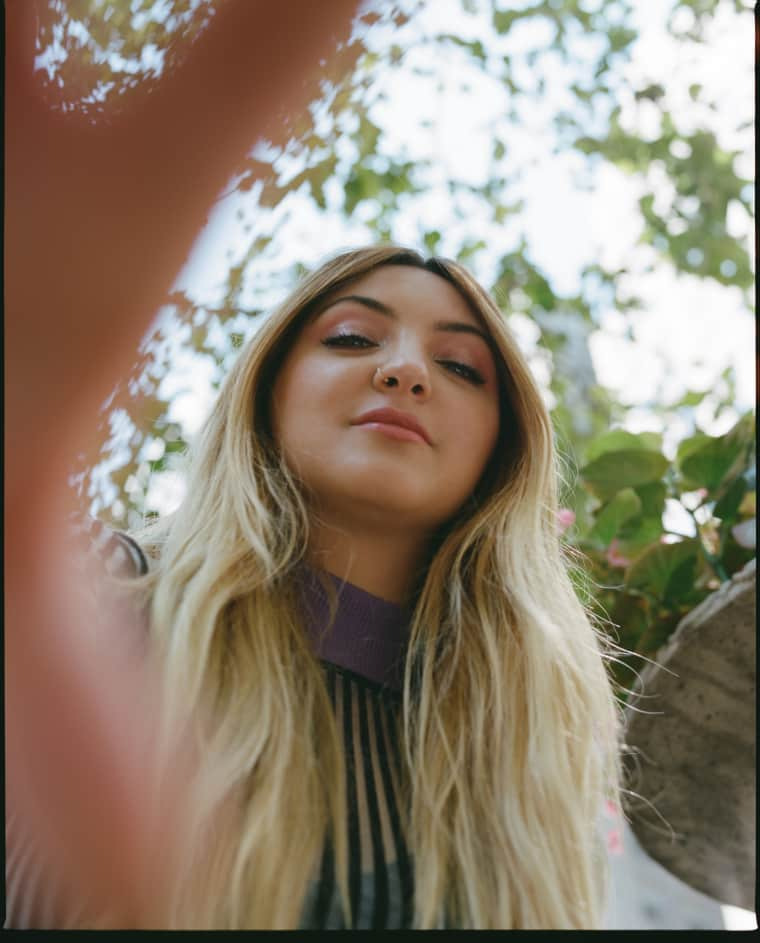 She is an innovator, but because of her success as a songwriter to the stars, a lot of what's on the radio sounds like Julia Michaels. Her first major credits were with Fifth Harmony and Demi Lovato in 2013: a pair of speedy songs about being a strong woman in the face of bad men. From there she delivered the inescapable mea-culpa "Sorry" for Justin Bieber, helped shape the maturation of Selena Gomez with seductive songs like "Good For You" and "Hands To Myself," and co-wrote every song on Gwen Stefani's extremely vulnerable post-divorce album. Along the way, she was one of the most influential people behind Britney Spears's best critically received work in the pop icon's entire career: 2016's genre-spanning Glory. Spend some time with Julia and her songwriting partner Justin Tranter in the studio and there's a very good chance you'll have a Top 40 hit on your hands.
Strong emotions, mainly painful ones often involving shitty men, are what keep her songwriting notebook full. "I fuck up a lot of good things because I'm afraid of them, and I do that with a lot of people," she says. "Sometimes when I'm in relationships and things are going too good, I feel like I purposefully make things happen just so I can write about it."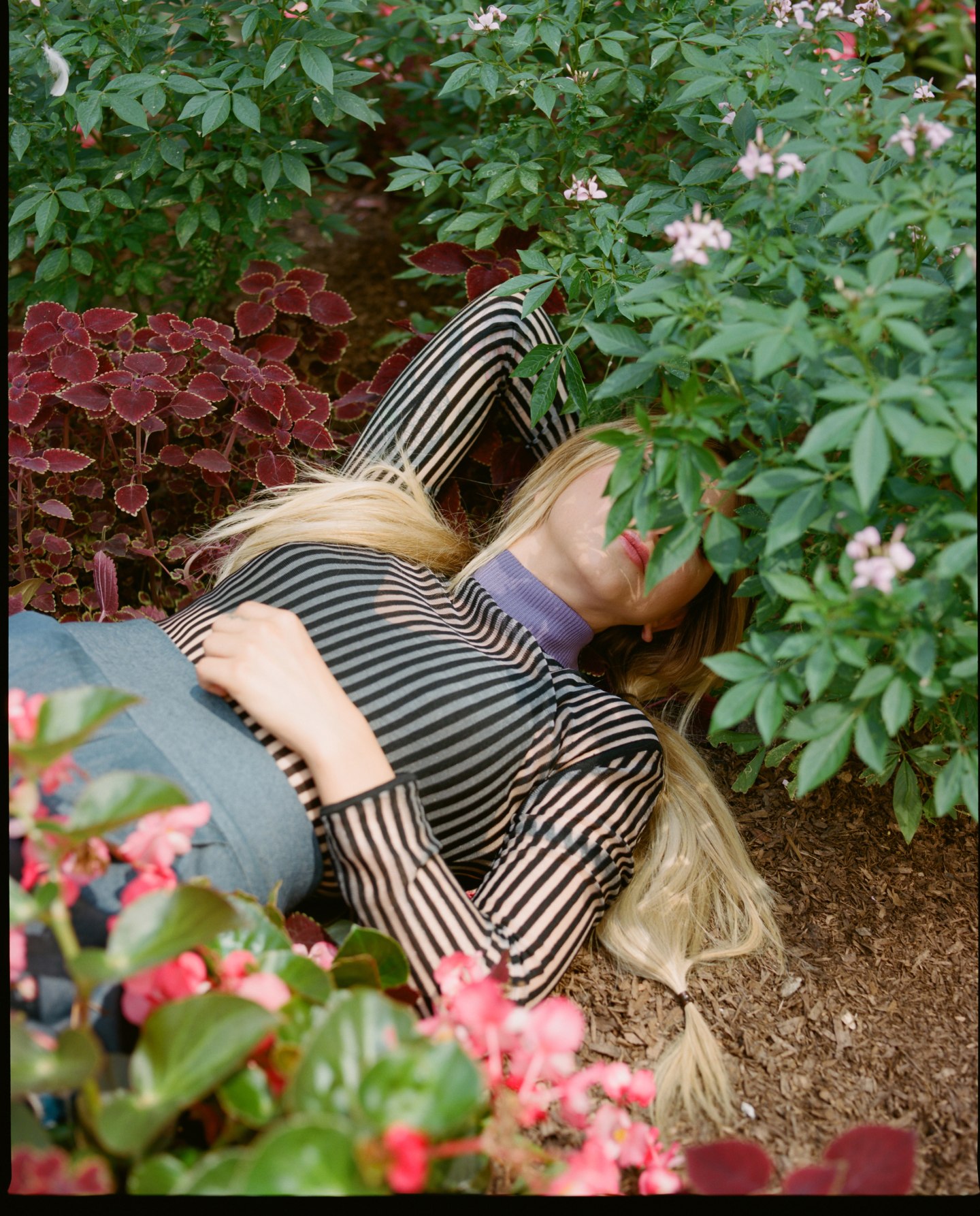 "I fuck up a lot of good things because I'm afraid of them."
But semi-fortunately, that heartbreak helped set things into motion to start her solo career. As she tells it, the day that "Sorry" went to No. 1 on the Hot 100, she was fighting with her at-the-time boyfriend, and wrote "Issues" to get her feelings out. A few weeks later, while working on songs for an EP by singer/actress Hailee Steinfeld, Julia cut a demo of the track to send directly to Republic Records president Charlie Walk, who pointed at her, gave her a stern "dad stare," and said, "You're an artist." After a bit of wishy-washy denial, Julia accepted it, and signed a deal with the label a couple months later. "Issues" was released in in January, 2017 almost exactly one year after "Sorry" topped the charts, and has since been streamed over 377 million times on Spotify.
In July, Julia released her debut EP as an artist, Nervous System, which was inspired by the tumultuous final few months of the same relationship that sparked "Issues." It's packed with signature Julia moments. On "Uh-Huh," her crunchy rock-pop second single, she lets out an exhausted "Woo!" that sounds like it's been processed through one-thousand Nintendo 64s. With "Pink," she adds another stellar entry to her list of perfect pop songs about vaginas (see also: Hailee Steinfeld's "Love Myself" and Selena's "Hands To Myself"). It starts out as a conventional-feeling pop song with a stomping beat and lyrics about a boy and a girl. But right as you think you're going to get a super loud EDM chorus or something you've heard a million times before, she delivers a schoolyard chant hook in a tiny whisper like it's funniest secret in the world: "There's no innuendos, it's exactly what you think/ Believe me when I tell you that he loves the color pink."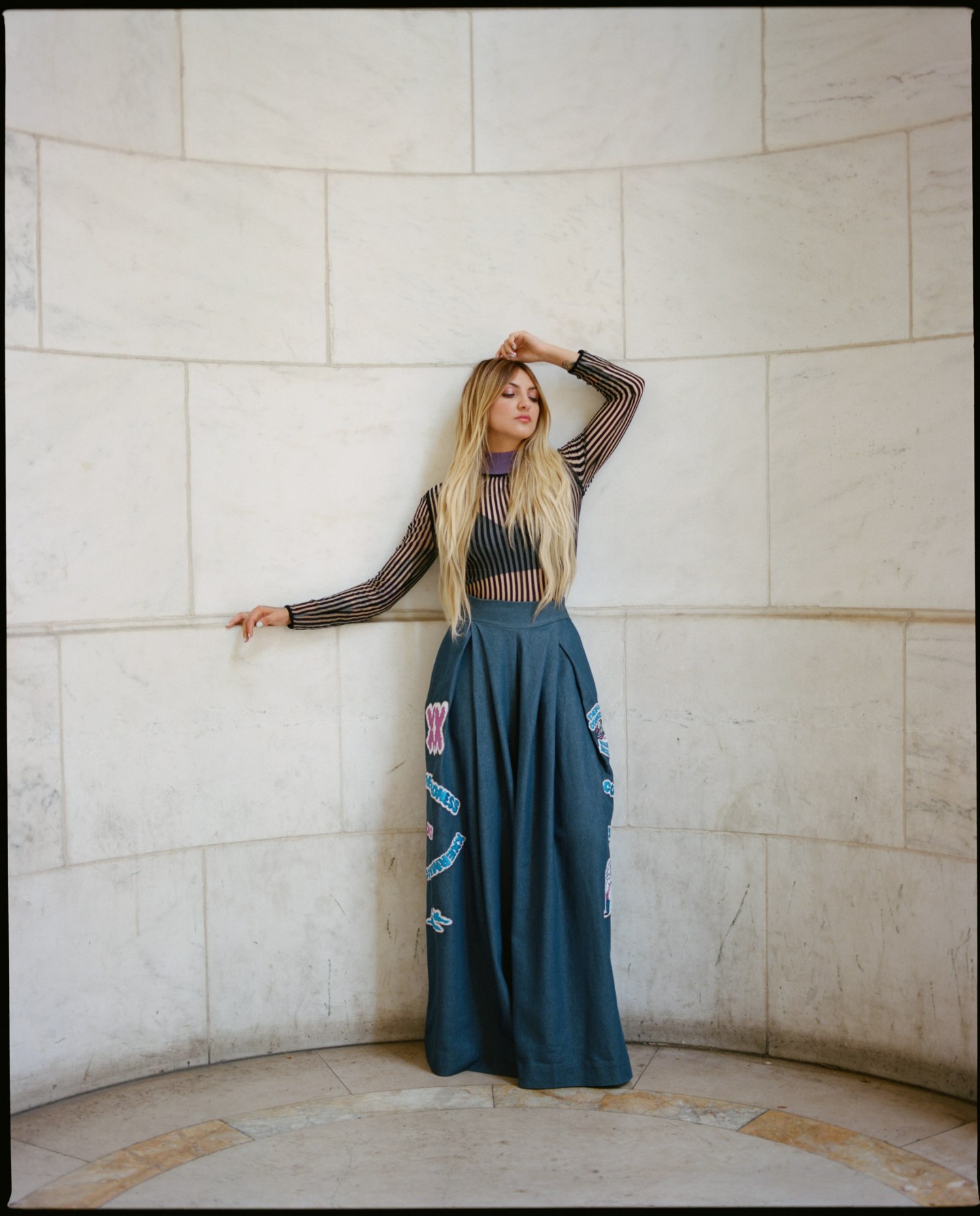 It's a powerful statement from someone who comes off pretty shy in person. She has the words "speak up" tattooed on her throat, which she says is a reminder to "not to be small." Luckily, she has her writing partner and best friend Tranter to egg her on, too. He's been right by her side since they were brought together in a songwriting camp in 2013, where they wrote a batch of songs that got scooped up by artists like Christina Aguilera and Kelly Clarkson.
"I don't have the confidence to do this without him," she tells me. She says he's positive force that balances out her dark side, and that, between the two of them, they make up "one perfect human." He's been incredibly encouraging of her solo career, as has Gwen Stefani, who she affectionately calls "Guinevere."
Boosted by the success of her first solo effort and a VMA nomination for Best New Artist, she's already started writing songs for her debut album, which will hopefully be out early next year. She writes every day, a process that seems next to breathing for her. "I'm not a confrontational person so it's my way of getting out all of the things that I suppress on a daily basis," she says. "I have to write. I physically, for my being, for my sanity, have to write songs. I don't feel like myself if I don't."

Listen to Julia Michaels's EP Nervous System and watch the video for "Uh Huh":
From The Collection:
GEN F