For generations of her core Caribbean fans, Calypso Rose has been a long-time champion of a woman's right to let loose, party and, most importantly, do so free from the leering gaze and pawing hands of men. Since her debut on Trinidad's calypso scene in 1955, Rose — born Linda McCartha Monica Sandy-Lewis in Tobago — has used the dance floors, rum shops, and calypso tents of the Caribbean as her platform to spread the gospel of equality among the genders and speak out against domestic violence toward women. Songs like "Glass Thief" (1955), "What She Go Do" (1974), and "Do Dem Back"(1974) exemplify Rose's back catalogue, which is full of witty lyrics that speak to the plight of Caribbean women living in a male-dominated society. In 1978, she became the first woman to win Trinidad's calypso competition. In fact, Rose went on to win so many of the prestigious "Calypso King" competition titles that they renamed it the gender-neutral "Calypso Monarch" in her honor.
Last year, Rose, who currently lives in Queens, NY, made her comeback to the international music scene with Far From Home, a collaborative album of calypso-based, Latin-inflected jams with French singer Manu Chao. The album was well-received in Europe and earned Rose the Victoires de la Musique — France's equivalent of a Grammy — for World Music Album of the Year. The album's jubilant lead single, "Leave Me Alone," became the breakaway hit of Trinidad's 2017 Carnival season. I literally saw all the women wild out every time a DJ dropped the tune on the road. But more than just a party anthem, the song's message of female empowerment spawned a grassroots activist campaign speaking out against violence toward women in the Caribbean and beyond. The story around the campaign, #LeaveSheAlone, was covered by the Washington Post and Slate.
Despite her non-stop touring and seemingly limitless resources of energy, Rose, now 77, is acutely aware of her mortality. But rather than being bound to it, Rose is still a woman on a mission: "I have so many ideas, I bought a tape recorder to keep track of them all," she shared with The FADER over the phone from Paris back in April. She is not concerned with money and personal gain, but with the enduring values that she always stood for and championed in song.
"It's very important to open the eyes of the women who are being abused. It is very important for the men to know that they must not put their hands on women."
How many months out of the year are you on the road?
I'm on the road nine or 10 months out of the year. For this trip, I left on the first of March and I won't be back in NY until the 23rd of August.
You're turning 77 this year and you're going non-stop. How do you keep going?
I'm in Paris right now, from Paris I'll be going to Morocco, from Morocco I'll be going to South America — Brazil and Columbia and all those places. You see, I've built myself up for this. I eat very good. Anything from the sea, you could give it to me. The sea keeps you alive. I'm from Bethel, Tobago. The Mountville Bay is our sea area. My father was a fisherman with two boats. I drink seamoss, I eat a lot of fish, banana, garlic, and ginger. That gives you energy and power. And also, when I see the amount of people when I'm on stage in front of me dancing and singing — it gives you more power to deliver the energy to the people.
How did you feel about coming out of retirement for this album?
I feel great to know that I've been writing songs for years and the determination that I had in mind to make sure that I stay on top as the first woman of calypso. I feel great about it! To achieve something in life you have to work very hard and have determination. That was my motive, and that motive drove me now to receive the Victoire De La Musique in France.
How did you first meet Manu Chao?
My manager in Trinidad, Mr. Jean Michel — a French-born citizen who resides in Trinidad — invited Mr Manu Chao to Trinidad for the Carnival season in 2015. That was the first time that I met him. We sat and spoke for like three hours about music. Mr. Manu Chao got an early copy of the album. When he went back to Spain, he played the music everywhere he went and everybody was amazed. So he invited my manager and my record producer, Mr. Ivan Duran from Belize to Spain. And there Mr. Manu Chao mixed the album and added his vocals. When I heard the album in 2016, I was so amazed — what a great change. It's really a dynamic album!
How did you approach this album differently than other Calypso Rose albums?
My manager and Mr. Durant selected the songs. When we went to Belize to record the album at Stonetree Records studio, I wasn't feeling the vibes. On some of the songs, the key was too low for me. It was the first time I had to sing with the lyrics in front of me, because some of the songs — I'd heard the melody — but some of the songs had been written since before I was born. And I couldn't feel the vibes at all. One day when we were taking a rest, I picked up the guitar, and I went in the back room with a pen and my pad and I wrote "Leave Me Alone." And when I came out and I said, "Guys, listen to this and see if you like it." When they heard "Leave Me Alone"....oh my god...everybody started jumping. They said, "Let's record it one time, let's go!"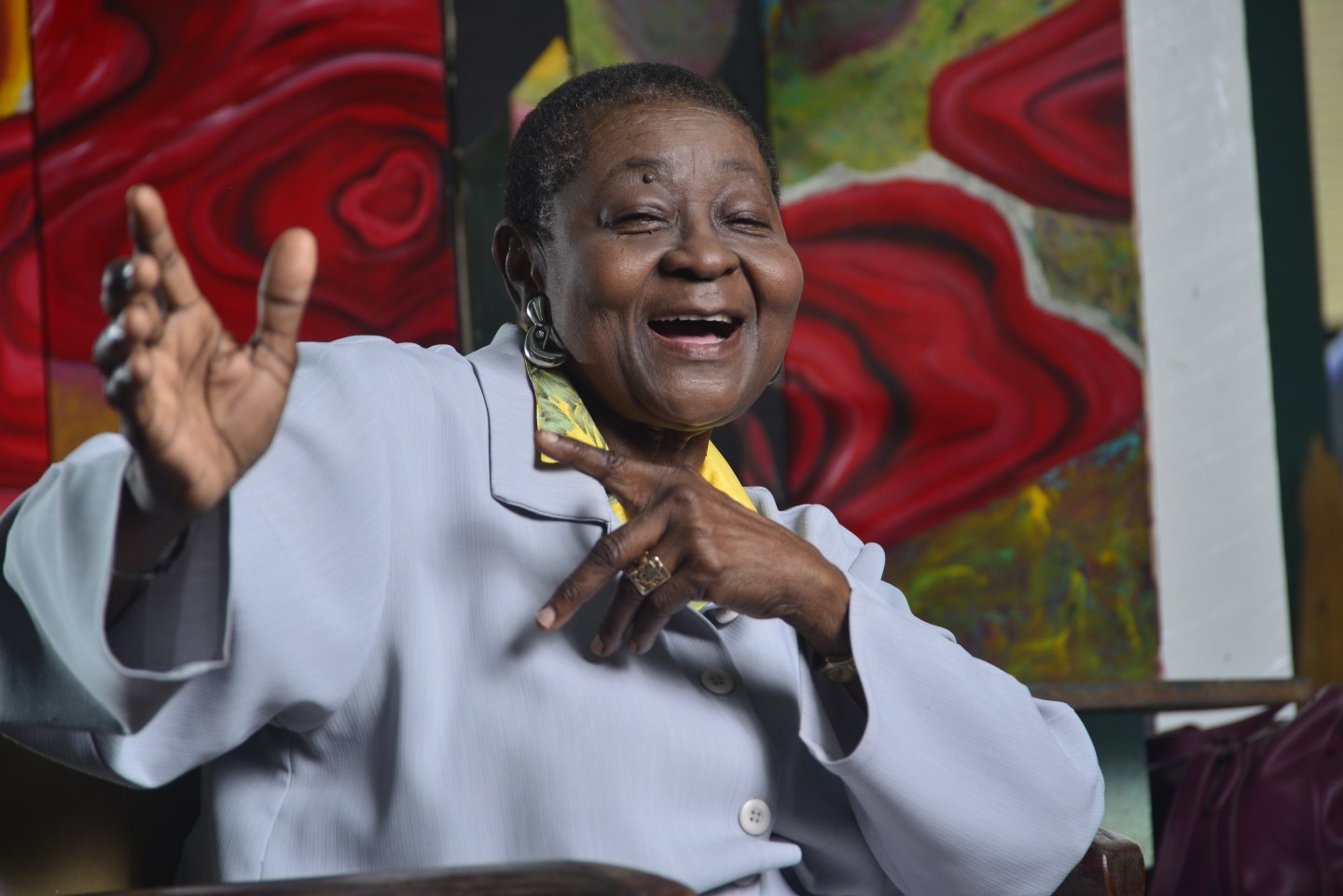 "One day, I said, 'Look, I will not be like the foolish virgin that buried their talent in the soil.' I said, 'God gave me this talent, he has blessed me, so I am going to deliver it to the world.'"
I remember the first time I saw your picture on the wall at Gloria's Roti Shop in Brooklyn, there weren't really any other female calypsonians on the wall. What was it like starting out for you in the male-dominated industry?
When I first started, my father, who was a Spiritual Baptist minister, told me that calypso music belonged to the devil. [Laughs] A lot of church organizations used to call me into meeting after meeting asking me why I was singing calypso, and saying that calypso doesn't belong to women, that it was a man's domain. I got so tired and fed up of hearing the same thing. Because the Good Lord had given me the inspiration to create and write — I wrote over 800 calypsos, I wrote two gospel albums also. I was the first calypsonian to write gospel in the calypso beat. When I gave it to the radio stations, they said that they couldn't play the gospel songs because they're a calypso beat. One day, I said, "Look, I will not be like the foolish virgin that buried their talent in the soil." I said, "God gave me this talent, he has blessed me, so I am going to deliver it to the world." Which I did.
When I started out in the industry, they changed the name of the competition from "Calypso King" to "Calypso Monarch." All the years it had been the Calypso King competition. But they asked what will they call it if Calypso Rose wins the crown? If you remember in 1977, Trinidad and Tobago became an independent nation. In an independent nation, there are no kings, no queens; there are monarchs. This lady is the first one that took that title.
As a groundbreaking woman in the Calypso scene, were your male peers supportive of you?
Working in the field with the other calypsonians, they adored me and used to protect me. We used to travel out of Port of Spain on Sunday, Monday, and Tuesday all over the island, giving shows. On the road, they always protected me. I'd been telling the other female calypsonians, never disrespect yourself. Always respect yourself because the wolves are out there and they'll be coming to claw at you. You stand up for yourself. You have the power. I always say it over and over again: no calypsonian, no musician, no tent manager has ever been to bed with me, Calypso Rose. Never. None. I stood up for myself and I am glad I did because no one can point their finger into my face.
On the stage at The Standard Hotel this past March, you said to the crowd, "Ladies, don't be with a man that wants to control you."
That is true. That is very true. Everything goes very smooth until that ring goes on. As soon as it's on, [yelling] "Put the phone down. Don't call your mother. Baow. Baow. Go to your room. Shut up!" and all this abusive behavior. Oh my gosh. It is very painful to hear the things that a lot of women go through with their husbands and boyfriends. I always tell women to never stand for that. If you have kids, snatch them and run. If you don't have kids, much better, you'll run faster. Never let a man put their hand up on you. Never.
Recently, there's been a lot of crime against women in the newspaper headlines in Trinidad. The message behind your song "Leave Me Alone" has sparked an anti-violence campaign that's been spearheaded by Anya Ayoung-Chee and the Together WI collective. Why do you think your song and this campaign have been so poignant?
It's very important to open the eyes of the women who are being abused. It is very important for the men to know that they must not put their hands on women. I know these men would not like to see their fathers beat their mothers. It's very important. That song has opened the eyes a lot. I am glad to see that men and all wearing the campaign t-shirts too!
How did it feel to come back to Carnival and hear your song in the streets?
I feel great to know that, at my age, Calypso Rose is still enlightening the world. I was glad to come back home. I had so many offers for bookings that I could not accept them all. I was happy to come back home and enjoy myself and to see the people enjoying themselves on the road to "Leave Me Alone." I want to thank Machel Montano for what he has done also with that record.
After this year's Carnival festivities, you were awarded with diplomatic status in Trinidad and Tobago.
Oh, yes! I will be receiving my diplomatic passport. And then my name, Calypso Rose, will be on a fleet of Caribbean Airline's planes. They ask me if I want money. I don't want money. I have money. I am 77. I'll be going home just now. When you have a lot of money, it's then that your family and friends know you. I done have a pacemaker. I will not be living long at all, so put my name on a plane and let calypso be flown all over the world. Let people know that calypso is the original music of Trinidad and Tobago.