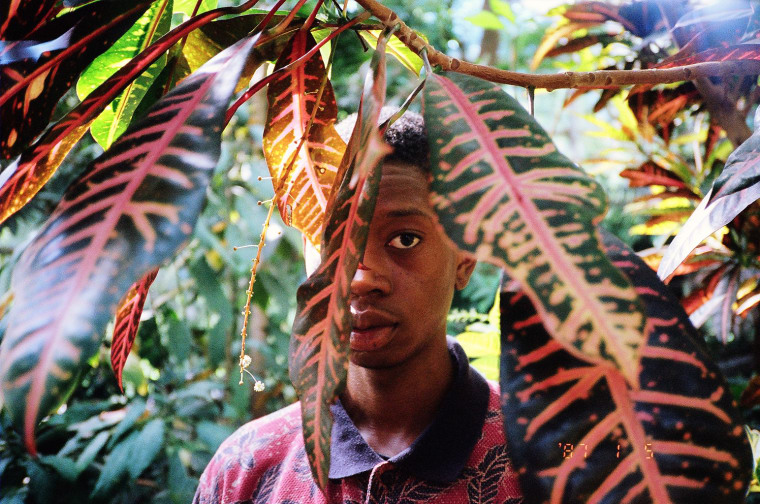 "I wanna come back as a small leaf from a fig tree covering Eve's titties," raps Deem Spencer, a 21-year-old musician from Jamaica, Queens, on "Eve's Titties," the first single from his new EP we think we alone, which you can listen to in full below. All lilting and earnest, he sounds a bit like Gym Class Heroes's Travie McCoy — in a good way. At other times, like on "Mother Earth," he's got a raspier tone. And on all eight of the EP's tracks, he flows over heavy-hearted beats and fuzzy clusters of keys and strings. Experienced as a collection, it's beautiful.
"A couple of months after I dropped my last EP, my grandfather got sick," Spencer recounted in an email to The FADER. "It was sudden. It surprised my whole family and it was a weird time for me. There was this super heavy feeling that I'd never felt before but it was kind of bittersweet. This feeling brought me home and showed me what's really important.
"I started writing in November or early December. My family needed me to stay home during the weekdays to take care of my grandpa. While I stayed with him, I sat in the kitchen with a keyboard, writing dozens of songs with it. I tried to re-teach myself how to play keys. Every song I wrote was about how I felt the day I wrote them, so most of them were sad. I think only two of these songs ended up on the tape, but that's where it started.
"He passed away in January and I stopped writing altogether for about a month. That loss was difficult. It made me feel so small. I felt very young. The grieving process was heavy. Over time, I got back into the studio and tried to create a sound for how that whole winter felt. I worked with some talented producers and was able to create a bunch of nice pieces. I think the final product is pretty. I think it's an interesting listen. I don't know how it'll feel to someone hearing it for the first time, but I hope people will appreciate it."