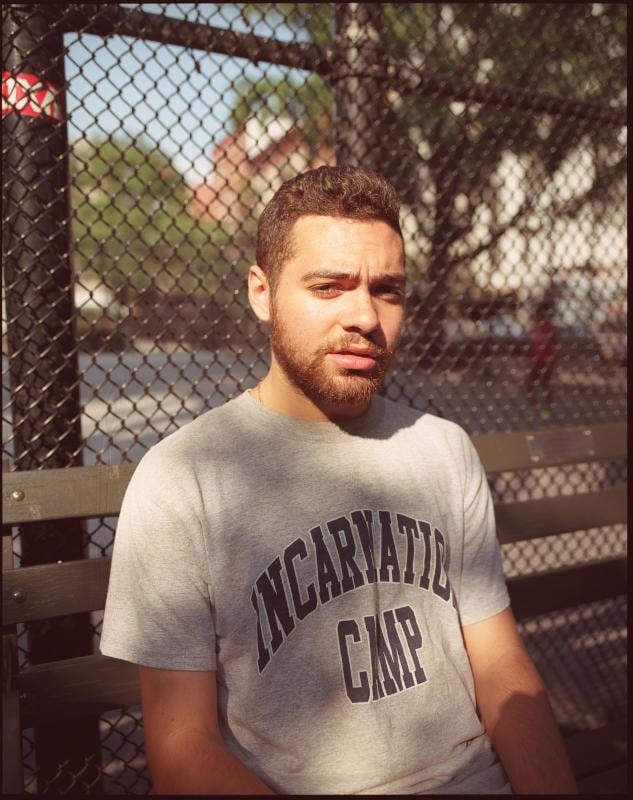 "Islander"
"Islander" introduces one of the ideas that makes No Mountains In Manhattan such a textured listen: rather than agonize over tension between popular conceptions of New York rap and a desire to innovate, Wiki embraces it all. He is "Puerto Rico, Ireland, Manhattan" as well as "every place I been" — someone formed by both the diaspora and The Diplomats, and who gives rich dimension to what it means to be a protege of both. On the song's closing bars, Wiki lists what he loves about his birthplace. His keen observational skills give the listener a heavy pocket full of change for the subway and points out some teens roasting each other. It's a strong and succinct example of the "city-as-character" trope, one that's then subverted when Wiki expresses admiration for the borough's non-existent mountains. "My man, ain't no fucking mountains in Manhattan," Wiki's incredulous companion counters, not yet aware that reality and history are just two shades on his pallet. —JORDAN DARVILLE
"Pretty Bull"
Summer nights in New York are the shit, especially when you're surrounded by all of your best pals, drinks and things a-flowin'. "Pretty Bull" is Wiki's happily turnt love letter to those nights when everything fall perfectly into place. Over Tony Seltzer's wiggly twinkles and booming bass, the rapper calls out the characters you might expect to see on the scene: "The ravers out/ The skaters out/ The haters out." The culmination is an evening so live that it's "like every night in The Tunnel in one." The video for this one is pleasantly wild and woozy, too, appropriately depicting a corner-deli-turned-full-out-function featuring some of the Lower East Side's finest. Put this one on as you're walking to the turn-up and let out a lil' YEEEEEERRRRRRRRPPPP. —NAZUK KOCHHAR
"Made For This"
Wiki was seven weeks old when Wu-Tang dropped its raucous debut album, introducing and immediately cementing Ghostface Killah as one of the city's most dazzling, compelling rappers — a consistent, slang-spitting, dense-rapping, cityscape-defining storyteller with the voice of a goldfinch. Some 24 years later, Wiki, a high-pitched weirdo in Ghostface's vein, hosts the elder MC on "Made For This," bridging two boroughs and a generation. The song's beat, produced by Tony Seltzer and Adrian Lau, sounds like the gloomy, plodding soundtrack of a wintertime mission. That it exists is in itself a triumph: a full-circle moment for a genre and a city long in need. The New York City of yore may be vanishing, as at least one recent book and many longtime residents claim, but "Made For This" is proof that no amount of glass-walled condos can erase the beef'n'broc, bacon, egg'n'cheese soul of the city. You can gentrify its blocks but you can't gentrify its DNA — Wiki and Ghost are proof that only some people are made for and from it. —RAWIYA KAMEIR
"Chinatown Swing"
Not to be corny, but it's not very often that a true New York poet comes around. One who's been so immersed in the grime of the city from the time they could crawl that they themselves have become a swirl of side streets and broken street lamps; the pressure of the subway turnstile ingrained in their thighs like memory foam; their jaywalking with bird-like precision. Wiki is one of those, and "Chinatown Swing" is like a day in the city with a teen Wiki. He hits all the spots with a dexterity that can only come from a wordsmith deeply in tune with their surroundings. "Exploring every nook and cranny city got offer him/ Alter him/ Made him the man he is," he flows over a dark ambient beat, his soul glowing. Going downtown for some noodles, a veteran dro roller, "High on the train/ Thirteen/ Thinking how my brain working," listening to drunks yell from benches — "Leave a stench, teach a lesson" — see a girl who lives in the Chinatown projects, "At The Apollo smoking pollen," the go-to deli for a chopped cheese, sparking up with a drum circle in Columbus Park.
We do the most, us New York kids. We want the whole city. We want the sky, we crave the universe, we leap fast and fall hard. We're monsters who've been raised to guard ourselves with all our might as we plunge face-first into a world we only know how to attempt to conquer. We want to claim the world and come back to the block, because nowhere in the world can compare to here, and that's a fact. That's what "Chinatown Swing" says. "Take a twirl/ Take on the world," but always come back to the block where you're from. —LEAH MANDEL
"Pandora's Box"
Not every great romance has a happy ending. Sometimes two people, for whatever reason, just can't make it work. "Pandora's Box" is a story like that. Over Sporting Life and Dadras's fog-machine synthwork, Wiki looks back at his relationship with Destiny Frasqueri, the Puerto Rican rapper best known as Princess Nokia. It's essentially a nonlinear supercut of the highs and lows of the affair: the whirlwind meeting, the gnarly fights, how they told each other everything. In the most affecting passage, Wiki thanks her for making a confused Irish-Puerto Rican "mutt" feel understood, like he had a place in the world where he fit. "You was my teacher/ I was your creature," he remembers. "Didn't know who I was/ You made me feel I belong/ Like I was one of ya." It's the tear-jerking final scene of a true-life love story, a snapshot of the kind of real mad messy romance that changes you forever. Singer Evy Jane, who plays the part of Wiki's ex-lover on the song, delivers the final lyric, her voice muffled and echo-y: "I know it was worth it." —PATRICK D. MCDERMOTT