FADER Mix: Marshmello
A magical musical ride 'round London town from NTS Radio's first lady.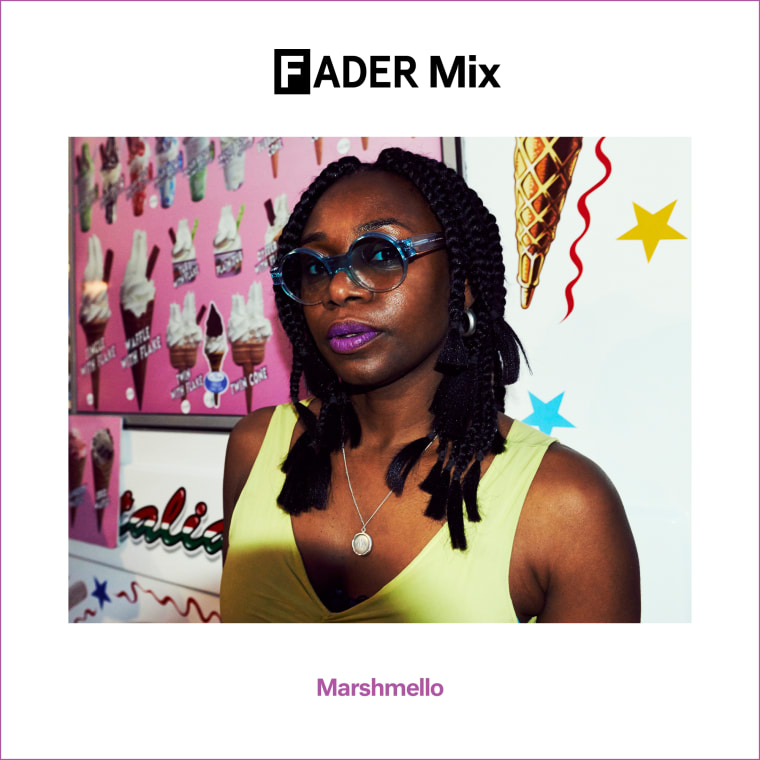 Marshmello is the sweet and groovy alter-ego of radio DJ Marsha Smith. She's a cornerstone of east London's NTS Radio — her show Midnight Marauders was the first to be broadcast on the station back in April 2011 — and cut her disc jockey teeth a few years before at north-west London recording studio of 4hero, Reinforced Records. It's no over-exaggeration to say Marsha knows the U.K. capital's sprawling underground music scene inside out. On her exquisitely eclectic FADER Mix, she takes us on journey through the city's rhythms, from soulful modern classical moments to 3 a.m. dance floor vibrations. Dive in below, and scroll down for a chat with the DJ herself, plus that all-important tracklist.
Where are you right now? Please describe your surroundings.
In a traffic jam coming back from the Notting Hill Carnival. It's late, I've got my girls in the car and we're listening to Vibes FM — a classic Sunday wind-down.
Tell us a bit about this mix — what do you imagine people doing while listening to it?
They can do whatever their heart desires. If they can have an open ear and just absorb the sounds of London, that's great. The mix is an extension of my musical network in London, there is just so much amazing music coming from the city right now. It's just a taster of the musicianship here, this is just the tip of the iceberg. I hope the listener will go and explore and do some digging of their own.
What's your earliest musical memory?
Music was always around growing up. My mum and her friends would buy reggae 7-inches and the children were allowed to play them. A track I remember as being my tune was Tappa Zukie, "MPLA." Many messages in that track and it still brings me joy today.
How did you get into radio, and what keeps you excited about it?
I got into radio by accident, but it was the best accident ever. I used to hang out at Reinforced Records in Dollis Hill [in north-west London]. They had a DJ booth set up, vinyl records used to be all over their studios, anything form Talking Heads to Donny Hathaway, as well as their own productions. You could step in the booth, press play and listen. Around about this time the Reinforced camp started NuWave Radio so those listen sessions became radio shows.
What track or artist is always in your record box and why?
7 Samurai, "Muzic" (Panoptikum Remix). On observation when the bass line drops, your ancestors come to visit.
What's the most important thing you've learned about the music business?
There is always something to learn.
What's your favorite thing about London?
My most favorite thing about London is the abundance of trees. There are so many parks too. It's an incredibly green city.
And your least favorite?
I can't think of a least favorite thing when it's CARNIVAL DAY today. London is on point. Just love London #askmetomorrowandtherebeplenty
What's the last book you read that had a big impact on you? And why?
I've been reading a few poetry books lately. My friend Early suggested British poets: Jay Bernard's English Breakfast, Malika Booker's Breadfruit, and Ten: The New Wave. I usually read a few throughout the day, taking time focus on their meaning.
What's your favorite dish to cook and how do you make it?
Toast is actually my favorite dish. I put it under the grill or if I wanna be flash I put in the toaster!
Tracklist
Through The Night - Duval Timothy - Brown Loop
Swimming - Maxwell Owin - Fruits And Flowers
Babylon 1980 - Melo - Zed
Foundation - Mo Kolours - Texture Like Sun
Be Ur Friend - Tenderlonious + Dennis Ayler - 8R1CK C17Y
I Don't Belong To Anyone - Hejira
Yoon - System Olympia
T's Dream - Molinaro
Bossa B - Hector Plimmer- Sunshine
Falling - Yordanos Meconnen
Minds Eye - Joe Armon-Jones & Maxwell Owin - Yam Recordings
Rid Of You (FEAT. Aisha Zoe) - Shy One - Waterfalls
It's True - NameBrandSound
Marie - Steven Julien - FALLEN
Untitled ( Stomp & Words Mix) - Shamos Feat. Tashia B
Space Time & A Manual - Native Cruise - Yam Recordings
Life - World Air - Air's World Vol.1
Training Day - Shamos - Road Works Part 1
PSBS - Mickey LightFoot - Needy Bruises
Single White Female - Shy One- Waterfalls
All Change - Coby Sey - WHITIES