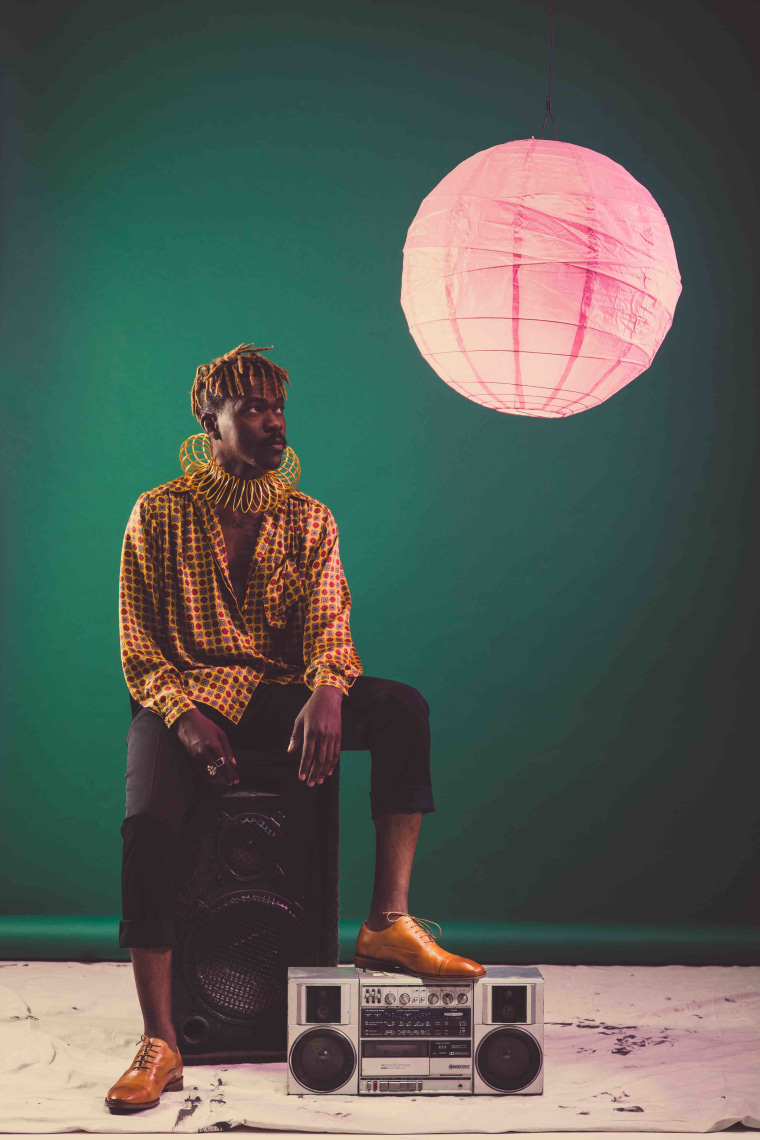 The first thing I noticed about Pierre Kwenders and his band, before I saw them play a set of jubilant hybrid pop in a small studio at the CBC in August, was their uniforms: luxurious, baggy silk shirts, and pencil-thin moustaches. "Yes, that's intentional," Pierre laughs when I speak with him over the phone the following day. "People can see that we have a common identity, something that feels like a real band, like a family." His response demonstrated an awareness of the value of stage pageantry, and hinted at a wellspring of power from his excellent sophomore album MAKANDA at the End of Space, the Beginning of Time: his sincere belief that connection, between seemingly disparate musics and people, is possible.
The 32 year old Congolese-Canadian musician has proof of that in his own story. He moved to Quebec from Congo at 16, and would eventually become fluent in four languages: Lingala, French, Lingala, and Tshiluba (he sings in each on MAKANDA). Kwenders is a confessed obsessive when it comes to music: his recent fixes have included African pop stars like Mr. Eazi, hip-hop from Cartierville, the Montreal neighbourhood he grew up in, and Andrea Bocelli. But he is devoted to Congolese rumba, a dance music that stormed Africa in the middle of the 20th century, fusing genres as freely as Kwenders does today. "There's some type of joie de vivre in Congolose rumba," he says. "It's always about having fun, even with love. Even if it's sad, you feel like you're happy about the sadness."
MAKANDA was produced by Tendai Maraire of Shabazz Palaces, whose expansive production helps push the album to a rare authenticity that is not tied to convention, but a certain spirit. With Kwenders, it's especially generous: "I do music for everybody. I want everybody to learn something out of it. And most importantly, to enjoy and dance."
The FADER spoke to Kwenders about his music collective Moonshine (which hosts secret parties based on the lunar cycle), the perils of genre, and how he plans to give back to the creative community.
---
What is your musical background?
I didn't study music but I come from a family that really, really loves music. When I got to Canada my mom and I used to go to church a lot in the Congolese-Catholic community. I remember going to church one Sunday with my mom, I think it was in 2007 or 2008, There was this young man about my age [who was] part of the youth choir of the church, he asked me if I could sing. I went and auditioned, and they liked it. I go to a church less now, but I still believe in God. I have a [tattoo] from the Bible, Psalm 27. I have one line in English and another in Lingala and so on and so on.
I did the choir thing for a couple of years, then I started doing backup with this Acadian hip-hop group Radio Radio and trying my own stuff. I was never thinking of having a music career, so I took accounting at university, finished two years and worked in an accountant's office. I also worked a little bit for the government for Revenue Quebec collecting income tax. In 2013 I thought I should just put out an EP and see how people react to my music. I put out that first EP, Whisky & Tea in 2013, and the response was quite good. I was just so excited. I was just doing it for fun and I paid everything myself. I'm still doing it for fun because the most important thing. When the fun is over, there's no point of doing it.
What does the album title mean?
"Makanda" means "strength" in Tshiluba. It is a homage to women that have been really important in my life: My mom, my grandmother, my aunt, and my younger sister. She passed away last year and she's the reason my mom and I moved to Canada. [She's why] I'm able to share my music with the people. I don't know if I stayed in Congo if I would be doing music.
"At The End Of Space The Beginning Of Time," it's just a way for me to expand that circle that life is. I believe that things tend to repeat themselves, sometimes in a good way sometimes in a bad way. Myself, I choose my grandfather's name, "Pierre Kwenders." He is my mom's father who died when my mom was only 12 or 13 years old. But growing up we heard about him a lot. His legacy was so huge that I felt that I needed to pay homage to him by taking his name. There's a lot of love in the album.
The term "Afrofuturism" has been employed quite often for describing your music. How do you feel about that?
"Afrofuturism" is becoming more and more like that other term that we used to say, "world music," which I really don't like. I believe if someone else sings on the same beats that I do, it would not be in that category of "Afro-Futurism" or "world music." What I'm doing, it's nothing really new. It's just a way of expressing myself and expressing what I want to showcase about African and North American music.
My main objective with this record is to create a Pan-African sound. Something that Africans can easily listen to even though it's not traditionally African, and also something that Western people can listen to and be like "Wow, it sounds like African stuff but in the meantime it's so contemporary."
In my opinion, music has no boundaries. Different countries all play the same notes like C or E, it's just the sound is just culturally different. We all talk about war, we talk about the day-to-day, all the problems that we have. It's only in a different context.

"The best thing about the idea of a collective is that you need to be surrounded by people who understand you and people who have the same vision as you, in order to be able to create freely without restrictions."
Speaking of no boundaries, does singing in four different languages empower you creatively?
Definitely. It's also something that just happened very naturally. Sometimes I'll just start listening to the beat and the first word that comes out of my mouth is in French, and I'll start with that. And sometimes I'll start writing a whole song in one language and then just realize that something is missing and I'll try something else in another language. It's really just something that comes naturally. And it's also fun because I get to do something not many people do, just a different kind of feel and a different kind of a way of expressing what I'm trying to say. I can say something in French and say exactly the same thing in Lingala, but it feels so different. There's something amazing about it. I'm really lucky to be able to do that. It's still the most fun part of writing.
How important is it for you to be a part of a group of people that all have a common collective goal?
The best thing about the idea of a collective is that you need to be surrounded by people who understand you and people who have the same vision as you in order to be able to create freely without restrictions. Almost three years [ago] now I started this collective with my manager called Moonshine. I was sitting one night with my manager, and we felt like there's nothing really in the music scene that represents us. We will be sitting in our apartment with friends and family, playing music and dancing all night to music that we like, but we couldn't find any place in Montreal that will play that music. We thought something was lacking in the music scene in Montreal, and we thought we had to do something about it.
Now the collective is more than just a party. We have our record label side with my other project ABAKOS, Kae Sun, and Mark Clennon from Toronto. It's about having this ability to put out and do things that represent us without having any restrictions. Because being in the music business for five years now, I feel like I kind of know what it's like for people like us. When I was in the beginning of my career I needed that push and I believe my time in Radio Radio helped that. I want to be that person for other people.
MAKANDA at the End of Space, the Beginning of Time is out September 8th via Bonsound.