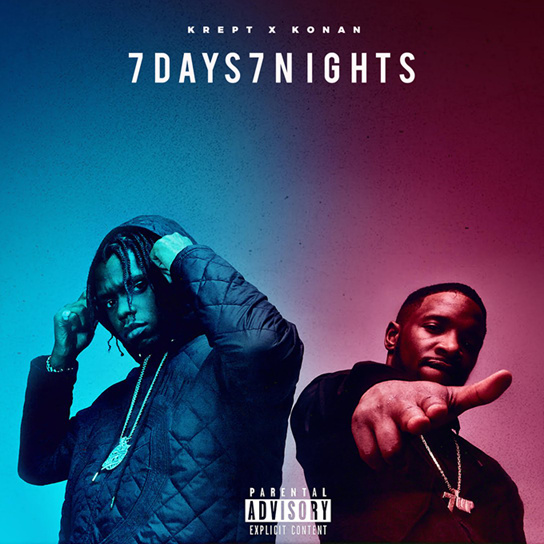 Krept & Konan are set to return with two new mixtapes, both of which will be released on the same day next month.
The two mixtapes will follow distinct themes with 7 Days showcasing the duo's harder, street-orientated material. Guests on that tape include Stormzy, Skepta, and J Hus. 7 Nights, meanwhile, offers smoother R&B tracks featuring Jhené Aiko and Tory Lanez.
The first tracks from the mixtapes, "For Me" (from 7 Nights) and "Wo Wo Wo" (from 7 Days) will both be released on Friday, September 29. 7 Days and 7 Nights will be released on October 20.
7 Days tracklist
"Champions League"
"Told You"
"Wo Wo Wo"
"One My Life" f. Skepta
"Robbery Remix" f. Abra Cadabra
"Khalas" f. R.A)
"Sauce"
"Cold Summer" (Krept Freestyle)
"Ask Flipz" f. Stormzy
"Last Night In L.A." (Konan Freestyle)
"Get A Stack" f. J Hus
7 Nights tracklist
"Don't Lie"
"For Me"
"Ride For You" f. Hudson East
"Wrongs" f. Jhené Aiko
"Save Some" f. Hudson East
"So Lit"
"Same Sh*t" f. Tory Lanez
"One More Time"
"The One"
"Take Time" f. Hudson East