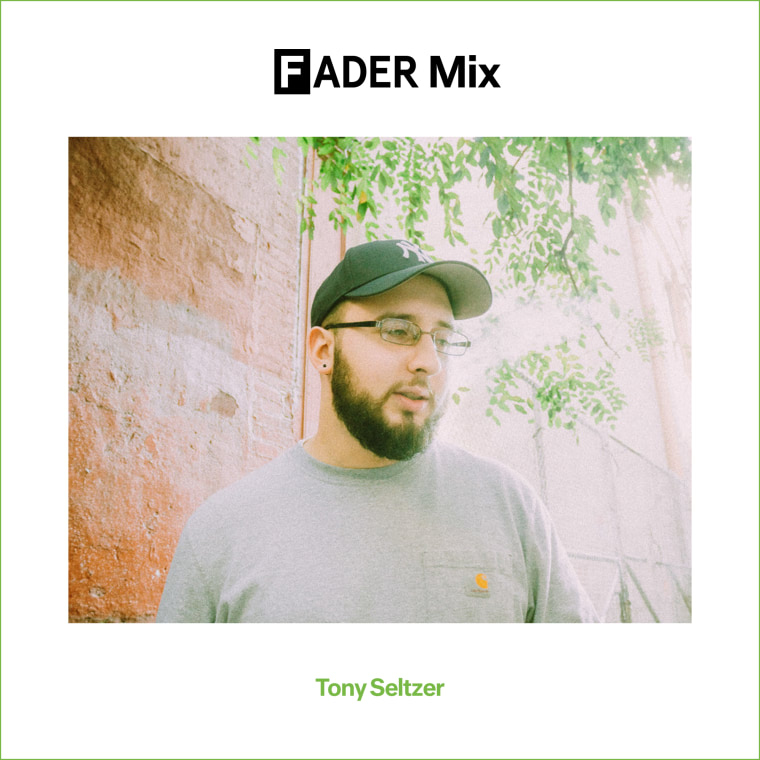 Tony Seltzer is a New York producer whose signature ominous yet playful sound has been behind songs from your rising favorites from Manhattan, Brooklyn, the Bronx, and everywhere in between. Formerly making music under the moniker Yung Gutted, he's been recording as Tony Seltzer since 2016, honing a sonic approach that feels cool and dark like a night drive on a highway, but has bright and "off-kilter" accents laid overtop, kind of like when the city lights reflect off your windshield.
He's had a busy 2017 — in between working on and dropping his own solo project, Remember the Memories, in June, he's been lending his sound to artists like rising Bronx rapper Mike, Crown Heights's finest Gloss Gang, and many more. He also had a strong presence on Wiki's recently released album No Mountains In Manhattan, having produced a handful of tracks on the shining debut.
Seltzer's FADER Mix, then, is a primer to the city's young and promising talent. Featuring unreleased tracks from the likes of Czarquan, Jaguar Pyramids, and Seltzer himself, the mix also includes favorites like Mal Devisa and Standing On The Corner.
Listen below, scroll on to get to know Seltzer, and be sure to peep that fantastic tracklist all the way at the bottom.
Where are you right now? Please describe your surroundings.
I'm in my friend's apartment in Brooklyn, there's no windows.
Tell us a bit about this mix— what shaped it?
For this mix I wanted to include new and unreleased music from all my friends and underground NYC artists who I've been listening to.

What's your earliest musical memory?
I think the first CD I ever bought on my own was [50 Cent's] Get Rich or Die Trying.

Who or what first got you into producing?
I've played drums since I was 8 years old, but when I was 15 I started making beats on this weird software my Dad had on his computer called Magix Audio Studio. I definitely was listening to a lot of J Dilla, Company Flow and Cannibal Ox, and hearing the off-kilter experimental beats was really inspiring to me.

In addition to regularly working on and releasing tracks with other artists throughout the year, you dropped Remember the Memories your latest original tape, in June via Letter Racer. What was working on that project like? How was it different from your previous solo projects?
I really enjoyed getting Remember the Memories together. It's basically a collection of beats made in the past few years that fit a similar vibe. A lot of VHS samples and most of the beats were made on an MPC, so it has a consistent sound.
What artist(s) has inspired or shaped you most in life?
The list is endless, I find inspiration in all the music I listen to, but these days I find myself most inspired by my friends and peers.
What's your favorite thing about New York?
I can't pick.
What's your favorite dish to cook and how do you make it?
Squid and rice. I grew up thinking it was a family recipe, but if you buy Goya canned squid in it's ink, the recipe on the back is pretty much the same as how I make it.
Tracklist
Kallie Lampel - Ode to Wels (unreleased)
Tony Seltzer x Carlos - Carlos loop 4 (unreleased)
Carlos Hernandez (Ava Luna) - Lucky Star (unreleased)
P. Morris - Diamond in the Rough (unreleased)
TrippJones x Morgue! - Immortal Kombat (prod. Tony Seltzer)
Tommytwophones - Bag Boy (prod. RanVanDam)
Smooky Margielaa - Money Talk (prod. 16yrold)
Czarquan x DJ Lucas - My First Plug (prod. Tony Seltzer) (unreleased)
Tabby - Ok Fine (prod. DJ Lucas) (unreleased)
Medhane x Mike - 350 (prod. Tony Seltzer x Mike)
Tony Seltzer x Czarquan - Untitled (Flowers) (unreleased)
TrippJones - Cheese (prod. Tony Seltzer) (unreleased)
Medslaus - 5 02
Wiki - Pretty Bull (prod. Tony Seltzer)
Czarquan - 456 (prod. Tony Seltzer x Czarquan) (unreleased, off the upcoming tape Hunting Season)
XXXchange - Beeper Boyz (unreleased)
Tony Seltzer - Unititled (DJ Weiners) (unreleased)
Tony Seltzer x NYOP - Untitled 3 (unreleased)
Tony Seltzer - Untitled (XL vibes 2) (unreleased)
NYOP x Zora Jones - Descent
Black Fleece - Daddy Home
Sly C - Holla at Me (prod. Sly C) (unreleased)
Laronisaloser x Booliemane - u thought u had it (unreleased)
Sixpress - Turned Tables
Mike - Somebody Please (Sixpress Remix) (unreleased)
Ari Finkel - Frame (unreleased)
Mal Devisa - Teaser
Jaguar Pyramids - Glass Elevator (prod. Tony Seltzer) (unreleased)
Tobias - Interlude (unreleased)
Hann x L-vis 1990 - Botanist (unreleased)
Acemo - Through the Pressure (unreleased)
Gila - Just When I
Tony Seltzer x Adrian Lau - Untilted (CP) (unreleased)
Izy - Tricks (prod. Acemo)
Babyglock - Don't Beep (prod. Tony Seltzer x Czarquan) (unreleased)
Don Rez - Big Bands (prod. Tony Seltzer x Czarquan) (unreleased)
Gloss Gang - Shootouts (prod. Tony Seltzer x Adrian Lau) (unreleased)
Standing on the Corner - Take the 'C' Train