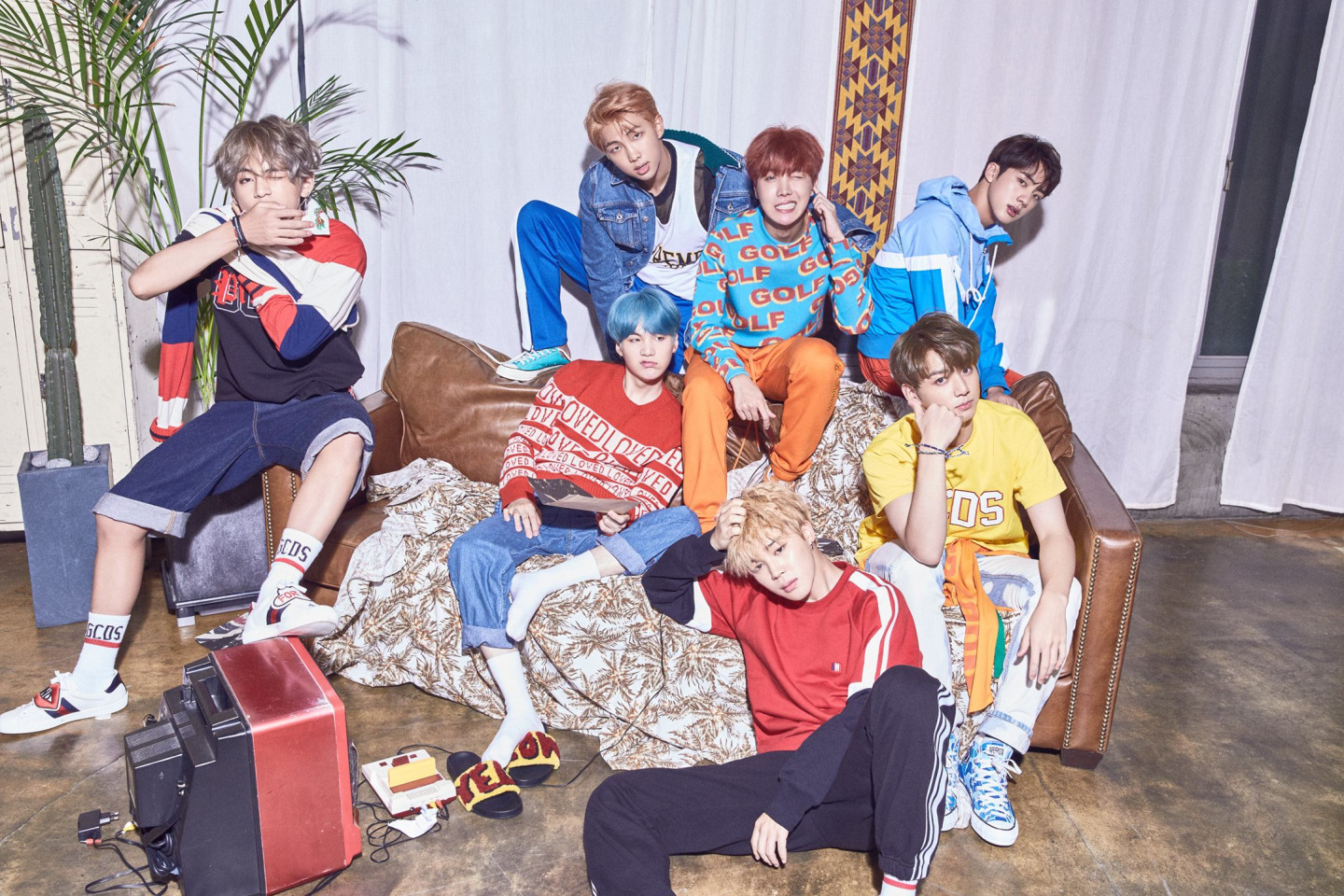 On a humid July evening, Kaley came home from her Louisiana high school, wolfed down her mom's home-cooked dinner, and retreated to her room, where she sat on the bed and started texting her friends about Korean pop music. The bubbly 14-year-old is in "many" group chats about the needle-pushing global phenomenon known as K-pop, but on this day she faced a task that she relished: the chance to recruit a new fan for BTS, the wildly popular seven-member group that tethers their hip-hop swagger with ravey pop beats. When an "internet friend" asked for an introduction to the group, Kaley gave a CliffsNotes rundown of their sound, and a short description of each member. When she got to Suga, a rapper and producer with slushy-blue hair, Kaley typed, "he's so beautiful I want to shove a hammer in my mouth." And then, she actually did it.
"I hope I'm not starting a trend!" Kaley said, giggling, during a light-hearted phone conversation. She managed to remove the hammer without any pain, but admitted that "it's probably not the most relieving feeling [for BTS] to find that your fans are shoving tools in their mouth."
Serious dedication to BTS isn't uncommon among the group's fans, though most of them channel their passion a bit more productively: by streaming their kaleidoscopic videos, and downloading their music. This week, for the chart week ending September 21, the band entered the U.S. album chart at number seven with their imaginative rap/pop hybrid Love Yourself: Her, thanks to a sustained campaign from the band's global online followers. As Billboard reports, it's the highest-charting K-pop album ever — one-upping BTS's own previous record for 2016's Wings — and helped score the genre its biggest sales week of all time. That's powered, in part, by streaming numbers from the mind-bending "DNA" video, in which the members defy gravity in a matrix of Inception-style rooms and contort their bodies into double helix-inspired choreography, set to a maddeningly catchy whistle hook. On the singles chart, "DNA" is new at number 85, making it only the second ever K-pop track sung predominantly in the Korean language to make the Hot 100, following PSY's Obama-endorsed "Gangnam Style," which galloped to number two in 2012.
BTS's big moment this fall hasn't come out of nowhere. Since launching with the floor-pounding trap-goth bop "No More Dream" in 2013, the group's fan community, called ARMY, has operated with the unrelenting tactical precision that its name suggests. BTS is currently at the top of the Billboard Social 50 for a 40th non-consecutive week, thanks to YouTube clicks and interactions with their selca (selfie)-heavy feeds, while TIME included the septet on their June 2017 tally of The 25 Most Influential People on the Internet. They were the 44th most viewed act on YouTube in the U.S. between January 2016 and April 2017, according to an August 2017 New York Times report.
In May 2017 the band won Top Social Artist at the Billboard Music Awards, ahead of nominees Justin Bieber, Selena Gomez, Shawn Mendes, and Ariana Grande. (They sample member Rap Monster's triumphant acceptance speech in a skit on Love Yourself: Her). "It was probably the most public display yet of K-pop's power, and its passionate fan base," Jeff Benjamin, Billboard's K-pop columnist, said recently. "But even in 2013, at the YouTube Music Awards, [nine-piece K-pop group] Girls' Generation was against Justin Bieber and Lady Gaga — and Girls' Generation fans blew them out of the water. Before that, BIGBANG won the MTV EMA award for Best Worldwide Act. If you put K-pop fandom on an equal setting to [fans of] the Western artists that are huge around the world, you totally get to witness their power."
"By early 2015, BTS was catering to Western K-pop fans' sensibilities far earlier and with greater focus than any of their peers." —Jakob Dorof
K-pop as we know it now has been around for over two decades, but really broke through to the West in the late-'00s, when slick acts like BIGBANG, TVXQ, Girls' Generation, Wonder Girls, and 2NE1 formed part of a wave of Korean exports known as Hallyu. These groups created a blueprint for the country's biggest pop acts today to thrive on a global scale, and greased the wheels for BTS's stateside success. Since then, most of Korea's established '00s all-women pop groups have disbanded, or their members are primarily focusing on solo projects. All-man boy bands often split or go on indefinite hiatus when their members are called upon for South Korea's mandatory two-year military duty, which all male citizens have to complete by the age of 35. The upshot is that there's room for a new generation to flourish. "It used to always be that your first K-pop group was Super Junior, Girls' Generation, or BIGBANG," Kaley said. "Now, it's usually BTS or EXO."
Crucially, it's fresher acts like BTS — or dynamic Korean nine-piece EXO — that seem to be winning the hearts of U.S. pop fans, at a time where there aren't many rival Western male groups. The media has been quick to point out the One Direction-sized hole in pop after the British act disbanded in 2016, and major labels have been scrambling to grab a piece of that market. In the past couple of years we've seen the emergence of reggaeton-influenced reality stars CNCO (Sony Latin), winsome boys next door Why Don't We (Atlantic), and VANS-wearing '90s throwbacks PRETTYMUCH (Columbia). But these acts haven't connected with a North American audience in a big way yet, though CNCO are huge in Latin countries and the latter two acts are starting to pop off in the U.S. with their endearingly playful, personality-driven videos.

The appeal of boy bands goes far beyond young women and men, but from my years of following them it's pretty clear that their most vocal fans on social media are teens. Americans are connected from a younger age than ever before — according to a survey quoted in The Atlantic, three-quarters of U.S. teens now own an iPhone. On their devices, fans find inventive ways to connect on well-known platforms, or seek new ones entirely. Kaley often meets other K-pop fans through group DMs on Twitter. "There are qualifications and stuff," she clarified. "If they think you're fit for the group chat, they'll let you in. My friends from those group chats have started making [their own] group chats, and it's just a big long chain." Jordyn Gonzales, a 14-year-old fan from Las Vegas, told me that she likes to use Amino, an app specifically for the K-pop fan community, on which people "discuss their favorite songs, music videos, or their bias [a slang term used in K-pop scenes to describe a fan's predilection for a certain member]."
BTS's success in this space is no accident; their evolving aesthetic is intuitively tailored to real-time social media trends. "BTS Tumblr-optimized their image a little earlier than the competition, from their fashion sense to their music videos and album art," said Seoul-based journalist and K-pop industry expert Jakob Dorof. "They were the first K-pop boy band to go 'full Soundcloud' with their music. They and their team discovered the Serum plugin — the soft synth sound that's in everything from future bass to The Chainsmokers to Marshmello — months before any other agency in Korea. And they've made a point of emphasizing the members' creative involvement with their own music [all seven members contribute to writing or production]. Throw all that together and you've got a group that, by early 2015, was catering to Western K-pop fans' sensibilities far earlier and with greater focus than any of their peers."
"BTS put themselves into the music, and that in particular makes them stand out." —Jeff Benjamin
While BTS fans still can't turn on U.S. Top 40 radio and hear their idols' music, the group's fringe position in American pop culture actually increases their appeal for many fans — it's cool to feel like you're in on a secret. As Kaley puts it, some fans like to "differentiate [themselves] from what's being played on the radio, or what's mainstream." Another way that BTS stand out is with the flamboyant precision to their dancing, as showcased in their baroque mini-movie "Blood Sweat & Tears," which finds tangerine-haired J-Hope wearing a nipped-in leopard print blazer as the band drop their butts and grab their groins. There's a sexy fluidity to their moves that's frankly anathema to much of contemporary male pop from North America and Europe, and we could all do with a little more of that. (Side note: Jimin has abs.)
Kaley admitted that BTS's outré outfits and performances have drawn homophobic reactions in her red state of Louisiana. "People are very judgemental here — huge Trump supporters mainly," she said. "They'll automatically say, 'Oh, that's gay.' It makes me mad how people could judge other people for what they like. I like to be the bigger person, and not respond." It's frustrating that some audiences may steer away from BTS because their high-fashion looks and choreography don't always adhere to Western macho stereotypes. But for their fans this is another reason to love them.
Benjamin explained that BTS freely break with their home country's tradition in other ways. "Oftentimes K-pop plays it more safe in terms of topics in their writing material," he said. "But BTS has done a really good job of balancing the fun songs with songs that talk about the struggles of being young, politics, depression [2015's "Whalien 52" was about loneliness and anxiety]. These are things that young people are being open about more than ever. BTS put themselves into the music, and that in particular makes them stand out."
BTS's assured presence on the U.S. charts is welcome in a sea of similar-sounding hits. While a Miami Ultra-worthy Chainsmokers collab on Love Yourself: Her indicates that they are keeping one eye on Western pop trends, BTS retain firm knowledge of their signature sound, and still sing in Korean. "I could imagine them continuing to work with major Western artists, and eventually having something like a 'Despacito' moment," said Dorof, noting that streaming is making the charts a more inclusive reflection of Americans' broad listening habits. "I have been anticipating a return to the globalized Billboard pop charts of the '60s for years now, and it seems like we're finally getting there. And all it took was loosening the stranglehold that radio has muscled on the mainstream for nearly half a century."
In the meantime, Hallyu continues to spread its influence and and create communities in new ways, both online and in real life. Jordyn said that her Las Vegas high school's K-pop society has around 30-40 members, and she's seen local boys emulate the band's bright hair colors and post-Yeezy Season silhouettes. When we spoke just before Love Yourself: Her was released, she excitedly described plans for an upcoming listening party at school. Later, in an email, she reflected on how her favorite band has changed her perspective on music in general. "I remember my mom talking about how she used to mark her calendar for video release dates by Britney Spears or *NSYNC, and wake up and watch MTV," she wrote. "It was something I could never relate to, and I thought that it was lost on our generation. When I saw the first video from BTS, I finally understood what she meant."
Love Yourself: Her by BTS is out now on Big Hit Entertainment.