The real story of Superorganism
The eight-person collective operates like a DIY version of a big-budget hit factory.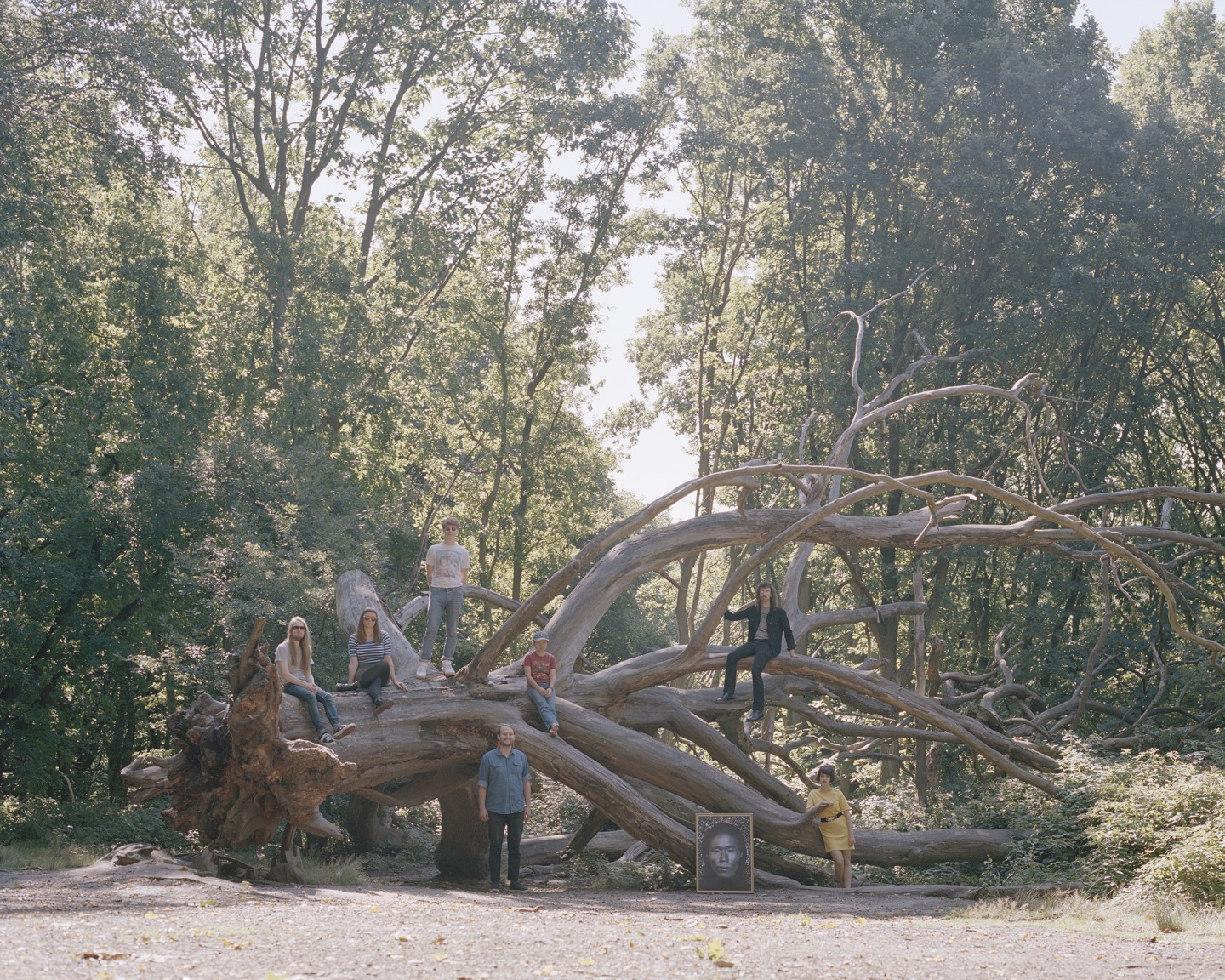 "We didn't start the band with a manifesto," says Harry, one of Superorganism's songwriters/producers. "For us, it was just like, This sounds cool."
He's speaking over Skype from a sunlit bedroom in a London terrace house. Nearly all of Superorganism, a new eight-person pop group, has lived there since 2015: Harry, who also plays guitar in the live band; Emily, who writes, produces, and handles synths; singers Ruby and B; a visual artist named Robert; and Tucan, who helps with writing and production. "He's our 'making sense of the madness' guy," Emily says of Tucan. (Korean background singer Seoul lives in Sydney, for the time being.)
Though hailing from different parts of the world, the six of them met while living in New Zealand and moved to London to work on music together. It's a tight squeeze, but the setup allows for an interesting creative process, with song ideas drifting through the two-story house like incense smoke. Their first official song, "Something For Your M.I.N.D.," came together like that, with members making notes and adding layers as it moved from room to room.
Then Emily sent the GarageBand file to an internet friend Orono, who, though born in Japan, was going to boarding school in Maine at the time. Orono listened to it, wrote some lyrics, and then, in fragmented takes while her roommate was in the bathroom, recorded a vocal. "This sucks, I'm the Kmart soda jerk," she sang into a MacBook Air, her journal-entry teen malaise clashing with the instrumental's jumbotron optimism in all the right ways.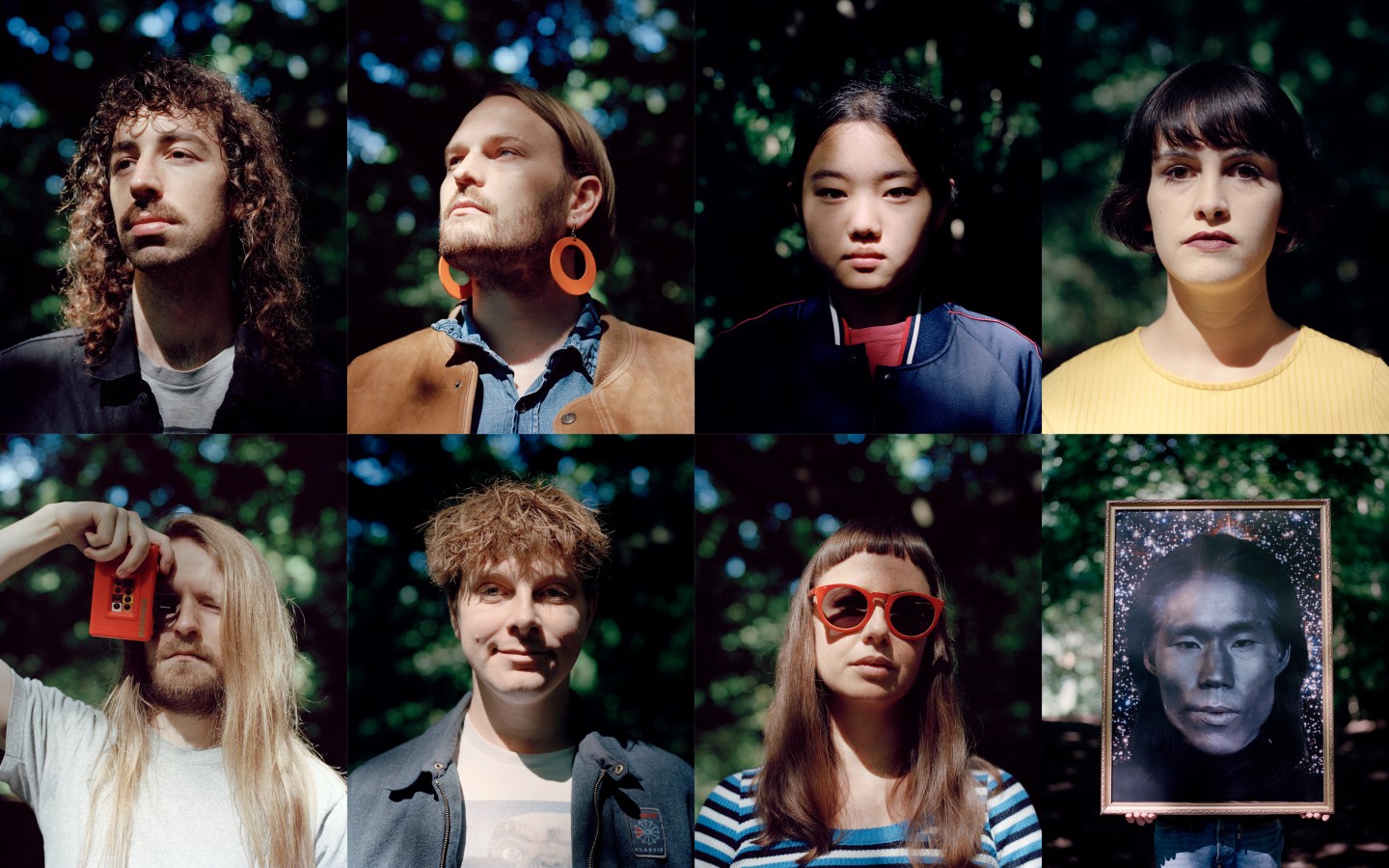 "It takes a village to raise a song."
When the mp3 landed in my inbox last February, I was intrigued, but also admittedly a little bit skeptical. Who is Superorganism and why is this song so addicting? "People didn't think I was a real person," Orono says, sipping a San Pellegrino. You have to admit it sounds a tad suspicious: an international eight-piece fronted by a 17-year-old Weezer fan? Even more baffling was their already cohesive sound, a Frankenstein collage of millennium-era electro-pop and mumbly twee. But this wasn't a band of celebrities, or the secret new project of a one-time buzz band, or whatever else the blog comments would have you believe. Orono was real, and so were her seven older bandmates.
According to Emily, Harry, and Orono, they didn't divulge many specifics about the project because, truthfully, they weren't sure about it themselves. "We decided we'd just leave it up to people's imagination until we could kind of figure it out," Emily remembers. And they've spent the half-year since that song's release trying to do exactly that. Orono — who sings, writes lyrics, and paints the group's neon-hued artwork — moved into the terrace house living room a few weeks back, after her high school graduation.
For a while, "Something For Your M.I.N.D." was scrubbed from the internet due to an uncleared sample (it's back now). Luckily the group has dreamed up a few followups imbued with a similar spirit; tracks like "It's All Good" and "Everybody Wants to Be Famous" are bright and maximalist and just sort of fun, with a sincere-feeling nostalgic kick that's simultaneously hip and hokey. In the unreleased video for the latter, Orono wears a tie-dyed shirt and slightly flared blue jeans, an outfit you'd buy at Old Navy in 2002. It feels too earnest to be completely ironic, which you could also say about the song.
All of Superorganism's members are fascinated with big-budget studio pop, the type of music that toes the line between cheesy and moving, between perfection and uncanniness. Over Skype, they explain their approach to song-making as a kind of DIY take on the committee-style manner in which mainstream pop songs are often made.
"We've got the guy making the videos downstairs, mixing in the other room, singing going on [elsewhere]," Harry explains. "We've created this kind of warped version of a pop production house." Their down-to-earth approach distinguishes them from other hit factories, though, as do Orono's angsty lyrics and deadpan delivery. These are large-scale productions, but they always feel hand-made, like if a bunch of amateur filmmakers tried to produce a no-budget superhero movie. "It takes a village to raise a song," Emily says, smirking.
They tell me that they're finishing up the first full Superorganism album, and hashing out what the live show will look like. I ask if there's any recurring themes on the record, which will be out in 2018 on Domino (the well-known indie label approached them shortly after "Something for your M.I.N.D." surfaced online).
"It has stuff about people getting together on the internet," Emily says. "It's about connections — through technology, and with nature," Harry adds.
"That's a good answer," says Orono, after a beat. "Because I was gonna say death."
Upcoming shows:
12/12/17 - House Of Yes - Brooklyn, NY
12/14/17 - Moroccan Lounge - Los Angeles, CA
From The Collection:
GEN F