Fatima Al Qadiri's new EP is a love letter to Arab queer icons
The Hyperdub producer talks about her subversive new project, Shaneera.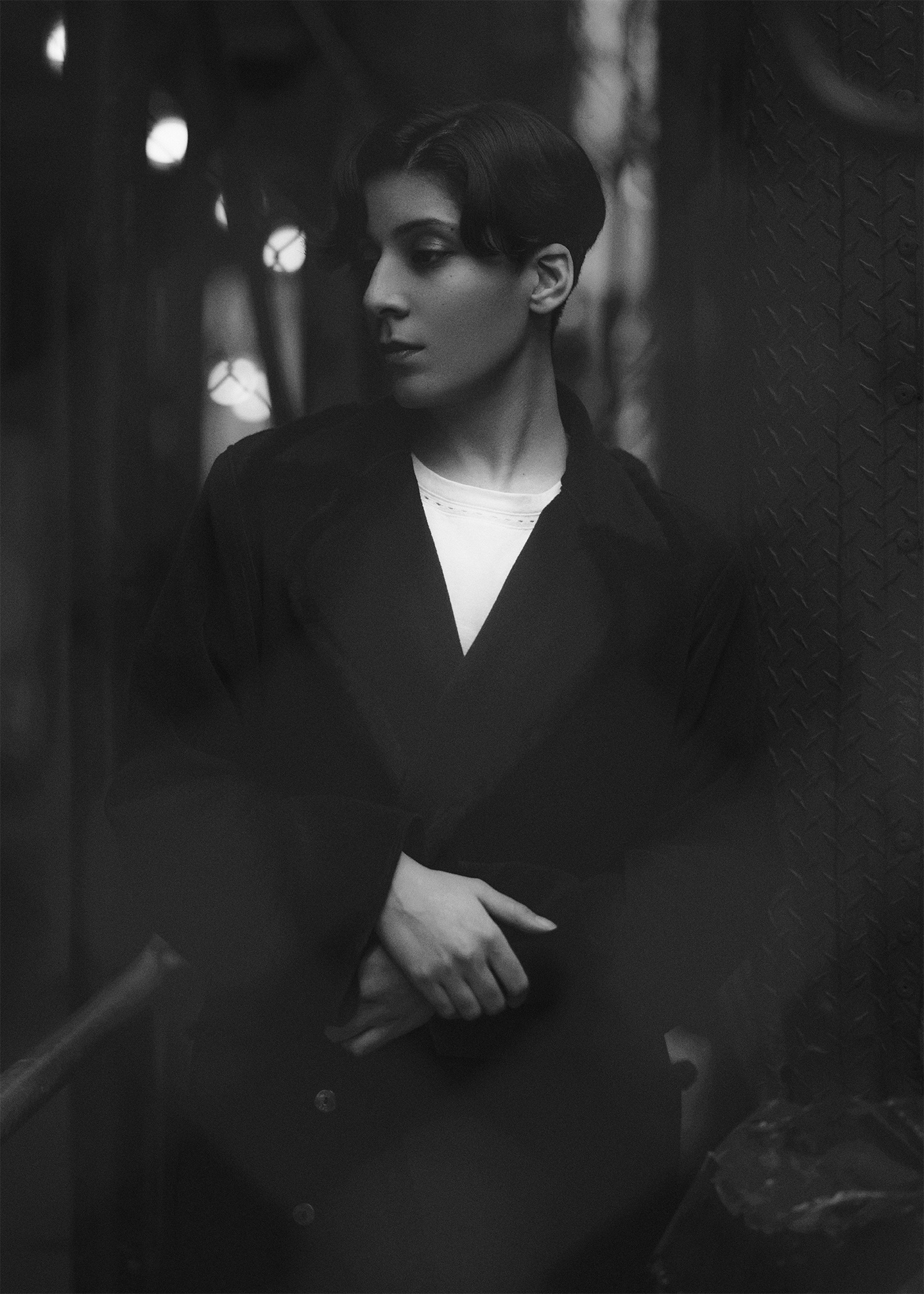 The concept behind Shaneera, Fatima Al Qadiri explains over a sparkling water in a hotel lobby in the shadow of St Paul's Cathedral, London, is difficult to explain. It's tricky, she says, because there is no direct English translation of the word "shaneera." The word itself is a mispronunciation of the Arabic shanee'a, meaning "outrageous, nefarious, hideous, major, and foul." This bastardization has been adopted by her non-binary friends in Kuwait — where Al Qadiri grew up — where it's applied as a slang term for an "evil queen." Icy, cutting, and sharp-witted, a shaneera is not to be messed with.
Al Qadiri appears as her evil femme alter-ego on the EP's striking cover. Over five urgent and mind-warping tracks, the Hyperdub producer channels this spirit into something magic. The lyrics, performed in a mixture of Kuwaiti and Egyptian Arabic, are half-improvised, half-lifted from disparate sources such as Grindr chats and online drag comedy skits. Musically, it's a sharp and relentless dance record, combining Arabic drums and scales with Western club beats.
Shaneera is Al Qadiri's first release since the 2016 album Brute, a heavy-hitting protest album that dealt with police brutality in the era of Occupy and Black Lives Matter. However, despite being lighter in tone, Shaneera is also her riskiest work yet, spotlighting a highly covert culture and collaborating directly with non-binary friends. The EP features a range of different vocalists, many of whom appear under fake names for fear of endangering themselves. Bobo Secret, a finance worker by day, appears on every track, while Kuwaiti/Iraqi architect Lama3an and the anonymous Galby contribute memorable parts elsewhere. Only Chaltham, a.k.a. artist Khalid al Gharaballi, a long-term collaborator of Al Qadiri's, is allowing his real name to be attached to the project.
In November 2016, Al Qadiri arrived in Kuwait from her home of Berlin with the idea of creating a shaneera-themed EP, and by chance, met all of her new collaborators at the same house party on her first night there. "I was just winging it," she says of the time. "I was so lucky." Together, they put together an record that, while certainly a celebration of the shaneeras they know and love, is also a reminder of the oppression they face, and the secrecy and codes LGBTQ people rely on to survive.
Speaking to The FADER while in London for an appearance at an artificial intelligence conference, Al Qadiri talked openly about creating a persona, the role of gender in the Gulf, and why this is her most anxiety-riddled release to date.
---
Does Shaneera represent something of an alter-ego for you on this EP?
It's an alter-ego for sure, but also everyone's personality has a multitude of emotions, and acts, and behaviors. There are definitely moments in my own personality that are [like] an evil queen, for sure. A good friend of mine wrote to me and said, "You are an ice queen." Shaneera is part of my personality, 100%, but also the persona on the cover is extra. She's an extreme. But I really like the idea of this gender-defying person, that it's something outside, because I feel confined by gender.
How so?
I'm fascinated and then really annoyed by it at the same time, especially in Kuwait, where you have a multiplicity of gender roles that are covert and overt, but the binary status quo gender roles are really shoved down your throat. Ultra-feminine and ultra-macho. I've been rebelling against it since I was a kid. I go backwards and forwards with it, and especially in the music industry, I'm very aware of the role of gender and the need to be sexy, the need to sell a sexualized persona.
That is something that you play with on the Shaneera artwork, which sees you in very extreme makeup. Can you tell me a little about the trend that inspired this look?
It didn't have a name, but it was a trend, and the way the trends work in Kuwait is that they capture the entire country. I remember [seeing it] in women's magazines, on TV, and with pop stars, in the malls. It was the most extreme makeup I had ever seen for such a large group of people to be wearing at the same time. At first, I scorned it. I just saw it as an extreme form of femininity. But within one month, I started to collect images of this obsessively, because I knew it was short-lived, that at some point, this would no longer be respectable, and this is what has happened now. Actually, when I was trying to get the makeup done, I went from salon to salon in Kuwait, showing them an image taken from a Kuwaiti women's magazine in the mid-2000s, and they all gasped as if they had never done this makeup before on anybody. It was an interesting in lesson how trends quickly die, and not just become irrelevant, but abhorrent, really repulsive. The mullet springs to mind.
So who ended up doing it for you?
[My collaborator] Chaltham found a drag queen makeup artist on Instagram, based in Kuwait. His name is Arabia Felix, and he's amazing.
"The shady queen, for me, is a person who has built up such an extreme defense mechanism against binary oppressive culture. These words are fighting words." —Fatima Al Qadiri
Lyrically, the EP draws from some unique areas such as a viral YouTube clip from Lebanon. What inspired that decision?
Bassem Feghali is the most famous drag queen in the Arab world. He did this clip on the TV where he's basically taking on the persona of this very famous Egyptian TV talk show host [who] asks really hard-hitting, embarrassing questions. My friend is obsessed with that parody clip, and recites it all the time. We agreed, we have to use the lyrics. It's meta, in a way — it has to do with the discomfort of being interviewed, of being psychoanalyzed, but also it has to do with your place in society, with hierarchy.
"Spiral," meanwhile, samples a popular Egyptian comedy?
Yes. It's from a jubilant, joyous moment where they're all wearing dancing outfits, and singing and dancing with sex workers and the pimps in a bordello. It's a short musical segment, and they're singing "I'm wearing a dancing outfit, and I'm in the bordello." Somehow, that clip became an informal queer anthem, and you had people from all over the Arab world uploading videos of themselves dancing with this music in the background. It's kind of a "fuck you" to straight culture. It relates to the theme of the record, which is, this persona is also a person who doesn't fucking care what you think of her. [These people are] going to be themselves to the max, to the hilt. If it's evil, so be it. The shady queen, for me, is a person who has built up such an extreme defense mechanism against binary oppressive culture. These words are fighting words.
Did you hold anything back making this EP?
I actually had to censor parts of the record. Originally, I wanted it to be a lot more obscene, a lot more graphic. Sexually graphic. It's easier to attack things when they're more overt. This is the most anxiety-ridden record I've ever made. I am scared.
What are you scared about?
I'm not scared of any Western reaction. I don't give a fuck what people in the West think. It's not for a Western audience, at the end of the day. You can dance to it, and like it, but it's not for you. The audience is the Arab audience, 100%.
---