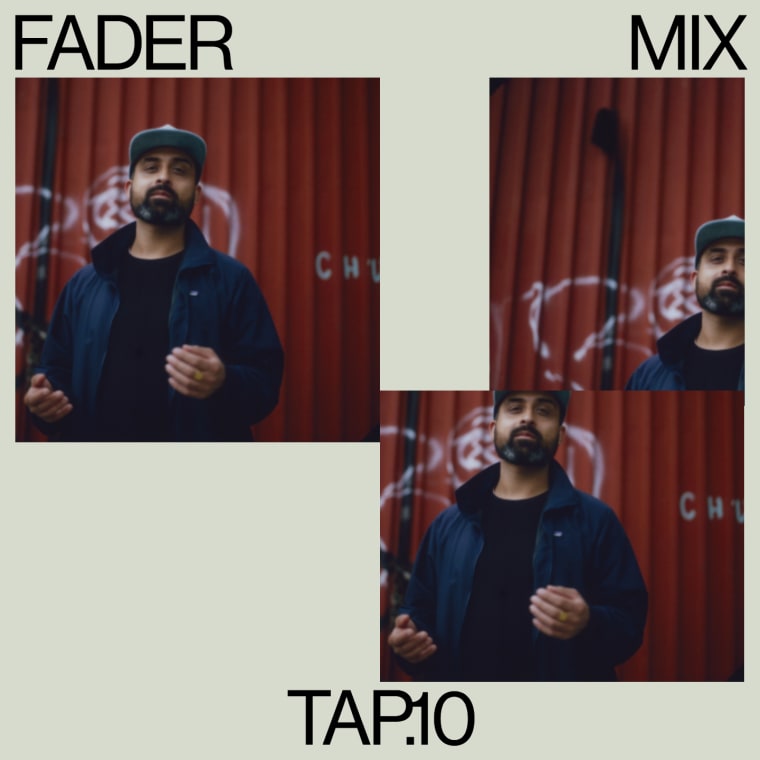 For New Yorkers that have never been to California's Bay Area, a night with N.Y.C.-resident DJ TAP.10 serves as a window on the diverse and all-encompassing sounds of the Nor Cal region. The HNRL Crew veteran DJ crafts mixes that transport the listener to the inside of a scraper on a ride through the rolling hills of San Francisco, heading east into The Town, before north into Vallejo. Catch the Bay Area-native spinning at various functions throughout New York like FOMO Party, Champagne Soul, and whatever else with his name on the bill, and you're bound to witness a whole lot of folks going dumb.
For his FADER Mix, the Yay Area ambassador put together a groovy blend of slappers that highlight new and emerging West Coast spitters, as well as breathe new life into old mobb music and hyphy classics, and a Keyshia Cole deep cut. Take a listen to TAP's very player mix below, and read on to find out why he thinks the Bay Area is having a moment right now.
Where are you right now? Please describe your surroundings.
I'm at my apartment in Brooklyn sitting at the dining room table. I'm drinking black coffee and I got some incense lit.

Tell us a bit about this mix — what do you imagine people doing while listening to it?
Folks automatically think of party and anthemic rap when it comes to Bay music but I wanted to share something different. I included a few mobb music classics, a favorite R&B deep cut, some breaks, a couple blends, newer slap, Trackademicks productions, and some Honor Roll exclusives. I imagine folks listening to the mix while riding out in the car or working on a laptop, but hopefully it's a knockin' stereo system.
What's your earliest musical memory?
My parents played a lot of classical Indian music and Bollywood soundtracks around the house and we'd listen to quiet storm and soft rock radio in the car. I learned to love all that music but as my own taste developed I really started appreciating '90s R&B and hip-hop that I was listening to on KMEL and around school. I still have boxes of dubbed tapes of the radio mixshows from that time.
There's a lot of new music and younger cats from the Bay Area making their rounds around the country right now. Does it feel like there is a new energy and excitement in the Bay or is the world just tapping in now?
It's happened at different times before but it feels special right now cause there's a lot of different artists winning doing their own sound. I especially love seeing young folks get that recognition on their own terms without feeling like they have to compromise anything. It's important for people outside the region to see all sides of what's going on. It's amazing that there's a space for all the artists to do what they want and I'm proud that HNRL has lent a hand with many of those folks coming up.
Who are some of the names that you're currently excited about?
YMTK, Chippass, Kamaiyah, Ezale, Nef, Tia NoMore, L-Deez, Slimmy B and Da Boii (SOB x RBE), Kehlani, YP On The Beat, Spencer Stevens and always DJ Fresh. I'm also geeked for folks to hear upcoming HNRL artist projects, an upcoming compilation album and more Trackademicks and 1-O.A.K. production and features.
Who is The HNRL Crew, and what's yall mission?
HNRL (The Honor Roll) overall is a music company. We put out projects through our imprint and we also throw parties. We initially formed as a crew of friends after meeting through Youth Radio when were in high school. Everyone had a talent of producing, rapping, singing or DJing. Fortunate to say that we still work with each other, 12 years later! Our mission is to move culture forward, producing our unique brand of slap informed from our Bay Area experience.
You're involved in a lot of various functions across New York: Champagne Soul, Tender Knock, Hoodrat Tendencies, and FOMO. How is each one unique from the other?
FOMOPARTY is a monthly party in Brooklyn with resident DJs Darling Chuck, Tha Yellow R. Kel and myself. We've done a lot of pop-ups and brought FOMO to different cities too. Our goal was to do a party that focuses on playing dope new music, mainstream or obscure, along with club classics without sticking to any particular theme or genre…the only rule is to keep it moving, while making folks dance. We're coming up on three years now throwing the party.

Champagne Soul and Tender Knock are names I coined with Trackademicks and Whiz to define specific subgenres of R&B based off DJ mixes I created. I used to regularly go record digging when I first started DJing and I'd come across a lot of early to mid-'80s R&B that I copped just to have the original sample source of the '90s hip-hop joints I loved. All the songs fit a specific vibe, the sound was sophisticated and smooth. You could just groove to it.
Tender Knock is the combination of heartfelt lyrics over knockin' drums. The sound was prevalent in late '80s and early '90s R&B and rap — think Keith Sweat, Guy, 'Teenage Love' Slick Rick and 'I Need Love' LL. I do a few parties a year dedicated to playing that type of music.
What's the last book you read that had a big impact on you? And why?
Legions of Boom by Oliver Wang. Right now we think of DJs as solo acts but back in the '80s there used to be hella DJ crews and that's how you earned your stripes — it was a community. Specifically in the Bay Area, there were hella Filipino American mobile DJ crews that were amazing party rockin' DJs and that eventually lead to more unique styles of DJing, scratching, and turntablism. I'm a huge fan of Invisibl Skratch Piklz, collectively and individually, and it was important for me to learn the origins of that history.
What's your favorite dish to cook and how do you make it?
Masoor dal, it's a Gujurati style lentil soup. It involves soaking the lentils overnight and adding the lentil beans to sauteed onions, tomatoes, cumin powder, mustard seeds, salt, chili powder, turmeric powder, chopped cilantro, and a lemon. When I initially asked my mom for the recipe a few years back she sent me a text with none of the specific measurements and told me you'll just have to watch me cook it next time, ha!
Tracklist:
French Cuffs - Trackademicks
Packages & Parcels - Trackademicks
iPhone & a Gmail - Iamsu!
Give Up The Goods - 1-O.A.K. feat. Shady Nate
Check It Out - B-Legit feat. E-40 & Kurupt
Town S#!t - Whoridaz feat. Saafir
Jus Riden - Saafir
Millionaire Status - J. Stalin feat. R.O.B.
Devil's Team - NEF The Pharaoh feat. Mozzy
The Dream - Trackademicks feat. Whiz
Hurricane (TAP.10 Blend) - The Click
Don't It Feel Good - 1-O.A.K.
Not My Job - Mac Dre
I Want You Back - Raphael Saadiq feat. Teedra Moses
You Never Knew - Hieroglyphics
Enjoy U'r Self - E. Fields feat. J. Stalin
Lost & Found - 1-O.A.K.
Let It Go (TAP.10 Blend) - Keyshia Cole feat. Missy Elliott
Keep It On The Real - 3xKrazy
Swing My Way - Kamaiyah
No Job (On The Mob) - YMTK