Alien Nation
Growing up in a tourism economy made me feel like a person from nowhere.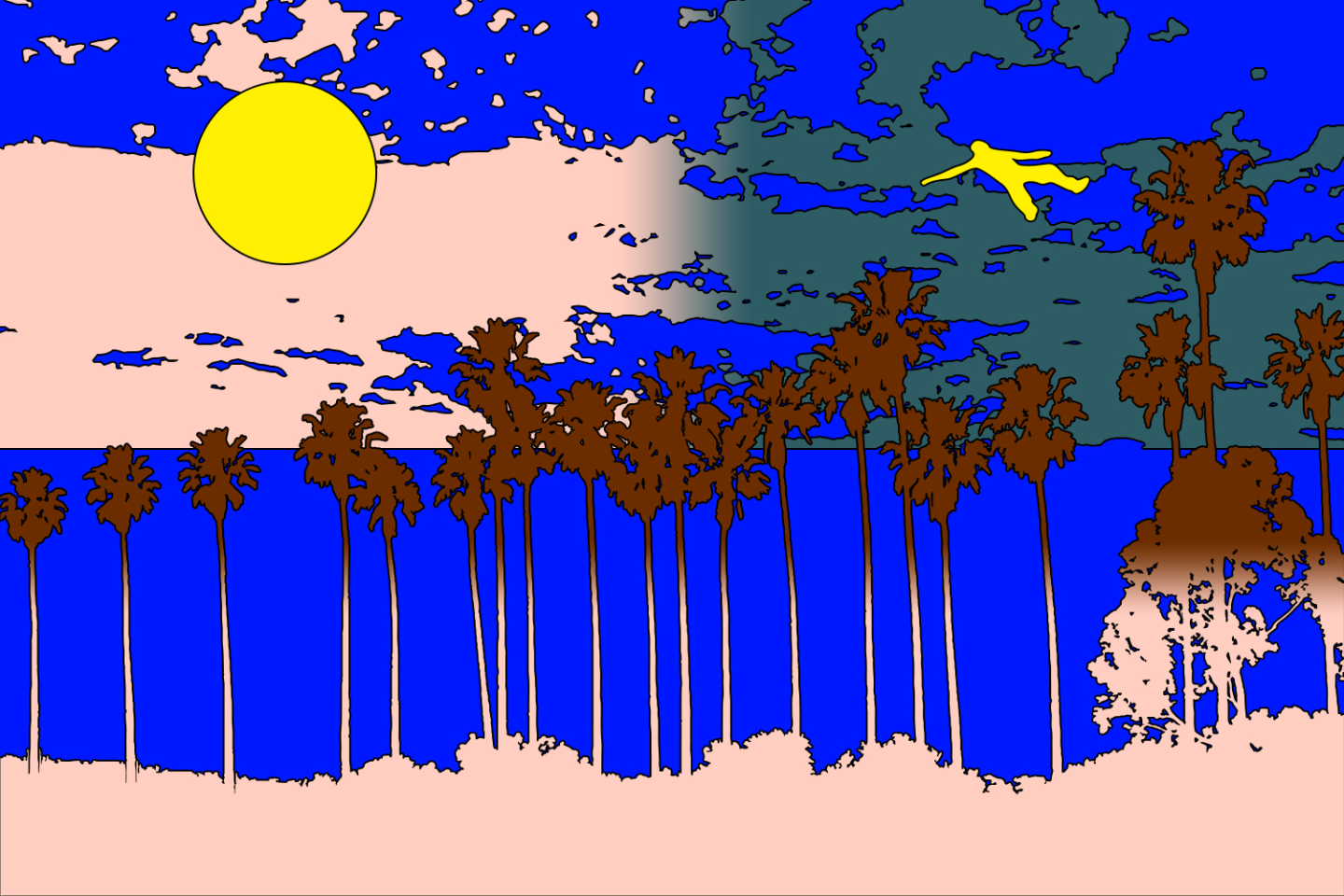 Paradise Island sits next to the island of New Providence in the Bahamas, and hosts many of the six million annual visitors who make tourism the blond-cornrowed king of our economy. It is just under four miles long, a manicured stretch of luxury accommodations and casinos that is accessible from the mainland by a minute-long car ride over a bridge. I made that journey many times growing up in Nassau before moving to Canada in 2006; I loved how the pitted streets of the mainland suddenly transformed into perfect black asphalt as you entered Paradise Island, a smooth glide that delivered visitors to the idea of the Bahamas they were promised. These are the paths they expect, and so we pave them, eager to keep our reputation as a country built to accommodate.
"Nobody cares about the Bahamas," a co-worker in Toronto once said to me over lunch, as if she were explaining gravity. Occasionally, I will tell a new acquaintance I am Bahamian, and they will respond "Bajan?" Each time, I can see them gearing up for a conversation about Rihanna, who grew up in Barbados. "Do you know her?" they ask, suddenly attentive, having ascribed to me a small trace of her iconic glow. I sometimes refrain from correcting their mistakes and pretend to have lived near Rihanna. I met her before the fame, I tell them, and amuse myself with whatever lie comes to me in that moment: I knew Rihanna when she was an arsonist; when she was a mobster's girlfriend; when she was responsible for a wave of missing pets on our street.
I didn't tell my co-worker any of this, and instead ended the conversation by filling my mouth with big bites of a sandwich. Her bluntness was hurtful, but understandable: The Bahamas is marooned from the western creative canon, but the beaches we're stuck on are gorgeous; their pink sand is deployed over and over in advertisements to lure North American tourists. That's been a staple since 1962, when the U.S. launched an embargo on Cuba and its tourists needed a replacement. We obliged, and in 1973 linked our currency to the United States to ease travel and development. And, for the benefit of our curious guests, we mass-produced the flat representation our British colonial past taught us they'd appreciate: laughing children, deferential adults, and a quaint, benevolent mysticism that's eager to help and be conquered. White magic.
What aspirational value is there in pandering to the comfort of wealthy, predominantly white Americans?
I feel a sense of betrayal writing this. My aunt, patriotic and civic-minded, does not approve of my chosen topic: her texts have switched from the usual emoji-rich enthusiasm at my writing projects to stern insistence not to write anything negative about the Bahamas. Because tourism is our sickly breadwinner. It's been that way since I was a kid. Of 185 countries in the world, the Bahamas ranks number 9 in "relative importance of tourism and travel to GDP." However, the rate of tourism remains stagnant while that of other Caribbean countries grows, and 85 cents of every dollar spent by tourists leave the country. The industry's volatility is more clear than ever, but its gnarled, thick roots are embedded in the country, and with it the livelihoods of over half of all working adults.
Tourism's outsized presence in the Bahamas stands in opposition to the question of national identity, which is an ongoing one for any country. This problem feels less and less abstract as I get older and watch as the economic downturns and political upheavals in other countries affect my own. Still, the questions with the least definitive answers can be the most accessible: What aspirational value is there in pandering to the comfort of wealthy, predominantly white Americans?
Such visitors flock to the resorts — utopian visions with little to no connection on the country itself. Yet each comes to form its own reality. Atlantis, where my godfather works, is unique in its stature and anachronistic qualities. It was opened in 1998 on Paradise Island by a South African developer named Sol Kerzner, who made his fortune with Sun City, a resort in the North West province of South Africa notorious for feting tourists in the midst of apartheid (he is beloved in the Bahamas for the jobs Atlantis brought). The resort consists of five hotels, each one a faded pink bodybuilder flexing over the island's punier structures. Inside its marbled corridors lie a multitude of tourist-friendly distractions, including a pristine shopping center with stores like Gucci and Versace; you have to pass through it to reach one of the casinos. (Thanks to a spell of moral panic before I was born, it is illegal for Bahamians to gamble in these places). Atlantis resembles a palace, but one where local history is barely valued enough to even be exploited: the ancient Greece-meets-Tolkien design of the original towers was based on Plato's lost civilization. One of the water slides is even designed as a Mayan temple, adding to the resort's mythic Disneyland kitsch.
Of course, there is no such thing as "authentic" tourism, no matter where you are in the world. The sustainable ecotourist who speaks a little too loudly as they purchase a love potion from a local witch doctor will not come away with a more profound understanding of the Bahamas than the one who nods with smirking approval at the smart, colonist-era throwback uniforms of the Royal Bahamas Police Force. Atlantis's greatest sin is not its out-of-place depiction of the Bahamas, but that the resort is the apotheosis of what it means for an island to be "touristy": if Atlantis grew feet and walked into the ocean, the immediate economic implications would be catastrophic. But as for culture? Would we suffer the loss of the gold Pegasus fountain, the faux frescoes in the lobby, the gold-plated throne fit for someone pretending to be a god?
I'm not expecting the tourism debate to begin in the Bahamas anytime soon, but if someone had told me years ago that the land I inhabited was more than just a place for carving into resorts, I might still be living there.
I graduated university in Toronto, fell in love, and laid down roots, all while a new pall was cast over my home country: Baha Mar. Armenian-Bahamian developer Sarkis Izmilian's billion-dollar resort promised to become "the Bahamian Riviera," another nod to Europe for the convenience of tourists and investors. Then funding issues, and local and international politics, pushed its 2015 open date back again and again, until the holding company declared bankruptcy. The property sat there for nearly two years, partially completed and hidden behind chain link fences, unable to find a buyer. During the stasis, my brother and father's routes to work each morning gave them a panoramic view of its failed promise. We heard whispers of beds molding in hotel rooms, concrete falling from the roofs. As months slowly passed, I scanned the internet and looked for a sign of dark tourists — who explore disaster sites like Chernobyl — ready to spelunk the abandoned Baha Mar.
But instead of reflecting on the economic systems that led to this disaster, we held them closer. The grim site of Baha Mar exacerbated the nationalism embedded in Bahamian DNA since our independence — the Chinese laborers at Baha Mar became an invading force, the subject of racist Facebook posts and online comments. These sentiments dimmed when a company from Hong Kong stepped in last November and purchased Baha Mar. The government which oversaw the debacle was voted out, and my family in New Providence allowed themselves to feel optimistic about the country's future. I'm indulging too, just to break from despair. But it's not the same curious, wary hopefulness I felt when I learned of protesters in Venice marching against rising costs of rent and environmental impacts of cruise ships, or when members of the Popular Unity Candidacy in Barcelona filmed themselves slashing the tires of a tour bus. In these countries, tourism is a comparatively smaller factor in economic life and local histories: part of the ecosystem, but not the oxygen itself.
In Nassau, there are no progressive think tanks analyzing economic alternatives to tourism, no left-wing groups egging the cruise ship passengers on Bay Street. I'm not expecting the tourism debate to begin in the Bahamas anytime soon, but if someone had told me years ago that the land I inhabited was more than just a place for carving into resorts, I might still be living there. Instead, I just have memories of visiting places like Paradise Island's Club Med resort, where the parents of my best friend in Grade 4 worked. I remember bright fairy lights strung across a polished wood harbour glimmering in the low evening tide, swimming pools that looked better than the ocean, and endless buffets of food. I thought it really was paradise, and it stayed with me long after my parents drove me back over that bridge and home to the mainland.