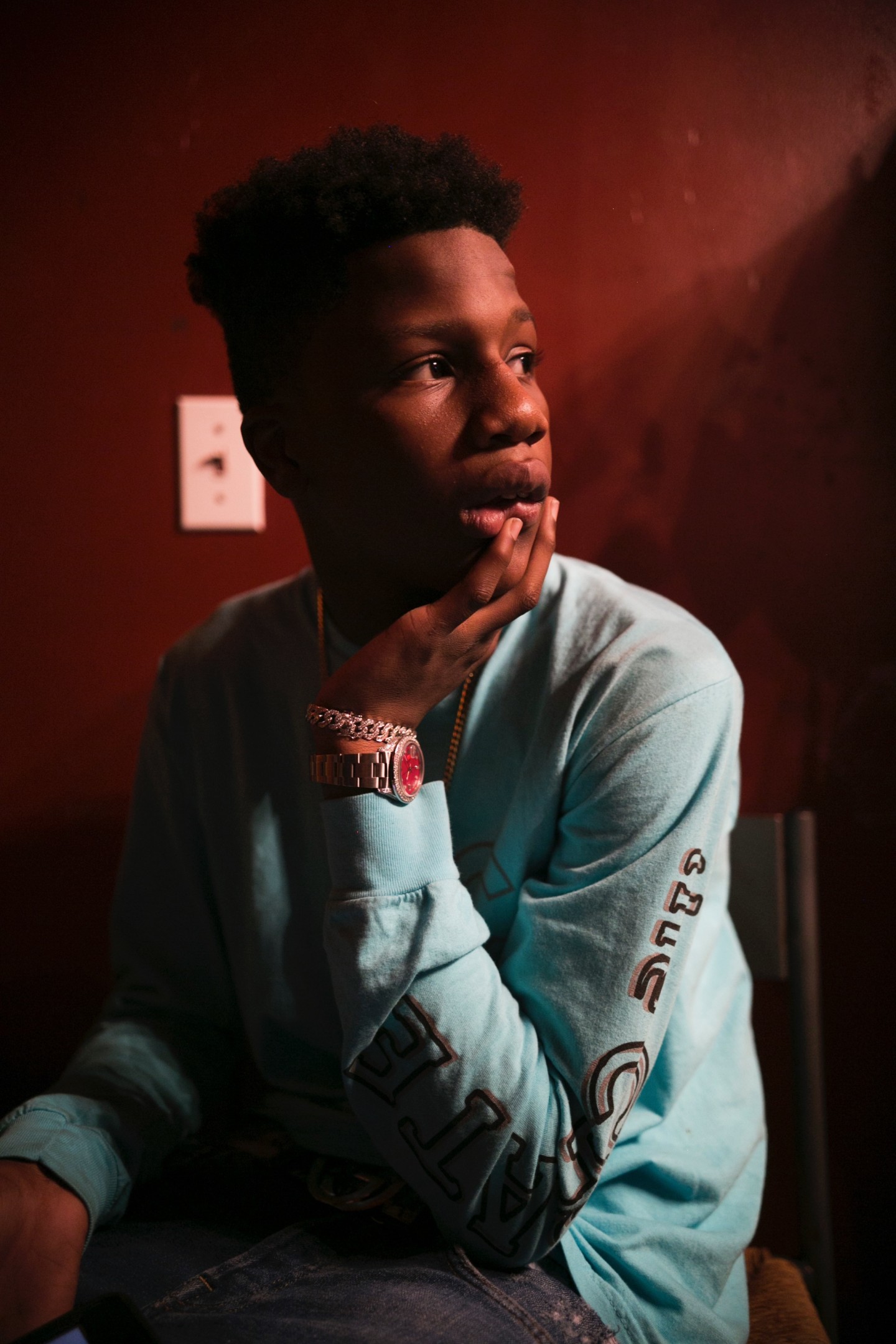 Smooky MarGielaa's 15th year of life has been more exciting than probably most other kids his age can say. The Bronx rapper and singer has a slightly raspy, light-beam of a voice that has captivated artists — he has features sprinkled across A$AP Mob's Cozy Tapes: Vol 2 — and audiences alike; check his self-released loosies like the heartfelt and anthemic "Stay 100," or the delightfully braggy "Money Talk." It's an impressive body of work from someone so young and new, but from the first few seconds of hearing his voice on any song, it becomes clear this isn't Smooky's first go at music.
From around the age of seven, Smooky was touring across the U.S. with his father, Malian artist Abdoulaye Diabaté, performing alongside him on djembe and balafon. Around the same time, he'd regularly perform covers of Michael Jackson songs at West African cultural events that took place in and around New York: "I think that's what really made me sing. If it wasn't for that, I don't think I would be singing." In middle school, he started recording songs on his cell phone and sharing them via Soundcloud and Facebook, earning him local popularity. Soon after, he made the most of a chance encounter with A$AP Rocky, and hasn't looked back since.
While in Dallas, Texas, for a Cozy Tour stop, Smooky talked to us over the phone about his upbringing, what he's learned from his time on tour, and how he's balancing school and music. He also shared some words about his new song "The Judge," a song from his upcoming MMM mixtape, produced entirely by CashMoney AP. Listen to the track, and get to know Smooky, below.
How's being on tour been for you? What's surprised you?
It's a good experience. Every show is better than the last. Every time,I get more control of the crowd, and get more comfortable with the crowd.

When [A$AP] Rocky brings me out, saying "Smooky MarGielaa," and everybody screams — that's surprising, because I didn't know the whole world knew me.

Where did you grow up?
I'm African. I'm from Mali, West Africa, but I live in the Bronx, New York. [Growing up there] was crazy, it was a lot of people doing a lot of bad stuff around me. I used to play basketball, then I started rapping, and from that I started getting popular.

What was your home life like? I know your father is a musician.
My dad used to do a lot of performing, and when people would book him for shows, I used to perform with him. I used to play the djembe, and the balafon, too. I used to go around playing shows with him everywhere. I've been to Michigan before with my dad, Washington, D.C., Indianapolis, Philly. I was young, eight, or seven [years old]. Music's been a part of my life, it's in my blood.

Playing with your dad must have taught you a lot.
My dad was the one who actually showed me Michael Jackson. I was watching Michael Jackson ever since, and then that's when I started performing [his music]. [Local cultural events] used to book me for shows, because, in my country, they have a lot of [these kinds of] events. At the events for the kids, I used to dance [to] Michael Jackson and sing his songs. I used to get paid for it. I think that's what really made me sing. If it wasn't for that, I don't think I would be singing. I also used to listen to Chief Keef, Speaker Knockerz. I started listening to the Migos probably a year ago. That's really the people I like and really want to work with.
My dad was always going to the studio and making songs. One day, I was just like, "Daddy, I wanna record something, " and he brought me [with him]. I was still young, [around] eight or nine [years old]. I only made one song, and I kept at the balafon and the drums. One day, I got an iPhone. This was when I was a little older though, like 12 or 11 years old. I downloaded GarageBand, and then recorded beats by going on YouTube, putting an instrumental on, recording it off my phone, and then I rapped on it. I used to put those songs out, and everyone used to like them.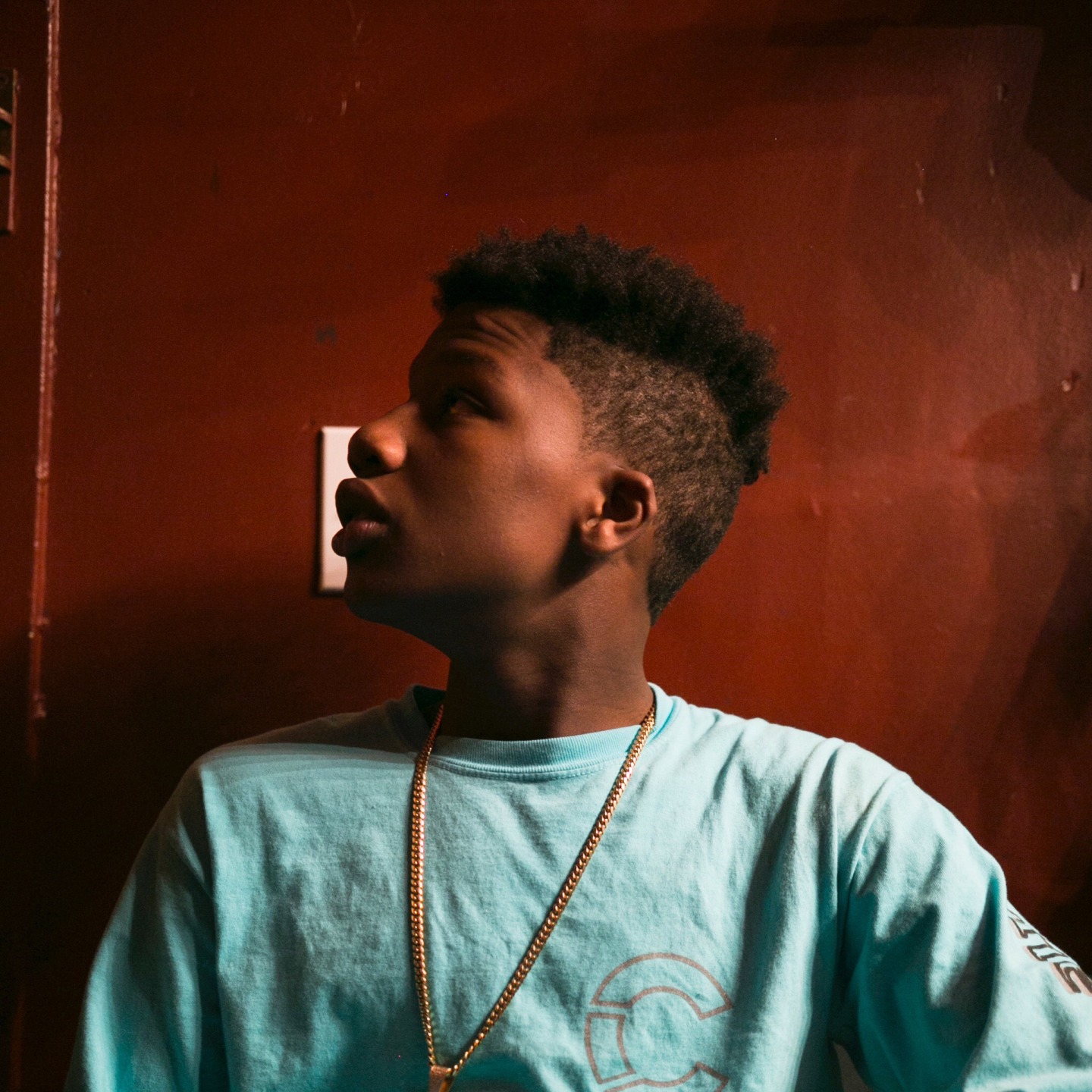 On different Instagram and Twitter posts, I've seen you reference Jelly World and G.R.A.P.E. Can you tell me what those are? How did they start?
I'm gonna tell you how we started with Jelly. I met my manager as a tutor — he used to be a tutor at my school. He was working with an artist named Jelly Man. Me and Jelly Man made a song together one day, and it was crazy. Ever since then, everybody's just been Jelly. We made a song, a "Panda" remix, and it became popular in my middle school, and we've just kept grinding until we are where we are right now. Jelly [is a collective], and G.R.A.P.E. — Get Rich And Pray Everyday — is our label. We started it. It's me, The Jelly Man, Drew Drippy, and my manager Mr. Show [on the label].
I was wondering if it had anything to do with the Djeli tribe in Mali. A friend's father mentioned to me that some artists in Mali are a part of that tribe.
I'm a part of that tribe! It's a coincidence really, I swear, everything just went together. I met the Jelly Man — he dyed his hair purple, he really commits to the Jelly. The Djeli is an African cultural tribe of artists. It runs with the last name Diabaté. I'm a part of the Djeli tribe. My dad is a part of it, too. My dad is a big impact on the Djeli, [his name is] Abdoulaye Diabaté. I've got a lot of melodies [in my music]. I feel like it comes from where I'm from, the Djeli tribe, they have a big impact on me, on those melodies.
Now that your own music is getting more popular, how does your dad feel? Has he seen you perform?
Yeah. He was at Summerstage in New York when we performed — me, A$AP, and everyone. He's happy. He stays watching my music videos on YouTube. He calls me everyday talking about how he's watching my videos.

He's proud!
Yeah, facts. I'm proud, too.

When did you start recording your own music?
I was like 11. It got serious when I was in seventh grade. I was always putting music on my phone, but when I met my tutor, he got me in the studio to record. My first song, it's on Soundcloud right now, it's called "Codeine" — I know it's inappropriate. That was my first song I ever made, and a lot of people know it. At first, I used to put out songs on my phone, no good quality. We all had Facebook pages, so we'd just share the link[s to songs on there].
"It's a lot to lose. You've just got to be humble, be smart, and think about what you do before you do it. And keep grinding. I've gotta never stop."— Smooky MarGielaa
What was the big turning point for you this year? A big moment that changed everything?
After the Cozy Tapes. I met A$AP [Rocky] probably a year ago. Me and my big bros threw an event. They knew A$AP Twelvyy, invited him, and put me and him on the flyer. It was a club, so at 12 [a.m.], underaged people can't be there no more. A$AP and them came around 1 o'clock, and we were outside, we didn't even performed yet or nothing. A$AP, Carti, Twelvyy hopped out of the car. I went up to them and I was like, "Yo, I'm Smooky Margiela, 13-year-old from the Bronx. I need to get back in." They tried to get me back in, but the security guards were already on me like, "We can't let him in, we just kicked him out. We servin' liquor. He can't be in there." So I'm like, Oh man, it's over. Then out of nowhere, one of our friends that's 21 and over pulled up, and we told him, "Yo, can you open the backdoor for us, please?" We went through the backdoor, me and Drew Drippy sneaked in one by one, and out of nowhere we went up to the DJ and said, "Yo, we ready to go right now!" We told A$AP, "Wait, I'm about to perform. You need to watch me." So he waited, he watched me perform. After, we went outside, I got his number, and ever since then…
Things are happening for you pretty fast. You were just on an album, and now you're touring across the country. Is it easy for you to handle?
I feel like it's happening at the perfect time. I feel like it's happening smooth. Everything came in the clutch. Everything went natural. I've got my homeschooling thing under control, I'm doing that on the tourbus.

What grade are you in? How are you managing that?
Tenth grade. I've got home-schooling. I used to do it online, Keystone High School, but I don't do it online no more. I've got a binder and a book, and the instructions are in the book. I've got my tutor — my manager was my tutor in school anyway, so he's the same one that's tutoring me now. Anytime we're on the way to another place, it's boring so I just do all my work and finish.

Do you miss being in school?
Yeah. Waking up in the morning, meeting up with my friends, going to school, being in class, everything.

Do they keep you updated about what's going on at home?
Yeah, of course! And I talk to my parents everyday.

Is this the longest you've been away from home?
No, I went to Africa three years ago by myself. I was nine. I was there for three months during the summer. That was awhile back, so this is the longest recently. I was with my uncles and family. I think about it. They don't got what we got out here, you know? It's more poor out there. Everything I get, I gotta be grateful for. That's the message. I'm grateful for everything that happens.

You're getting to experience the music industry up close at a young age. What have you learned in the time that you've been able to see how things work?
It's a lot to lose. You've just got to be humble, be smart, and think about what you do before you do it. And keep grinding. I've gotta never stop.

What can you tell me about "The Judge," the new song premiering today?
I linked up with CashMoneyAP. I got in the booth and I was just thinking about how a lot of people that are locked up — I've got some people that's locked up, you know? In the song, I say, "Oh, what the judge really on?" Like, What he on? What he thinkin'? Why he not letting my boys home? Why they not letting them free? That song'll be on my tape with CashMoneyAP, called MMM. And stay tuned for A Tribe Called Grape.